This post contains affiliate links.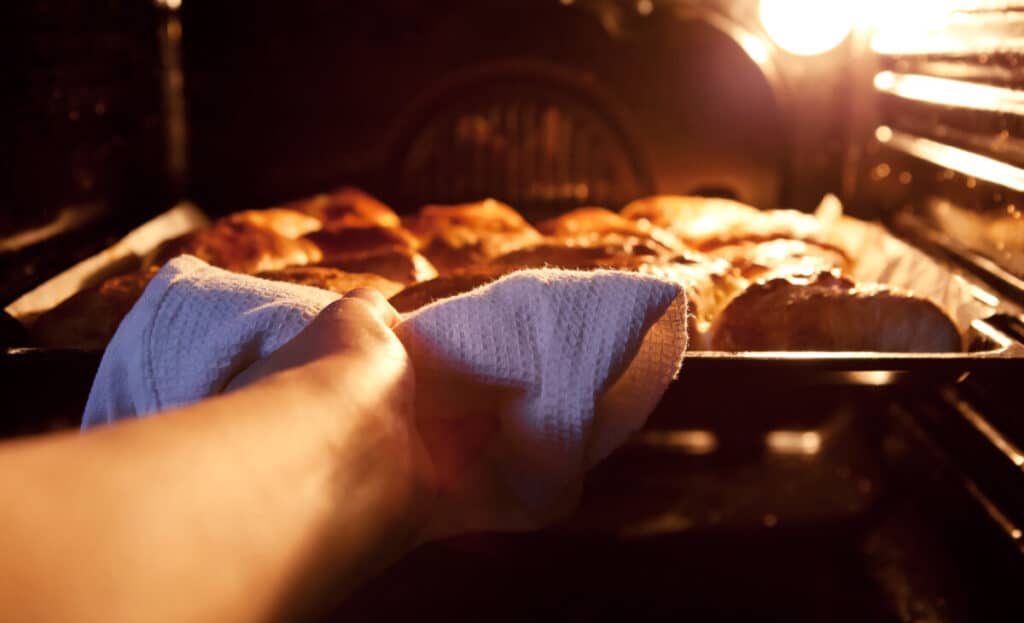 If you are planning to prepare a pie but feel bogged down by cooking confusion, look no further. Our article on oven racks, dessert pies, and more will have you whipping up baked goods in a jiff!
Although the bottom rack of an oven is usually the best place to put the pastries, logistics such as oven type, pie style, and level of baking expertise will ultimately determine how the pie comes out. It is important to know the oven that is being used as they tend to differ from one another.
Whether you're an amateur baker or a master chef, our tips will have you serving up satisfying slices in no time.
Oven Racks and Where to Put the Pie
Did you know that your oven has its very own hidden capabilities? Although the extra racks might seem like empty space to the untrained eye, they actually fulfill their own respective functions! Before we get into the nitty-gritty on pastry baking, let's go over the key differences between each rack setting.
Top
Ovens typically utilize two separate heating devices, one on the top, and one on the bottom. So, it follows that your oven will be the same temperature all the way through, right? Wrong!
Because heat rises, the top rack of your oven will always be the hottest, making it best-suited for kitchen tasks such as casseroles, which taste best with a bit of golden-brown crust!
Middle
The middle rack is any novice baker's safe space, boasting even heat and consistent air circulation.
Baking a cake for your friend's birthday party? The middle rack's your best friend. Making cookies, brownies, or preparing for a festive holiday? Look no further.
Bottom
The bottom rack is the top rack's equal and opposite, browning the bottom of baked goods instead of the top. Now, what kind of food tastes good with a crusty bottom, you might ask? The answer is not as elusive as you might think!
But, if you like your pizza with a soggy crust, the rest of this article might not be much help.
This is the place to put your pie. It's also best to use a glass pie dish to cook your pie here so the bottom gets cooked and the crust holds everything together instead of falling apart.
Things that Could Change Which Rack You Use
Although we recommend using the bottom rack for your pies, there are differences in opinions based on oven type, pie type, and preference.
The Kind of Oven You Have
Do you really know your oven as well as you think you do? Let's go over some quick but critical differences between the main types of ovens, conventional and convection. For the purpose of this article, we'll avoid going into the details of EZ Bake Ovens and Toaster Ovens…
Conventional
You, your mom, your grandma, and really most people you know probably have a conventional oven. In fact, conventional ovens are what most people think of when they hear the word "oven."
So, how do they work? In essence, conventional ovens are just big metal boxes, equipped with two heating units. The bottom heating unit is the workhorse of the operation, generating heat that rises through the entire oven to cook any baked good imaginable. The top heater, on the other hand, is used mainly for tasks such as browning and broiling.
Again, use the bottom rack for pies to get the best results.
If you know your oven doesn't put as much heat out or doesn't cook evenly, you can start with the pie on the bottom rack and then move it to the middle later on.
Convection
Conventional ovens seem pretty great, right? After all, they're tried and true. Not so fast! Because only food closest to an operating heating unit cooks quickly, conventional ovens aren't ideal for large preparations.
If you're one of those people who cooks a chicken, pumpkin pie, and Brussels sprouts at the same time for Thanksgiving, conventional ovens might not be your best bet. For a more consistent flow of heat, convection ovens utilize a robust fan and exhaust system, keeping the temperature consistent throughout the oven.
With convection, you can put the pie on the bottom or middle rack, as there is more consistent temperature in the oven.
Preference
If you have an oven that is a little different or you like things a little more crispy on top, you might find that cooking on the middle rack or top rack for part of the cooking time yields your favorite kind of pie.
If you have an oven that tends to brown on the bottom, move it up.
My grandma always does the bottom rack but my mom bakes hers on the middle rack. They both make excellent pies but they bake them differently.
You can experiment a little bit as you try out your baking hand. Just be aware that trying out different ways to bake your beautiful pastry might disappoint you. Baking is hard work and not having a pie turn out is a little heartbreaking. Keep a close eye on your pie and use toothpicks to test how done the pie is if you are unsure of your skills yet.
The Kind of Pie You're Baking
Whether you're a pecan lover or deep down in the Mississippi mud, we can help you out. Here is a comprehensive list of our favorite pies, complete with drool-worthy pastry facts! Although it's best to prepare most of these puppies on the bottom rack, there's much to be said about your oven's broiling capabilities.
If you aren't satisfied with the bottom rack's finish and want to take your confection to the next level, try broiling these pies for a buttery, caramelized finish!
The type of pie can change where you put the rack if you would like. This isn't always true but switching where you put your pie can change the consistency.
For a crisp covered pie, like a cherry pie, it can be beneficial to cook your pie in the middle rack for part of the time, or even the top rack for a few minutes.
For a pie that is being blind-baked (baked with nothing inside, just the crust) like a chocolate cream pie, the middle rack can be used as well.
Lemon meringue pie is broiled in the middle rack for a few minutes to get the right texture on top.
Really, test out your oven to find the best results. Happy baking!