This post contains affiliate links.
Large events and parties require a lot of planning and work! When hosting, one thing you especially don't want to miscalculate is the desserts. Preparing too much dessert is an extra hassle beforehand, and leaves you with far more leftovers than you are able to take care of. Not preparing enough can leave guests hungry and unsatisfied.
It is best to plan on 3-4 mini desserts per person or guest when preparing for an event. Keeping only a few more dessert types than options will help maintain these portions. Portions will most likely change if offering other desserts, especially larger options such as a slice of cake.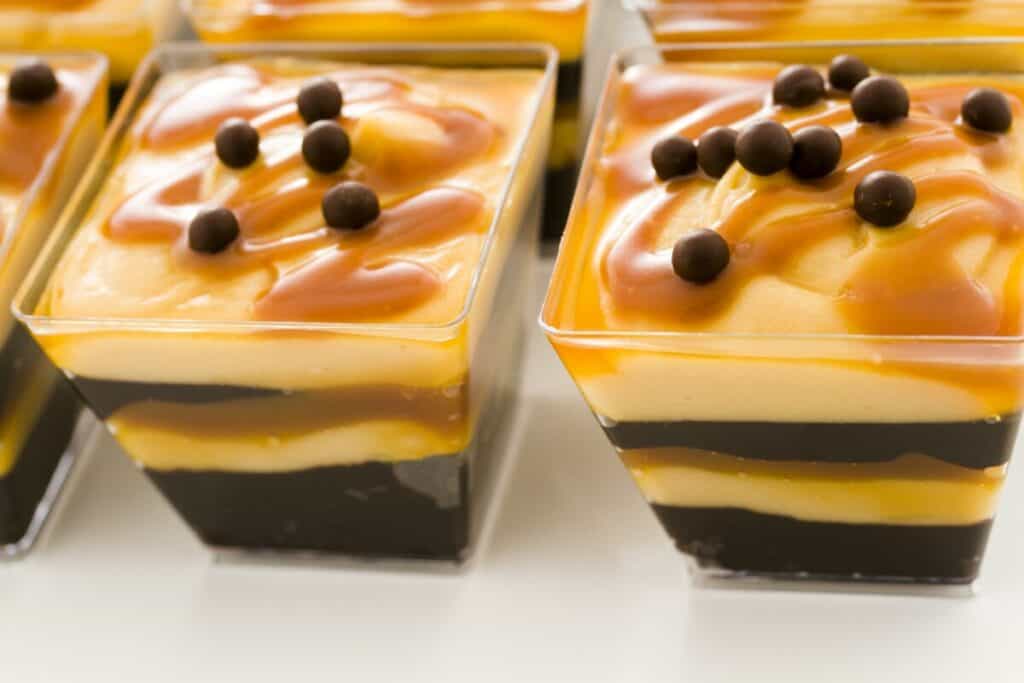 Calculating mini dessert portions can help you have a perfectly planned event, leaving guests with options and enough to leave them satisfied and happy. To help you achieve this outcome, there are several important topics and tips to keep in mind while planning and preparing beforehand.
What are Mini Desserts?
Mini desserts, also known as petit fours or mignardises, are small bite-sized confectionary appetizers that are generally sweet. These petit fours come in a large variety of options, flavors, shapes, and colors. They include
mini fruit tarts, eclairs, cake squares, cheesecakes, fruit tarts, mousse cups, and practically any other dessert than can be minimized into a small bite-sized serving.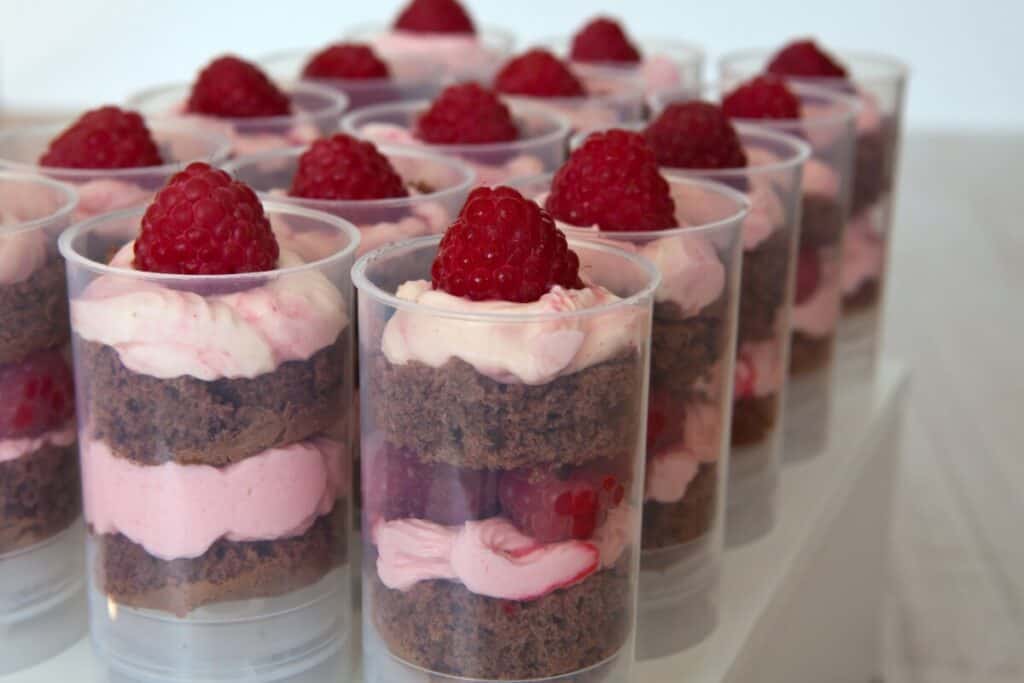 Everyone loves mini desserts because they provide something for everyone! These treats can be made gluten-free, dairy-free, sugar-free, and with other dietary adjustments suitable to a large variety of needs and preferences!
This makes these small delicacies excellent treats for large groups and parties such as wedding receptions, birthday parties, lunch-ins, baby or bridal showers, and even barbeques! They appeal to a wide array of flavor preferences, and don't require cutting, silverware, or other cumbersome serving and preparing hassles common to other dessert options.
How Many Mini Desserts Per Person?
As a general rule, plan on serving 3-4 mini desserts per person
. This is the most common proportion used by caterers and event coordinators. Most people will take a few different mini dessert options when they are first served and will occasionally return to try one more. Budgeting around three or four desserts per person allows them to try a variety of flavors and satisfy their sugar craving without eating too many calories.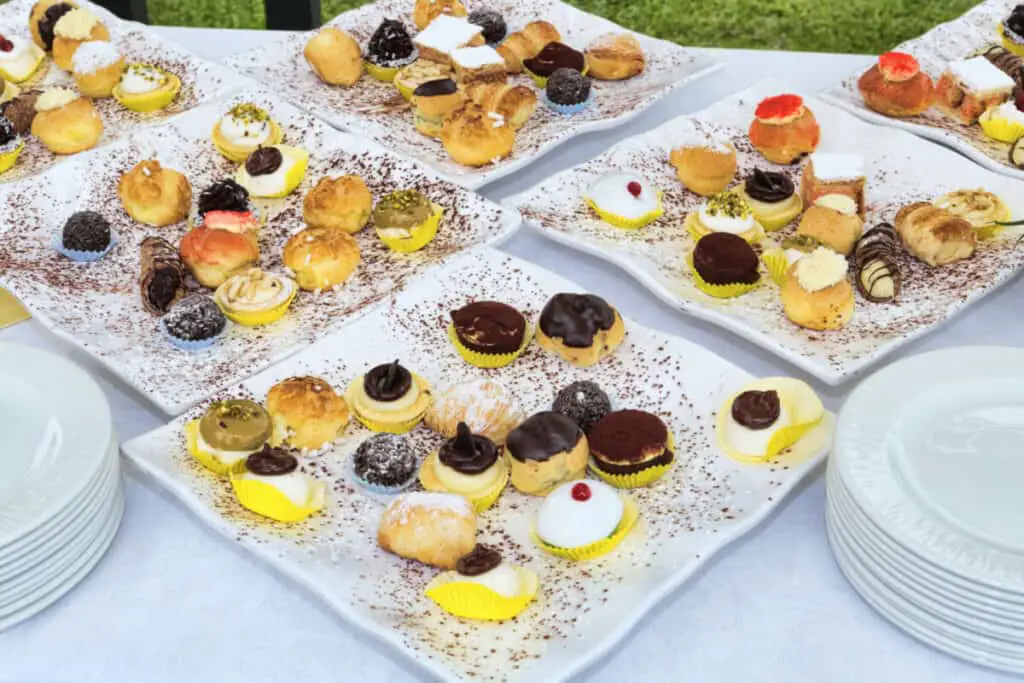 While serving around 3-4 desserts per person is a safe estimation for the large majority of occasions. In some more unique situations, and when serving nothing but mini desserts at your event, some hosts prefer to plan on serving up to six mini desserts per person.
This is not a general rule, but rather a near-maximum option for hosts who want to provide a large number of desserts for the attendees. Serving 5-6
could be something to do as a plan for particularly hungry guests and help you remain prepared for anything. Some hosts and caterers plan on serving regular serving sizes, which is 3-4 mini desserts per person in this case, and increase this total amount by 20%
as a precautionary measure.
What if Mini Desserts are Not the Only Food Being Served?
While three to four desserts per person is the correct portion for events where mini desserts are the only food served, the allocated portion size changes when other options are provided. For example, caterers have stated that if your guests will be eating another dessert, such as a slice of wedding cake for example, it is better to plan on only 1-2 mini desserts per person.
When eating another dessert type as well, especially a larger dessert, it is rational to lower the amount of mini desserts per person. This allows them the correct portioning size, with a variety of dessert options included rather than simply offering mini pastries.
How Many Types of Mini Desserts Should Be Offered?
While caterers generally provide a consistent ratio of mini desserts to provide per person in terms of portion size, it can be difficult to decide how many different kinds of these mini pastries to make and serve. It is best to offer a variety of flavor options to your guests, without giving so many that they will feel overwhelmed. It is a careful calculation to make.
The best way to decide how many types or flavors of desserts to provide is by serving about 2-3 more types
of desserts than you have allotted per guest. For example, when only serving mini desserts at an event, around 3-4 desserts should be served per person. In this situation, you should also plan on providing about 5-6 different types of petit fours at your event. When serving other dessert options and providing 1-2 mini pastries per guest, a variety of about 3-4 different types should be served to guests.
This method of serving two to three more flavor options than estimated portion sizes per guest is the best option. It will allow your guests the ability to select types that they enjoy, without an overwhelmingly large array of options available.
How Many Calories are in Mini Desserts?
While the amount of calories in a mini dessert varies largely based on the specific type and ingredients used, a rough estimation can be made for the number of calories present in most mini dessert options. Most mini desserts can have approximately 60-90
calories each
. With a serving size of 3 mini desserts, this will equate to about 180-270
calories
per person.
In calculating a proper serving of mini desserts for a single person based on calories, the suggested 3-4 mini desserts per person remains in tact. This allows guests to enjoy dessert, and remain at a low to normal calorie count for a single serving of dessert.
Many types of mini desserts can be gluten-free, dairy-free, or even sugar-free to support other diet restrictions. Be aware of the guests attending and their specific needs and preferences in diet and flavors. Keep this in mind when selecting recipes, flavors, and types of mini desserts to prepare and serve at your event.
Benefits of Serving Mini Desserts
There are many benefits to serving mini desserts at a party. A few of them include variety of flavor options, an allergy-friendly spread, minimal serving preparations required, an eye-pleasing display, can be easily specified to dietary needs, and guests are easily able to serve themselves without a mess!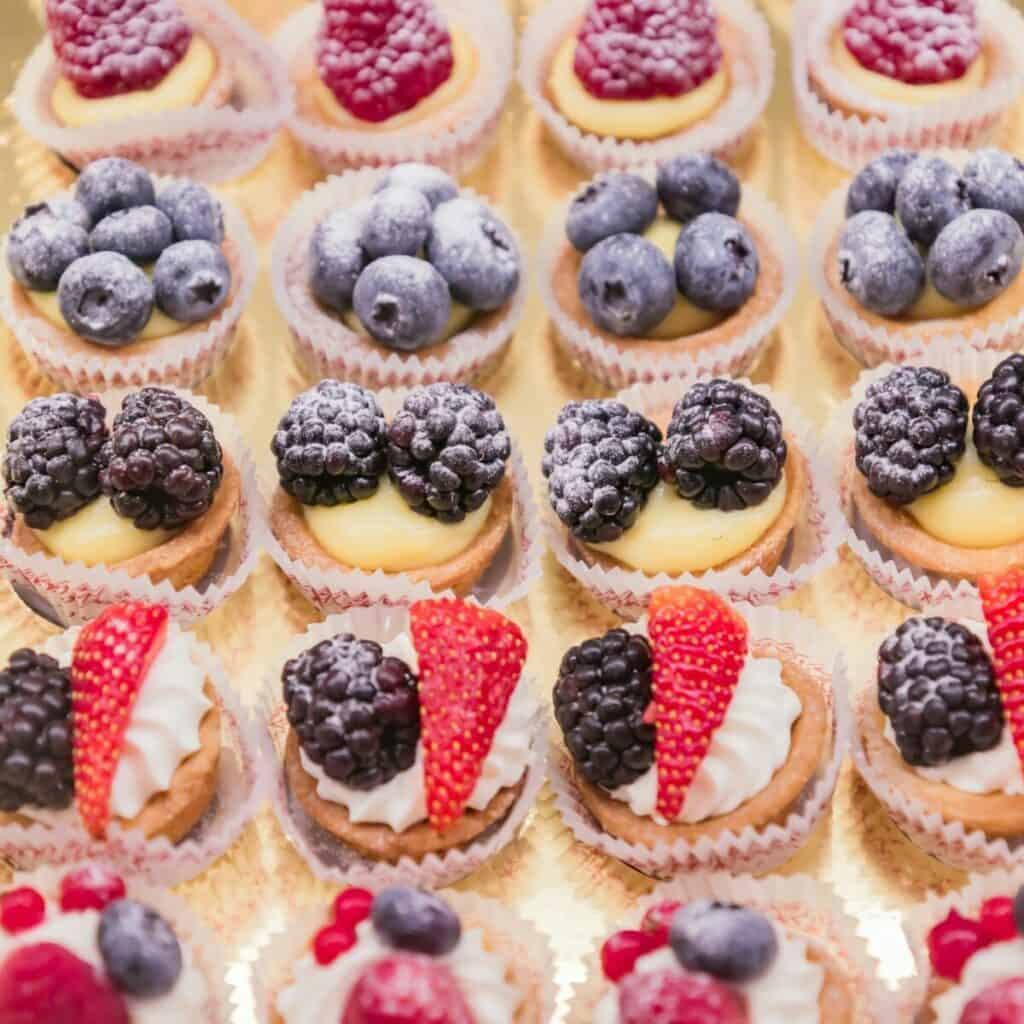 Variety of Flavors
Everyone has different tastes and preferences in food, especially when it comes to desserts. There are chocolate-lovers, fruit-lovers, sweet and salty cravers, and many other types of preferences in-between. Mini desserts are a perfect option for serving any variety of people because they can perfectly satisfy the taste preferences and craving of all consumers, as you can make many different types without getting extremely overwhelmed.
Cake and other larger dessert options lack flavor variety and provide only one option for all guests to be served. Mini desserts, however, introduce a new level of flavor and taste options to the spread. You can serve fruit pastries to the guests that prefer fruity desserts, chocolate cakes or brownies for chocolate lovers, cheesecake bites, lemon tarts, small cookies, and anything else that can be made bite-sized to appease all types of guests, tasting tendencies, and cravings in your group.
Allergy and Restricted Diet-Friendly
Many parties and events will serve one type of dessert or only one flavor, as done in events that serve the classic party option of cake. This is an unfortunate occasion for anyone who has allergies or diet restrictions because if the chosen flavor doesn't fit their needs, they are unable to have any dessert at all! It's never fun to be at a party, unable to eat the dessert.
Mini desserts, on the other hand, give a beautiful and simple option for this issue, as they allow you to provide multiple flavors and dessert options! In the selection of petit fours as your dessert to serve, you allow each of your guests' several opportunities to be able to enjoy. It can also be a good idea to include a clearly labeled dairy-free and a sugar-free option in your array of mini desserts when serving a particularly large group, appealing to more diverse tasting abilities.
Another popular food restriction includes a gluten-free community, either by choice or medically required. You can select mini dessert options that are gluten-free to allow these guests an option safe for their diet. While dairy-free, gluten-free, and sugar-free options are in high demand, most other health restrictions or specifications can be met when serving mini desserts. Be aware of the ingredients when making selections, and this event can be a success for people of all diets.
These mini desserts will be a hit for these guests who have adjusted diets. At many events, they are unable to enjoy many foods and hardly ever have a safe dessert option available. Petit fours will help them feel cared for and remembered, allowing them to happily enjoy their dessert with other guests.
Minimal Serving Preparations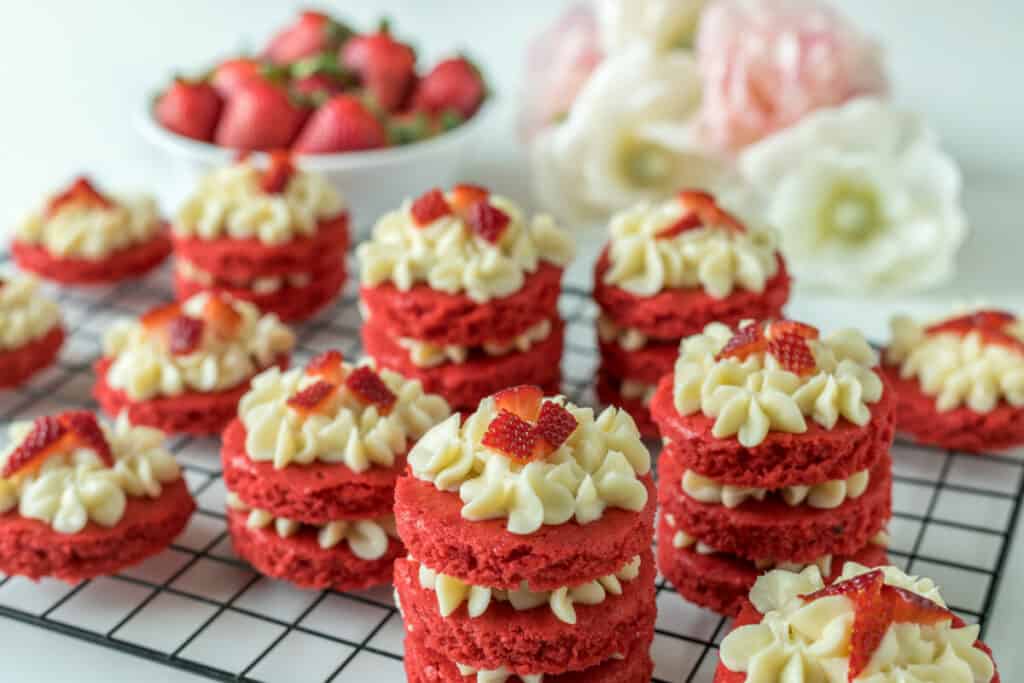 Once made, these delicious mini desserts are ready to be served! They do not require utensils, special serving plates or bowls, caramel, chocolate, or other additional toppings. Petit fours only require preparation to be made and set out at the party! Then, hosts are able to devote their complete attention to the event rather than worrying about when, how, with which supplies, or how long it will take to serve a more involved dessert option. The mini desserts can be made beforehand, placed on decorative trays or plates, and out of the host's mind.
Self-serve
When serving cake, ice cream, pie, or many other types of sweets, the host is required to portion, cut, and serve the aforementioned dessert for each guest present. With mini desserts, they can simply be placed on a variety of plates, and guests are able to serve themselves! They can make their own flavor selection, the amount of desserts they choose, and even return for some more later if they please and do so at their own leisure.
Beautiful Array
As humans, we generally feast first with our eyes. This means that food and desserts presented at an event or party should be pleasing to the eye before they will please the taste buds of attendees.
To provide an appropriately pleasing visual feast for your guests, you can consider a variety of approaches. For a themed event, the pastries can be made to coordinate with the chosen theme. One of the most pleasing ways to beautifully display your mini desserts is to select a variety of types and flavors. Include some chocolate options, colorful fruits, and different designs on the tops to achieve this visual appeal.
You can also place the petit fours on appealing plates and platters. They are commonly found on tiered serving plates for a variety of heights and visual appeal.
What Else Can Be Served With Mini Desserts?
Because mini desserts are largely used at tea party-style sitting events, they are commonly served with drinks. Tea, coffee, lemonade, and other fruity drinks commonly accompany these petit fours. Even if not serving other desserts, providing some of these drinks can be a valuable addition to your food table array that will help your event be successful!
Mini desserts are a wonderful addition to any type of dessert or food display. You can add them to a variety of cookies, cupcakes, brownies, or even surrounding a pie, cake, or other large dessert! These mini desserts can provide for the guests that are looking for a small appetizer before the meal or large dessert is served, and they can even serve themselves!
When serving a full meal, dessert can be the last straw. After preparing an entire array of main dishes, vegetables, sides, appetizers, drinks, and all of the other meal requirements, it can seem entirely overwhelming to prepare an ornate cake or dish that may not even appeal to all guests. This is when these petit fours can be life-saving!
Preparing a small variety of these desserts will provide something for every craving, diet restriction, or preference in attendance. They can be prepared beforehand and simply set out for guests to self-serve at individual tables or a large serving table.