This post contains affiliate links.
I've been on a quest to find healthier alternatives to my favorite comfort foods including desserts. Switching out Vegetable oil for Olive oil sounded like an easy substitute so I decided to make my own version of an Olive oil cake to see how it would taste.
As a general rule, Olive oil cake does not taste like Olive oil. Olive oil has a fruity flavor, but it will take on the flavors you use in the Olive oil cake. For example, an Olive oil cake that includes Lemon and Vanilla will have a naturally sweet taste with hints of Lemon and Vanilla.
I created my own healthy Lemon Olive oil cake using gluten-free flour. Continue reading to get the entire recipe and my tips to make sure it comes out tasting delicious.
What does Olive oil cake taste like?
Olive oil cake tastes delicious. If Olive oil cake is made correctly, the Olive oil only enhances the flavor and texture. There are many types of flavors that Olive oil will pair with such as fruity and nutty flavors. Keep in mind there are many varieties of flavored olive oils such as Chipotle, Dill, and Garlic which could alter the flavor of the cake negatively. The Olive oil cake I made was perfectly sweetened with hints of Lemon, Vanilla, and Ginger.
Olive oil gives the cake a perfectly soft, spongy texture on the inside and a slight crunch on the outside. Olive oil helps the cake stay moist and tender for a longer period of time. In this recipe, I used sweet potatoes to bind everything together which gave the cake a beautiful orange color but it did not alter the taste.
The Lemon and Vanilla flavors paired well with crushed Walnuts and the Coconut milk frosting I made using Monk Fruit as the sweetener.
Is Olive oil cake healthier than regular cake?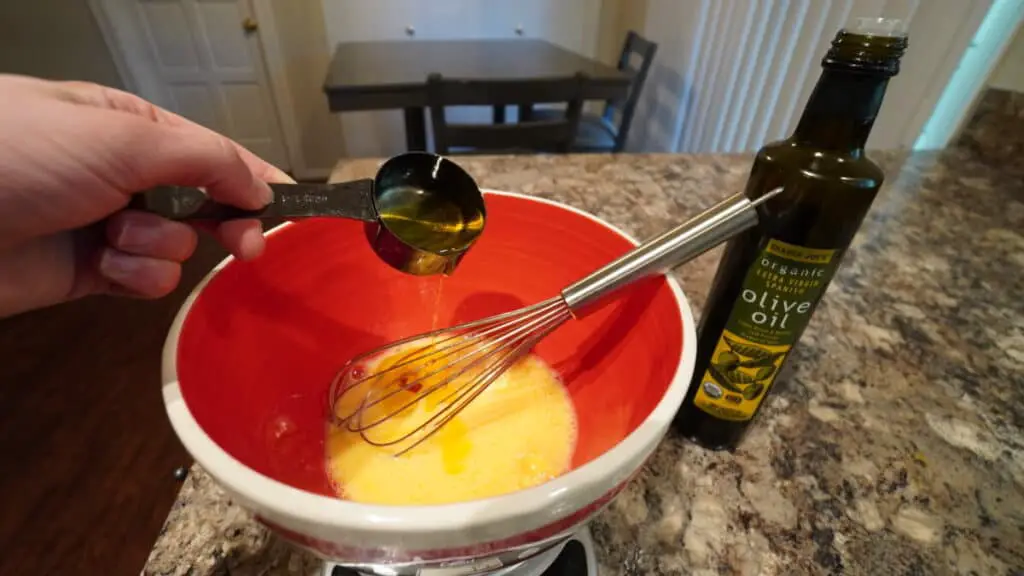 Olive oil cake can be healthier than regular cake. According to the Mayo Clinic
, monounsaturated fatty acids are the main type of fat found in Olive oil which is considered a healthy dietary fat. Many traditional cake recipes call for butter which has Saturated fat. Dietary guidelines recommend limiting saturated fats to less than 10% of your calories per day. According to Mayo Clinic, saturated fats can increase LDL cholesterol levels in the blood.
If you replace saturated fats such as butter with unsaturated fats such as those found in Olive oil, you could gain health benefits such as lowering your risk of heart disease by improving some risk factors.
Keep in mind Olive oil tends to be more expensive than vegetable oil or butter so that's something to consider if you want to keep the cost of the recipe down.
To make the cake healthier, you can also replace other traditional cake ingredients with healthier alternatives such as using Almond and Coconut flours instead of conventional flour and using Monk Fruit instead of conventional sugar.
Will Olive oil make cake taste weird?
Olive oil could slightly alter the flavor of a cake if you are using a recipe that originally called for vegetable oil or butter and you use Olive oil in the recipe instead. Olive oil comes in many flavors. If you use garlic-flavored Olive oil in a baking recipe, the flavor will most definitely come through and alter the flavor.
I would suggest using a high-quality Olive oil such as one that you would use to drizzle over your favorite salad or in your favorite pesto recipe. Low-quality Olive oil won't be masked in a baking recipe. In fact, the taste could come through and overpower the flavor of the cake.
Keep in mind that Olive oil has a distinct flavor that could come through a recipe especially if you are not used to it. I didn't taste Olive oil in the Lemon Olive oil cake I made, but I have been using Olive oil in a variety of recipes for years since I cannot tolerate vegetable oil or most butter in my recipes.
Olive oil will compliment baking recipes with strong fruity or nutty flavors such as my Healthy Carrot Cake For a Crowd
.
Can I use Olive oil instead of Vegetable oil in baking?
You can use Olive oil instead of Vegetable oil when baking. Substitute with a 1:1 ratio. When replacing Vegetable Oil, Olive oil labeled mild works best. You can use Olive oil just like any other oil in baking. Cakes, cookies, and bread need fat to hold the recipe together. When baking with Olive oil instead of butter, use 3 tablespoons of Olive oil for every 1/4 cup of butter for best results.
Healthy Lemon Olive Oil Cake Recipe
I believe you can have your cake and eat it too so you don't have to feel guilty even if you swipe a second piece. Once you make this cake for your friends and family, they will be asking for it again and again. 
This Healthy Lemon Olive oil Cake is deliciously light in flavor with hints of lemon, almond, ginger, and coconut milk frosting. This recipe is made with all healthy alternatives such as swapping out conventional flour for gluten-free Almond and Coconut flours. Instead of cane sugar, I used Monk Fruit sweetener which has a 1:1 substitute and sweetens the recipe nicely. You could also use Honey, Agave, or Stevia to sweeten the cake. Just make sure you check how much you will need instead of sugar because not all sweeteners will substitute 1:1.
Mashed sweet potatoes doubled as a binder and an extra sweetener in this recipe which gave the cake a beautiful orange hue. I also used canned organic Coconut milk and Monk Fruit sweetener for the frosting of the cake.
Tips For Making Lemon Olive Oil Cake
After the Olive oil cake is done baking, make sure you let the cake cool completely (at least 30 to 45 minutes) before removing it from the pan. I made the mistake of trying to remove the cake from the pan before it cooled and the cake came apart even though the cake was fully baked. The cake is light, but dense so you want to make sure you grease the pan appropriately before you put the cake batter in.
It's also important to allow the cake to cool completely so you can frost the cake properly. The first time I made this cake, I tried to frost it too soon and the Coconut milk melted into the cake creating a tres leches flavor which tasted delicious by the way! If that's not what you're going for and you want your frosting to stay on top of the cake after you've mixed your frosting, make sure to chill it in the fridge before frosting it for at least an hour so it's extra creamy.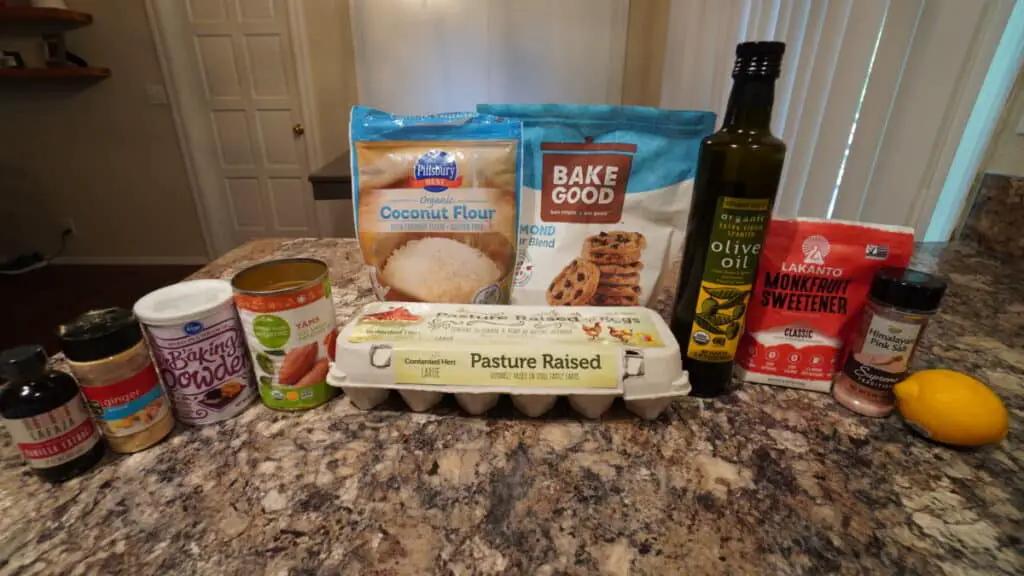 Ingredients
1/4 cup extra virgin olive oil
1/2 cup almond flour
1/2 cup coconut flour
1 tsp vanilla extract
4 eggs
3 tablespoons Monk Fruit sweetener
1 1/2 cups sweet potato (cooked, cooled, and blended)
1 tablespoon lemon zest
1 tablespoon of lemon juice
1 tsp baking powder
1 tsp ground ginger
1/4 teaspoon salt
For frosting:
1 1/2 cups coconut milk (chilled in refrigerator)
3 tablespoons Monk Fruit
2 tablespoons walnuts (for topping optional)
Healthy Lemon Olive Oil Cake Instructions
Place the oven rack in the middle position. Preheat your oven to 350 degrees Fahrenheit or 176 degrees Celsius.
Blend pre-cooked and cooled sweet potatoes in a blender or a food processor. I used canned organic sweet potatoes for this recipe and it worked out great.
To bake your own sweet potatoes, preheat your oven to 425 degrees farenheit or 218 degrees celsius. Wash and peel one large or two small sweet potatoes. Use a fork to poke holes in the sweet potatoes. Line a baking sheet with aluminum foil to make cleanup afterward easier. Place the sweet potatoes on the aluminum foil and lightly coat with olive oil. Bake for 45 to 50 or until completely tender. Allow the sweet potatoes to cool for 15 minutes and then put them in an airtight container in the fridge until you're ready to use them in the Olive oil cake recipe.
Crack eggs into a large bowl and whisk together. Add extra virgin olive oil, vanilla extract, lemon zest, and lemon juice to the bowl and whisk together. Add blended sweet potatoes and mix into wet ingredients.
Add almond flour, coconut flour, ginger, salt, and baking powder into the wet ingredients and mix until smooth. The batter should be completely smooth.
Grease a cake pan or a bread loaf pan and add cake batter into the pan. Bake for 50-60 minutes. While the cake is baking, mix coconut milk with Monk Fruit and place it in an airtight container in the refrigerator. This will allow the frosting to firm up for frosting the cake.
Take the cake out of the oven when it is firm, but also bouncy or a toothpick comes out clean. Allow the cake to cool completely. When the cake is no longer warm, take the frosting mixture out of the fridge and use a spatula to frost the cake evenly until it is completely covered.
Optional: Crush walnuts in a Ziploc bag or use a food processor to crush them. Sprinkle them over the frosting. Sprinkle the cake with powdered Ginger for extra spice if desired.