This post contains affiliate links.
My friend and cousin Hannah had a gluten allergy that would always be the subject of conversation before any holiday. Finding gluten-free food was always a challenge, but one thing we never struggled with was finding gluten-free baked beans. There are so many options for gluten-free baked beans, so check out below to find all the gluten-free options to save your barbecue.
B&M baked beans are gluten-free and are very delicious. Another option is to make homemade gluten-free baked beans, which are exciting to present at a barbecue. There are also several other brands of baked beans that cater to the gluten-free populace.
I have gone and listed all the gluten-free baked beans that I know and a recipe to make your own gluten-free baked beans. Read on to learn which gluten-free baked beans I think are the best.
Amy's Kitchen Vegetarian/Vegan Baked Beans
Amy's Kitchen has a few options for gluten-free baked beans. Amy's Kitchen's vegetarian and vegan baked beans are gluten-free. Amy's Kitchen overall has over 100 gluten-free options for food and prides itself on meeting FDA standards. Amy's Kitchen's organic vegetarian baked beans are my personal favorite option they sell.
Amy's Vegetarian Baked Beans are cooked by slow-simmering organic white beans with tomato purée, mustard seeds, apple cider vinegar, and the traditional hint of maple syrup. This makes for a very yummy addition to your meal. These beans are gluten-free, dairy-free, lactose-free, tree nut-free, vegan, kosher, and plant-based, which is what makes them perfect for any family gathering.
Most grocery stores carry Amy's Kitchen's baked beans, but if you want other places to buy them from you can order straight from Amy's Kitchen's website. Amy's Kitchen's website has a tracker where you enter your zip code and they will help you find a store near you where they have their baked beans at. Another option is to go to your local store and see if they would be willing to order some beans for you.
If you are worried about cross-contamination Amy's Kitchen does a hard job of making sure that there is no cross-contamination. They make sure that the bowls are thoroughly cleaned between each product. Yet, Amy's Kitchen does admit that its products are made in a facility that has wheat, milk, soy, tree nuts, and seeds in it.
B&M Baked Beans
B&M baked beans have many gluten-free options for its consumers. This includes their, baked beans with maple flavor, Boston's best-baked beans, country-style baked beans, vegetarian baked beans, baked beans with bacon and onion, and original baked beans. Therefore, you can see there are a couple of options that you can choose between.
Each of B&M's baked beans is so very good and the family will definitely enjoy it. B&M products can be found at your local grocery store. If they are not there you can try asking if they will have them shipped in for you.
B&M baked beans are great for food storage. They will last a long time in the can they come in, but if you want to freeze the beans they will also last for a very long time in the freezer. The only difference is when you reheat frozen baked beans they tend to come out softer and slightly mushy, but they should still have their rich beautiful taste.
B&M baked beans use pea beans to make their baked beans. Pea beans are also known as navy beans. They gained their name as Navy beans because in the early 1900s they were commonly served on Navy ships. When the Navy men retired from the Navy they couldn't help having a craving for the pea beans. B&M heard the glowing reviews over Navy beans and decided to use them as a staple in the product production.
Heinz Baked Beans
Heinz baked beans are also gluten-free. Heinz's baked beans are high in protein and fiber which will help your health. They have no artificial colors, flavors, or preservatives to keep your body as strong as it can be. Their products are vegetarian and vegan. Not only are their baked beans gluten-free, but they are also low in fat. They offer a multitude of size options which is perfect for different social situations. They offer cans that come in 150g, 200g, 300g, and 415g sizes. They also offer several different types of multipacks.
An issue with Heinz baked beans is that they are more expensive than your average baked beans. In June of 2022, they had a little scandal when they raised their prices due to inflation. One of their main shelf holders Tesco refused to sell Heinz's baked beans anymore due to the fact that they believed that the price rise was not necessary and cheated out the American people.
If you have a little extra money to burn, though, Heinz is a very yummy option. Heinz does take a stand on a lot of social issues that are troubling the United States of America and the rest of the world. One of the social issues they tackle is the gender wage gap. Heinz did a research project and noticed a large wage gap between their female employees and their male. They therefore went and righted their wrong by raising their female employees' wages to remove the gap.
Bush's Best Baked Beans
Bush's Best Baked Beans is a really good option for you. As the title says, they are the best and labels on cans never lie. Puffery aside, Bush's Best Baked Beans does make a very sweet baked bean that is absolutely delicious.
Bush's Best Baked Beans is very active with their consumer public. They have created a blog that goes over the different ways to best serve their baked beans that can be helpful to you and your barbeque needs.
Bush's Best Baked Beans also offers eight different kinds of baked beans that you can choose between. All of them are good in their own way. You can find Bush's Best Baked Beans at any grocery store.
All of Bush's Best Baked Beans' baked beans are a great source of fiber. Bush's Best Baked Beans' vegetarian baked beans are my personal favorite though. The vegetarian baked beans are slowly cooked in a tangy tomato-based sauce. It is then seasoned with brown sugar and a secret blend of spices that just shines through. The flavor is so good that you will not even miss having meat.
Bush has been around since the beginning of the 1900s, and they have been crafting their recipe since then. This business started as a family business, and because of that, there is a homey taste that you cannot find anywhere else.
Mama's Baked Beans
MAMA's baked beans are another great option. Mama only uses natural ingredients, so you know that your baked bean experience is going to be healthy and good for you.
Mama's baked beans are made using a traditional recipe that has been passed down for generations. The whole theme of MAMA's is old-time values and love. Mama's baked beans come in a cute jar that has a little cloth covering to remind you of the jars of baked beans at your grandma's home when you were growing up.
MAMA's baked beans consist of 63% beans, 6% onions, 1% chili powder, 6% sunflower oil, and 1% sea salt. This makes for a very nice taste.
Another very fun aspect of MAMA's baked beans is that they are created in the Macedonian style. This will provide you with a culturally diverse baked bean experience and will help you appreciate other cultures.
MAMA also grows their own food so they can have the best ingredients to add to their baked beans. This means if you buy from MAMA you will have the farm-fresh experience while eating your baked beans.
MAMA also has a variety of other canned goods that you can choose from. MAMA has everything from baked beans to Ajvar. Therefore, you should try out MAMA's other ingredients.
Eden Foods Organic Baked Beans
Another great brand to buy your gluten-free baked beans is Eden's baked beans. Eden supports American farmers by purchasing solely from the U.S. and has created sweet and savory baked beans. The beans are made from navy beans. The baked beans are traditionally baked and prepared at Eden Foods' Indiana cannery.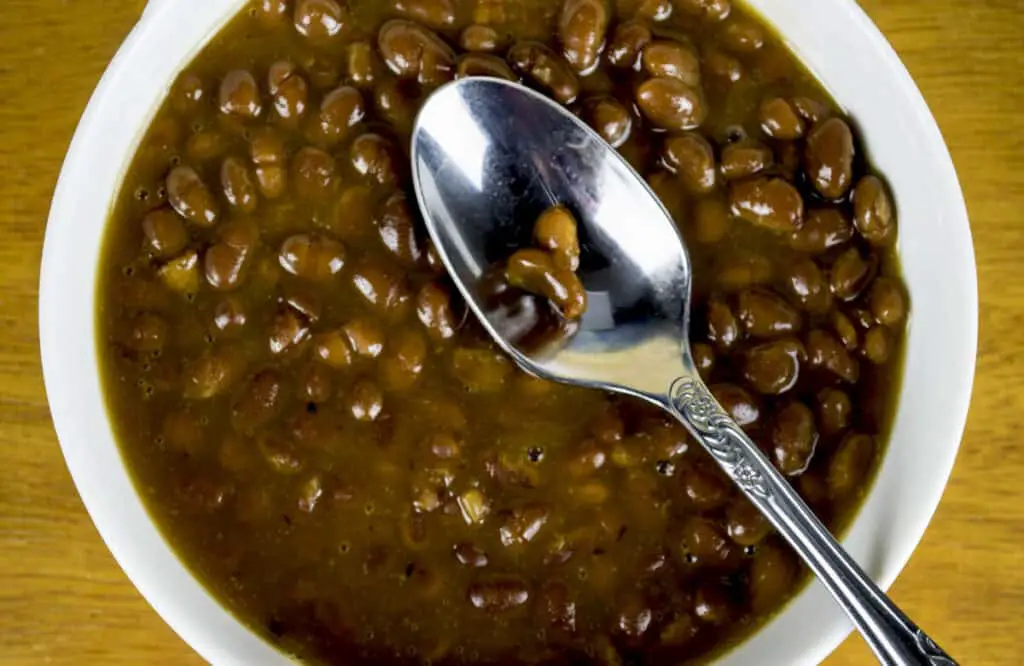 Eden creates their beans by soaking them overnight. They then put them in a pressure cooker with select Eden organic ingredients such as sweet sorghum syrup, tomato purée, stoneground mustard, spices, purified water, and a bit of Eden sea salt. There are no chemicals added to the mixture to give it a completely organic taste.
These beans are ready to eat once you purchase them. Just heat them, stir them, and then put them on your nicest platter. The beans are a great source of protein, complex carbs, good fiber, vitamin B, iron, magnesium, potassium, calcium, zinc, and healthy fats.
Eden beans also come in environmentally friendly cans. They are BPA, BPS, and phthalate-free. They have been taking care of the globe since 1999 and plan to continue to make a difference years down the line.
The beans come in a 15-ounce can, which is great for your next family get-together. They also sell at a reasonable price of $4.27 a can.
Homemade Gluten Free Baked Beans Recipe
Another great option if you want to look really skilled is to make your own gluten-free baked beans. This can be a lot of fun and you will like the queen of the kitchen. It is also not too difficult to make homemade baked beans. I am going to include a recipe on how to make gluten-free baked beans bellow.
Ingredients 
 2 15-ounce cans of white beans that are drained and rinsed
 ¼ cup ham or bacon cooked and finely chopped
½ cup onion diced finely
¼ cup organic ketchup
2 teaspoons organic yellow mustard
¼ cup maple syrup
2 tablespoons molasses
1 cup tomato sauce plain from a can without added salt
¼ teaspoon cumin
 ¼ teaspoon chili powder
pink Himalayan salt
Instructions
To begin, you will need to drain and rinse your white beans. Then you will combine in a medium saucepan your white beans with ham or bacon, onion, ketchup, mustard, maple syrup, molasses, tomato sauce, cumin, and chili powder. After you have combined them, you will add as much salt as you think it needs. Once everything is combined, cook your dish over low-medium heat for 20 minutes or until you reach your desired consistency. Make sure that you stir your beans often. Note, though, that the longer it cooks, the thicker the mixture will become. Once you are done, taste it and see if you need to add more salt. If not, then you are done and ready to chow down on some yummy baked beans.
Baked Beans that are not Gluten Free
If you are wondering after going through this list of gluten-free options 'are there any non-gluten-free baked beans then here is a list of baked beans that are not gluten-free.
To start with Campbell's baked beans are not gluten-free. Campbell is best known for their soup and if you are gluten-free you better just stick with their soup. Campbell has branched out a little over the years and they make baked beans now. Their baked beans are called the Campbell's Pork & Beans. It is very much not a gluten-free option so avoid it if you cannot eat gluten.
Grandma Brown is also not going to be your friend. This brand was made in New York and is a regional favorite, but you might want to avoid it if eating gluten causes massive gastric issues. The company in general does not mention any of their ingredients, so do we even know that their beans are made out of beans.
Pacific food makes a variety of gluten-free soups so you would think that they make gluten-free baked beans. Well, they do not. They create two different types of baked beans, which are the Traditional Baked Beans with Pork and the Organic Vegetarian Baked Beans. Neither of these options is gluten-free so do not eat them.