This post contains affiliate links.
Enchiladas are always a crowd favorite. Whether you're making them for a holiday party, family get-together, or company party, everyone will enjoy this deliciously cheesy dish. For as long as I've been cooking enchiladas, they don't always turn out consistent. If you love enchiladas just as much as I do, you hate it when they get soggy.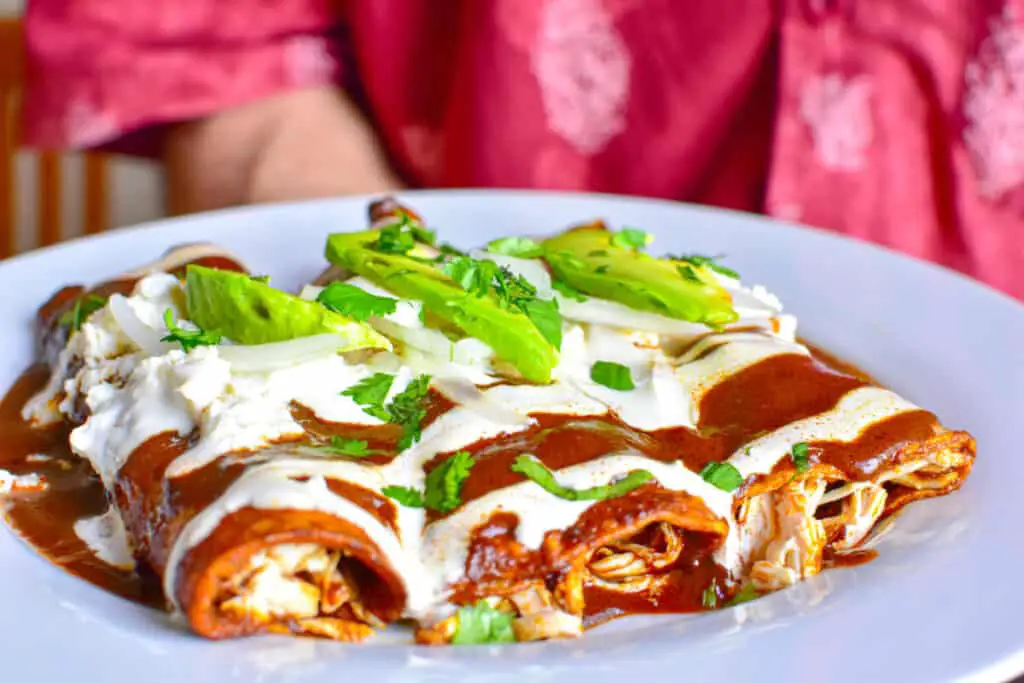 As a general rule, you can keep enchiladas from getting soggy by frying fresh corn tortillas individually in a pan with 1/2 inch vegetable oil on medium to low heat. When each side is slightly crispy and brown, place your filling inside the tortilla and roll it while it's still in the pan.
In this article, I will help you make sure your guests are never disappointed with your homemade enchiladas again. After asking for help from my friends who grew up making traditional enchiladas, I finally got all the secrets. This will ensure your enchiladas turn out crispy, cheesy, and delicious every single time. Keep reading to find out how!
How to Keep Enchiladas From Getting Soggy
The secret to keeping enchiladas from getting soggy is using fresh corn tortillas. If you can, buy your tortillas at a Taqueria, Tortilleria, or a Panaderia. These are bakeries that make and sell fresh tortillas. You can also buy a Masa mix from a traditional Mexican store and make your own tortillas at home.
Preheat a pan on medium to low heat, dip each side of fresh white corn tortillas in sauce, then fry each side in a pan of 1/2 cup of vegetable oil. You can also fry each side of the tortilla in vegetable oil first, then lightly coat the enchilada with sauce. This allows the tortillas to soften up enough so they can bend without breaking apart. It also crisps them up while also creating a barrier between them and the sauce so they don't get soggy.
While the tortilla is still in the pan, place your filling in the middle so your cheese can melt and any meat can warm up. Use two spatulas to roll the enchilada in the pan and place it on a plate. Keep doing this with individual tortillas until you have the desired amount. Top the enchiladas with your choice of cheese, onion, lettuce, cabbage, salsa, and Mexican crema.
Traditional enchiladas are made one at a time in a pan, not baked as a casserole. Frying corn tortillas in a pan beforehand works well because it creates a barrier between the tortilla and the filling and sauce you add. It also makes the tortilla more pliable so you can roll it. The tortilla gets soft but crispy and takes on a bit of flavor from the cooking oil.
How to Fix Soggy Enchiladas
To fix soggy enchiladas, take them out of the pan one at a time and fry them in a pan on medium to low heat with 1/2 cup of vegetable oil. Allow them to fry on all sides until they are slightly brown and crispy. Add warm enchilada sauce and toppings after you fry them and put them on a plate.
Will Enchiladas Get Soggy in the Fridge?
Enchiladas will not get soggy in the fridge as long as they are prepared correctly by frying both sides of fresh corn tortillas before assembling the enchiladas. Do not pour sauce over the enchiladas if you plan to refrigerate them as that can cause them to get soggy. Pour sauce over enchiladas when you are ready to heat and serve them. You can refrigerate enchiladas in an airtight container for up to 2 days while keeping them fresh. To keep enchiladas even longer, place them in an airtight container in the freezer for up to 3 months.
Can You Make Enchiladas Ahead of Time?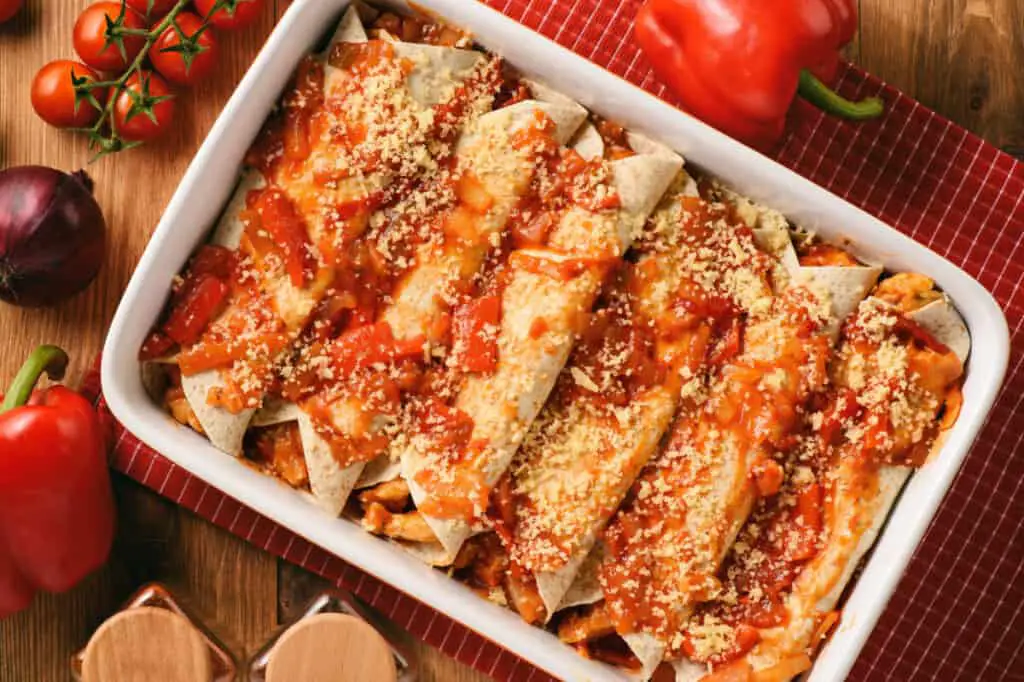 You can prepare enchiladas ahead of time. Place a pan on the stove at low to medium heat and fill with 1/2 inch of vegetable oil. When the pan is hot, fry fresh white corn tortillas one at a time on both sides until they are slightly crispy and brown. Place the filling inside the tortillas and roll them in the pan with two spatulas.
Place the enchiladas one at a time in a casserole dish until it's filled, cover with a lid, and place in the fridge. When you are ready to serve your enchiladas, preheat your oven to 350 degrees. Take the enchiladas out of the fridge, sprinkle with desired cheese and bake for 30 minutes. After the enchiladas are reheated, add additional toppings such as fresh cabbage, lettuce, salsa, and Mexican crema.
Why is My Enchilada Casserole Watery?
To prevent your enchiladas from getting watery, do not pour sauce on the casserole before baking. Choose fresh white corn tortillas over flour tortillas. Before assembling your casserole, fry each tortilla in vegetable oil in a pan on medium to low heat until each side is slightly crispy. This will help prevent liquid from soaking into the tortillas while they are baking. Assemble your enchiladas with fillings of your choice such as chicken, beef, pork, and cheese. Sprinkle cheese on top if you'd like, but do not pour sauce on the enchiladas before baking.
After assembling the enchiladas and placing them in the baking dish, cover them with aluminum foil and bake them in the oven at 375 degrees Fahrenheit for the first 20 minutes. After 20 minutes, remove the aluminum foil and bake them uncovered for an additional 10-15 minutes until the cheese on top is melted. After they have cooled, plate them and pour warm enchilada sauce on each. Add additional toppings such as lettuce, cabbage, onion, and Mexican crema.