This post contains affiliate links.
As the fall season approaches and the weather chills, people want to enjoy a fall classic: warm apple cider. Since warm apple cider is a fan favorite, it is the perfect drink to serve at parties. But keeping the cider warm for the duration of the party can be difficult.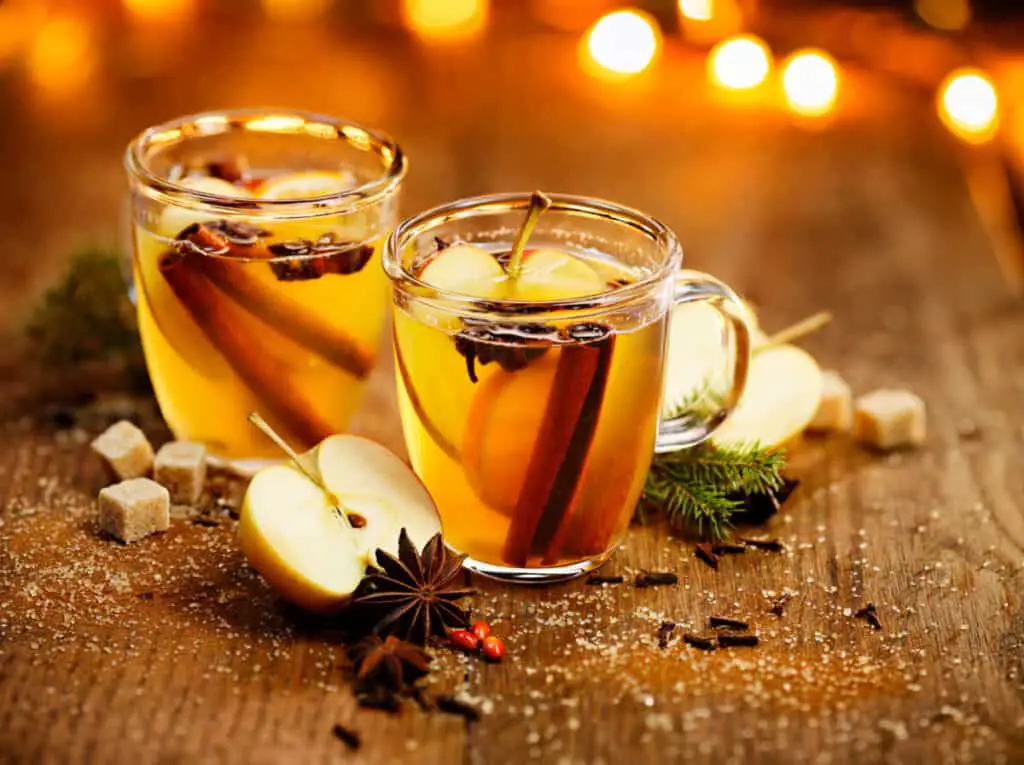 Keep apple cider warm during a party by putting it in a crockpot, large thermos that dispenses the drink, thermal carafe, kettle, coffee urn, or fondue pot. Heat the apple cider before the party, then transfer it to the thermal container if necessary. Serve in disposable coffee cups.
Warm apple cider is a wonderful crowd-pleaser that you can serve during both small and large parties. There are a variety of vessels that can keep the apple cider warm.
Devices and Pots that Will Keep Apple Cider Warm During Party
Insulation is key when choosing the device you will use to keep apple cider warm during your party. You also want to keep the apple cider in a warming vessel that will quickly and easily dispense the liquid into cups. This way guests can spend their time enjoying the party as well as their cider.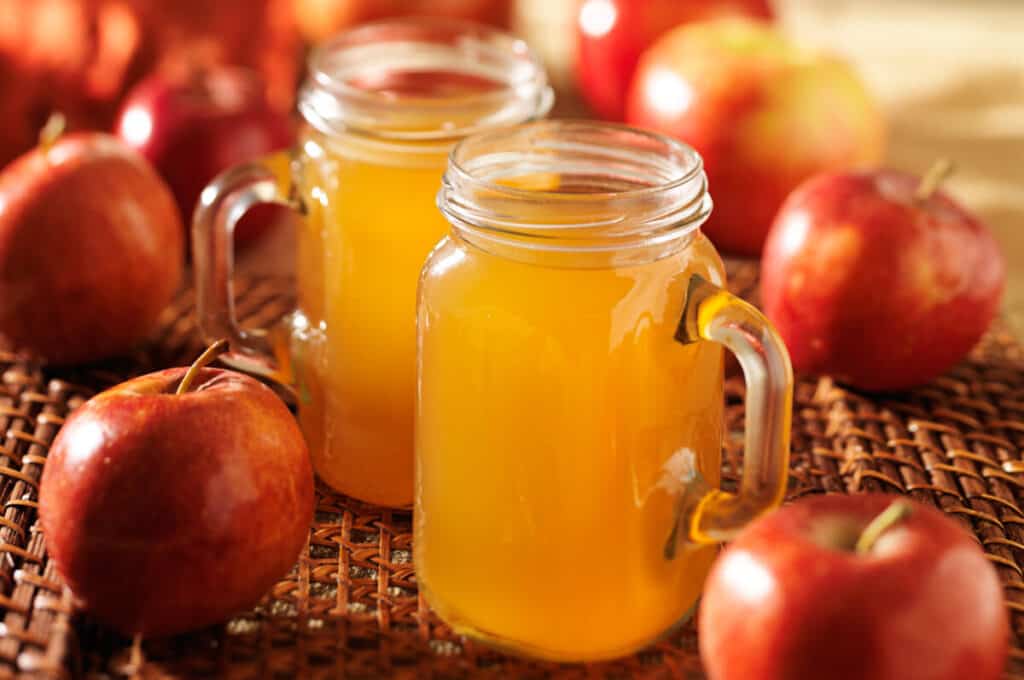 You can keep apple cider warm in a variety of different devices, including:
Crockpot
Sauce Warmer
Large Thermos
Countertop Burner
Kettle
Steel Carafe
Coffee Urn
Fondue Pot
Crockpot
The tried and true method of keeping things warm: the crockpot. If you are serving warm apple cider at a party, definitely put it in a crockpot. Most crackpots have a "warm" setting that you can use during the party, but you can also use it to warm up the apple cider beforehand. This way you won't have to move the cider into a different vessel when you bring it to the party location, potentially spilling some of the liquid deliciousness.
Most people have a crockpot, so if you don't one of your friends likely will. That means you won't have to spend large amounts of money to heat the apple cider for the party. Even if you do have to purchase a crockpot, they are inexpensive ranging in cost from $10 to $40.
How to Heat Apple Cider in a Crockpot:
One hour before the party, put the apple cider in the crockpot.
Put the lid on the crockpot.
Turn the crockpot to low or high
After it reaches the desired temperature, turn the crockpot to low (or warm).
Serve with a ladle.
Using a crockpot to heat apple cider for a party is the #1 recommendation from Reddit
users. You can use multiple smaller crockpots if you need to serve a large amount of apple cider and don't have a large crockpot.
Crockpots are easy to transport, so if you need to warm up the apple cider before the party and take it to a different location, you can. Make sure you drive carefully or have someone hold the crockpot while you drive to prevent spills.
When you serve warm apple cider, use a ladel or a deep spoon so people can put the cider into their cups. Put a plate or another flat surface next to the crockpot and put the ladle on it. When people serve their apple cider, they can return the ladle to the this plate. This prevents the ladle from sticking to the table and allows you to keep a lid over the cider (this will keep the precious heat inside). Using this tactic will prevent a sticky mess to clean up after the party.
Sauce Warmer
Use a sauce warmer to heat up apple cider for a party. Depending on its size, the sauce warmer may only hold a small amount of cider, but it will work regardless. if you need more than the one sauce holder can hold, place multiple warmers on tables throughout the party. This way guests don't have to walk far to refill their cups.
Large Thermos Drink Dispenser
Use a large thermos with a drink dispenser to serve apple cider at a party. You will have to heat up the apple cider in a different vessel, but thermoses, especially large ones, are easy to fill so you likely won't spill a large amount of the cider.
A large thermos will keep the apple cider warm for hours, even if it is placed in a cold area. If the thermos has a drink dispenser on the lid, your guests will be able to get apple cider quickly and easily, which is very important during a party.
Countertop Burner
You can use a countertop burner to keep apple cider warm during a party, but if you use a countertop burner you will have to periodically check on the apple cider, adjust the temperature, and stir it. This is especially important if you added anything to the cider. Learn what you can add to your cider later in this article.
The apple cider can potentially burn or boil if heated with a countertop burner. However, countertop burners are portable ad can be put in a small space during the party. If you don't have another way to heat apple cider during a party, you should use a countertop burner. Just put the apple cider in a pot and put a ladel beside it so the cider can be served.
Kettle
Use a kettle to heat apple cider for a party. If you have a metal kettle rather than a glass one, the cider will stay warmer longer. With this method, if the apple cider becomes too cold you can always heat it up again, but it will be hard to determine how much cider is left in the kettle.
Unfortunately, kettles tend to be quite small, so you won't be able to heat large amounts of apple cider. However, if you are having a small party rather than a large one, you should definitely be able to keep enough cider warm to keep people happy.
Steel Carafe
Use a steel carafe to serve warm apple cider during a party. They come in a variety of sizes so you can pick one that best suits the size of the party that you are hosting, and they are easy to use. You can even find a steel carafe with a removable lid so when it is not being used, you can close the lid and keep the cider warmer for a longer period of time.
When you use a steel carafe to keep apple cider warm, fill it with hot water and wait a few minutes. This will warm up the metal and make it so the temperature stays warmer for longer, as the apple cider will not cool down while trying to heat the carafe.
Coffee Urn
Use a coffee urn, otherwise known as a boiler, to keep apple cider warm during a party that you are hosting. Catering companies often use coffee urns to keep drinks warm during events, therefore, these are an excellent choice for keeping the cider warm while you host parties.
Fondue Pot
Although it may seem slightly odd to do so, you can keep apple cider warm in a fondue pot during a party. They often include a lid you can use to keep the cider warm when it is not being served, and won't reach high temperatures. You will have to periodically stir the apple cider to ensure it doesn't burn, but that needs to be done with most serving techniques.
Where to Put Warming Device During Party
To be able to serve apple cider during a party, you need to have a place to put the warming device that is easily accessed and isn't near a path where people will be constantly walking.
You can put the device with the warm apple cider in the following places during a party:
Countertop
Table
Side Table
Near food
In the Kitchen
Try to put the apple cider near other foods so when people grab something to eat, they see that the cider is available and grab a cup. If guests don't see the cider or it is in a crowded area, people won't drink as much and you will have to take a large amount of cider home.
If you don't want the warming device to look out of place amongst your party decorations, you can disguise it. If you are using a crockpot, use a crockpot cover or wrap the outside in burlap. Make sure the crockpot wrap is not sensitive to heat. Put party decorations nearby, but make sure they are not touching the crockpot, especially if the decorations are made of plastic. If they do touch the crockpot, the decorations may melt, creating a mess.
You can also use chalk or a chalk marker to disguise the cider warming device. If you are using chalk or a chalk marker, you can use it to label the cider so people know what it is before drinking it. This is especially helpful if you are serving multiple warm drinks.
How to Keep Apple Cider Warm in Cups During Party
The task of keeping the apple cider warm does not stop once the guest has it in their cups. It is easy to keep apple cider warm after it has been served when you use the right cups. However, make sure you never use plastic cups to drink hot liquids. The plastic will melt and potentially burn your guests.
Instead, use metal mugs, travel mugs, insulated cups, or paper heat-resistant cups, such as coffee cups. You can purchase paper cups in bulk on Amazon or at Walmart, as well as most local stores.
The type of cup you use to serve the warm apple cider will vary depending on how many people will be attending as well as what resources you have on hand, but the heat-resistant paper cups are the best ones to use for a party. Most paper coffee cups come with lids, which will keep the cider warm and prevent spills. Additionally, lids prevent hands from burning if the apple cider is too hot to drink.
How Much Apple Cider Should You Buy for a Party?
Before you purchase apple cider for a party, you need to determine how much of it you need. You don't want to buy too much or you will be drinking it for weeks afterward, but the last thing you want to do is run out of apple cider in the middle of the party.
Purchase enough apple cider for each person to have 2-4 cups. Determine the size of the cups you will be serving the cider in before you purchase the cider. If the amount you need to purchase is not a whole number, round up. It is never a bad thing to have extra apple cider.
A gallon of apple cider typically fills 8 cups of cider, so it will serve 2-4 people. You can find gallons of apple cider at your local grocery store.
What to Add to Apple Cider
Most people like to add various flavors to their apple cider. Luckily, it is easy to do since many flavors go with apple cider.
What to Add to Apple Cider:
Cinnamon Sticks
Ground Cinnamon
Nutmeg
Cloves
Apple Slices
Orange Peel
Salted Caramel Sauce
Whipped Cream
Maple Syrup
Keep these toppings on the side so people can add the flavors they prefer to their own cup of apple cider. Most people enjoy adding cinnamon to their apple cider, so you can add a few cinnamon sticks to the cider while it is in the warming device you have chosen to use.
If you do add cinnamon sticks to the cider beforehand, keep cinnamon sticks on the side as well as many people use them to stir apple cider.
If your guests are over 21 years old, you can add booze to apple cider. However, keep the booze on the side so people can add their preferred amount or drink the apple cider plain.
Overall, if it easy to keep apple cider warm during a party if you have the correct warming device. Now, enjoy your party and enjoy your warm apple cider!