This post contains affiliate links.
No matter what kind of event you're holding, it's very likely that you'll need tables. To better know how to organize the tables for your event, here are some suggestions we discovered on how many to fit at what kinds of tables.
To seat 200 guests, event planners recommend using 12–25 tables. Though, this is dependent on the size and shape of the table—the most common sizes for round tables typically seat up to 8 or 10 people, and for rectangular tables, they usually fit 10 (with four on either side and one on each end.)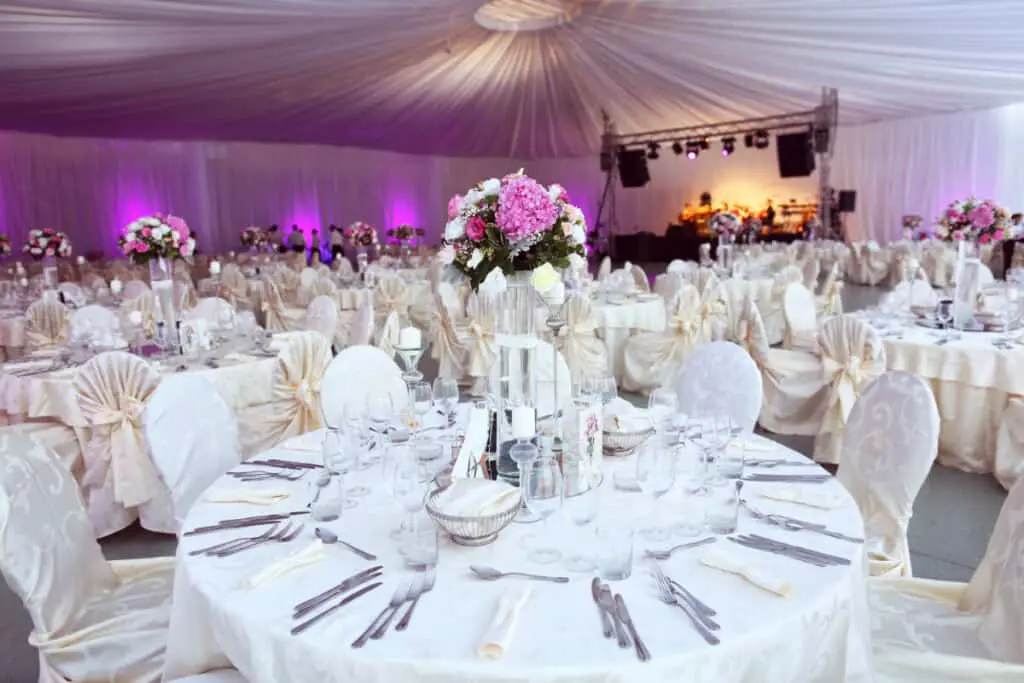 To plan an event, however, there's a lot more thought that goes into it than just ordering tables. Here are some other tips and ideas to consider during your event-planning process.
Number of Tables
To get a full idea of what options are out there that you may want to consider for your event, here's a table to display how many tables you'll need to seat any certain amount of guests.
| | | | | | |
| --- | --- | --- | --- | --- | --- |
| | 10 guests | 25 guests | 50 guests | 100 guests | 200 guests |
| 60-inch round | 2 tables | 3–4 tables | 6–7 tables | 12–13 tables | 25 tables |
| 72-inch round | 1 table | 2–3 tables | 5 tables | 10 tables | 20 tables |
| 8-ft rectangle | 1–2 tables | 2–4 tables | 5–7 tables | 10–13 tables | 20–25 tables |
Graph of amount of tables needed for different numbers of guests and sizes of tables
These dimensions are based on the advice from Rachael Ellen Events
and Michelle Leo Events
, who recommended seating 6 to 8 guests at 60-inch round tables, 8 to 10 guests at 72-inch round tables, and 8 to 10 guests at 8-foot rectangular, or banquet, tables. Michelle even suggests that smaller banquet tables can be used for food, beverages, gifts, or other needs during the event.
Both Rachael and Michelle highly suggested using a variety of tables. By adding different shapes and sizes, you help add dimension to your event, as well as make the overall layout look better. So when making an order for tables, consider requesting a couple of different shapes and sizes, not just one.
Make a Checklist for Table Items
While it might seem redundant to keep a checklist of everything the table will need, this is could make the difference between the event succeeding, or completely falling apart. In the heat of the moment, you might forget something, or some order could've fallen through, or something might be broken.
By keeping a list of items every table needs, it'll help you remember all the little pieces that each table needs to make it a smashing success. We've made the following list of items that are essential to almost any party—but feel free to make your own list if yours is shorter or longer than ours. These are just some ideas to get the ball rolling.
Tables
Chairs
Silverware
Napkins
Table runners
Table decorations
Center pieces
Pitchers
Heater (if it's cold)
Fan (if it's hot)
Icebreakers/conversation starters (see the end of this article)
Catering Pricing
It's difficult to pin down exactly how much catering costs, since it varies on the number of guests, the type of food, where it's being served, etc. You could have a full-on dinner with a bar with alcoholic beverages, or something as quick as cookies. It all depends on what kind of event you're holding, as well as what you have envisioned for your event.
According to The Knot
, the national average price of wedding catering in 2020 was just over $9,000, or $70 per guest. Wedding Forward
adds that the low end of catering adds up to $18 per plate and the high end is as much as $100 or more per plate. Again, these numbers all depend on what kind of event you're holding and what kinds of food are being offered. But for that to be the national average, it's more expensive than one might think.
Regardless of if the event you're planning is a wedding, a birthday, or holiday dinner, there's almost always food involved. So how do you avoid these pricey catering options without it costing you an arm and a leg?
Catering Ideas That Are Easy and Inexpensive
Here are some cheap n' easy ideas to not only save you money but also save you hassle and time. However, keep in mind that not all these ideas may be appropriate for the event you're planning. For example, while a cookie decorating bar may work for a holiday party or wedding, it probably would be too casual for a networking lunch. Conversely, the same situation still stands—a full 5-course meal would be too excessive for a high school reunion (or at least, depending on what kind of high school you went to).
Catering, but Cheap
While catering can be expensive, it doesn't need to be. Depending on the event, you could hire a company to do something as simple as churros, beverages, crepes, or even cookies. And with that hassle out of the way, you'll be able to focus your attention on making sure the other parts of the event go smoothly.
If you do prefer to handle the refreshments yourself, however, here are a couple of different options:
Hot Chocolate Bar
If your event is taking place in the winter, a hot chocolate bar is a perfect way to go. Not only is it easy to set up, it can also offer a ton of variety. Whether you provide marshmallows, peppermint shavings, whipped cream, cinnamon sticks, cream, Biscoff cookies, or more, you provide a fun way for your guests to customize their hot cocoa and cozy up in the cold weather.
Soda Bar
Like the hot chocolate bar, providing a soda bar is a great way to add variety to your event. This is a great option for any time of the year, but especially the summer, where nothing hits better than a cold, caffeinated beverage. And if your event is one where children are present, this is the perfect option to provide a fun activity for them to do.
Cookie Decorating
By providing the cookies, icings, sprinkles, and toppings, you can have a two-in-one special by giving your guests the chance to decorate their own cookies—not only do you feed them, but you also get to entertain them and make the opportunity for them to be creative. You can even decide to make it a competition by offering a prize or other incentive to the best-looking cookies.
Nacho Bar
People rave about nachos for a very good reason—what's not to love about cheesy chips? And by offering this more savory catering option, you can have all sorts of toppings to make sure every guest is happy with their food, whether they be ground meat, olives, extra cheese, salsa, guacamole, and so forth.
Ice Cream/Frozen Yogurt
As if these cold, tasty desserts were sugary enough, we love putting toppings on these like fudge, gummy bears, M&M's, Oreo crumbs, strawberries, boba pearls, sprinkles, etc. To facilitate less chaos in guests making their own bowl, have a few people be behind the table/buffet to scoop the ice cream /frozen yogurt flavors into the bowl, and then let the guests go to town with as many toppings as they would like. This is an especially perfect refreshment for events in the summer, where they can cool off with as much sugar as they'd like.
Pizza, Pie, Pasta
The nice thing about certain kinds of food is that they're practically made to feed a large group all at once. Depending on the formality of your event, it could just be easy enough to purchase ten boxes of pizza. Or, you could buy a couple of different kinds of pies, and stretch it out using thin slices.
If your event is a little more formal, pasta may be the best choice. With a big-enough pot or casserole dish, you can make enough mac n' cheese, lasagna, or gnocchi to feed the masses. Add a mound of lettuce and dressing, maybe add a tray of cookies, and you've got yourself a typical catered meal with minimal effort and cost.
A Charcuterie Board, Enlarged
Not only are charcuterie boards delicious and a fun way to try something new, but they're also great for a photo op. You could go with the traditional meat, cheese, and crackers board, with other sides like nuts, fruits, or vegetables. Or, you could try something new like a donut board, a sushi board, a chocolate board, etc. The opportunities for creativity are endless!
Event Ice Breakers
When gathering a group of people who don't know each other to sit at the same table, you might want to consider writing out some ice breakers that the guests can use to get to know each other a bit better beyond the typical small talk questions. Regardless of what the event is, giving the guests time and opportunity to network and talk is an excellent way to guarantee that the guests reflect on the event fondly.
Here are just a couple of general ice breakers you could leave as slips of paper on the table, on a board where everyone can read it, or even on the napkins the guests will use.
Wedding
"What's your first memory/impression of bride/groom?"
"What's the best/worst piece of marriage advice you've ever received?" (Have all the guests write theirs down in a book on the table for the newlywed couple to read later)
"What's your most embarrassing/funniest story about the bride/groom?"
"What wedding traditions do you find interesting/weird?"
"If you could put one thing on your registry, what would it be?"/"What's one thing that you put on your registry that you use every day?"
"What was it about the bride/groom that made you like them/made them fit for the bride/groom you know?"
Birthday
"What's your favorite trait of the person whose birthday it is?" (Write all of them down on a card or in a book to give to the birthday girl/boy/person after)
"What's a birthday tradition you have your family?"
"What traditions with yourself do you celebrate every year?"
"What are your thoughts on surprise parties?"
"What was your favorite birthday?"
"What was your least favorite birthday?"
"Do you like celebrating your birthday? Why or why not?"
"If there's one thing you could tell yourself a year ago, what would it be?"
Holiday (Thanksgiving, Christmas, Easter)
"What's your favorite holiday tradition?"
"How do you celebrate Christmas/Thanksgiving/Easter?"
"What are you grateful for?" (Thanksgiving)
"Turkey or ham?" (Thanksgiving)
"What was a memorable Thanksgiving dinner in your family?" (Thanksgiving)
"What's your favorite Christmas song?" (Christmas)
"What's your least favorite Christmas song?" (Christmas)
"How do you feel about Christmas Hallmark movies?" (Christmas)
"Gingerbread houses, snowball fights, or Christmas lights?" (Christmas)
"What does Easter mean to you?" (Easter)
"Dye eggs or egg hunt?" (Easter)
"Bunnies or baby chicks?" (Easter)
"Favorite holiday snack/candy?"
What holiday tradition do you think is ridiculous?
What foreign holidays/holiday traditions do wish you and your family practiced?"
Networking
"What do you think are your most valuable qualities to a company?"
"If you could work for anyone or anywhere, where would you work?"
"What's something you offer to people, but nobody ever takes you up on it?"
"Where do you see yourself in five years? In ten years?"
"What's your motivation behind what you do?"
"If you weren't working in your current field, what would you be doing?"
"What's one thing you wish you could tell your high school self?"
"What's one piece of advice you wish you could tell everyone?"
"What are your thoughts on LinkedIn? What's the effectiveness of connecting through social media?"
Miscellaneous
"What's your favorite picture on your phone right now?"
"What's your favorite book?"
"What's a movie that changed your life?"
"What's a movie you will never watch again?"
"What's something you could talk about for hours?"
"If you could go back to any point in history to see a specific event, what would it be?"
"If you could go anywhere right now, where would you go?"
"What's your favorite holiday?"
"What's your favorite piece of clothing you own and why?"
"What's a deal breaker for you in a significant other or friend?"
"What's an instant red flag in a friend, coworker, date, family member, etc.?"
"What's a sport you like to play or watch?"
"Cake or cookies?"
"If you could only eat one thing for the rest of your life, what would it be?"