This post contains affiliate links.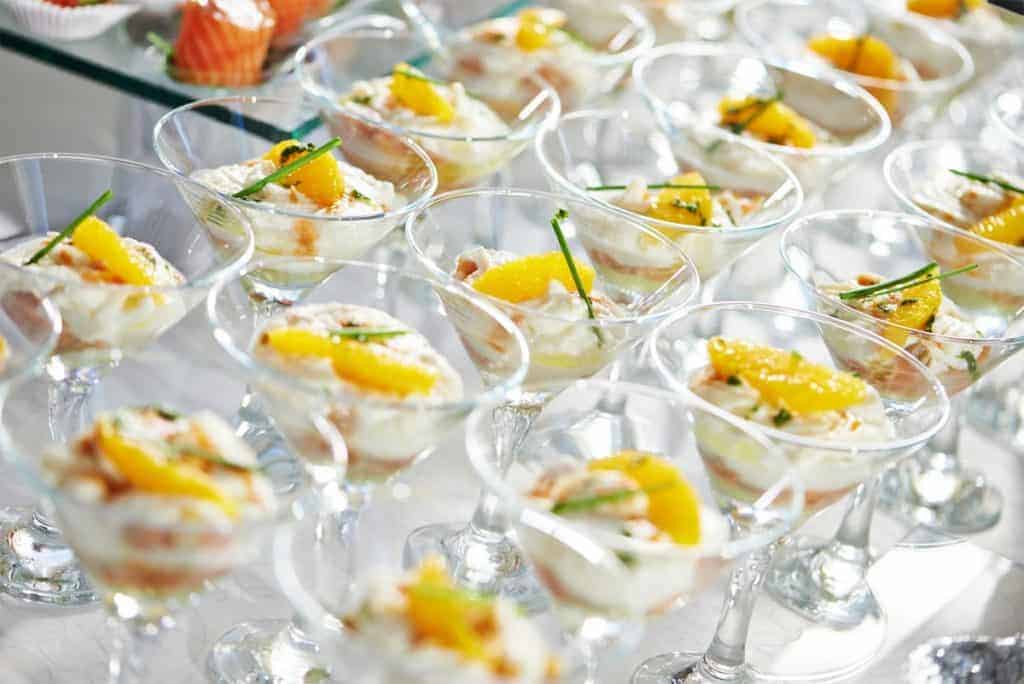 If you're in charge of planning any large event, you're probably on the lookout for a good caterer. However because catering prices often vary significantly, it can be hard to know what to expect when going in.
For a scheduled tasting, catering services can charge either per appointment or per hour. If being charged by appointment, the average price runs at $200 for four people. If being charged per hour, you may be charged between $50-$100 an hour. tastings can, however, be discounted or complementary
Of course, this can vary, depending on a multitude of things. How "high-end," the business is considered, how many people you want to serve, how many dishes you want to serve, and what the catering company might offer. While a taste test might be your first worry in secret charges, there are some other things that caterers might charge you for that you might not know about.
How To Schedule a Tasting
If you think you've found a caterer that is going to serve something you're looking for your next order of business is going to be scheduling a tasting.
The big thing you're going to want to look at is time. Some caterers are only available at certain times to meet. If you want to sit down with someone and talk about catering your event, you will have to find a good time during their business hours. Often if you want a certain restaurant to cater, this means meeting before or after restaurant hours.
Another is place. Some caterers will have a restaurant or office to meet, where you can go over everything. Others may recommend coming to your home, this is an important thing to figure out while scheduling your meeting.
How To Prepare For a Tasting
Before heading in to discuss your event with a caterer, there are a few things you need to have prepared.
First, your dates. While you may have a rough idea of when your event is being held, you're going to want to go in with exact dates to be scheduled. Often caterers get booked fast and you don't want to wait too long before you lose the one you want!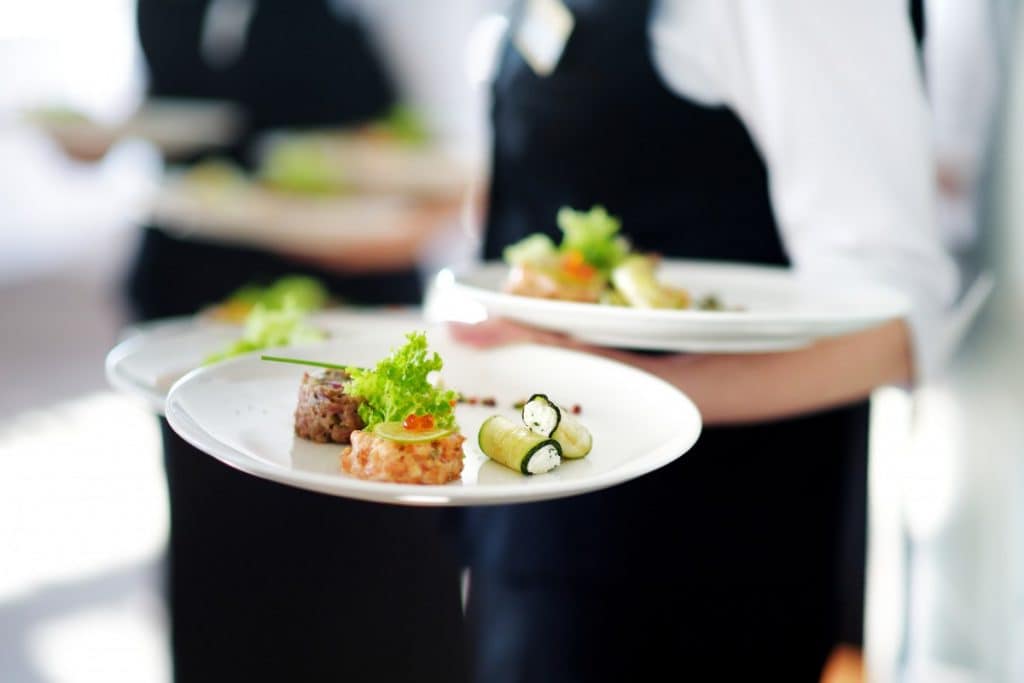 Then, your downpayment. A lot of catering businesses will ask for a downpayment of 5% of the projected cost. You'll get this back at the end of the event, but if you happen to cancel after a certain time, many catering events will take this downpayment.
What To Expect at a Tasting
Tastings are the one thing that people will typically expect to be charged for when hiring a caterer. A tasting is when you are able to sit down with the caterer and taste a variety of dishes and desserts to see if you want to hire them for your event. Some will prepare a mix of dishes, while others will prepare something specifically from a menu you may have.
Tastings are also where you'll go over any dietary restrictions of not only you but your guests. If the catering company offers it, you can also select certain types of wines and other spirits that may be served, but sometimes you have to hire a separate bar for that.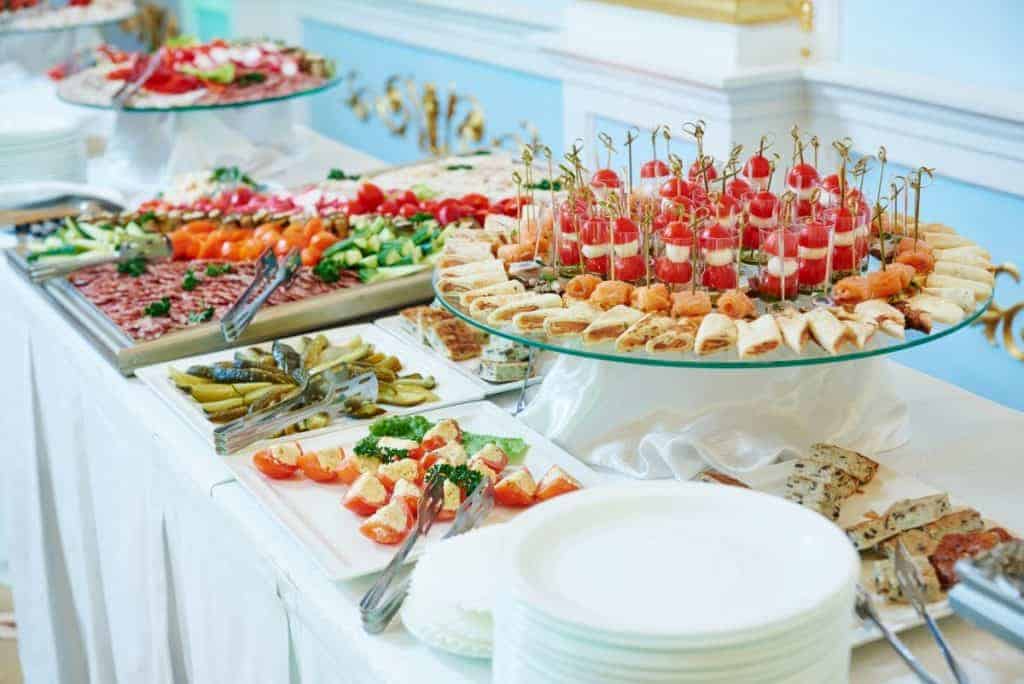 Some catering companies may offer you a tasting free of charge, complimentary with their business. If not, catering tastings run on average about $50 ahead.
Extra Things You Can Expect To Be Charged For
Scheduling
Anyone who's had a wedding knows that sometimes it's more expensive to book a venue on a weekend, than on a weekday. The same goes for caterers. Weekends are often busier, and more requested, so if you want a certain catering company for your event you may have to pay more.
Most caterers will charge not only by the plate but by the hour, so if you're not careful your meeting times can add up. While there is no average, it can range anywhere from $20 an hour, to $100 just for meetings.
Utensils and Plates
Some venues will offer their own cutlery and flatware for an event or wedding, meaning you won't have to pay for the plates your guests eat off of. If that's not the case though, catering businesses often will offer their own flatware.
If you have to borrow flatware from the catering company, this can rack up a bit of money. Cutlery can cost roughly between 35 cents and $1.10 per piece. The price can vary depending on how nice of a piece you're looking to use. Regular metal is going to cost significantly less than silver pieces. Plates can cost around $2.00 a plate.
Serving Type
How your food is served is another extra cost many don't think of. If you're opting for a buffet-style type of service, where people serve themselves, then your cost is going to be significantly less than an event where you want to be served.
Labor is its own price in the catering business. Caterers have to cover the staff, insurance, food prep, and foodservice. If you want waiters at the event, you're going to have to pay a little extra.
Courses
If you're looking for a full five-course meal, you're going to run into higher prices. If you're holding a wedding event and want a dessert option other than your cake, you're going to want to look into how much each course is going to run you.
While you may already be paying an average of $20 per head, you will also be paying for how many courses are being served. This can run anywhere from an additional $300 a course, to even $2,000.
Questions To Ask Your Caterer
So now that you know what to look out for when it comes to catering costs, here are some questions to keep in mind, and ask your caterer to make sure you're getting the best deal.
How Frequently Do You Cater to _____? (insert your type of event here): Knowing how frequently they have dealt with your type of event will give you peace of mind that everything will run smoothly. If they've never catered the type of event your holding, maybe look for someone who has.
Ask if the caterer has been licensed by your County or State and if they offer alcohol: Having a properly licensed caterer means that you have someone you know is up for the challenge, and verified by a legitimate source.
How long it will take them to set up: Knowing the timing of your caterer will allow you to schedule them at the perfect time, meaning you won't be paying for hours that they're not needed. You can make sure all your food-related needs are ready when you need them!
---
Catering is one of the tedious parts of planning an event, but it's one that will leave an impression. So make sure you have all of your questions and concerns addressed, to make it the even you've been dreaming of.