This post contains affiliate links.
As the wedding market becomes more and more expensive, DIY weddings are gaining more traction in popularity every year. Some services that cost one amount for other occasions, such as photography or baking, go up by sometimes hundreds of dollars if the event in question is a wedding. This is especially true during the peak wedding season— the spring season, around the beginning of April through the end of June— as everyone and their mothers (literally) tries to find scheduling and resources for their own special day. It is only logical that more people would seek to do the more accessible tasks such as catering on their own. Here's what you absolutely need to know before making the choice to cater your own wedding.
To cater your own wedding beyond supplying the food yourself, you'll need the proper tools: chafing dishes, serving utensils, china, silverware, and at least 5 hours of prep time.
What kind of equipment is required?
Catering on the day of the celebration really just requires a few things. Though the amount will, of course, vary depending on the number of guests expected at the event, expect to either purchase or rent a few chafing dishes. A chafing dish
— from the French word chauffer, "to warm"— uses a burner or heated pan of water to keep food warm as it is being served. Though there are markedly cheaper options for these, including DIY ones, using a few suspended aluminum casserole dishes and a chafing dish burner bought at the store, more aesthetically pleasing restaurant or hotel-style chafing dishes can be found for rent online
 and frequently in local party stores or catering companies. You can also buy your own chafing dishes and sell them after you are finished using them. Check out this 4 pack of professional chaffing dishes
on Amazon.
In addition to that, you'll also need serving utensils to dish the food out and some kind of china for guests to eat off of. This may seem like a no-brainer, but depending on the amount of guests you intend to feed, finding a sufficient amount of dishes may be a more daunting task than anticipated, especially if paper plates are a no-go. Luckily, catering companies and party supply stores are once again good places to turn if you intend to rent
. (source
) If snacking food is the intended fare, napkins and serving trays are also good options, again available for rent or cheap purchase online.
You can purchase plastic dishes and silverware that look like the real thing. Amazon sells a 700 piece set that comes with plates, silverware, cups, and napkins. Check out the price here
.
One of the perks in hiring a catering company, aside from saving kitchen space, is that they already come prepared with the proper serving and storage equipment. If you are catering a wedding for yourself or a loved one, preparing the food ahead of time is essential; that being said, consider the storage space available to you, specifically in the refrigerator. Extra containers can be easily acquired, but as the number of guests to feed increases, consider the benefit of finding a venue with refrigerator or kitchen space available to prepare and store food, or else be willing to get creative with ice chests.
Beyond those basics, any additional equipment is up to you! Be it a sit-down dinner, a waffle bar, buffet style, or just hors d'oeuvres, decide ahead of time how you want to present the food, how much there is going to be, and how you plan to serve it.
Tips on things to consider from a caterer
Equipment and menu aside, what else is there to know when deciding to cater your own wedding? One thing to keep in mind is to expect mishaps, especially if you are unfamiliar at event planning. Accidents happen to even the most prepared people, so it is important to give yourself and your helpers enough time to correct any possible mistakes before the big event. According to a staff member at Utah Celebrations Catering
, it is also a good idea to consider the opportunity cost in addition to the monetary cost of DIY catering.
"It depends on your priorities: DIY weddings do well, but you do miss out on parts of the event. Being present and stress-free might be worth more of the cost [of professional catering], especially for more high-end weddings.

"Expect a longer timeline. …Chefs tend to do around 5 hours of prep the day before, and with packing, transporting food to the location, setting up, serving, and cleaning up can take an additional 5 hours. For a wedding with say 150 guests, especially if you plan on doing more than just snack foods, plan on spending at least 9 hours in all on catering. When you are also directing guests and attending the ceremony, handling food can take away from some of the experience if you intend to go all-out."

Staff member, Utah Celebrations Catering
Even though it is easy to get caught up in all the planning, weddings are events to be enjoyed! Remember to plan time to cherish the celebration, in addition to planning seating.
Speaking of seating, that is another thing to consider. For some events, seating and tables are provided by the venue while at others the seating is provided by the catering company themselves. So in summary, make sure that you plan ahead! Have people designated to man the serving tables if servers are needed, or prepare a setup where people can responsibly serve themselves.
If you plan on having a more relaxed reception, with only snacking foods so people have more time to dance, providing a few tables and chairs for people to rest at in between partying might work out just fine. If you plan on putting a more traditional spin on the reception, with a sit-down meal or buffet, seating might be more of a concern. Whatever your wedding style, be aware of the possible time-consumers and prepare accordingly!
How much would it cost?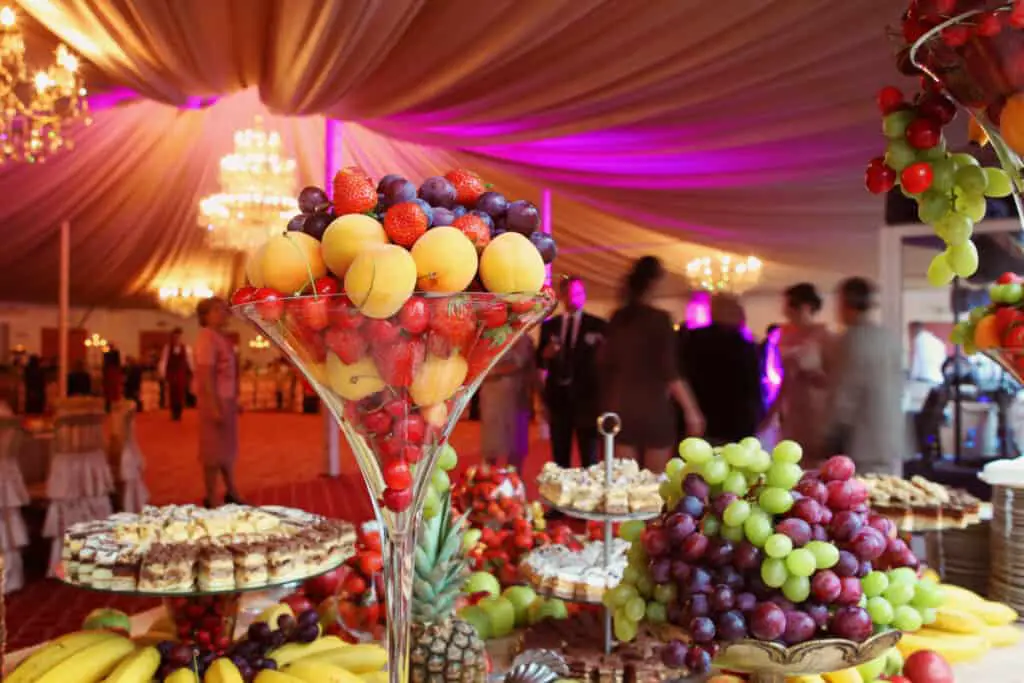 With all the preparation required for a wedding celebration— invitations, location, officiants, seating, decorations, clothing, to name a few— the bill can quickly get rather pricey, especially as the guest list increases. Each wedding is as unique as the couple it celebrates. Naturally, it follows that no two celebrations are quite the same. As such, estimating prices for the catering of such an event can be kind of difficult. So much depends on the location, style, and amount of guests expected. For simplicity's sake, let's plan our imaginary wedding using the lowest priced option from Utah Celebrations Catering, a crepe buffet, for around 150 people for comparison.
From the listed prices on their website, having a crepe bar, listed at $6.99 per person, at a wedding of around 150 guests would cost around $1048. For all the things that includes, time spent in preparation and clean up, presentation, food itself, servers, and quality, that's a pretty good value. How much would it cost to pull off on your own?
For starters, let's look at the price and time required for the crepes themselves. As crepes are reasonably small, let's estimate 3 10-inch crepes per person
 get eaten, meaning we will need around 400 crepes in addition to toppings. According to a basic recipe
, each crepe takes around 3 minutes to cook completely. To keep up with demand within a reasonable amount of time, let's plan on cooking 6 crepes at once, bringing our cooking time up to roughly 3 hours— a decent length for a reception.
Going off that same recipe, the cost of ingredients with the same variety of toppings listed on the catering website (5 kinds of fruit, 2 types of mousse, chocolate and caramel syrup, chocolate chips, and powdered sugar) would be around $210, though price will vary depending on the area in which purchased. This total was estimated using prices listed on Walmart.com
. Of course, for weddings expecting even more guests, you could do as one Landmark Catering
 employee suggested and "have someone run to Costco for [ingredients]."
Our required equipment, in addition to those listed above, would need to include a griddle capable of making enough crepes such as this large electric griddle
on Amazon for us to keep within our time frame. To accommodate the amount within our allotted celebration time, (six 10-inch crepes cooked at the same time, 3 minutes each, over 3 hours) we would need two of these 36″ griddles 
available for rent at the same place we could rent our china from. With enough plates and utensils for our guests, in addition to chafing dishes, that would cost about $440 not including tax.
If we were really intent on saving money, we could cook all the crepes beforehand and just use one griddle to heat them up as guests arrived, saving about $100 and also giving you or whoever is tasked with manning the crepes more time to savor the joy of the day. Either way, a crepe bar of similar make up to the one provided by the catering company would run the prudent wedding planner anywhere from $500-$650, half the cost of the catered version (assuming seating isn't an issue).
Will catering my own wedding save me money?
In short, it is entirely possible to save money by catering your wedding for yourself. A couple's wedding day can be one of the most magical and cherished memories! The beginning of a newly married couple is certainly a day to celebrate, and is something that everyone can look back on fondly for years to come. Many newlyweds feel that the celebration should match the occasion— a big party for the big day. It is only natural for those of us who don't have royal coffers to match our fairytale picture weddings to seek out places to save money.
Some things can be done on your own for half the cost to the same or even greater value. Catering is one of those sweet spots where it all depends on how much you are capable of or willing to put into it. If you intend on cooking the same three course meal as the would-be catering company yourself, that could have some difficulties if you are unfamiliar with whatever style of cooking it requires. Similarly, if a larger portion of the self-catering is going to be foods purchased from a secondary vendor like a store or restaurant, it may not be cheaper to fund yourself when all is said and done. And of course, presentation is a skill that requires preparation and practice.
In addition, it may not always be prudent to rent the required equipment. If you are someone who takes part in an unusual amount of wedding plannings, or perhaps are someone with a more active social life or intricate traditions, it could be a good idea to purchase some of the equipment yourself. Serving trays can be used for lots of events, including family holidays, as can a beverage dispenser. And of course, you can never go wrong with owning your own chocolate fountain!
If you have experience in catering events yourself, either for social events or even other weddings, go for it! Experience in event planning and execution can be more valuable than you think, especially for weddings you have an emotional stake in. If this is your first time, and you have little experience in cooking or organizing events, you can still do it, just be sure you take the extra time to plan and ask for help— preparation makes all the difference!
Lastly, as any caterer will tell you, the price will match the party. Everyone has a different vision for their wedding; some like them elegant, big, and sparkly, others prefer small and intimate get-togethers, while others prefer carefree celebrations with loud music. Not every wedding will have the same amount of guests, the same requirements, the same menu, the same amount of food. If you are planning on doing the catering yourself, be sure to do your due diligence and see what's available in your area first. Sometimes having a professional catering company will be cheaper than doing it yourself, especially for events with more intricate or extravagant meals.
Whatever the case, arm yourself with knowledge and a notebook. You know the style and cost you are going for best; just prepare to do some research before making any big decisions.