This post contains affiliate links.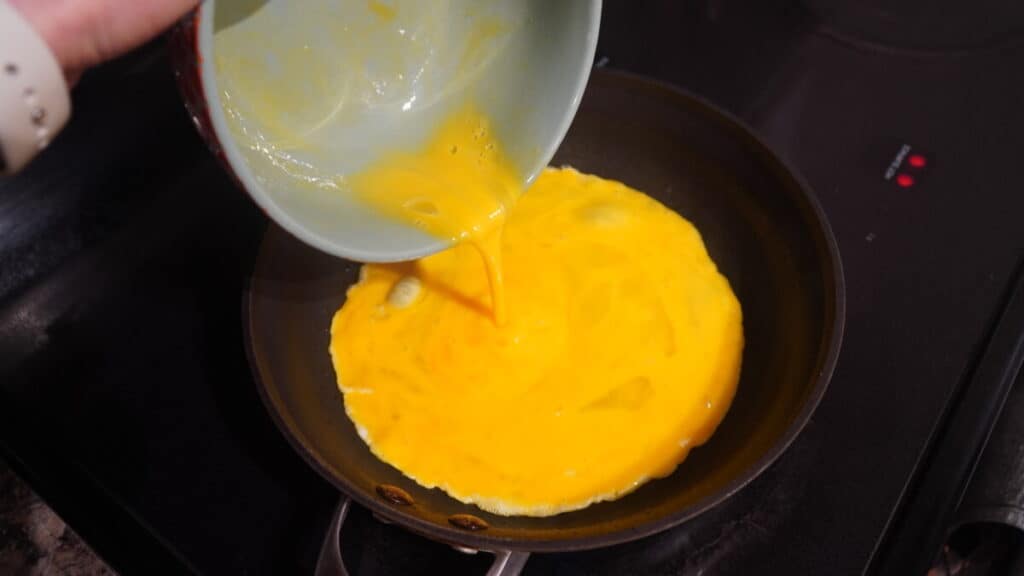 Making scrambled eggs for a large group can seem daunting, especially with so many ways to make eggs, but which techniques are the best and least time consuming for a large group gathering?
Cooking eggs for a large group is done most efficiently in a skillet, in a crockpot, or the oven. These techniques allow for some of the fluffiest eggs while still providing enough food for large groups. Recipes used in these methods can be easily adjusted further to fit very large group gatherings.
The three techniques of cooking eggs in a skillet, in a crockpot, and an oven are great techniques to use for big groups, but one technique, in particular, is much better than the others.
For each of the following recipes, a simple way to increase the amount being made is by doubling the recipe. With simple multiplication, however, the amount of food made can become the perfect size for your group. To assist with this, a chart will be provided with each recipe with common ways to multiply the amount of food produced from each recipe.
In a Skillet
Out of all the ways to cook eggs, this is the most common way to go about cooking them, and though using a skillet is the most common method of cooking eggs it is not the most efficient as you can only cook eggs in smaller batches at a time.
You do not want to overcook or undercook your eggs by mistake, so it is important to remember this general rule of thumb. For every square inch of pan available, you want to have one egg. If you are cooking eggs in a skillet that is a 12-inch pan
, for example, you do not want to exceed 11 eggs.
This can become detrimental when you are cooking for an exceptionally large group, but more often than not, you will be making them alongside something else like pancakes or waffles. If you need to cook more eggs, use more skillets. Using multiple skillets of various sizes can help cook the eggs faster.
Begin by cracking the eggs in a bowl and adding a little bit of milk, just to help with the fluffiness of the eggs, if you would like. Lightly beat the eggs in the bowl and transfer them to a skillet that has been lightly coated in cooking spray.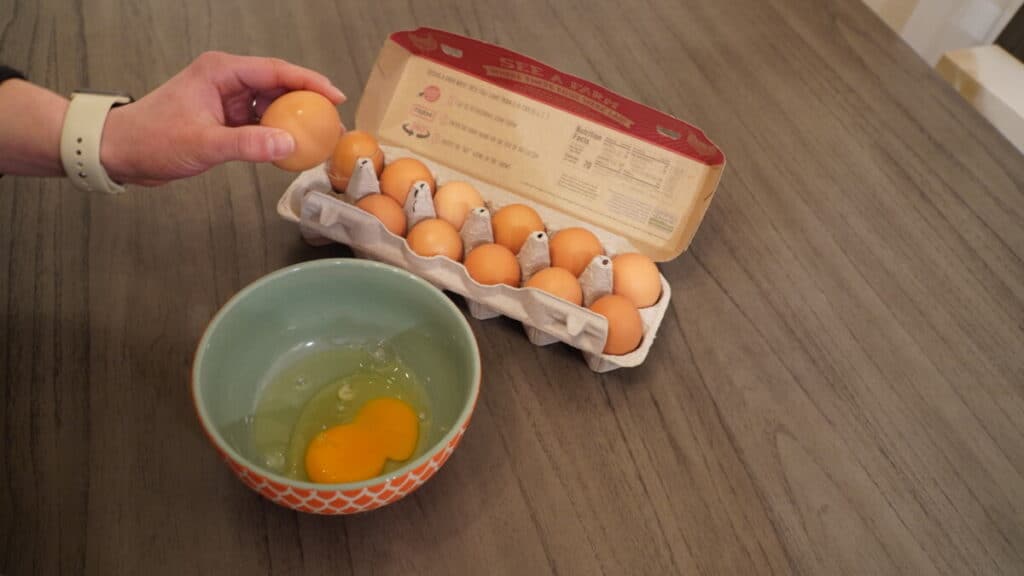 Cook the eggs over medium heat. Allow the sides of the eggs to bubble lightly before using a spatula to scramble the eggs. Be sure to reach the bottom of the skillet completely, or the eggs will burn. Turn off the fire after the eggs have set up. You can add shredded cheese to the top of the eggs if you like, but it is not essential. If you do, melt the cheese by covering the pan with a lid to keep the heat in.
Another way to use this technique usefully is to buy a carton of eggs. This is not like a normal carton of eggs where the eggs are still in their shells. They come already removed from their shells.
These cartons can hold many more eggs than a standard carton with eggs in their shells. You also avoid the problem of eggs possibly cracking and becoming unusable in the carton since they are all already cracked and stored in such a way that they will not be unusable.
Crock Pot Scrambled Eggs
To begin with this recipe, you will need a 6-7 quart-sized crockpot. You can get a 6-quart slow cooker here
for about $100. Since cooking eggs in a crockpot is not as common as cooking them in a skillet, a recipe will be included to use for making scrambled eggs in a crockpot. The following recipe makes 8 servings, but it can be increased with an additional crockpot or adding more of each ingredient.
Ingredients
The ingredients you will need to serve a group of 8 people are 1 1/2 tablespoons of melted butter, 10 large eggs, salt and pepper, 1 1/4 cup of heavy cream, and 2 cups of shredded mozzarella cheese.
The chart below will show if you how much of each ingredient to use if you desire to increase the recipe.
| | | | | |
| --- | --- | --- | --- | --- |
| Amount of Servings | Amount of Melted Butter | Amount of Eggs | Amount of Heavy Cream | Amount of Mozeralla Cheese |
| 8 | 1 1/2 tablespoons | 10 large eggs | 1 1/4 cups | 2 cups |
| 16 | 3 tablespoons | 20 large eggs | 2 1/2 cups | 4 cups |
| 24 | 4 1/2 tablespoons | 30 large eggs | 3 3/4 cups | 6 cups |
| 32 | 6 tablespoons | 40 large eggs | 5 cups | 8 cups |
Directions
Begin by coating the bottom of the slow cooker with the melted butter. This will help the eggs not stick to the slow cooker and prevent them from burning. Lightly beat the eggs in a small bowl and transfer the beaten eggs over to the crockpot. Mix the eggs and heavy cream in the crockpot.
Cook the eggs on high for 1 to 2 hours until the eggs are no longer soupy. Fold in the sides of the eggs to gently chop the egg into a scramble. Be careful not to mix the eggs too much, or they will not be as fluffy.
This recipe is not the best recipe to use for a large group, but it is easier to add since it is in a crockpot and not in a skillet. To add to this recipe, just use the number of eggs you will need to feed your group size and adjust the other ingredients accordingly.
Oven Scrambled Eggs
Using the oven is the most effective way to cook eggs because you can cook a lot of eggs all at once
To make oven scrambled eggs, you will need a 13×9 pan. You can pick one up here
for about $20. The following recipe makes the largest serving so far. The recipe has a serving size of 12.
Ingredients
The ingredients needed for this recipe include 1/2 cup of melted butter or margarine, 24 eggs, 2 1/4 teaspoons of salt, and 2 1/2 cups of milk.
The following chart provides possible ways to increase the recipe provided for scrambled eggs in the oven. It is important, however, to remember that the initial amount is the amount to put into one 13×9 pan. If you choose to double or even triple the recipe, you will need additional pans to fit the eggs which you are making. The chart simply provides numbers for the amount of each ingredient you will need.
| | | | | |
| --- | --- | --- | --- | --- |
| Amount of Servings | Amount of melted Butter/Margarine | Amount of Eggs | Amount of Salt | Amount of Milk |
| 12 | 1/2 cup | 24 eggs | 2 1/4 teaspoons | 2 1/2 cups |
| 24 | 1 cup | 48 eggs | 4 1/2 teaspoons | 5 cups |
| 36 | 1 1/2 cups | 72 eggs | 6 3/4 teaspoons | 7 1/2 cups |
Directions
Begin by preheating the oven to 350 degrees Fahrenheit. While the oven is preheating, pour the 1/2 cup of melted butter into the 13×9 pan.
In a large bowl, whisk the 24 eggs together with salt until they are mixed well. Begin to add milk in slow increments, continuing to stir as you do so. Pour the egg mixture into the 13×9 pan and put it in the oven.
Bake the eggs in the oven, uncovered, for 10 minutes. Stir the eggs after 10 minutes and return them to the oven for an additional 10 to 15 minutes to continue cooking. When the timer goes off, serve the eggs almost immediately after removing them from the oven.
Out of all the possible ways to cook eggs for a large group, this last technique is the best because you can feed more people in general.
It is important to remember while you are cooking a lot of eggs for a big group event that you may need additional cookware since only so much will fit in a single pan. You can keep the eggs warm in a covered dish after they are cooked.