This post contains affiliate links.
Nowadays, it always seems like we're trying to refrigerate any food we can so that it will last longer—not even bread has escaped the fridge (or freezer, for that matter). So, does that mean we should be trying to refrigerate peanut butter?
Typically, peanut butter doesn't need to be refrigerated. Many kinds of peanut butter have enough sugar and preservatives to make it last for around three months. Keeping it in the refrigerator will help it stay fresh for an extra three months before the oils start to separate.
Along with finding the shelf life of different versions of this eating, we also looked into different ways to store more natural or organic peanut butter. And if you're looking for suggestions, we found some other options of peanut butter to consider using for their health benefits or quality.
Properties of Peanut Butter
Peanut butter seems to be the one condiment that always stays in the pantry—unlike jam, mayo, ketchup, etc. We looked into what it is about this spread that makes it so it doesn't have to take up room in the refrigerator, and what it would mean if you did decide to store it here instead of the pantry.
According to user Eslader on Reddit
, commercial-bought peanut butter doesn't need to be refrigerated due to the high levels of preservatives that make its shelf life last for as long as it does, preventing spoilage. So, while it might not be the most natural and organic product, at least it lasts for months (and tastes pretty good too).
In other words, peanut butter is an excellent item to keep in your pantry (or refrigerator) as a quick spread on toast, an element in a PB&J sandwich, or even a small spoonful snack, but make sure to have it in small doses or it might not prove to be a healthy option for much longer.
Meaning, peanut butter could either be a blessing or a curse, depending on if you're looking to lose weight or gain weight. While peanut butter is rich in protein and other vitamins like magnesium, phosphorous, and zinc, it's also very caloric and heavy in saturated fats and sodium. (source
). So, like with many things, make sure you consume peanut butter in small increments (unless, of course, you're intentionally trying to gain weight). Otherwise, this presumably healthy alternative to other spreads could backfire and make you not achieve your goals.
Average Shelf Life
According to the National Peanut Board
, there's a variety of ways to store peanut butter or even any peanut product. In fact, you could even store an open jar in a pantry for up to three months and it'll be okay.
Depending on the brand of peanut butter, refrigerating it could even make the oils in the spread harden, meaning you'll have to occasionally stir everything together.
As a general rule, refrigerating your peanut butter is not necessary unless you plan on stretching out its usage for longer than three months. And if you do plan on storing the peanut butter for a longer time, make sure to keep the jar unopened, as that will have the longest shelf life.
To keep track, the National Peanut Board made the following table of how long different peanut products can last under certain circumstances:
| | | |
| --- | --- | --- |
| Peanut Product | Average Shelf Life | Notes |
| Peanut butter, unopened | 6–9 months | Refrigeration not needed |
| Peanut butter, opened | 2–3 months | Lasts 6–9 months in refrigerator |
| Peanuts: Bagged, in the shell or out | 1–2 months | Lasts 4–6 months in refrigerator |
| Peanuts: In cans or jars, unopened | 2 years | |
| Peanut flour, unopened | 1 year | |
| Peanut flour, opened | 2–3 months | Lasts up to 9 months in fridge |
| Peanut oil, roasted, aromatic, unopened | 9 months | |
| Peanut oil, roasted, aromatic, opened | 2 months | Lasts 4–6 months in refrigerator |
| Peanut oil, refined, unopened | 1 year | |
| Peanut oil, refined, opened | 4–6 months | |
National Peanut Board
Source
However, this is assuming that the peanut butter is a commercial brand, where it was designed to last. But what about natural peanut butter, or other spreads like almond butter and cashew butter? How do those stand the test of time in a pantry or refrigerator?
Natural Peanut Butter and How It's Different
While you still don't need to store natural spreads in a refrigerator, it's more recommended to do so than with a commercial brand of peanut butter. Where commercial peanut butter can last for months in a pantry, natural peanut butter might only last a month at best. By refrigerating it, you can make your natural peanut butter last up to six months!
Just make sure you stir the peanut butter before putting it in the refrigerator—if this isn't done, the oil could harden, which will make it more difficult to mix the butter and oil later. But, it's not the end of the world if this happens. In fact, if there is some oil at the top of the jar that's not mixed in, that should be a good sign with more natural spreads. All you need to do it stir it in again and it's as good as new.
And above all else, if you're worried about your spread expiring, use your senses to discern if the peanut butter has gone bad: does it smell different? Do you see mold building on the top? Is the taste off? Sometimes, you can't always trust expiration dates or estimates. Go off of what you notice and make your best judgment about the situation.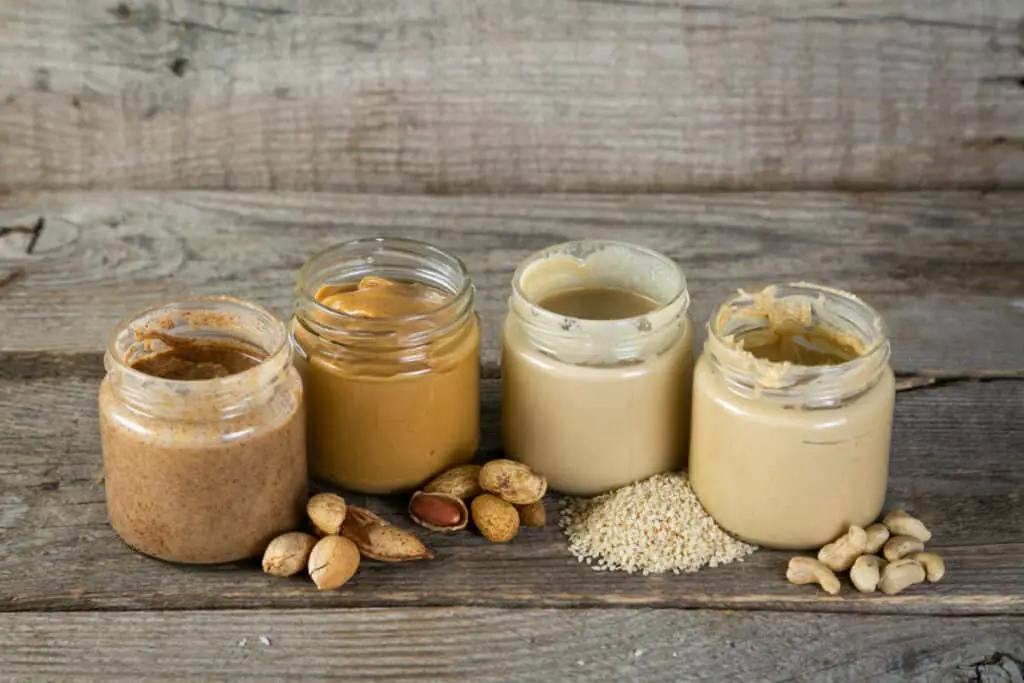 Natural Peanut Butter Alternatives
If you're looking for something a little more organic than your typical Jif or Skippy brands, here are a couple of suggestions to explore. Who knows? You might be one purchase away from discovering your new peanut butter brand! Or even better, this could be your chance to try something new, like a peanut powder, a maple cashew spread, or a sunflower seed spread!
PB2 Peanut Powder
This powder mix is a great choice to add a bit of peanut butter to any meal. Whether it's for a protein shake, pancakes, oatmeal, cookies, or even just a usual spread. All you simply have to do is add water to the powder (unless this is for a protein shake or a similar situation), mix it, and you have a great peanut butter option!
And not only is it delicious, but it's also about a third of the calories of a typical peanut butter spread. It takes what makes peanut butter dangerous—the abundance of calories—and cuts it down so there's really no downside (except maybe the labor needed to mix the powder and water).
You can also choose from a variety of flavors—they have smooth, crunchy, cocoa, almond, and even cashew. Which, of course, the last two options don't make it a "peanut" butter. But, it could be something fun and new to try that's so unlike anything else on the market.
You can find this PB2 product on Amazon here
.
Justin's
This type of peanut butter is another great option if you want something that tastes a little bit more like real, natural peanuts. On the label, it even specifically says that refrigeration is not necessary and that it even spreads more easily at room temperature. Justin's also looks to make a difference by supporting many initiatives to help with hunger around the world.
If normal peanut butter isn't your jam (see what I did there?), Justin's has many different kinds to try, including the following: classic cashew spread, maple cashew spread, honey peanut butter, classic almond butter, honey almond butter, maple almond butter, vanilla almond butter, cinnamon almond butter, and chocolate hazelnut spread. Spice up your morning breakfast toast or pancakes with these unique flavors that you can't get in many other places.
If you want something a little more bitter but rich with flavor, try Justin's dark chocolate peanut butter cups. Dark chocolate lovers will appreciate this treat, and while this brand might be a little more expensive than others, it's worth it for its thick, authentic taste.
You can find this Justin's product on Amazon here
.
Spread the Love
If you're looking for something all-natural, vegan, and gluten-free, with no palm oil nor GMOs, this Spread the Love NAKED CRUNCH peanut butter is the item for you! With creators who are devoted to making healthy and climate-friendly products, this crunchy spread is a great option for those looking for similar aspects of this food. In fact, the owners have been making their own peanut butter since 2013, when they gave jars of it out at their wedding.
Like Justin's, Spread the Love has other unique products such as unsalted almond butter, cashew butter, almond and cashew power butter, raspberry jam, marionberry jam, and granola. They're devoted to providing quality products that not only taste good but are also healthy for you and the climate.
You can find this Spread the Love product on Amazon here
.
Once Again
If you live in a home where you're constantly running out of peanut butter, maybe consider this nine-pound tub of peanut butter. Not only is it ginormous, but it's also all-natural: it's gluten-free, vegan, and non-GMO. If you had your concerns about fitting this tub in your refrigerator, this peanut butter can easily be stored in your pantry, as it has a shelf life of three months once opened. So as long as you can commit to finishing such a container in that time, you won't need to worry about it going bad.
If you're looking for something different in flavor, Once Again also sells almond butter, tahini, cashew butter, cashew butter with sea salt caramel, cashew butter with lemon, and surprisingly, sunflower seed butter.
You can find this Once Again product on Amazon here
.
Using up Your Peanut Butter—Peanut Butter Recipes
Do you have peanut butter that you're looking to use up before it expires, even after you put it in the refrigerator? Here are a couple of recipes you can use to help you finish off the rest of your peanut butter:
Ingredients
1 cup unsalted butter
1 cup crunchy peanut butter
1 cup white sugar
1 cup packed brown sugar
2 large eggs eggs
2 ½ cups all-purpose flour
1 teaspoon baking powder
½ teaspoon salt
1 ½ teaspoons baking soda
Directions
Cream butter, peanut butter, and sugars together in a bowl; beat in eggs.
In a separate bowl, sift flour, baking powder, baking soda, and salt; stir into butter mixture. Put dough in refrigerator for 1 hour.
Roll dough into 1-inch balls and put on baking sheets. Flatten each ball with a fork, making a crisscross pattern. Bake in a preheated 375 degrees F oven for about 10 minutes or until cookies begin to brown.
Find the recipe on its original website here
.
Ingredients
5-1/2 cups confectioners' sugar
1-2/3 cups peanut butter
1 cup butter, melted
4 cups semisweet chocolate chips
1 teaspoon shortening
Directions
In a large bowl, beat the sugar, peanut butter and butter until smooth. Shape into 1-inch balls; set aside.
Microwave chocolate chips and shortening on high until melted; stir until smooth. Dip balls in chocolate, allowing excess to drip off. Place on a wire rack over waxed paper; refrigerate for 15 minutes or until firm. Cover and store in the refrigerator.
Find the recipe on its original website here
.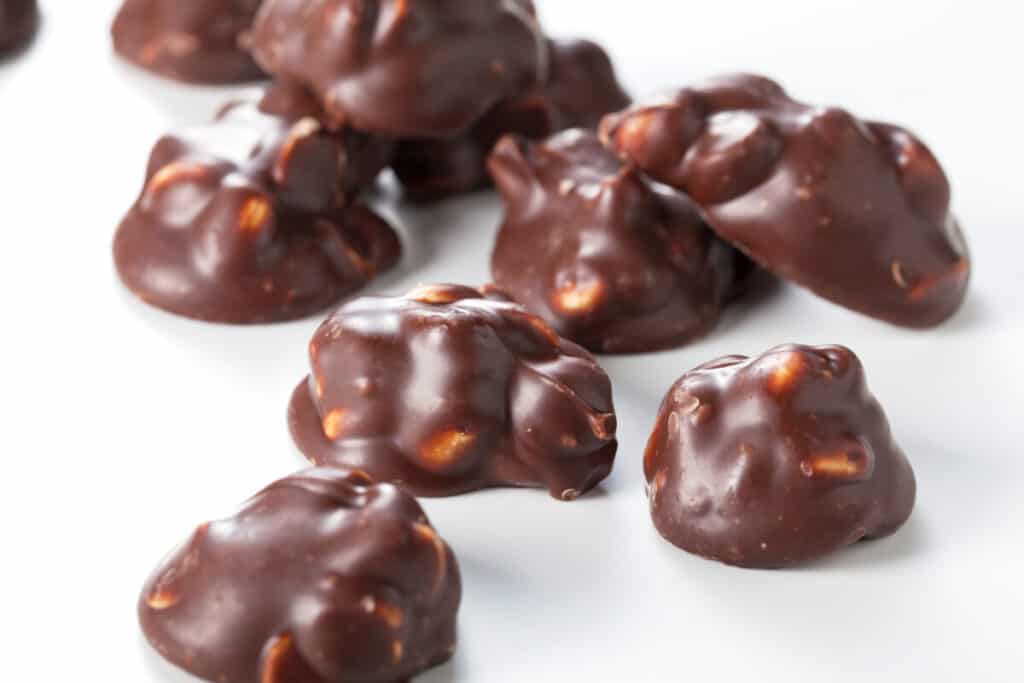 Ingredients
2 cups semi-sweet chocolate chips
1 cup milk chocolate chips
3 tablespoons creamy peanut butter
2 cups roasted peanuts salted
Directions
Line 2 rimmed baking sheets with parchment or waxed paper and set aside.
Place chocolate chips and peanut butter into a large microwave-safe bowl.
Microwave on high at 30 second intervals until chips and peanut butter have melted, stirring after each interval. 
Stir peanuts into melted chocolate/peanut butter mixture and mix well. 
Drop by teaspoonfuls onto the parchment or waxed paper. Place in refrigerator and cool for 30 minutes or until firm. Store in an airtight container.
Find the recipe on its original website here
.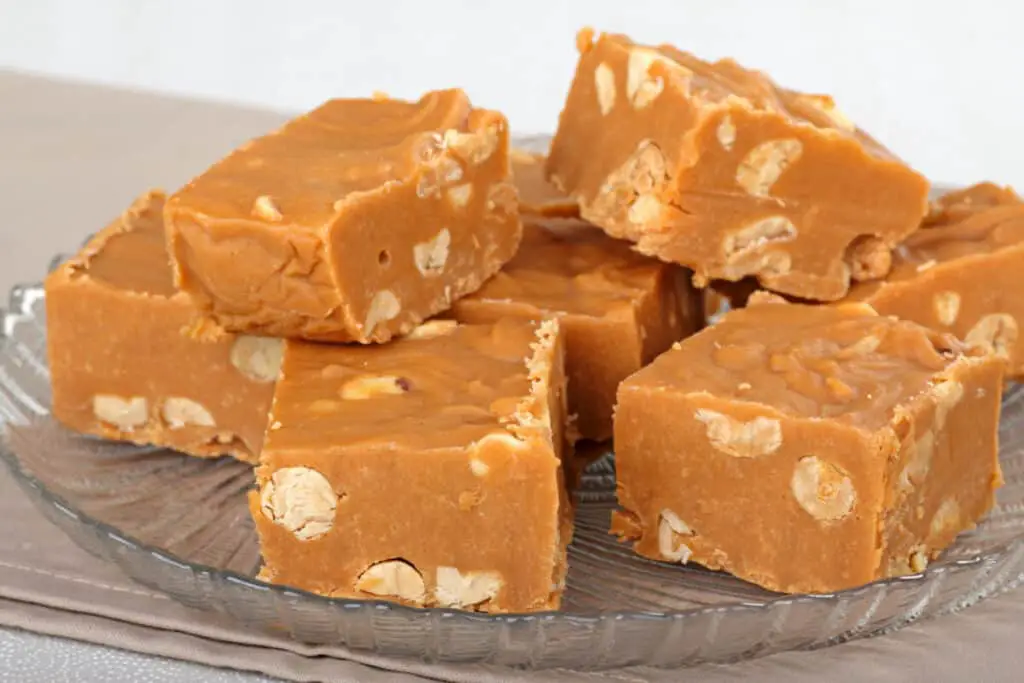 Ingredients
1 pound white candy coating
1 cup creamy peanut butter
1 cup coarsely chopped walnuts
Directions
Melt coating in a saucepan over medium-low heat, stirring constantly until smooth. Remove from the heat; stir in peanut butter and walnuts. Spread into a greased 8-inch square pan. Chill until firm. Cut into 1-inch squares.
Find the recipe on its original website here
.