This post contains affiliate links.
Life is so grand and beautiful, full of adventures and ups and downs, and every single person lives a life that is wonderful and impactful to those they love. It only makes sense that we honor them and the life they lived after they pass away. However, the process of planning a celebration of life can be stressful, so we need to take the time to work through the details.
Appropriate food to have at a celebration of life is food that honors the person you are celebrating. This can be the food they loved in life, were known for making well, or food from a place they loved. Popular choices are light foods like sandwiches, finger foods, salads, pasta, or desserts.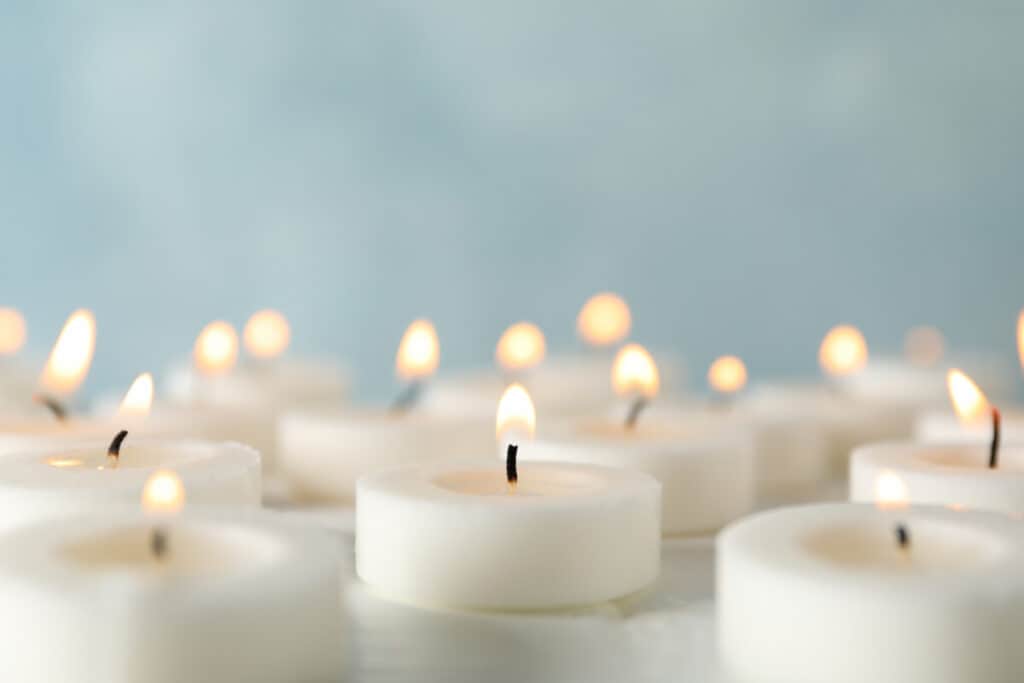 Although food is one of our favorite things about gathering with family and friends, there is a lot more to talk about and consider for a celebration of life. Here are a few more things that you should keep in mind as you plan your happy remembrance of your loved one!
Funeral vs. Celebration of Life
The first thing that we should discuss is what a celebration of life is and what makes it different from a funeral! The phrase "celebration of life" paints a picture of a party, colorful and happy. This may seem contradictory to the normal black, mourning period we are used to.
A celebration of life is exactly that! It goes against the grain a little bit because it focuses on the goodness and the memories of our deceased loved ones instead of the sadness that they are no longer with us. (source). This is shown in the details of each experience.
Funerals typically take place in a church or a funeral home with the deceased one present. People come in dark colors, oftentimes wearing black. There are massive flower arrangements over the casket, and everyone has the opportunity to say goodbye to the deceased. There is whispering, sad mourning remarks, and retelling of memories. It is mostly focused on the sadness of all the things that death brings and takes from the family and friends.
Often, there are religious ceremonies and speeches given by family and friends. You can have the obituary read and some people will sing. Sometimes there is a reception after a funeral with food and some lighter moments and activities.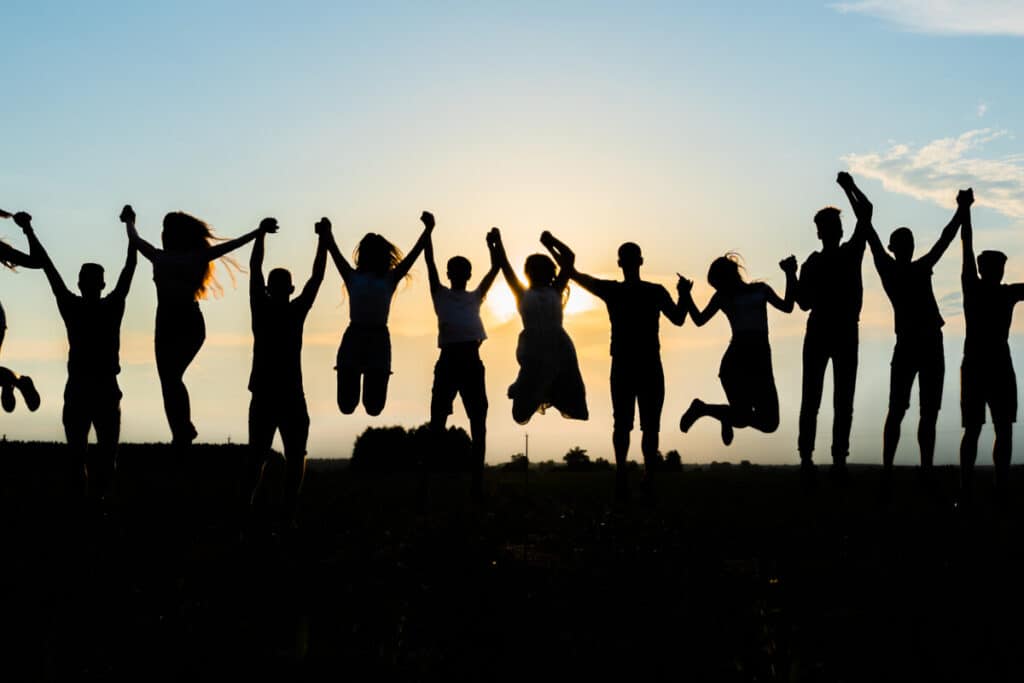 Celebrations of Life are starkly different. They can take place anywhere, including churches, restaurants, parks, etc. People can come in a variety of colors and styles, often more casual to be comfortable. Food is also tailored to the person's life and how their loved ones feel they would want to be remembered.
The events and order of what happens in a celebration of life are up to those who plan it. Usually, the events will be centered around what the person loved and did in their life. (source). This opens a lot of doors for different ideas. Maybe your loved one loved swimming, so you go to a lake and swim together in memory of them. Maybe your loved one loved to sing, so you do karaoke of their favorite songs! The world is all yours with this way of remembering the dead.
The most important thing about a celebration of life is that you have the opportunity to focus on the good aspects of the person's life and memory. Although bad and hard things happen, we can acknowledge the good and find peace and healing in that!
Now that we have a better understanding of the differences between these two ways of acknowledging a person's life, we now know a little bit more about how to move forward in the planning process.
Etiquette
The etiquette for a celebration of life is up to the people planning the event! Some good rules of thumb include dressing nicely, bringing a gift, being punctual, and participating in the activities as appropriate. (source).
Dressing nicely is easier said than done in this instance because the dress code is dependent on the personalities of the people planning the event and the person you are celebrating. Some people will continue to have the dark and muted colors and conservative style that is standard at most funerals. Others might invite you to wear something that is reminiscent of the deceased.
When my grandpa passed away a few years ago, we all chose to wear plaid button-up shirts instead of the traditional black to release balloons at his grave. My grandpa always wore a plaid button-up shirt with slacks or jeans, suspenders, and some nice shoes wherever he went. So, for us, that was the best way to remember him. To others, it probably seemed a little odd, but to us, that was Grandpa!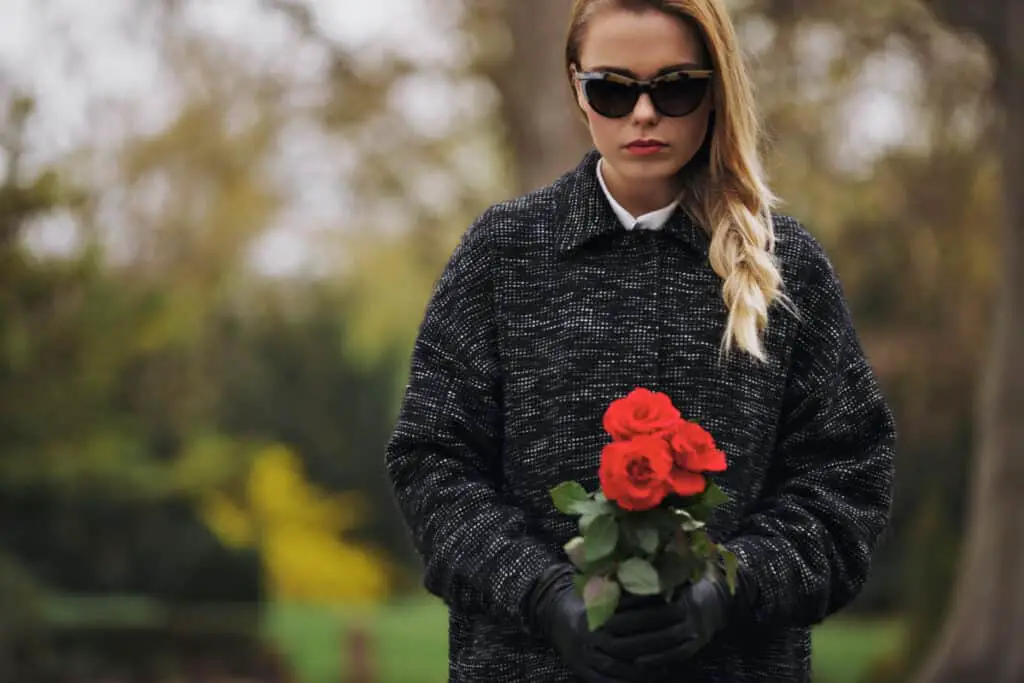 Some other examples of potential dress code differences are the style that is asked for. Most funerals expect Sunday best or an equivalent in blouses, slacks, skirts, or dresses. Some celebrations of life will ask you to wear clothing that is more casual, maybe even jeans and sneakers. This could be for a variety of reasons. Maybe the deceased never liked dressing fancy, so the loved ones felt that best represented them. Maybe they have planned an activity that you will appreciate wearing a pair of jeans to like dancing.
The best way to know what the expectations are for a celebration of life is to communicate with those planning it. They will probably clarify a lot of the details with invitations, but it never hurts to ask what they want that experience to be like!
The Menu Elaborated
A celebration of life is an experience that is catered, quite literally, to the person. The menu is just another way to remember the person who has passed. This really opens it up!
Most funerals have similar things created and catered. There is even a recipe called "funeral potatoes" that is a common delicacy at funerals!
However, your loved one may have been a fan of chicken sandwiches, sushi, tacos, or another cuisine.The beauty of a celebration of life is that all of these are options for you! Just like any other large event, you can easily cater from a restaurant.I called a local restaurant called Blister's BBQ and talked to one of the workers about his opinion on what would be good for a celebration of life.
His response was that they typically cater pulled pork and other meats by the pound, bring sides like potato salad, and all the other things that they cater.
I also called a catering company called Saint Germain Catering, and they were pleasant! The suggested light foods like cheese and fruit platters, finger foods, and hors d'oeuvres. Another woman suggested having a light lunch because the majority of the service will be spent moving and conversing with others.
Something to note is that local restaurants don't typically have a celebration of life menu. This style of honoring the dead is not as common as funerals, so if you were to choose this option, be prepared to take the time to decide what you order and customize it to what you and your guests would enjoy.
The main things that would be good to consider when thinking about the menu for your event are the number of people you are wanting to invite and the price of the food you are ordering.
I looked at two other catering companies that do have a celebration of life menu, and it was enriching to see what they thought was good for a celebration of life.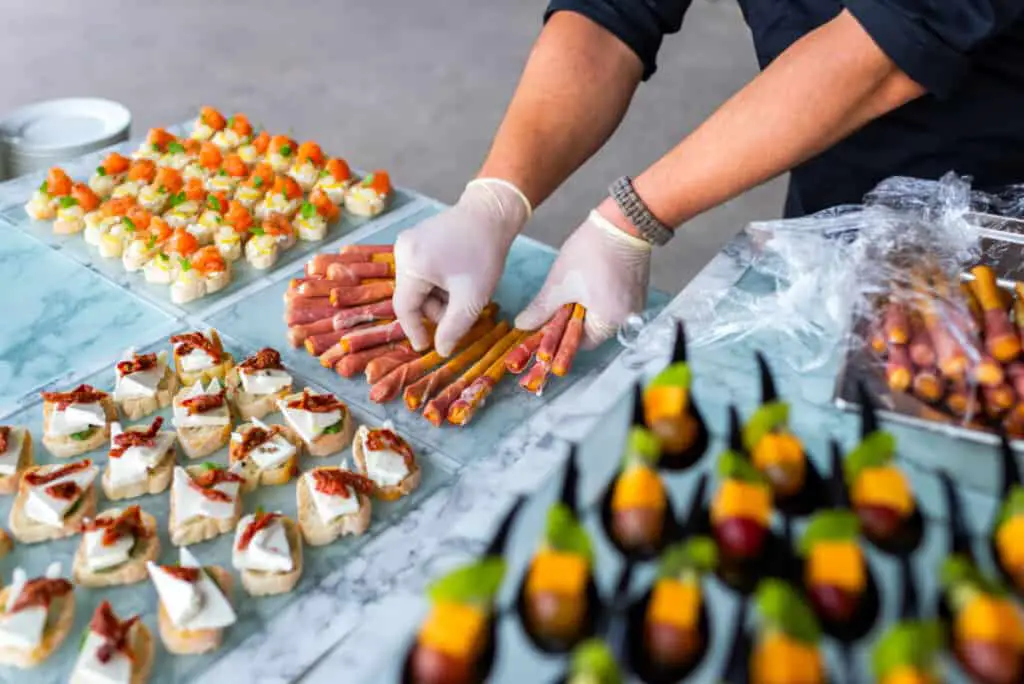 Sharko's Catering had a lot of options. (source). One of the options was an assorted sandwich buffet with some classic sides and drinks. Some of the sides were salads, mixed fruit, and coleslaw. Another option they gave was doing a variety of classic finger foods, like mini sandwiches, a variety of trays, meatballs, and drinks.
They also had a specialty option called "Sharko's Famous "CBM" Chicken, Beef & Mostaccioli" that had some higher-end options. Some of the options included in this bundle were lemon pepper chicken, mashed potatoes, sliced beef au jus, and mostaccioli with red sauce. There were quite a few more catering options, like an Italian buffet and desserts.
The price for each of these ranged from 14-17 dollars a person. Some of the bundles demanded that you have at least 100 people there; others required only 25 people.
Another catering company called Breakwater Events had some similar options. However, they had a lot more options than Sharko's. Their menu includes a large variety of salads, pasta, and some barbeque and Chinese food options. Some highlights from the options they offered are fresh seafood ceviche, pulled kalua pork sliders, a gourmet mac and cheese bar, and a gourmet baked potato bar. (source).
They also had a ton of different bundles with a variety of drink options. The menu items are classy and tasteful. However, the price ranges between $20 and $35 per person before drinks. They also mentioned that you could have to pay a minimum of 2,500 dollars per event. This is a lot of money to spend on food for this event, before even considering the other costs.
Looking at these catering companies, it was clear that there were some similar ideas about what would be good for a celebration of life. The main similarities are the food types they offer. They both offered pasta, salad, finger foods, and desserts of differing levels of quality and price. Another similarity was that catering costs a little more.
Overall, you can see that catering from higher-end places will end up costing you more, but you will also receive some high-quality food.
Yet, there are more options than just catering to supply food for your celebration of life.
Maybe the person you are celebrating loves home cooking. We all have those favorite recipes that make us happy, like Mom's mac and cheese or maybe some of grandma's cooking. It would be fitting to make some of those family favorites that bring back memories of gathering around the kitchen table for events or just a normal weekday dinner. (source).
The main difficulty is that making that much food yourself can be a costly and time-consuming experience. Ultimately, whichever option you choose, long as you feel it represents who you are celebrating you can't go wrong.
However, the food only highlights the activities and the ways you choose to remember your loved one.
Events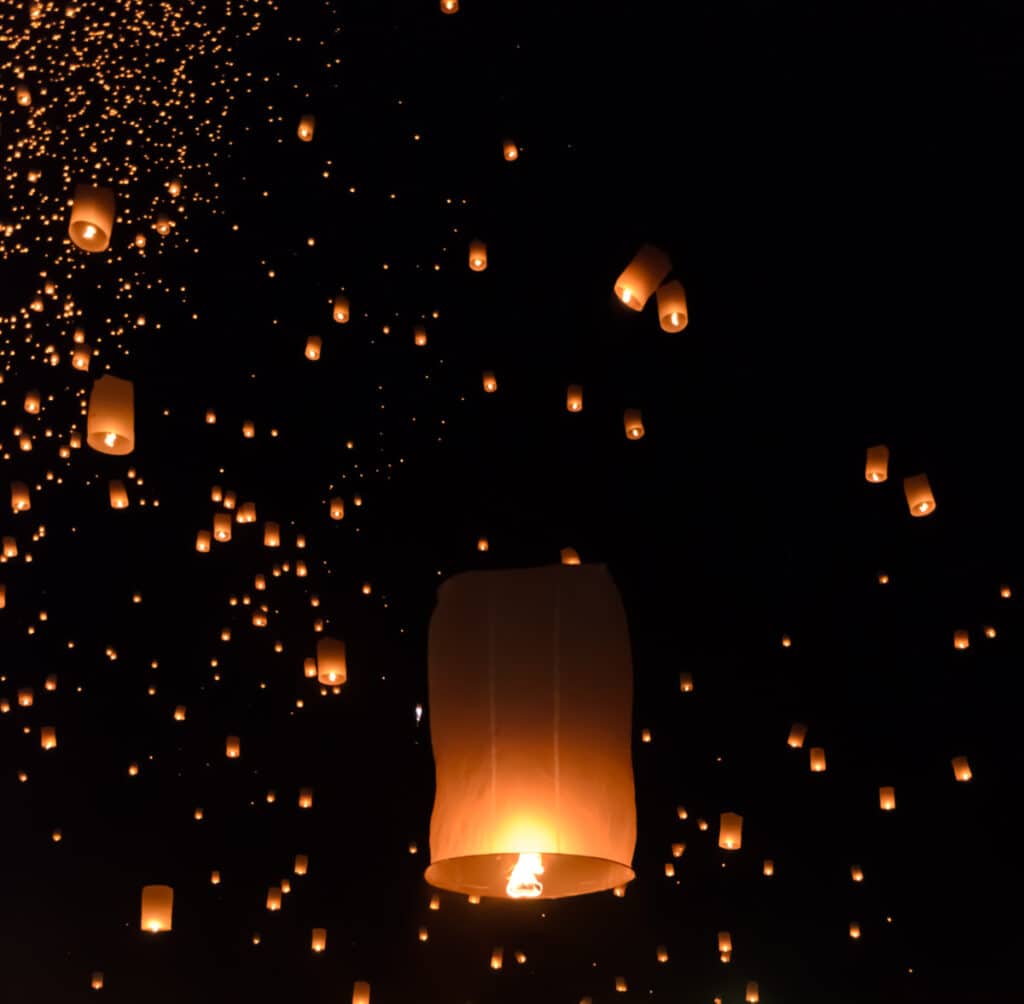 Funerals tend to have a routine that you can pretty much guarantee will happen. You have the religious leader speaking, songs, and speeches by other family members and loved ones. You might then travel to the graveyard and bury them. It can be a pretty somber experience.
This is one of the largest differences between a funeral and a celebration of life. Celebrations of life have a whole world of options for things you can do to honor your loved one. The main thing to focus on is sharing and remembering the experiences and relationships this person had. Usually, this is done by gathering everyone at the beginning of the event.
As I was researching, I came upon this list of ideas for different activities you can do!
donate to a charity or organization that the person treasured
toasting or giving speeches about the deceased
having a bonfire
singing
a video or presentation about the person's life
balloon, butterfly, or lantern release
collecting different photos/memorabilia
light some candles
dancing
writing notes to put somewhere
planting a plant, typically something they love (trees, fruits, flowers, etc.)
having something engraved with their signature
making a quilt out of their old clothes
(source for the list)
As you can clearly see, there are a lot of different options for activities you can do at your celebration of life. Just like the individual, there are thousands of ways you can go about remembering and loving them.
Even though they are not here anymore, that doesn't mean that their impact ends or that the experiences and relationships you have had die. Things have simply changed, and those things of the most importance can live on! We give you our condolences and wish the best for you and your loved ones!