This post contains affiliate links.
Pumpkin Pie is a crowd favorite and if you love it just as much as I do, you might be wondering what the difference between Pumpkin and Sweet Potato Pie is. With such similarities in color and texture, I wanted to find out which one was healthier and tasted better. I decided to make my own version of each pie and find out for myself.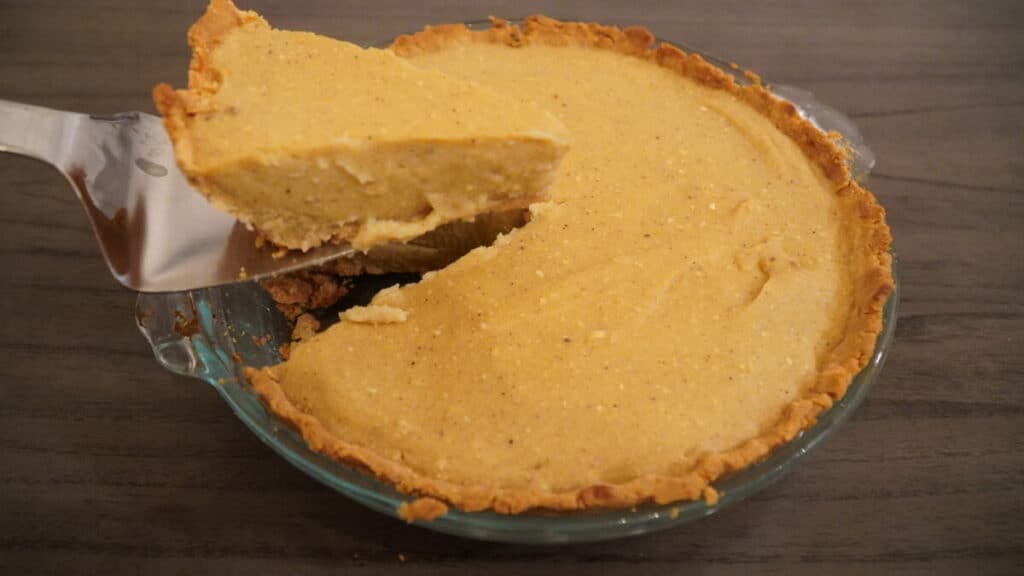 Sweet Potato and Pumpkin Pies can have a similar taste, appearance, and texture, but they have different ingredients and nutritional content. Sweet Potatoes are large starchy root vegetables that have a sweet taste. Pumpkins are round Orange winter squash that usually has smooth ribbed skin. The inside of a Pumpkin contains pulp and seeds.
The Real Difference Between Sweet Potato and Pumpkin Pie
Sweet Potato Pie is a traditional American dessert originating from the Southern United States. Sweet Potato Pie is normally served during the holidays including Thanksgiving and Christmas. The ingredients normally include Sweet Potatoes, milk, eggs, sugar, and pie crust. The Sweet Potato is a starchy root vegetable with a sweet taste that is native to America. Pumpkin Pie is a traditional American dessert served during Fall and Winter. The main ingredient is Pumpkin which is a large, round winter squash with smooth, ribbed skin. The custard-style filling includes eggs, sugar, nutmeg, condensed milk, cinnamon, ginger, and cloves. The filling can range from light orange to dark brown in color. The pie is often made with canned Pumpkin, but it can also be made by cooking a Pumpkin first and then making the filling. It's often associated with harvest time.
Is Sweet Potato and Pumpkin Pie the Same?
Sweet Potato and Pumpkin Pie may have similar tastes, colors, and textures, but they are not the same. Many people prefer one over the other depending on their preference for sweet or savory flavors. The two pies are used for similar occasions such as Thanksgiving and Christmas. I baked both types of pies and found that the Pumpkin Pie was fluffier and lighter. I used the same amount of honey for both the Sweet Potato and Pumpkins Pies, but the Pumpkin Pie had a smoother texture and seemed to take on more sweetness. The Pumpkin Pie was a dark orange color. The Sweet Potato Pie was a light orange color and the filling ended up denser and more savory out of the two.
Can You Substitute Pumpkin for Sweet Potato in Pie?
For many occasions, you can substitute Pumpkin for Sweet Potato Pie. The two pies commonly have very similar ingredients aside from the base. You can also use the same type of crust for both. Some people enjoy the taste of one over the other depending on their preference. Keep in mind, the preparation and the amount you will need for Pumpkin and Sweet Potato Pies are different. In general, you will need 1-1.5 cups of canned Sweet Potato or 1-1.5 pounds of Sweet Potatoes for one pie. For Pumpkin Pie, you will need one 15 oz can or one medium 3-pound sugar pumpkin.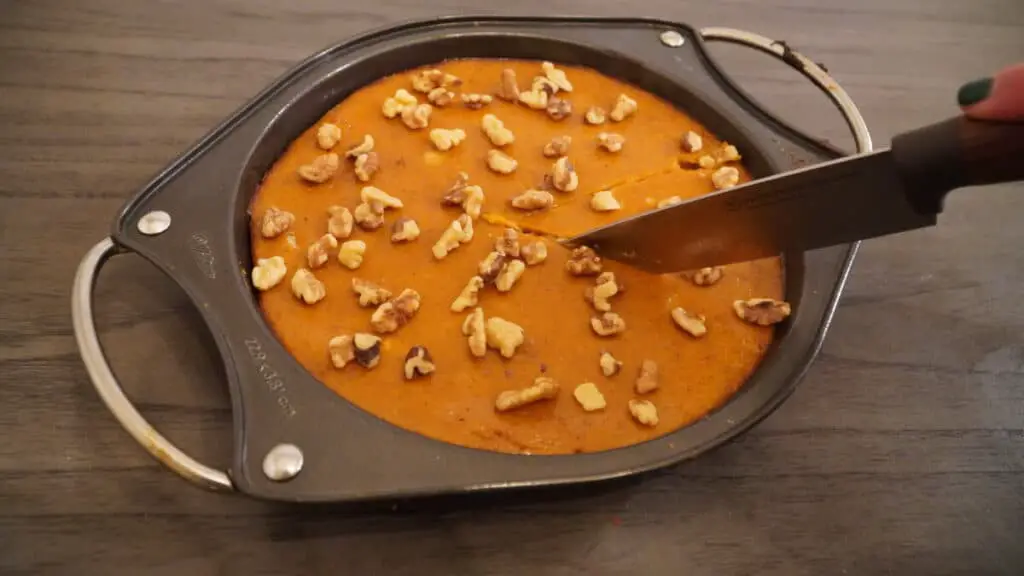 How to Prepare Pumpkin for Pie
To make a pie out of the fresh pumpkin, cut a sugar pumpkin in half and scoop the pulp and seeds out. If you want to roast the seeds, put them into a bowl or Tupperware and save them for later. Preheat the oven to 350 degrees. Put the Pumpkin on a baking sheet and roast it for 45 minutes. It should be tender enough you can poke a fork all the way through it. After the Pumpkin has cooled enough, peel of the skin and discard it. Cut the pumpkin into smaller pieces and put them in a blender to puree them. Pulse the pumpkin until it is completely smooth. If it is not blending, you can add a little water. If you don't have a blender, you can put the pieces in a large bowl and mash them with a Potato masher.
How to Prepare Sweet Potatoes for Pie
To make a pie from fresh sweet Potatoes, peel 1-1.5 pounds of Sweet Potatoes with a Potato peeler. Place Sweet Potatoes in a medium saucepan and cover with water. Bring the water to a boil and reduce the heat to a simmer. Cook for 13-15 minutes or until tender. Drain the potatoes and let them cool. Once cooled, cut into smaller pieces and place them in a blender. Blend until completely smooth. You can also put them into a medium-sized bowl and use a potato masher or a fork.
Which is Healthier? Pumpkin or Sweet Potato Pie.
Sweet Potatoes have a better nutritional profile over Pumpkins cup for cup. According to this article
and this article
by Healthline, Sweet Potatoes have more calories and carbs cup for cup than Pumpkins. But Sweet Potatoes have 4 grams of protein while Pumpkins only have 2 grams of protein. Sweet Potatoes have more than double the amount of fiber that Pumpkins do and Sweet Potatoes have more than 3 times the amount of your Vitamin A daily value. Sweet Potatoes have 65% of the daily value of Vitamin C and while Pumpkins only have 19% of the daily value.
The type and amount of other ingredients you use in the pie will also determine how healthy it is. Ingredients such as refined wheat flour and refined sugar will make the pie less healthy. For example, letting the Sweet Potato, Cinnamon, and Nutmeg sweeten the pie instead of using refined sugar will make it healthier. According to this article by Healthline, Almond flour has more health benefits than wheat flour. Almond flour has fewer carbs than wheat flour, but it does have more fat. Almond flour also has extra health benefits such as lowering the risk of heart disease and improving blood sugar control.