This post contains affiliate links.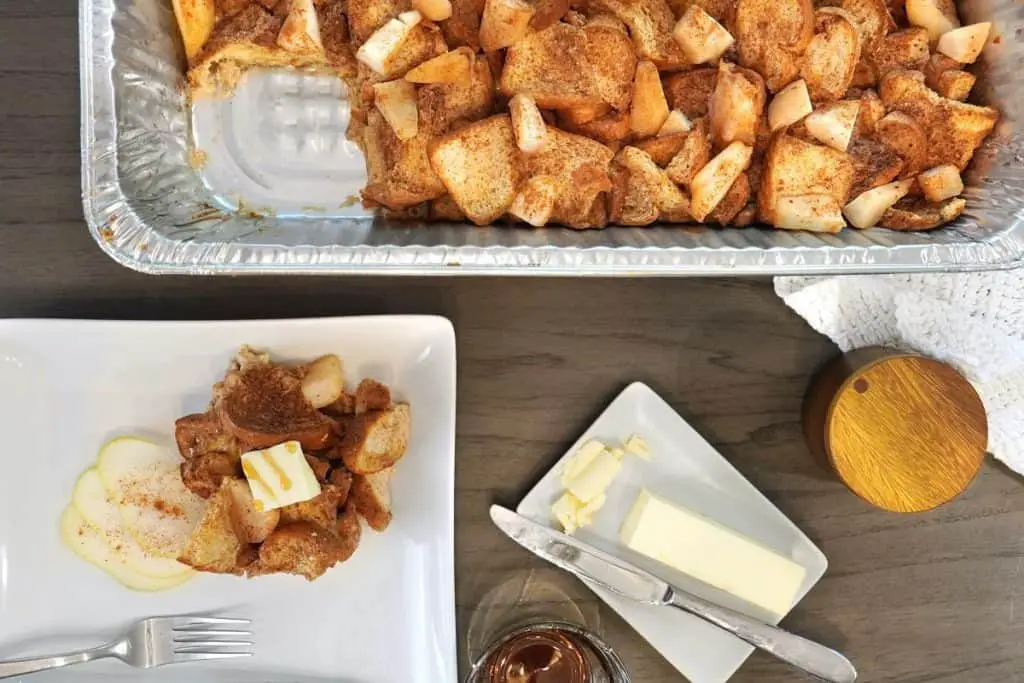 This glazed pear baked French toast will be the ideal breakfast for your large group gathering. It's perfectly sweetened with honey and just the right amount of cinnamon which gives it a crispy golden crust on top. This is a delicious and filling recipe for a crowd whether you're having a family reunion, holiday breakfast, or you just need something quick and easy.
French toast is one of my all-time favorite breakfasts. It reminds me of family reunions at my grandma's house when I was a child. Every time I smell the aroma of cinnamon and honey, it brings me back to those fond memories. I don't know how she did it. She prepared breakfast, lunch, and dinner for dozens of people without a hitch.
Is French toast good for large groups?
This light and fluffy French toast is a great recipe for a large group. It's sure to be a home run for kids and adults. You can pair it with almost any breakfast side including scrambled eggs, bacon, sausage, coffee, and juice.
This recipe has 24 servings and calls for 36 slices of bread. It's so easy to duplicate this recipe without adding extra time or work in the kitchen. It's simple to make. It's baked in the oven so there is no messy stove cleanup required.
It's also a very affordable option for your large gathering as the main ingredients are bread and eggs.
Is the recipe hard to make?
This French toast is so easy to make and it's ready in just an hour. That way you won't be stuck in the kitchen for hours and you can focus more on enjoying your large group gathering.
To cut down on preparation on the day of the event, you can assemble the recipe the night before and store it in the fridge. The French toast will soak in the honey, cinnamon, and vanilla flavors even more so it will be packed with flavor.
All you need is a mixing bowl, measure cups and spoons, a whisk, and a spatula.
Is French toast healthy?
French toast traditionally calls for sugar, white flour, butter, and maple syrup as toppings. In this recipe, you can have your French toast and eat it too.
Two years ago I started a quest to be a healthier version of myself. I started going to the gym and being active every day. I like to create all my favorite comfort foods with healthier ingredients. This nutritious meal will satisfy those sweet cravings without all the sugar.
It just so happens, I have a pear tree in my backyard and it's harvest season which gave me an abundance of pears. The pears make a perfect addition to this healthy spin on French toast and it will sure to be a home run for your group.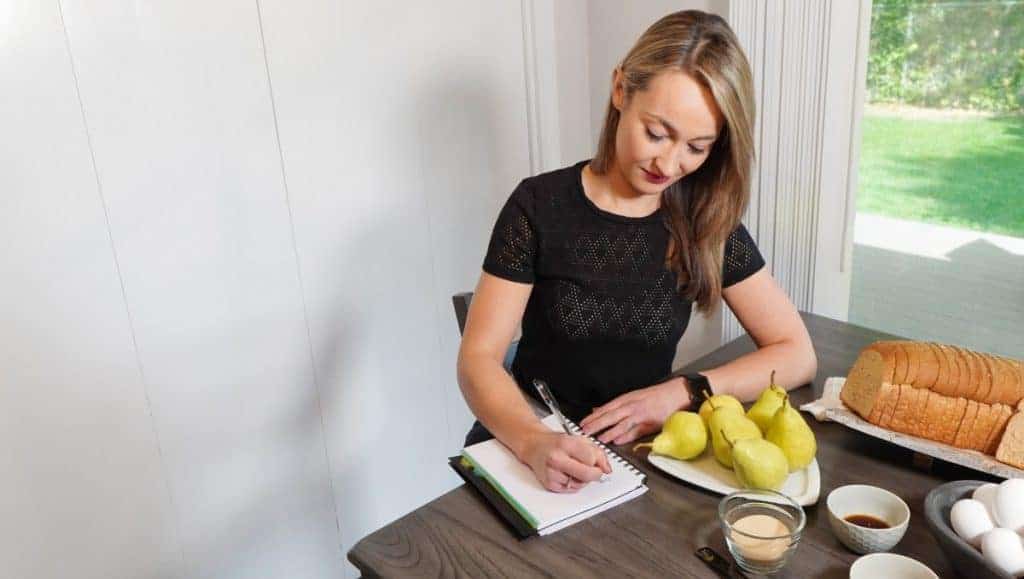 The recipe doesn't use any white sugar, flour, or butter and it's packed with healthy grains and protein. It calls for simple alternatives such as monk fruit sweetener, cinnamon, and almond milk. It comes out fluffy on the inside and crispy and golden brown on the outside.
What is the best bread to use for this French toast?
The beauty of this recipe is that you can customize it to your liking. I used Sara Lee Delightful Multi-Grain Bread which comes in at 45 calories per slice to make the recipe a little lighter.
You can even use a gluten free bread for this French toast.
Just keep in mind, the texture of the French toast depends on the type of bread you use. If you would like a crispier texture, challah, sourdough, or french bread would work well. White or whole wheat bread would have a softer texture.
What kind of milk should be used for this recipe?
I used almond milk for this version, but you could substitute regular dairy milk, coconut, cashew, or oat milk.
What type of sweetener should you use?
I opted for a Monk Fruit sweetener and honey for the glaze. White sugar, brown sugar, Stevia, Splenda, maple syrup, and agave would work well too.
Can you prepare the French toast before hand?
Once you make this French toast you can store it in the fridge overnight so the egg, cinnamon, and vanilla mixture soak in even better. Just keep in mind you might want to use a harder bread so it doesn't get soggy. This will make baking the French toast even easier on the day you need it.
How can you keep it warm?
French toast is best served warm. You can preheat your oven to 200 degrees Fahrenheit and keep the French toast in there until you are ready to serve it to your group.
What can you use for toppings?
I like to top this breakfast with plain greek yogurt, honey, bananas, and berries, You could top it with the traditional add ons like maple syrup, butter, or even peanut butter. It's hard to go wrong no matter how you customize this recipe. To complete the meal, you can pair it with eggs, bacon, and orange juice.
Can you keep leftovers?
I often meal prep this French toast to have to take to work for several days. I store leftovers in the fridge for up to three days. After that, the bread could get too soggy. You could also reheat the french toast in the oven or in a pan to crisp up the bread.
You can even freeze this recipe in a vacuum-sealed bag to make preparation for your large group even easier.
Instructions
Preheat the oven to 350 degrees Fahrenheit. Spray a baking dish with non-stick cooking spray. Cut the bread into 1-inch squares and place them in the baking dish. Whisk together eggs, unsweetened almond milk, cinnamon, vanilla extract, and 5 tablespoons monk fruit sweetener. Pour the mixture over the bread. Drizzle ¼ cup honey over the casserole. Chop pears into ½ inch cubes and place on top of the casserole. Bake for 40-45 minutes. Take out when the bread is golden bread and slightly crispy.
Ingredients
36 pieces of whole-grain bread
24 Eggs
3 cups unsweetened almond milk
6 tsp cinnamon
6 tsp vanilla extract
6 Bartlett Pears
5 tablespoons monk fruit sweetener
1/4 cup honey
Berries (Optional Topping)
Plain greek yogurt (Optional topping)