This post contains affiliate links.
Growing up in a family that loved to travel meant I learned how to enjoy simple meals on-the-go, especially the continental breakfasts at hotels. A typical breakfast at any American hotel looks like pancakes or waffles with a side of cooked-to-order eggs, sausage links, and a small glass of apple juice. There are also choices like cold cereal, yogurt and fruit, and oatmeal.
Oddly enough, I don't remember ever trying oatmeal, either at home or abroad, until I was 19 years old and living in New Zealand as a volunteer missionary for my church. It's a popular breakfast choice over there, so I learned to like it! After returning home, I started exploring different recipes for oatmeal and came to love it. Today's blog post is a compilation of a few of my favorite tried-and-true combinations for hot cereal, as well as an incredibly easy method to prepare enough oatmeal to feed eight people!
What's the best way to cook oatmeal?

The first thing you need to know is there are many different ways to make oatmeal. I've personally tried each one and they all taste about the same in the end. However, if you're planning on making oatmeal for lots of people, the Instant Pot is the most foolproof and effective way to prepare! Let's explore each option in detail:
Microwave: perfect if you're making one serving of oatmeal. I keep a large container in my
pantry full of old-fashioned rolled oats that work great, but quick oats or steel-cut oats
work too. Simply add your water or milk (I always use almond milk!) to your raw oats in a
1:2 ratio in a shallow bowl and microwave for 2-3 minutes until finished.
Stovetop: a great choice for 2-4 servings of oatmeal. Prepare your oats just like you would
for the microwave, but in a medium pot on the stovetop for 8-10 minutes until finished.
Bake in the oven: good for feeding a crowd, but requires more time. I've also found that
most recipes for baked oatmeal are one specific flavor like mixed berry, blueberry lemon,
peanut butter banana, and so on, so it makes for easy serving and minimal preparation.
Another perk of baked oatmeal is that it saves well and keeps for up to three days.
Instant Pot: my personal favorite for feeding large groups of people! All you need to do is
add your oats and liquid to the pot (as well as additional mix-ins like cinnamon and vanilla),
seal, and cook on HIGH pressure for 5-6 minutes. That's it! It does all the work for you. This
blog post will teach you how to use the Instant Pot method.
Slow cooker: feeds very large crowds (10+ people) and great for planning ahead. My
family uses the slow cooker for functions like marching band road trips and family reunions.
Overnight oats: a bonus technique that's become popular in the last few years! The best oats for this method are either quick oats or steel-cut oats, but any will do. These are perfect for single-serving breakfasts packed with flavor. Add all your ingredients to a mason jar or glass Tupperware and let sit in the fridge overnight. Pull out for breakfast and enjoy! No heat required. Good for meal prep fanatics and busy mornings.
How to Make Oatmeal in the Instant Pot

Start by adding 3 cups of old fashioned rolled oats to your pot. Next, add 2 cups of your milk of choice (this recipe calls for almond milk), 2 cups of water, 1 tablespoon cinnamon, and 1/2 tablespoon vanilla — adding cinnamon will provide a boost of antioxidants, and adding vanilla
will sweeten the oats. Stir to combine.
Turn the lid closed and turn the valve to "seal." Cook on HIGH pressure for 6 minutes. Allow 5 minutes to come to pressure and 10 minutes to naturally release (the display should read L:10).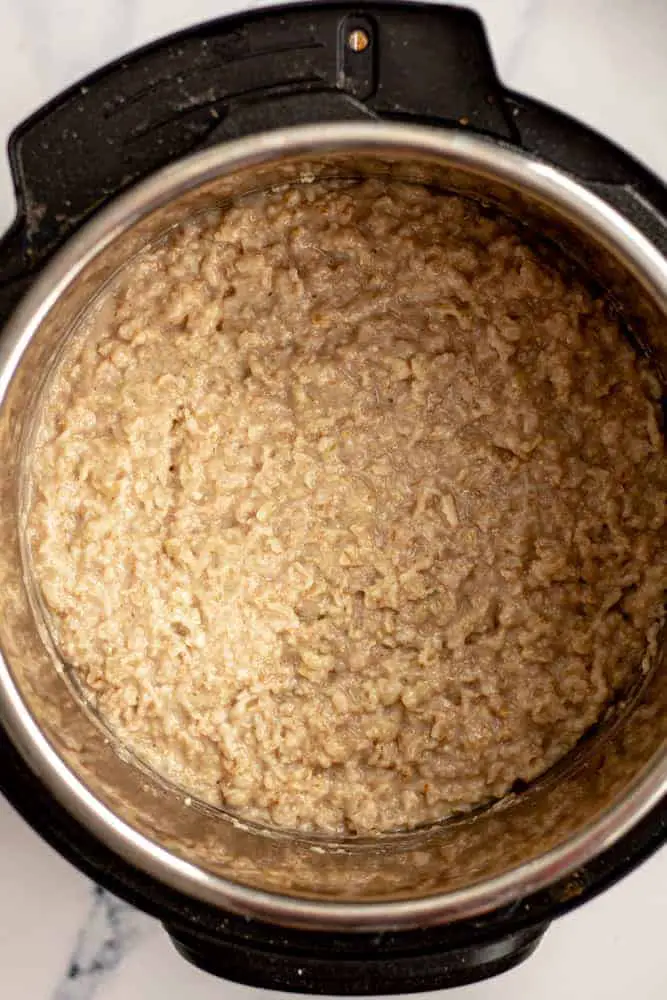 Then, turn the valve to "vent" and manually release the remaining pressure. Remove the lid and give your oats a quick stir. You're done! Easy, right? I feel like using the Instant Pot is the happy medium between stovetop and slow cooker — you have enough to feed a good number of
people but you don't have to wait forever to have your food ready!
What toppings taste good with oatmeal?

Now comes the fun part: creating your favorite flavor of oatmeal. I've included a list below of some of my favorite toppings as well as a few examples of delicious combinations:
• Maple syrup
• Brown sugar/coconut sugar/Stevia sweetener
• Fresh berries like strawberries, blueberries, and raspberries
• Nut butters like peanut butter, almond butter, or cashew butter
• Chopped nuts like peanuts, pecans, walnuts, or almonds
• Powdered peanut butter (a mix-in rather than a topping)
• Seeds like chia seeds, flax seeds, or pumpkin seeds
• Hazelnut spread/Nutella
• Sliced bananas or shredded apples
• Unsweetened coconut flakes
• Vanilla greek yogurt
• Spices like cinnamon, nutmeg, or all-spice
• Chopped dark chocolate
• Salted caramel (if you're feeling fancy!)
• Whipped cream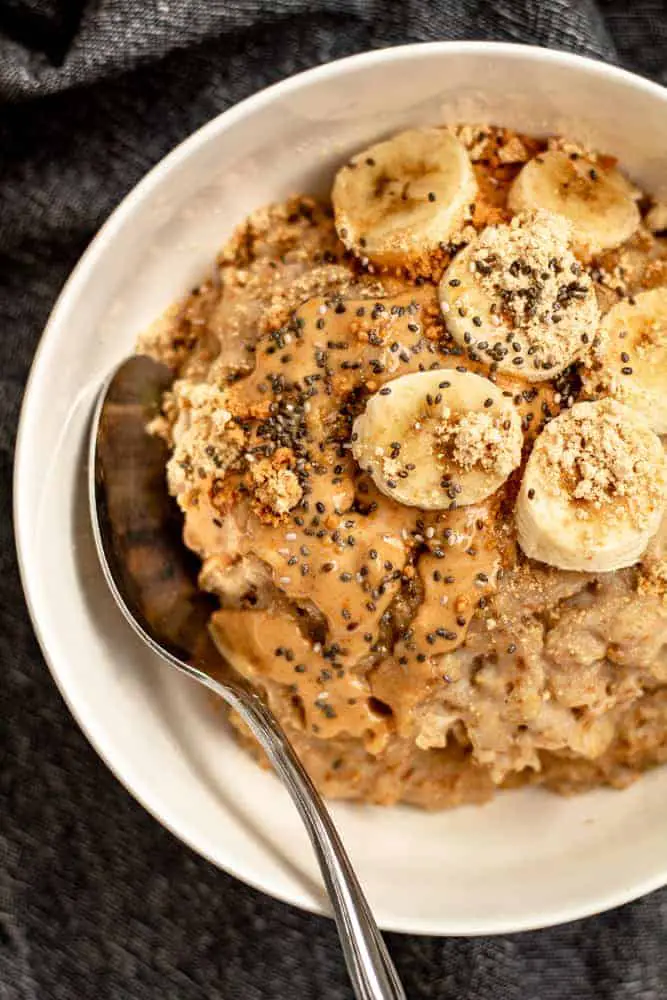 Pictured above is one of my original creations: Peanut Butter Banana Oatmeal. I like to stir in a tablespoon of powdered peanut butter (this is my favorite brand!), then add a drizzle of 100% creamy peanut butter, sliced bananas, and chia seeds on top. Such a good combo. If you're really feeling it, add some dark chocolate for a Reece's Banana Oatmeal!
Next up is a fresh twist on a classic candy bar: Blueberry Almond Joy Oatmeal. All you need is fresh blueberries, sliced almonds, and unsweetened coconut flakes!
Lastly, we have a very simple yet delicious combination: Strawberry Maple Oatmeal. Squeeze that sugar-free Maple syrup all over your oats, then throw on a handful of sliced strawberries and you're golden. You can't go wrong here!
Whatever toppings your choice for your Oatmeal Buffet, I know you'll be the new favorite in your group of friends or family! If you try this recipe, be sure to leave a comment and rating below to let other viewers know how you liked it! Your feedback is valuable.
Ingredients
3 cups old fashioned rolled oats
3 cups almond milk (or milk of choice)
3 cups water
2 Tbsp pure maple syrup
1 Tbsp cinnamon
1/2 Tbsp vanilla
Toppings of choice (see blog post)
Instructions
Add all ingredients except toppings to an Instant Pot and stir to combine. Close the lid and turn the valve to "seal."
Cook on manual HIGH pressure for 6 minutes. Allow for 10 minutes natural release (the display should read L:10), then turn the valve to "vent" and manually release the remaining pressure.
Serve immediately with desired toppings and mix-ins.