This post contains affiliate links.
Enjoy the seasonal flavors of fall with this Easy Apple Crumble for a Crowd! Each bite is warm with soft cinnamon apples tossed in maple syrup and covered in a crisp oat topping. Serve with vanilla bean ice cream for the best results! Perfect for family gatherings and holiday celebrations. 
I can't believe it took me 21 years of life to finally explore the flavors of the world. I grew up traveling the world with my family, but I never really tried new or exotic foods. My brothers were quite picky and my parents were very traditional, so we loved the "classic" foods like Chicken Alfredo, Beef Tacos, and Baked Potato Soup; desserts around the holidays were no-bake pies like Chocolate Oreo Pie and Strawberry Jell-O. It wasn't until I went off to college and relied on Pinterest for my meal plans that I started to explore what else the world had to offer!
Among those new dishes was an apple crisp. I loved raw apples, but it took me a minute to really love cooked apples. I think it was the cinnamon and maple syrup that did it. Who wouldn't love that combination? I didn't love the flour/butter/sugar topping though, so I got to work to find a better recipe and what I ended up with was an incredibly delicious Apple  Crumble that's easy, healthy-ish, and perfect for hosting a crowd. You're going to love it!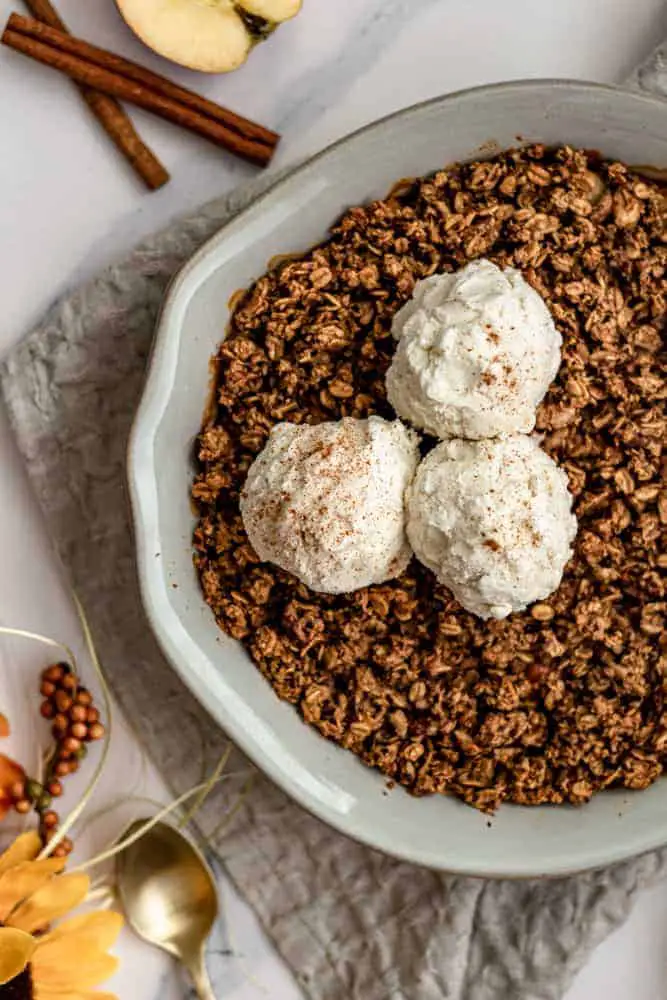 What is Apple Crumble?
Imagine an apple pie with sweet granola as its crust. You got it! I actually prefer a good Apple  Crumble over a classic apple pie for a few reasons: 
1. It's easier to make: no fussing over a dense, over-baked pie crust or spending hours in the kitchen preparing dessert. It only takes about 15 minutes to pull together! 2. It's good for large groups: with pie, I feel like there's a commitment to how big your slice is. I'm a nibbler by nature (it drives my husband nuts) so I love Apple Crumble because I  can take as much or as little as I want without ruining the aesthetic of the dish. 3. It's healthier AND tastier: yup, I said "and!" Not only is Apple Crumble crust-less (yay for my gluten-free friends!), which saves a ton of calories, it has so much more flavor from all the ingredients needed for the crumble topping! If you don't believe me, just taste it and you'll know what I mean. 
What ingredients do I need for Easy Apple Crumble?  
• Crisp red apples: this recipe calls for 5 medium apples, which is equivalent to about 1.25  lbs. Feel free to choose your favorite kind of red apple! 
• Cornstarch: helps bind the maple syrup to the apples and seasonings for the filling
• Cozy spices: cinnamon and nutmeg are the perfect flavors for this cozy fall dessert. You can also mix in all-spice too if you have that on hand! 
• Maple syrup: a refined-sugar-free sweetener for both layers of the crumble
• Rolled oats: it wouldn't be a crumble without them! You can use gluten-free certified oats if necessary. Make sure these are old-fashioned oats, not quick oats. 
• Pecans: adds flavor, texture, and heart-healthy fats to the crumble topping
• All-purpose flour: mixed with sugar and butter for the base of the crumble topping
• Coconut sugar: a healthier substitute for brown sugar used in the topping because it has a lower glycemic index than refined sugar. If you don't have any on hand, brown sugar will work just fine. 
• Unsalted butter: gives incredible flavor and texture for that golden crumble topping! If you use salted butter, omit the 1/2 tsp of salt the recipe calls for.
How to Make Apple Crumble 
1. Prepare the apple layer: toss the diced apples in the cornstarch, cinnamon, and nutmeg.  Then pour the maple syrup and lemon juice over the apples and mix until well combined.  Spread in an even layer in the prepared dish and set aside. 
2. Prepare the crumble topping: whisk together the flour, sugar, cinnamon, and salt. Dice the butter into small cubes and press into the dry ingredients with a fork or pastry cutter.  The mixture should resemble sand. Fold in the oats and pecans. Add topping over the apples and cover completely.  
3. Bake covered for 25 minutes at 375° F, then turn down the temperature to 325° F and bake uncovered for another 20-25 minutes or until the topping is crispy. Serve with vanilla bean ice cream for best results.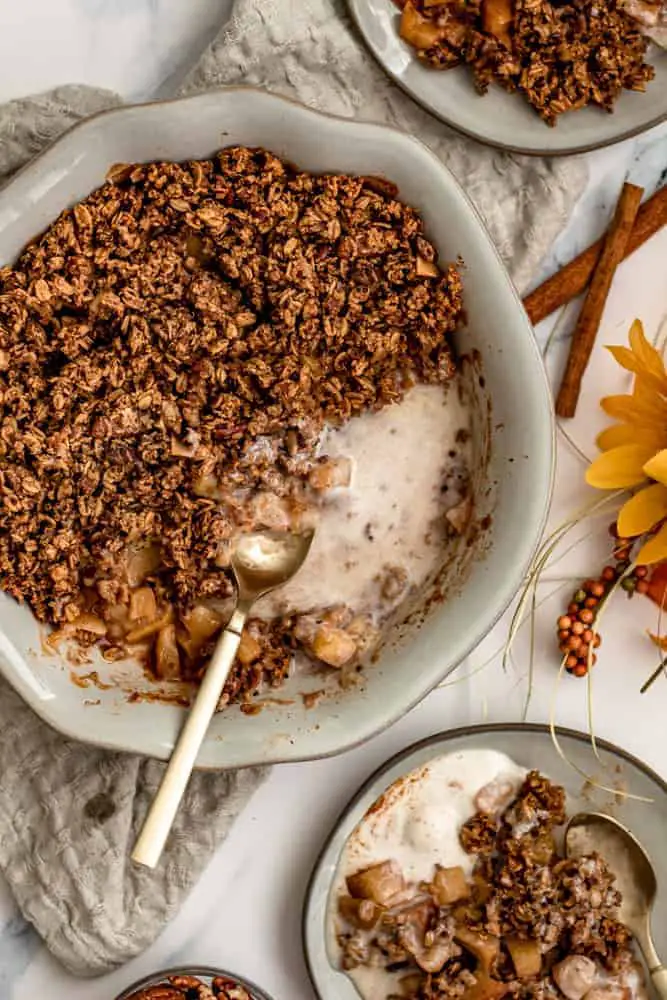 What do I serve with Apple Crumble?
If you're serving as a dessert: my absolute favorite is ice cream! I've used vanilla bean ice cream (classic!), salted caramel ice cream, and even churro-flavored ice cream and they all taste wonderful! 
If you're serving for breakfast: yes, I said breakfast! I love starting off my day with a serving  of fruit and granola (basically what this dish is!) so this is always a winner in my book. I enjoy it  as it or with a serving of non-fat vanilla greek yogurt.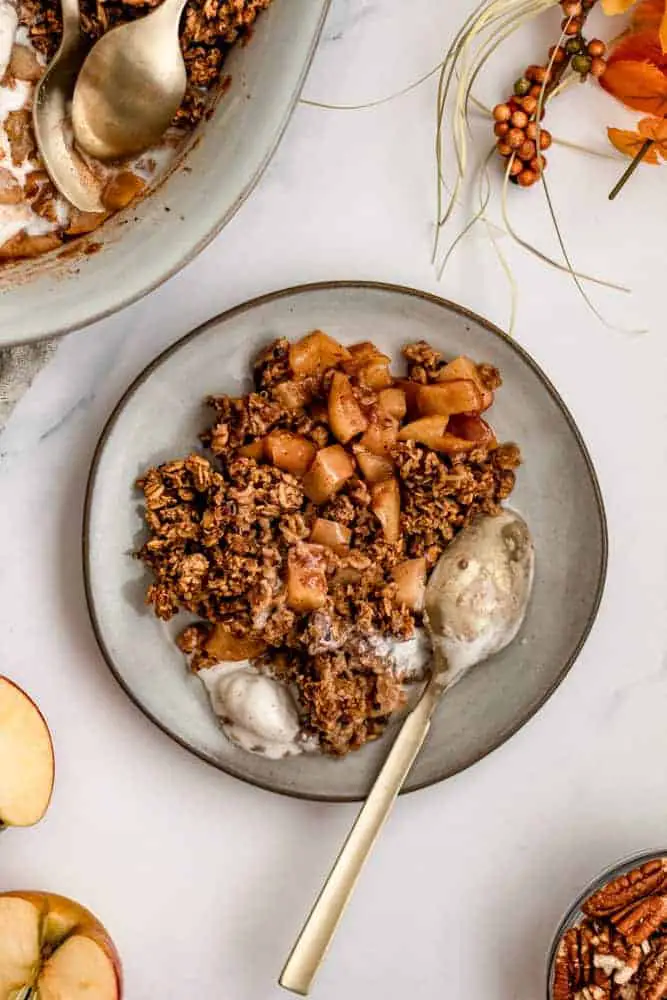 How to Prepare and Store Apple Crumble
• To reheat single servings: place on a microwave-safe plate and warm for up to one minute. • To reheat the entire dish: preheat the oven to 300°F. Cover with foil and bake for 15-20  minutes or until warmed all the way through. 
• On the countertop: no more than two days. Because this recipe uses fresh fruit, it goes bad faster, so make sure your party finishes it (I don't think that will be a problem)! • In the fridge: cover with foil (or transfer to an air-tight container) and keep for no more than four days. I prefer keeping it in the fridge so the flavor stays as fresh as possible. Again, it's so good that you probably won't have leftovers! 
• To make ahead of time: I recommend making this Apple Crumble no more than two days before your event because it'll only be fresh for up to four days. I also recommend making and baking the entire dish, then storing it in the fridge until you're ready to serve. 
If you're looking for a healthy-er, crowd-pleasing dessert for your next event, this Easy Apple Crumble is the perfect dish! It comes together in an hour and almost never has any leftovers. If you make this recipe, be sure to leave a comment and rating below so other viewers know how you liked it! 
Ingredients
5 red apples (peeled if desired)
1 Tbsp cornstarch
1/2 Tbsp cinnamon
1/4 tsp nutmeg
2 Tbsp maple syrup
1 Tbsp lemon juice
3/4 C rolled oats (gluten-free if necessary)
2/3 C pecans, chopped
1/2 C all-purpose flour (or gluten-free flour)
1/2 C coconut sugar (or brown sugar)
1/2 Tbsp cinnamon
1/2 tsp salt
1/3 C unsalted butter, cut into cubes
2-4 Tbsp maple syrup (optional)
Instructions
Preheat the oven to 375° F and set out an 8" pie dish or 8x8 baking dish.
Dice red apples into bite-size cubes. Toss with cornstarch, cinnamon, and nutmeg in a large bowl until thoroughly coated. Fold in the maple syrup and lemon juice until well combined.
Place apples in an even layer in the prepared baking dish and set aside.
Whisk together the flour, sugar, cinnamon, and salt. Add the cubed butter and mash with a fork or pastry cutter until the mixture resembles wet sand. Add 1 tablespoon of maple syrup at a time until you reach the desired consistency. Fold in the oats and pecans.
Spread the topping in an even layer over the apples, making sure to cover all the apples as best you can.
Cover dish with foil and bake covered for 25 minutes, then uncovered for 20-25 minutes.