This post contains affiliate links.
This recipe is a staple in our home. We make it at least once a month. It's a perfect Sunday dinner because it takes so little work but tastes and smells amazing, leaving your house smelling fantastic all evening.
This recipe, as written here, feeds my family of 2 adults (one of which definitely eats a serving that's too big) and 4 kids for at least 2 dinners. When we make it we always freeze half in a plastic container, and even so we often have leftovers for lunch.
In short, I'd say this recipe easily feeds 8-10 adults.
One batch of this recipe pairs well with about 3-4 cups of rice (uncooked). We usually make 1.5 cups of rice to eat with about half of this recipe. Then we make fresh rice when we re-heat what's left for another dinner. It freezes and thaws really well.
Because the recipe uses one block of cream cheese, one packet of soup mix, and one can of Cream of Mushroom soup, it's easiest to make this recipe in multiples.
You can't easily make 1.5x this recipe, but you could easily make a double triple, or quadruple batch.
A 4 to 6-quart Crockpot can handle this recipe very well. I have a couple 6-quart crock pots and they have plenty of extra space when I make a single batch. But for doubling the recipe, I'd recommend at least an 8-quart crockpot, or getting multiple crockpots together for the occasion.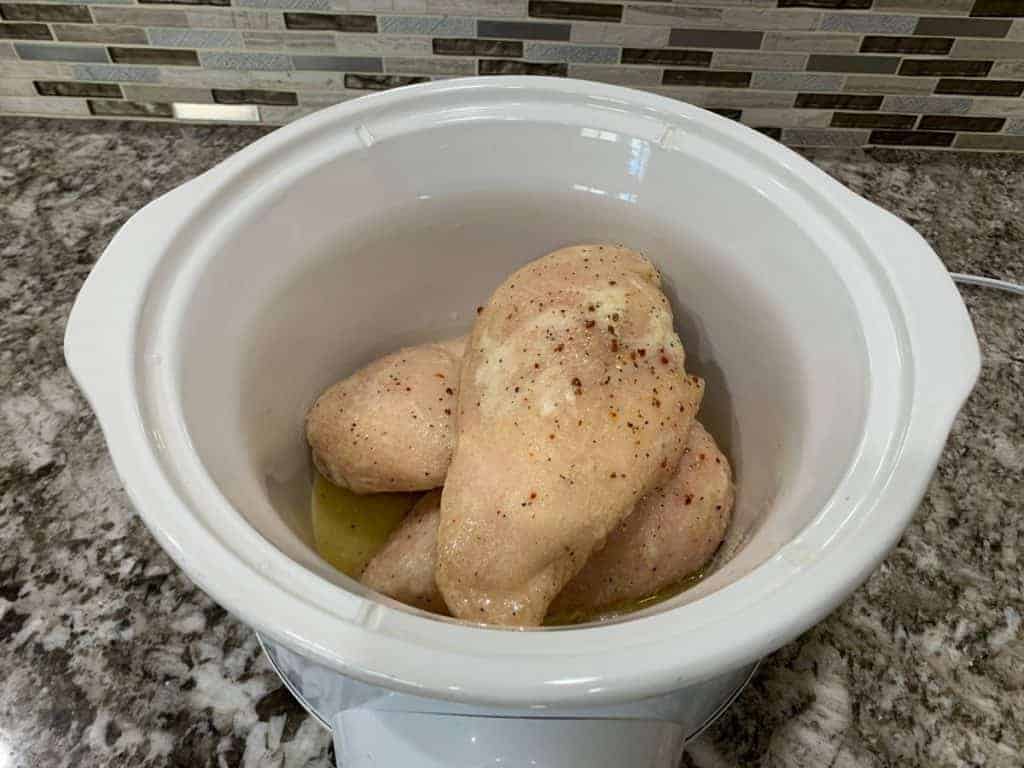 For standard-sized chicken breasts, use 4 or even 5 in this recipe. We usually get very large chicken breasts and 3 of those tends to be just the right amount.
Ingredients
4 chicken breasts (3 if they're large)
1 (0.6 oz.) package Zesty Italian Seasoning Mix
1 (10 3/4 oz.) can Cream of Mushroom soup
1 (8 oz.) package cream cheese
1/4 c. butter
1/2 c. water
Salt and pepper (to taste)
Instructions
Set the chicken in a Crockpot (frozen chicken doesn't need to be thawed first)
Melt the butter and mix with the Zesty Italian Seasoning and water
Pour the mixture over the chicken and cook on low for 5 to 6 hours
When the check starts to be able to be pulled apart (about 45 minutes before it's done) combine the soup and cream cheese in a saucepan and heat it on the stove until warmed through and well mixed
Spoon the mixture over the chicken and stir it in
Continue cooking chicken for the remaining 45 minutes
If desired, shred the chicken with two forks and serve over rice or pasta