This post contains affiliate links.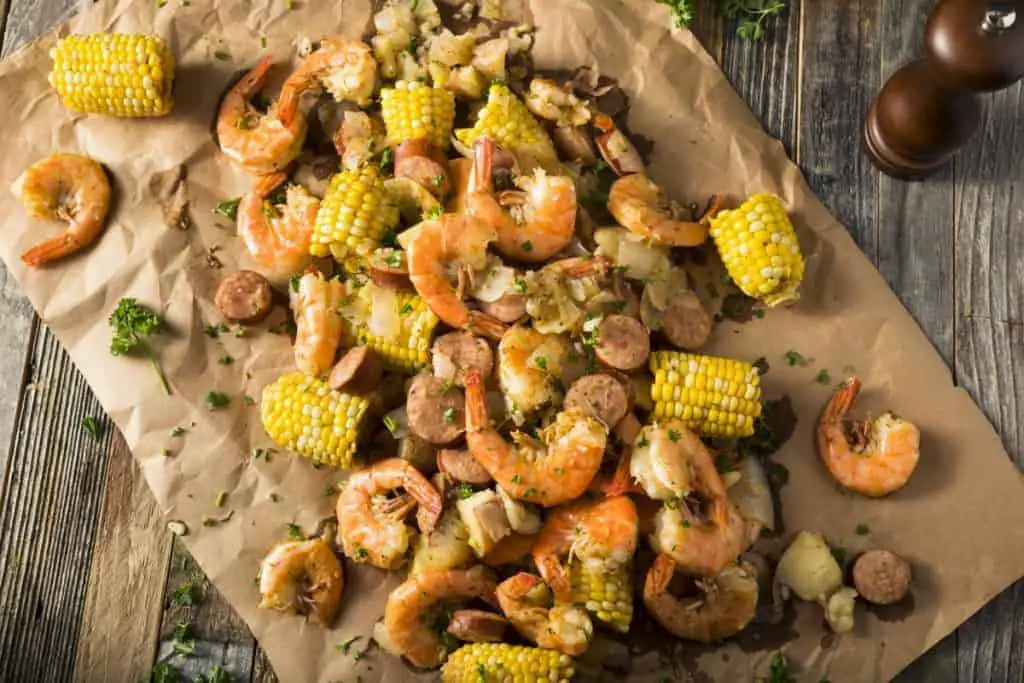 Cooking a shrimp boil for a large group can often be intimidating, however, it does not have to be. Cooking for a large group of friends should be fun, and with these simple and easy tips, it can be!
Just make sure you have a solid plan and get other people involved to make sure things go off without a hitch. Keep reading on to learn how you can throw the best broil for your crowd.
1. Get Help and Input from Others
Making your shrimp boil a communal event is essential to ensure success at your shrimp boil.
In order to make your shrimp boil a collective experience, gain insight from others on their best recipes. Take into consideration any tips that your guests give to you and try to incorporate their tips. As you accept their advice, it will make your guests feel valued at your shrimp boil.
Survey your group to figure out what ingredients everyone likes or what hasn't worked in the past. It's also great when cooking for any large gathering to have an extra set (or two) of hands in the kitchen.
It's also good to check to make sure no one has any allergies ahead of time.
2. Know How Many Will Come
To make a great shrimp boil, you need to have enough food to go around. Knowing how much shrimp will be needed per person is a pivotal aspect of your shrimp boil.
If the shrimp that you are buying is coming uncooked and unpeeled, then it is often said that about 1/2 to 1lbs of shrimp per person is needed.
However, if the shrimp that you are buying is coming cooked and peeled, then 1/3 or 1/2 lbs of shrimp per person is needed.
If the shrimp is large, then of course less shrimp will be needed.
In addition, the amount of shrimp that will be needed for each person depends on the number of sides being provided as well. If a large part of the meal consists of sides then less shrimp is likely to be consumed. However, if you plan on only having shrimp, make sure there is more than one pound of shrimp per person available.
It's also good to know how hungry your gang is. If you have friends that eat a ton, then plan on buying extra.
3. Start Cooking Ahead of Time
The amount of time that will be needed to cook the shrimp largely depends on the size of the shrimp.
When boiling the average-sized raw shrimp, it takes about one to three minutes (add one additional minute to frozen shrimp). Once the shrimp is thoroughly cooked, it will turn pink and opaque. As soon as the shrimp reaches this description, it is ready to be taken out of the water.
It is important to not cook your shrimp for too long. Shrimps are cooked very quickly which unfortunately makes overcooked shrimp very common. Once your shrimp is bright white, rubbery, and in a tight "C" shape, it is likely overcooked.
Shrimp isn't the only thing you are cooking though. If you have potatoes and corn, those need to be cooking before people get there.
4. Assemble the Best Sides for a Boil
Serving your site is an essential part of a successful shrimp boil. Having the correct sides allow your guests to have even more of their favorite food, thus making it an even more enjoyable experience for everyone involved.
Although it is not technically necessary to serve sides with your shrimp boil, not having sides will increase the amount of shrimp needed. In addition, having sides for your guests should be highly considered as the guests will likely enjoy having more than one option of food available to them.
The most common sides for shrimp boils include pasta salad, macaroni salad, potato salad, coleslaw, baked beans, and macaroni and cheese.
Other common sides for a shrimp boil includes salad, bread, and a variety of vegetables.
5. Get a Large Pot
When cooking for a small group, often putting the shrimp in the microwave is the easiest. However, when cooking for a large group, a large pot is needed.
If you do not have a large enough pot to cook everything together, boiling the vegetables together, then heating up the shrimp separately can be done. However, this may take longer depending on how many shrimp will be needed.
So the best way to go about this, is to buy or borrow a large stock pot. You can also use an outdoor boiler, if you have one.
This way, you can use on big dish to cook everything and not have to worry about taking things in and out.
For a large stock pot, try this 36 Bayou Pot, available on Amazon.
If you have a friend you can borrow from that's a great option to. Just try to have all the ingredients in the same container for consistent flavor as well as ease.
6. Set the Table Before
If you are unfamiliar with shrimp boils, there often aren't many dishes involved. The food is often laid our on the table on trays, buckets, or just a disposable table cloth. You don't need your fine dining manners and plates for this delicious meal.
So, prep your surface how every you want. You can include plates if you'd like, but we recommend doing it the old fashioned way. Make sure your table cloth is clean before you spread the food out.
It's also good to have a bucket or a plate for the shrimp tails and empty corn cobs.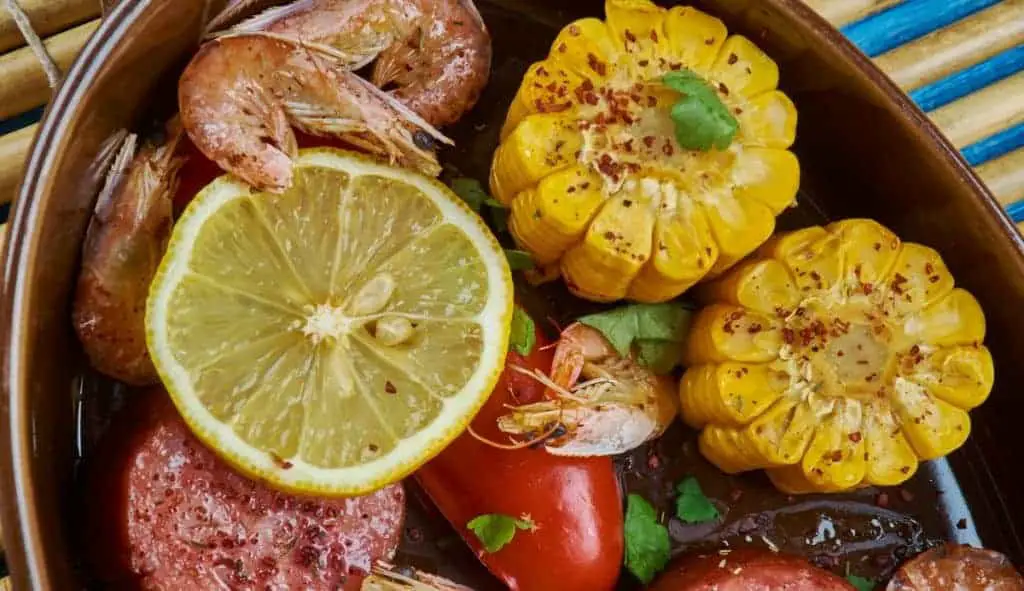 7. Have a Supply of Condiments
Garnishes and condiments are a must for a perfect shrimp boil.
Favorites are:
lemon wedges
hot sauce
butter
garlic
horseradish
You, of course, can make your own sauces as well, if you have the time. It's also a good idea to encourage or ask others what type of condiment they would like.
Get a variety of hot sauces as some like their meal spicier than others do, and it's good to have options, especially for a crowd. It's also a good idea to have backups of better and tons of lemons, as those are favorites and it seems like you could never have too much of either option.
With these tips, your event should be perfect. Let us know in the comments how it goes!