This post contains affiliate links.
Are you getting ready for your wedding and are looking for all the options available as to how to do a wedding cake? It's become a trend lately to not just have a tiered cake, but also (or only) a sheet cake for the wedding.
When making a wedding sheet cake, bake the sheet cake in halves or quarters to prevent cracking and make the baking easier to manage. Combine sections on the final display board before frosting, and "glue" sections together with a bit of frosting. Cakes can be made from box mixes or from scratch.
There's a lot to consider when it comes to your wedding cake besides choosing between a tiered cake and a sheet cake. Whether you decide to make the cake yourself, you're debating using a Kitchen Cake, or the groom might want his own cake, there's no one right way to do a wedding cake.
Making Your Own Sheet Cake
If you're looking into making your own wedding cake, there are a couple of things to consider. First, you should decide whether to make the cake from scratch or with cake boxes. If you want to know how many cake boxes are needed to make a certain size of cake, this table below can help with that (these numbers are calculated under the possibility that each guest might get two slices):
9×13 – 54 servings
11×15 – 82 servings
12×18 – 108 servings
18×26 – 221 servings
10 Guests
1 pan (recommended)
1 pan
1 pan
1 pan
25 Guests
1 pan (recommended)
1 pan (recommended)
1 pan
1 pan
50 Guests
1 pan
1 pan
1–2 pans
(recommended)
1–3 pans
100 Guests
1-2 pans
2 pans
2-3 pans (recommended)
2–4 pans
(recommended)
200 Guests
1-2 pans
4 pans
5 pans
7–8 pans
(recommended)
It's recommended that if you end up making a sheet cake, to use two half-size pans to make a whole-size cake. This way, the cake will be less likely to crack or be undercooked in the middle. All you have to do after baking the two halves is "glue" them together with some icing, after maybe cutting them in across (called "torting"), creating two layers, and then adding frosting to go in-between the two layers to act as a filling.
If you're looking to make your own cake with a cake box, here's a recipe to try: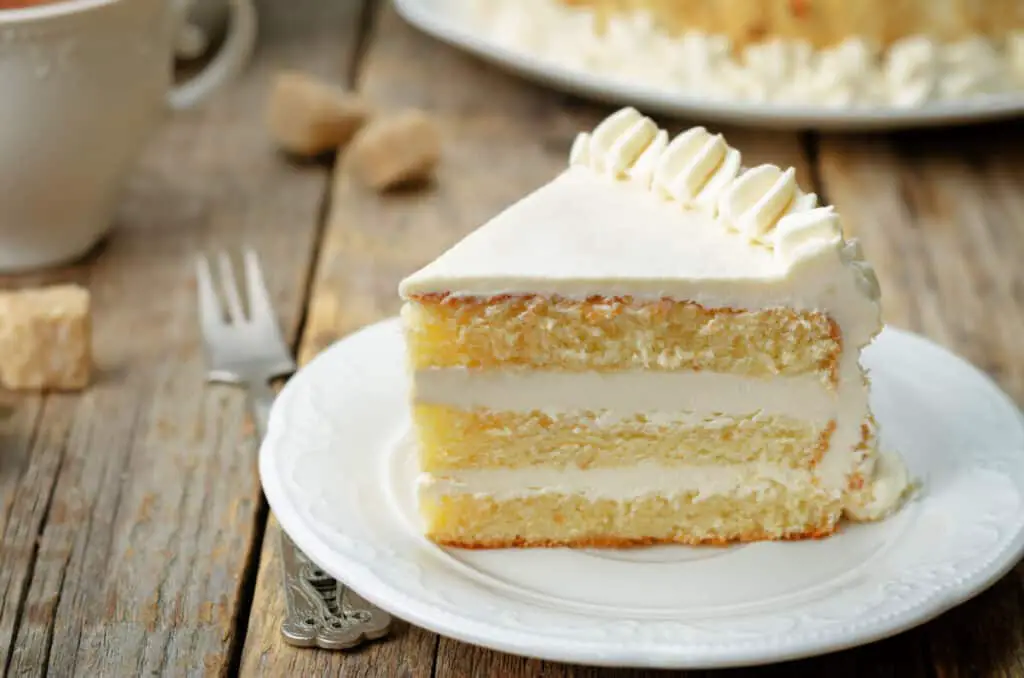 Ingredients
Cake:
One 15.25-ounce box white cake mix
1 cup all purpose flour
1 cup granulated white sugar
3/4 teaspoon salt
1 1/3 cups water
2 tablespoons vegetable or canola oil
1 teaspoon vanilla extract
1 cup sour cream
4 large egg whites
Buttercream Frosting:
4½ cups powdered sugar
1½ cups (3 sticks) salted butter, at room temperature
1½ teaspoons vanilla extract (use clear extract, if you really want it white)
3 to 4 tablespoons heavy whipping cream
Directions
Bake the cake:
Preheat oven to 325 degrees F. Grease and flour three 9-inch round pans. It's easiest to get the cake out of the pans if you line them with rounds of parchment paper too.
In a large bowl, whisk together the cake mix, flour, sugar and salt. Add the remaining ingredients and beat with hand mixer for 2 minutes, or until well blended.
Divide the batter evenly between the prepared pans. Be sure to fill them 3/4 to 1-inch below the top of the pan. Bake 35 to 45 minutes, or until a toothpick inserted into the center comes out clean. Watch closely- check after 35 minutes and then every 5 minutes until they test done. Time will vary based on which pans you choose to use. Let the cakes cool in the pans for a few minutes, then turn out onto cooling racks to cool completely before frosting.
Frost the cake:
In a large bowl, with a hand or stand mixer, cream together the sugar and butter on low speed. Mix until well blended. Increase the speed to medium and beat for another 3 minutes. Add the vanilla and 3 tablespoons of cream and continue to beat on medium speed for 1 minute more. Add more cream if needed for desired spreading/piping consistency.
You may find that the layers are a bit moist on the surface, so just be careful when handling and frosting. Place one layer of the cake on a serving plate.  Spoon a dollop of the frosting on the first layer and spread to cover.  Place the second layer of cake on the first.  Spread another thin layer of frosting on the second layer. Add the third layer of cake.  Spread frosting on the top and then down the sides of the cake to cover.  You should have enough frosting left over to add some decorations. Scoop the remaining frosting into a piping bag and pipe decoratively onto the cake, as desired.  I like to refrigerate the cake until ready to serve (or at least until the day of serving (can make one day ahead).
You can find this recipe on its website here
.
If you're looking to make your own cake from scratch, here's a recipe to try:
Ingredients
1 cup butter, softened
3 cups white sugar
7 eggs
1 tablespoon vanilla extract
3 cups all-purpose flour
¼ teaspoon baking powder
¼ teaspoon baking soda
1 cup sour cream
Directions
Preheat oven to 325 degrees F (165 degrees C). Grease and flour a 9×13 inch pan or a 10 inch Bunt pan.
In a large bowl, cream together the butter and sugar. Beat in the eggs, one at a time, mixing well after each. Then stir in the vanilla. Combine the flour, baking soda and baking powder, add to the creamed mixture and mix until all of the flour is absorbed. Finally, stir in the sour cream. Mix for 1 or 2 minutes just to be sure there are no lumps. Pour the batter into the prepared pan.
Bake in the preheated oven for 45 to 60 minutes, or until a toothpick inserted into the center of cake comes out clean. For Bunt cakes, allow the cake to cool in the pan for 10 minutes before inverting onto a wire rack.
Find this recipe on its website here
.
While it may seem appealing to make your own cake for enjoyment and to save money, it might be more hassle than it's worth. In the days leading up to your wedding, do you really want to be making a cake—big enough to feed your guests—instead of overlooking other preparations? Depending on your vision for your wedding, you'll want to heavily consider if you want to build your own cake, or bite the bullet and pay for someone else to take care of it for you.
Kitchen Cake/Cutting Cake
Often referred to as a "kitchen cake" or a "cutting cake," couples will often have a second cake hiding in the kitchen just in case they run out of the main wedding cake. There are many debates as to the morality behind a cake like this, the first being the guests' reaction. If they see that they're getting a smaller square of cake, compared to the wedding cake, that could be offensive or disappointing to them.
You can navigate this by making sure the design of the wedding cake and the kitchen cake are the same so that guests wouldn't be able to notice the difference. But above all else, guests will especially notice if the kitchen cake is a Walmart, Sam's Club, or Costco cake. So at the risk of your registry and good opinion of your friends and family after the wedding, tread carefully how you approach the topic and decision of a Kitchen or Cutting Cake.
Pricing
The first impression brides and grooms have of a sheet cake is that it's inherently cheaper than a tiered cake. Yet, that's not necessarily true. Debi Brim
, a retired caterer, shares that it's actually more work for her to do a sheet cake as well as a tiered wedding cake. It's easier (and less expensive) to just do a larger option of either—despite misconceptions, you can feed all your guests with the right-sized tiered cake.
If you decide to make a sheet cake for your own wedding (or call in a favor from a friend or family member), that is certainly an option to cut down costs. Just keep in mind that guests will notice if they're getting the seemingly cheaper option. It might also add unnecessary stress to your wedding day, which is something you should be cutting down, not adding up.
If you decide to order a sheet cake, every baker will have their own prices. While some charge $1 per slice, others may charge as much as $2.50 or $3.50 per slice. For example, Cake Central user fmcmulle
says that they charge $35 for a 9×13 cake, $50 for an 11×15 cake, and $65 for a 12×18 cake. Debi Brim prices similarly, with $53 for an 11×15 cake and $81 for a 12×18 cake.
To Use or Not to Use
Having a Kitchen Cake is not a bad idea—on a day as stressful as your wedding day, it's good to have a backup plan and to be prepared. What causes a potential problem is deliberately choosing an inferior option so as to cut costs and in turn offending your guests. So if you're hoping to have a Kitchen Cake, make sure it matches the flavoring and filling of the main wedding cake—but in doing so, it will probably cost more.
And while many believe it's cheaper to have two cakes instead of one big one, it's actually not. If you're looking to save money, it might be better for you and your baker/caterer to have one big cake to serve to everyone. But if you still want to have good photos of a beautiful cake, a good option could be to have one small cake (or a small cake with Styrofoam/fake tiers on top) for pictures and the cake-cutting between the new husband and wife, with a big sheet or tiered cake to serve to everyone else.
Sheet Cake vs. Tiered Cake
Part of the appeal of sheet cakes compared to tiered cakes is either to feed a lot of people or that they're thought to be cheaper. However, despite this misconception, there's nothing inherent about a sheet cake that makes it more cheap than a tiered cake. Tiered cakes have the layers and the balancing act, yes, but at the end of the day, they're both just cake.
Pricing
Can you believe that the average wedding cake can cost anything from $350 to even $1000
? There are many different ways to cheapen this price (either going to a different baker, choosing cheaper ingredients, getting a smaller size, making the cake yourself, etc.) but getting a sheet cake is most likely not one of them.
The only differences you may encounter with a tiered cake and a sheet cake is the cost of decorations. If you order a simple Kitchen Cake with no designs at all, it makes sense that it should cost less than a tiered cake with fondant, icing, decor, etc. But since the opinion of many bakers is that the Kitchen Cake needs to look the same as the main cake when cut, meaning using the same filling and outer decorations, this won't be cutting costs at all and instead raise them.
Groom's Cake
Groom's Cakes were originally a way for the groom to have his own cake that is usually richer (containing chocolate or alcohol) than the feminine, fluffy, white wedding cakes. They originated in Britain in the 19th century
and are now mostly found in the South where British colonists brought the idea. While some grooms keep it simple, others like to go all out in showing their interests, whether the cake's design is a sports team, their profession, or even their pet. This cake can also either be served next to the main wedding cake, or at the rehearsal dinner.
Not only is this a great way for the groom to have something to himself at the wedding, but it's also an opportunity to provide another flavor of cake and feed the masses without needing a Kitchen Cake. It's also a good way of keeping traditions alive and making your wedding stick out among all others.