This post contains affiliate links.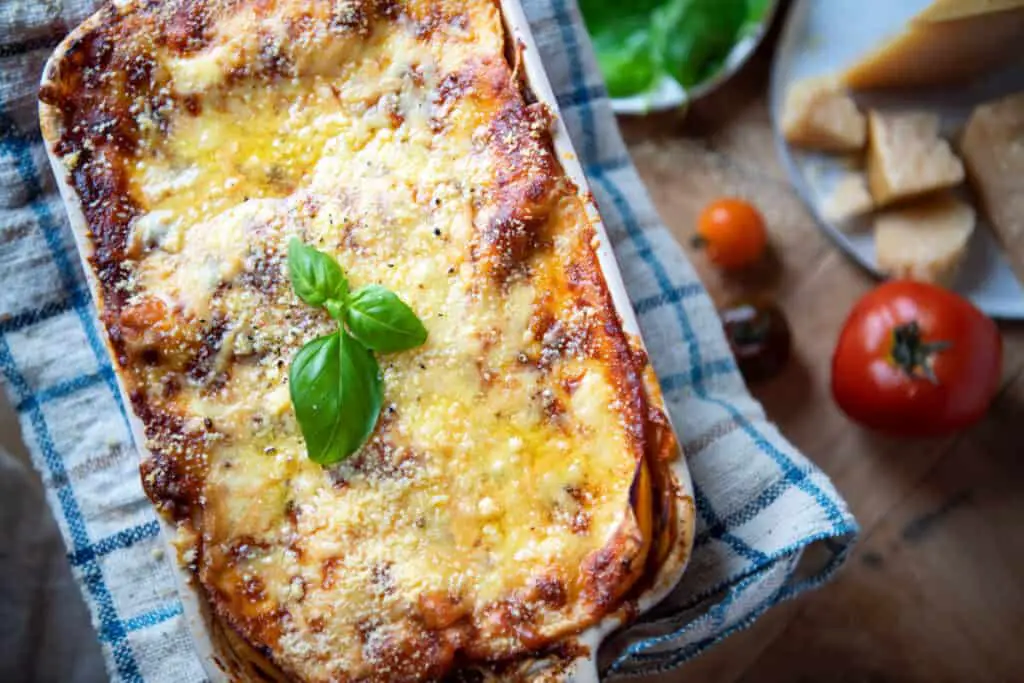 Let's say you're planning a party where lasagna will be served. If your guests are traveling from a distance or you think some people may be late, you're left with a problem: How do you keep from serving cold lasagna? Don't worry the answer is much simpler than you might think.
To keep lasagna warm for a party or gathering, a chafing dish, which is specifically designed to keep food warm, would be the best option. However, for other situations, there are more solutions including insulated bags, aluminum foil, slow cookers, or just an oven set to 200°F.
If you still have questions, don't worry, you're not alone. Let's continue to explore all the best options to use to keep the lasagna warm for your party.
Chafing Dishes
A chafing dish is an appliance specifically designed for keeping food warm. Most people don't recognize this piece of equipment by name alone, but you've still probably seen one before! Chafing dishes can be priced as low as $30, but as they rise in quality, they rise in price. The most expensive chafing dishes can be over $250, but you won't need one as fancy as this for most lasagna-serving.
Chafing dishes come in a variety of sizes, are mobile, and would be perfect for keeping a lasagna (or multiple) warm. They don't look too shabby, either because many of them are made with beautiful stainless steel. So if you're looking for a high-end-looking presentation, chafing dishes are the way to go.
Check out this triple chafing dish food warmer. It has temperature control, clear slotted lids and it's perfect for holidays or big parties. If you just need one, this 4.5qt chafing dish has a stainless steel glass lid and includes a rack.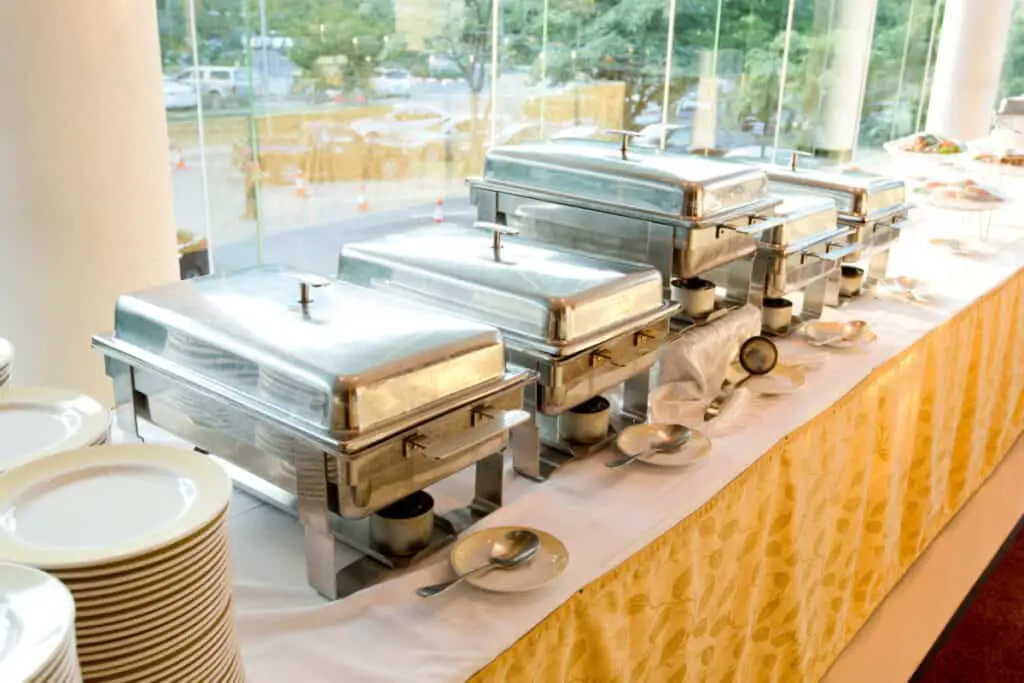 Ovens and Oven Drawers
Using your home oven is another great way to keep a lasagna warm. Setting the oven at a warm setting, such as 200°F, will ensure that your lasagna doesn't burn, but it will still retain an optimal temperature for serving. Lasagna should be kept at about 140° to keep it from cooling down and growing bacteria. An oven is great because it's easily accessible and it can be used for any amount of time you may need.
Did you catch how oven drawers were also listed? Most people use these for the storage of more pans, but their intended function is actually to keep food warm. If yours is holding various kitchen items, it may be inconvenient to move them. But serving a fresh, hot lasagna may be worth the trouble.
Slow Cookers
Slow cookers, commonly known as crock pots, are another great way to keep lasagna warm. Just like an oven, if you'll set it to a warm setting, it will work fabulously.
These wonderful machines are very common in households, so they should be easier to find than something like a chafing dish. If you don't have one, basic models are usually priced under $50, with higher quality models priced starting at $100. Check out this 8-quart programmable slow cooker with a digital countdown timer.
Another great benefit of a slow cooker is that it is mobile, so you can move it to wherever you need, and even serve the lasagna straight from it. If you decide to do this, keep a towel out next to the slow cooker so that guests can put the lid down and replace it easily without making a mess. Slow cooker lids often accumulate condensation, so setting out drip protection is always a good idea!
Dishwashers
I did say dishwashers. We all know what these are, the wonderful home appliances that do our chores for us. A dishwasher is also a great, though seemingly strange, way to keep a lasagna warm.
The doors seal, and they retain heat very well. When you open up a dishwasher, you've probably been hit with a blast of hot steam before. Right after your lasagna is done cooking, just pop it into the dishwasher. If you want more insurance, wrap the pan in towels, or cover it with aluminum foil. This unorthodox method works wonders!
Insulated Thermal Bags and Coolers
Insulated bags are another great mobile option. They have a range of prices, the lowest being completely free (sometimes grocery stores give them away) to the highest quality bags being priced around $40. Check out this expandable thermal insulated food carrier. You can also buy them in bigger quantities, priced depending on how many you need to buy. This double-decker lasagna lugger fits two 11"x14" or 9"x13" baking dishes.
Insulated thermal bags usually only retain heat for about 30 minutes, so if you're in charge of bringing the lasagna to a neighborhood potluck, these are a great option. If you're going further than that, you may want to consider other options, like the previously discussed slow cooker or chafing dish.
You may also have a stock of coolers in various shapes and sizes, and using one of these can also be another great way to go. These, like insulated bags, will keep your food warm for about 30 minutes.
If you need to keep the lasagna warm for a bit longer than that half-hour, try putting a small pot of boiling water into the cooler with the lasagna. Another great idea would be to pack dish towels into the cooler or bag around the lasagna. This will insulate it even further.
How Much Lasagna Should I Make?
| | | |
| --- | --- | --- |
| Pan Size | Number of Portions | Number of People Fed |
| 9 x 13 | 8-9 medium-sized | 8-9 |
| 9 x 9 | 4-6 medium-sized | 4-6 |
| 8 x 8 | 4-6 small | 2-3 |
| 14 x 10 | 10-12 medium-sized | 10-12 |
You may know exactly how you're going to keep the lasagna warm. Or maybe, that's still dependent on how much lasagna you'll have, which you'll base on the number of people that will attend your party.
Most often, lasagna is cooked in a 9 x 13 pan. As shown in the table above, along with other pan sizes and their respective delivery, a 9 x 13 pan will produce approximately 8-9 medium-sized portions of lasagna. One medium-sized portion is enough to feed the average person.
Keep in mind, though, that there will always be at least one person at your party that will eat more because they just love lasagna! It's a good idea to make a bit extra, just in case.