This post contains affiliate links.
Depending on if roast beef is the main dish if it is meant to be eaten in a sandwich, or if it is a side dish, there are different amounts you can plan for per person.
Depending on the meal, the perfect amount of roast beef to serve is 3-10 ounces per person. This can cover both kids' and adults' appetites and be adjusted accordingly. It can be multiplied by the number of guests, then that will give the perfect amount of roast beef to serve at any gathering.
There are many recipes that serve roast beef, but how much should you plan to make for your gatherings, and where can you buy it? Keep reading to find out more.
How Much Roast Beef for Sandwiches?
You can elevate sandwiches from being boring, everyday food to a wonderful lunch experience by changing up the ingredients. By switching from turkey to roast beef, you can have a different tasting sandwich that is different than your usual meals, and it will be delicious. You can also change the type of bread, cheese, sauce, and other items you use on a sandwich to make the everyday meal more elevated.
If you are using roast beef in sandwiches, then you will want to calculate how much meat you plan to use in each sandwich, and then calculate how many sandwiches you will be making if you plan on serving roast beef sandwiches at an event. This will help you decide the total amount of meat you should order. Plan on anywhere from 3-10 ounces of roast beef per person. Three ounces for small children, 5 for larger children, and as much as 10 ounces for hungry adults. This amount also depends on how meaty you like your sandwiches to be. Typically, sandwiches have much less meat than the average serving size.
At Jimmy Johns, they weigh out the meat on their roast beef sandwich before they put the sandwich together. They measure about 66-68 grams of meat, which translates to about 2-3 ounces of meat. This could be a good rule of thumb to go by. If you know how many sandwiches you want to make, then you can multiply that by how many ounces of meat you want on each sandwich, and your calculations will be complete. Just convert it to pounds and tell your local deli or butcher shop the amount of meat you want.
How Much Roast Beef for Main Course?
If roast beef is featured as the main course or main dish being served at your event, then you will want to make sure you have plenty of it to go around. This will be the main filler of the dish and people will want to eat the entire serving size you give them, and more. You should plan on your guests eating closer to 10 ounces per person when you serve roast beef as your main course. So depending on the size of the group and whether or not they are adults or kids, you can figure out how much roast beef to serve.
First off, what is the meal, and what does the recipe say about the serving size? Planning to get roast beef for sandwiches is different than planning to get it for oven-baked roast beef; you need to figure out the amount to buy and how much you will serve to each guest.
You can use the recipe as a guide or you can use the guide above for the amount you should plan on serving each guest. Then, you do the same steps as above and multiply the amount of meat by the number of people attending the gathering. That way, you find out how much meat to plan for and buy. This method can be adjusted to be more or less depending on what you think people will eat, and you can even ask your guests how much meat they will want. That way, you can plan with more exact numbers and not have too many leftovers after everyone has left.
How Much Roast Beef for Small Family?
When planning meals for your family to eat, it is important to have enough food planned that you will be able to make meals out of the food you have bought, but it is also important to not overbuy food and then be left with food that is old and has to be thrown out. And for those families with picky kids, you have to plan around what your kids like and dislike, as well as the amount of food they will eat.
If you are planning on getting roast beef for sandwiches for dinner, then you likely have a meal in mind and are possibly following a recipe. The recipe should tell you how much it makes and for how many people it serves. Using that you can estimate how much meat you should add or subtract from the recipe. Or, you can estimate how much meat your kids will eat. Then, you should think about if you want to have leftovers for later in the week at all or not.
Leftovers are great for feeding kids. The meal is already made and it just needs to be warmed up. It is a lot less work than making an entirely new meal for one night. So, plan if you want just enough, or if you want to overbuy a little so that you can have leftovers for later.
Then, all you have to do is order the roast beef. You will have the amount you want and you can tell the shop the specific amount, then you can order and have your meal planned and ready to go. A good amount to consider for a small family is about 1/2 pound to 2 pounds of roast beef. It should be enough to cover one night's meal or make enough for a family to enjoy throughout the week as well.
How Much Roast Beef for Large Gathering?
If you are hosting a gathering, party, or get-together for a large group of people, then you will want to plan how much roast beef you will need to get in order to feed everyone attending. And, with a large gathering, you will have people who do not eat meat as part of their diets or personal beliefs, so you will need to plan to accommodate them as well.
Firstly, get a headcount of how many people are coming over. Count the number of people who RSVP or who told you they are coming, and use that concrete number. Then, account for a little more for those who might come or for those you haven't heard from. That way if more people show up you have extra food for them.
Collect your total number of guests attending the gathering and then estimate how much meat you are planning for each person. Multiply the amounts together to get your estimation for how much meat you should plan to buy for your gathering. This should help you with planning your gathering, and you can apply this method to other parts of the meal as well. Like how much of each side dish to make, how many drinks should you buy, and so forth.
How Much Roast Beef for Side Dish?
If roast beef is a side dish, then you will plan to have a lot less of it in comparison to the amounts you would need for it to be the main dish. So it should be easier to plan out because it won't be the thing that fills your guests up completely during the meal. Plus, there will be those who might not want to eat this as a side, so there is less of a worry to buy enough.
All you need to do is use the same math for planning the amount you should buy. Multiply the number of guests by the amount of meat per guest, then you have your total of how much to plan on. It is easy, simple, and works great for planning food for any event.
Where to Buy Roast Beef?
You can order roast beef from any deli, and you can easily find a deli inside your local grocery store. When you are ordering roast beef, you will want to know the type of roast beef you want, the thickness of the slices you want, and the amount of roast beef in pounds. You will also want to call and order the meat beforehand so that the deli can prepare your order and have it ready for you.
Firstly, what kind of roast beef are you wanting to order? If you are following a recipe, it might specify the type of roast beef that you should use, and you can follow that. Or, you might have a favorite type of roast beef already. Grocery stores will hold the generic brands and types of roast beef on hand, and they will likely have a kind that they roast themselves. If you are not picky, then go with any option you can find. If you are picky, then going to get a specific type of roast beef or getting some from a butcher will be a great option for you.
Apart from the list of roast beef sold at local grocery store delis, you can go to a butcher shop and get more specific kinds of meat if you desire. If you are not particular, then any roast beef will do the job. If you know the specific kind of roast beef you want, and it is not sold at the deli, then you can go to a butch shop and ask if they have what you want. Definitely plan ahead and call them with the order in advance so that they can plan to have your order ready for you by a certain date.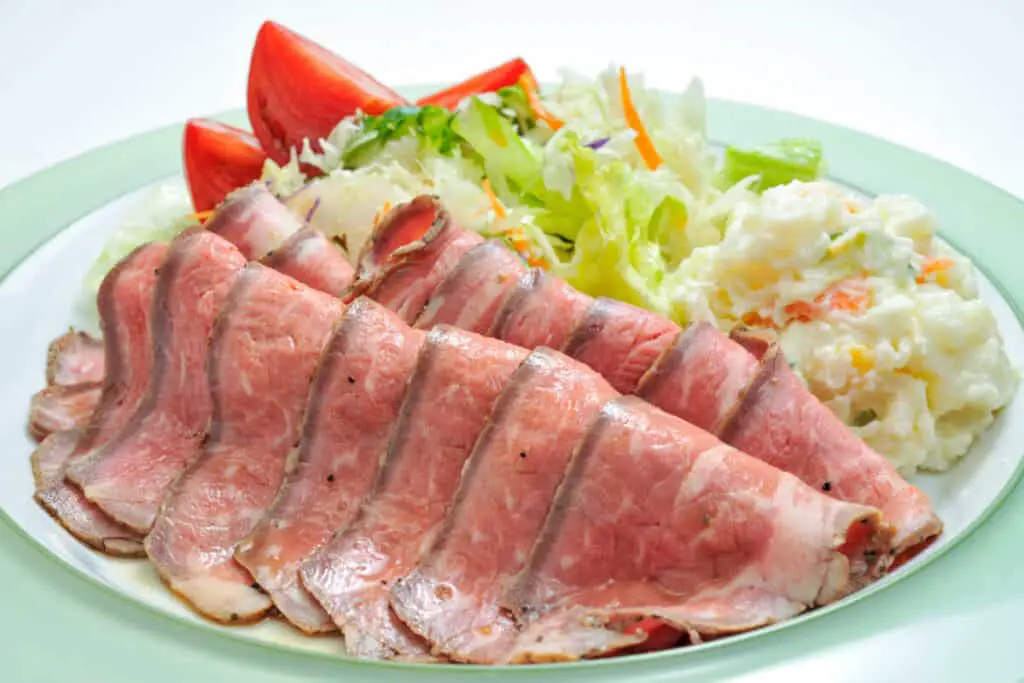 Next, you will want to have the amount you are ordering ready. You can ask the delis' or butchers' opinion of what amount will feed the number of people you are serving, or you can calculate the amount yourself. For any gathering, it is better to round up and get more than you need. You can always eat leftovers, but running out of food in the middle of dinner is hard to fix.
So, take the number of kids and adults that will be attending this event or gathering and ask yourself how much a kid will eat and how much an adult will eat. Then, you can round the number up or keep it the same and multiply it by the number of kids and adults attending.
For example, say a kid will only eat 3-4 ounces of meat, but an adult will eat 10-12 ounces of roasted beef. You can use the estimated number and round them to 4 or 12, and you can multiply each number by the number of guests. If you are expecting 10 kids and 20 adults, then you will multiply 4 by 10 and 12 by 20. After getting 40 ounces and 240 ounces, you can add that together and convert it to pounds. In total, this example has 280 ounces of roasted beef, which is 17.5 pounds.
So, you can call the butcher or the local deli and ask for 17.5 pounds of roasted beef. Then, all you have to do next is tell them if you want thin or thick slices. If you order in person, you can ask to see what a thin slice and a thick slice looks like so you can plan accordingly.
If you are following a recipe, then it might specify the type of thickness you will want in the slices. If it is not specified, then you can go with your own personal preference. And depending on the recipe that is using roasted beef, you might have already decided that thin or thick slices will work better. The thickness won't make more or fewer people eat, so simply go with the butchers or deli workers' opinion or your personal preference. Then, you will be able to place your order and get going on the rest of the planning.