This post contains affiliate links.
Pie is a popular treat not during the holidays and at many different gatherings. You may be holding one of these gatherings or have been asked to help out with the food. So, how much pie do you need for a party?
A standard 9" pie can feed 6-8 people. If pie will be the only food served at the party, the pie will serve fewer people. While preparing for a party, buy more pie than needed to provide a variety of flavors and options and to ensure it won't run out. Pies can be served alone or with additions.
While it might seem simple, here are some things to keep in mind as you prepare for your party. These will include things like where you can cater pies, how to serve pies, and the different types of pies you could serve.
How Much Pie Should You Serve?
Pie can be a great treat to spice up your party and has a good chance of leaving your guests with a good impression of you and your hosting skills. However, if you don't provide enough food these feelings of goodwill towards you could be lost very quickly. In order to avoid this, you'll want to know how much pie to serve.
Again a standard 9" pie pan will feed around 6-8 people. This number can vary depending on a couple of factors. Is this pie going to be the only food served at your party? If it is you will likely need to increase the amount of pie you are offering. One blogger recommends planning of serving a pound of food total to every guest. If the pie is the desert after a full meal a 4-ounce slice of pie might satisfy them. If the pies are the main course your guests likely won't stop at one slice. (Source
)
Another factor is who your guests are. One bakery I spoke with talked about how their 10" pies can serve 8 to 10 people. This was an average they had determined through their experience as a baker. If you are hosting a family gathering as your party, these numbers should hold up. Grandmas and little children should eat less and will be balanced out by your brother, who eats three pieces of pie on his own. If you are hosting the high school football team, expect that they will eat more than the average person.
The final, and most important, factor to consider is how many people you will have at your party. It might seem simple, but miscounting the guests is the easiest way to run out of food. While planning the party, write down a list of everyone that is expected to come. To ensure that you always have an accurate headcount, you could ask guests to RSVP with you or text you if they plan on bringing anyone with them.
Once you have an accurate count of who will be in attendance and a rough idea of how much they might eat you'll want to buy your pies. The chart below gives an outline of how much you should buy based on the number of guests. A 9" pie is usually cut into six 3" slices. The number of slices is the number of these 3" slices all the way up to twelve 1.5" slices per pie. When speaking to a friend who works at a bakery, they said that the most important thing about a pie is the number of slices. The more slices it has, the more people it can potentially serve.
| | | |
| --- | --- | --- |
| Number of Guests | Number of Slices (Minimum to Maximum) | Number of Pies (9") |
| 10 | 12 – 24 | 2 |
| 20 | 24 – 48 | 4 |
| 30 | 36 – 72 | 6 |
| 50 | 60 – 120 | 10 |
| 100 | 120 – 240 | 20 |
Number of slices of pie needed for number of guests
Where Can You Order Pies?
Once you know how many people are attending your party and how many pies you need to prepare, you can begin the process of ordering the pies. While this seems like a quick step, make sure to take the time and do it properly. You don't want to be franticly trying to order pies the night before the party.
The first question you need to answer is; where you are going to order your pies from? A bakery is the first option you should be looking at. You may have never been inside a bakery or aren't even sure if your town has one. When preparing to order, you should look online to see if there are any bakeries near you. Many bakeries have websites that list their menus and prices for you. If you are having trouble finding information call a friend or family member to see if they have any recommendations for you.
Once you have a bakery in mind you will need to determine some information. Are they a one-location business or are they part of a chain of bakeries? Bakery chains will likely have steps and policies for catering on their website, and if not, you can call them and ask to speak with the employee in charge of catering.
Small businesses, on the other hand, may not have this information listed online. If you plan on using one of these, you'll want to speak with them, preferably in person. Ask them if they have experience making pies for catering. If they do, find out the steps you'll need to complete to place an order with them.
Generally, when placing an order for baked goods, bakeries ask for several days' notice beforehand when placing an order. The specific number of days and the way they would like you to place an order online or over the phone is important information you should write down so you don't forget it. Find out when you can pick up your order so you aren't late for your own party.
While looking at different bakeries you should also look at the different flavors and options they offer. When ordering pies for a party, you should try a get several different flavors depending on how many guests you expect. Different options can give your guests a variety of treats to choose from, especially if they plan on eating several slices.
Should You Make Your Own Pies?
If you are looking at the costs to cater pies and your pocketbook is starting to ache you might be thinking about baking your own pies for the party. Not only could this save you money, but making your own pies would save you the hassle of placing and picking up an order of pies while managing the other aspects of hosting a party. While it might seem like an attractive option here are some things to keep in mind.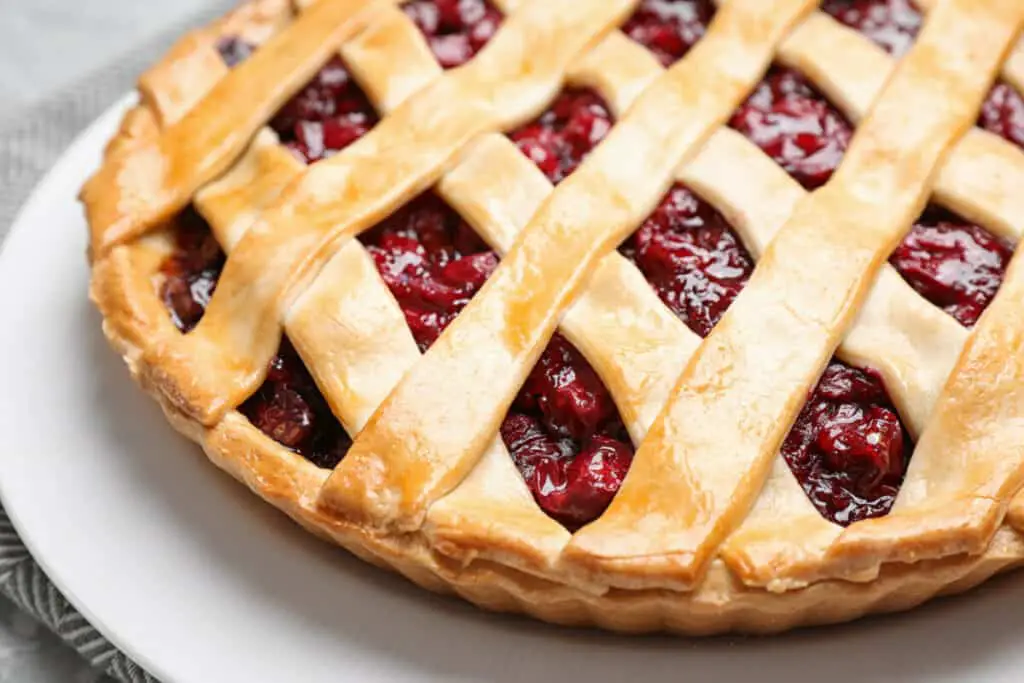 How much experience do you have baking pies? It might appear to be a simple process, but if you don't have experience with baking them, it could quickly spiral out of control. The common apple pie can take several hours to bake, just by itself. Adding several other different flavors and ingredients and you could be looking at an all-day project. Taking on a project this cumbersome while still planning your party could lead to everything being rushed and a poorer experience overall.
On the other hand, if you do have some experience with baking, this could be the perfect time to show off those skills. If you plan your time and ingredients out carefully, you could add a personal and memorable flair to your party. Baking a dessert, or several, that tingle your guests' taste buds is a great way to end a party.
Another way to bake your own pies is to break the process up into smaller pieces. If you are hosting this party with someone else each of you could bake one or two pies so that neither of you is overwhelmed by the process. Another option is to serve a mix of catered and homemade pies. Say you have an excellent banana cream pie, but have no idea where to begin with a pecan pie. Bake the pie that you are familiar with and let a professional make the others for you.
Different Pies to Serve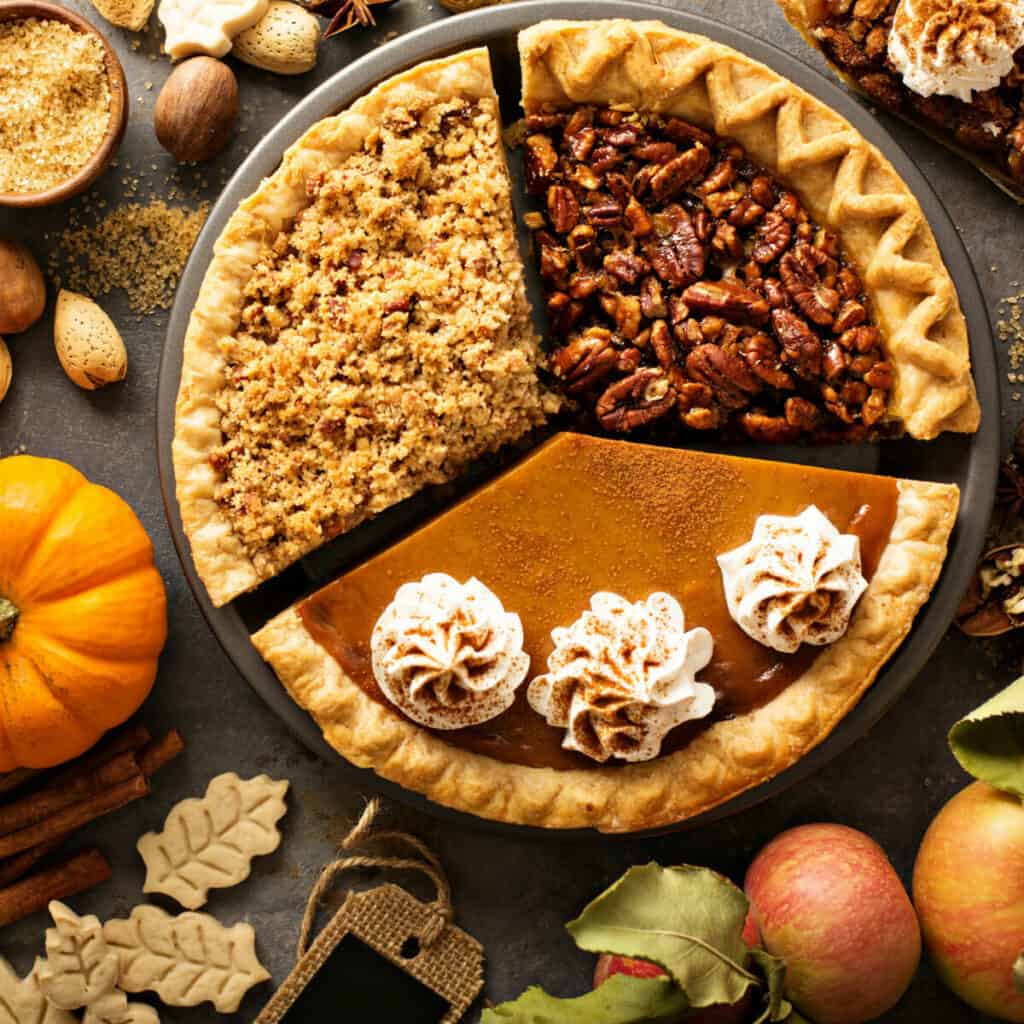 As you prepare for your party, you might be unsure what flavors of pie you should serve. Well luckily, or unluckily for you, there are many different types of pie that you could serve. Here, I listed a couple that you may be interested in:
Apple Pie
Cherry Pie
Peach Pie
Blueberry Pie
Banana Cream Pie
Chocolate Cream Pie
Pecan Pie
Sweet Potato Pie
Rhubarb Pie
Key Lime Pie
This isn't even scratching the surface of all the different types of pies you can choose from!
As you prepare for your party, think about what flavors your guest may be interested in. If it is a family party, try to recall what types of pies people were most interested in in the past, or text your family members and ask them what their favorite pie flavors are. For example, at my family gatherings, the chocolate cream pie is the first one gone, while the pecan pie barely gets touched. If you are hosting friends and you know that they have pies that they adore, or abhor, keep that in mind while making your preparations.
Other things to do are to make adjustments for specific situations. Check with all of your guests to make sure you are aware of any allergies or foods they need to avoid. You wouldn't want to leave one of your guests holding an empty plate unable to enjoy the pies with you.
Another thing to do is to incorporate local flavors into the pies you serve. Maybe the bakery you ordered from has a specialty pie. If there is a berry or vegetable in season during your party try and incorporate them into one of your pies. Huckleberry or blackberry pies are just as good as a simple apple pie. Is there a regional twist to a pie that you want to share with your guests?
For example, in New England, they like to put a slice of cheese on top of their apple pie. Odd, maybe. Memorable, definitely. Mixing up the flavors you serve can ensure that everyone remembers your party fondly.
How to Serve Pies
One of the most important things about serving pie, besides eating it, is how it is presented. There are a couple of things that you can do to ensure that your pies are served effectively.
One of the first things you should consider is at what temperature your pies should be served? Many pies could be served either hot or cold. Others should be served as one or the other exclusively. Let's explore some simple rules to keep in mind as you serve pies.
Which Pies Should be Served Cold?
Any pie that needs to be refrigerated should be served cold as well. Examples of these are any pies that have a cream filling. Fillings like these include banana and chocolate creams, chocolate mousse, pudding pie,s and any other fruit cream pies like strawberry and key lime.
Any pie that has a loose filling should be served cold. This helps to keep the slices together and helps them not to fall apart on your plate. Pies with fillings like these include pecan pies that need to be chilled to keep the syrup-based filling from turning into a liquid.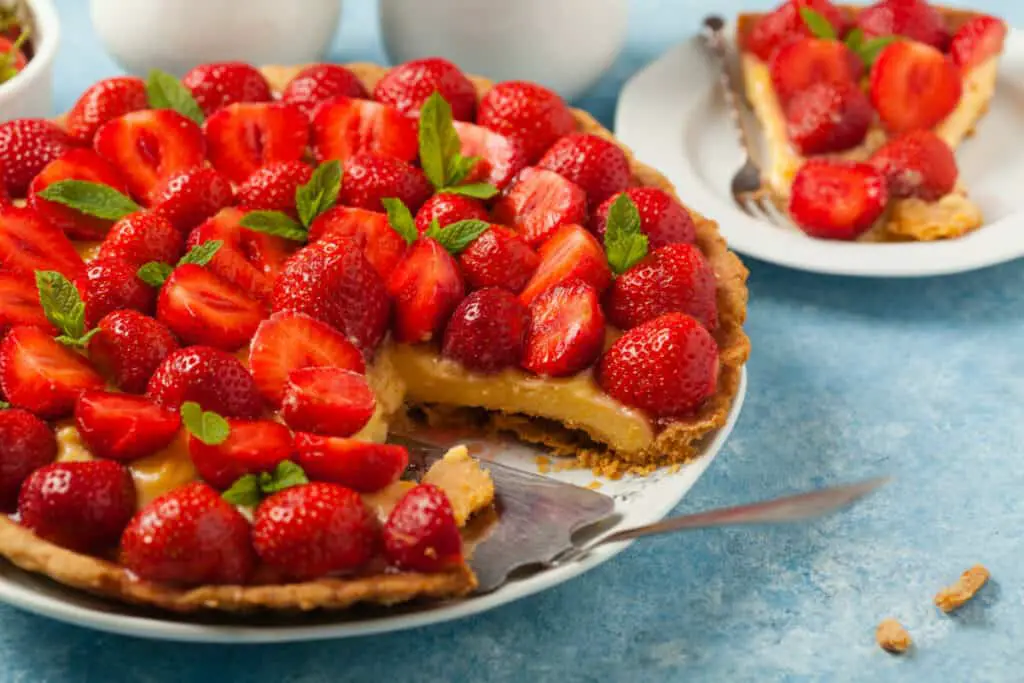 Which Pies Should be Served Warm?
Any pie that is being served as the main course should be served hot. These would include savory pies like chicken pot pies or a mincemeat pie. Pies that you plan to serve with ice cream could be served warm enough to slightly melt the ice cream as your guests begin to eat their slices.
Summary
In general, as long as there isn't a specific reason not to most pies can be severed either warm or cold. There may be a slight change in flavor depending on the temperature, but it mainly comes down to personal preference. If you plan to serve your pies cold, keep them in a fridge until you are ready to serve them. If you prefer them warm, put them into your oven for a couple of minutes at 350 degrees Fahrenheit to serve them hot to your guests.