This post contains affiliate links.
If you're planning an upcoming wedding like I am, you are probably realizing things can really add up. One of the most expensive parts of a wedding can be the food and catering. So how much does wedding catering actually cost?
Catering a wedding will cost between $1000 and $10,000, based on how many people are attending. Whether it is plated or buffet style it could change the cost. Appetizers, desserts, and an open bar are options for an additional price. Weddings can get very expensive, especially when it comes to food.
Deciding on the food for your wedding can already be stressful enough, so we have all the information on additional costs when it comes to wedding catering.
People
Everybody knows that your wedding day is one of the best days of your life. Weddings can be the highlight of the year for the couple and their family. You want everything to go smoothly and have nothing to worry about. A huge part of the wedding is the food. Catering the food and having someone else take care of everything would be a huge stress reliever. Catering a wedding can get expensive but it is very worth it.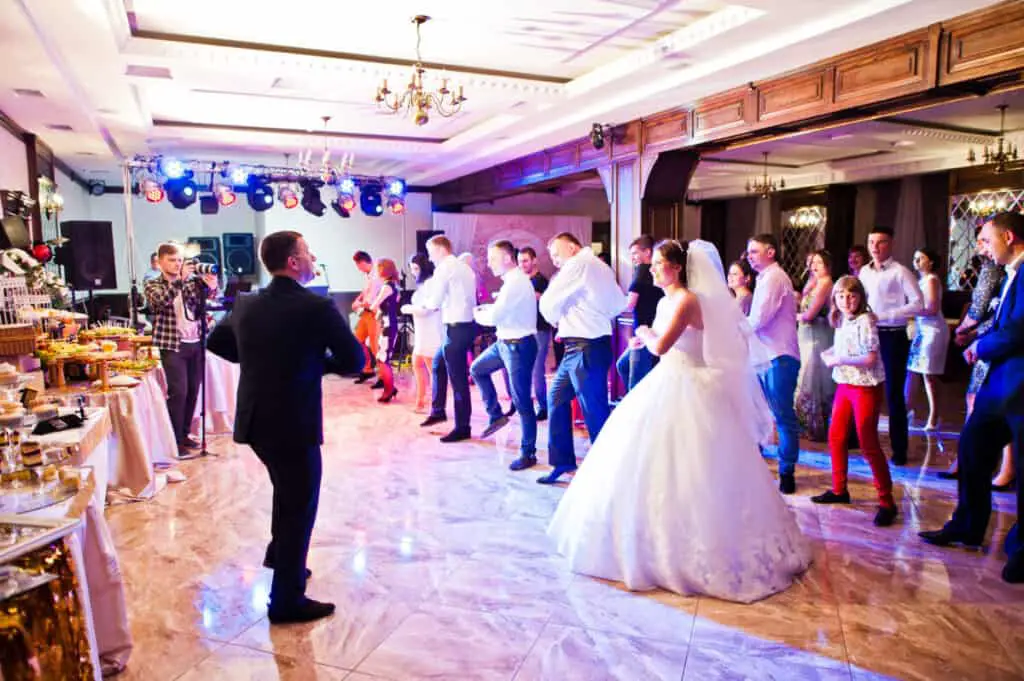 The price first, of course, depends on the number of people. Instead of telling the caterer how much food you need, they ask how many people there are. They already know how much people typically eat and will calculate themselves how much is needed. The cost of the dinner is then priced per head. Per person, it is averaged to be $70 per person.
It is important to get a headcount in advance. Send out the invitations a month or two in advance, enough time for your guests to let you know how many from their party will be attending. You can then get a pretty set amount and let the caterer know. It is important to get a caterer in advance as well before they are all booked. No one wants to be left a month before the wedding with no caterer for the big day.
Dinner
You then need to decide what type of dinner you will be having. Once you have found your dream caterer, they will plan everything, with a little bit of help from you. There are so many things to decide and they want to make a dinner that you will love. First, they will ask how many people, and you will have hopefully gotten that amount already. It's also good to give them an estimate, and then give them the final number after the invitations are out. Second, they will ask if you want to have a plated or buffet-style dinner. This will help them plan accordingly.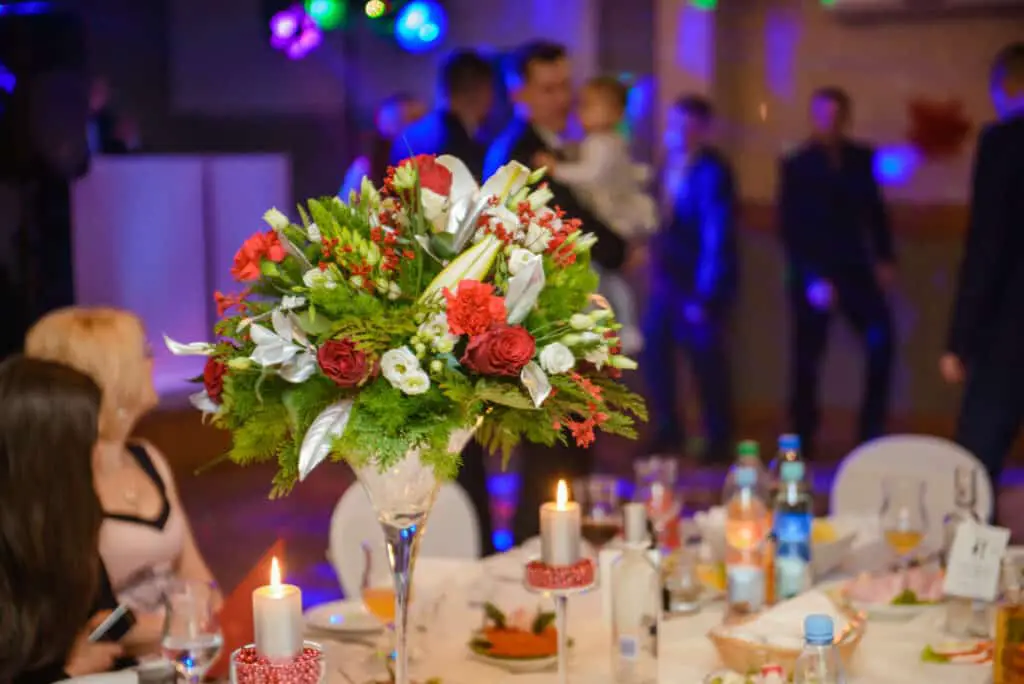 There are many pros and cons to both plated and buffet dinners. You have to figure out what kind of wedding you want. Will it be more formal or more casual? Do you want to have a fancier meal? What do you want the aesthetic to be?
Buffett
A buffet dinner is great for a casual, intimate dinner. While people stand in line or wait for their meal they can get to know the people around them. A buffet dinner can also be cheaper because fewer staff members are needed. You only need them to help serve the food in the line, not plate it up and serve it to everybody. A buffet has a variety of options and can serve the likes of more guests. However, the food will be sitting out and by the time the last person in line gets their food, it might not be so fresh and appetizing. The caterers will do their best to keep the food at its best but there is no guarantee. It also might start to cost more because you can't control how much people eat. Some will come back up for seconds, so you have to account for that as well (Source
).
Plated
Plated Dinners are much more formal and aesthetic. You have the opportunity to serve a fancier meal, due to having a certain size plate. Nobody can go back up and ask for seconds, what they get is what they get. Plated meals can be cheaper because the amount per person is set. The average price per person is $70. Every person gets the same amount of food on their plate.
Since you are able to control the portion sizes you can then choose some fancier meal options. However, it can get tricky if someone brings an extra guest last minute. You will have to pay for a few extra plates in advance in case this happens. You also have to account for more staff members. They will have to set the plates and dish up the plates, then serve them to your guests (Source).
In the end, think about your guests. Think about the bride and groom. What do they stand for? What is the feel of the group? What would they like? Do they care to have a fancy meal plated nicely on the plate? Or would they rather wait in line and meet new people, and then get to enjoy as much food as they want? Once you have thought about all the possibilities, you can pick your style of dinner.
Type of Food
Once you have chosen plated or buffet, you can then choose the actual food. Usually, the caterer will have a few options to choose from, and they can work with you to pick the best meal. Sometimes the bride and groom will select two to three meals for their guest to choose from when they accept the invitation. You can then give those numbers to the chef and he or she will plan accordingly.
Typically at a wedding dinner, there will be a salad, an entree, a side, and some sort of bread or roll. The entree is usually chicken, and the side is vegetables. Catering companies have several options to choose from, including Oakland Catering Company.
Sometimes it can be hard to choose a wedding dinner that nobody else has done. Most caterers have the same typical types of food. So how do you stand out from all of the other weddings? Something fun for the bride and groom to plan is making the dinner unique. You can incorporate something that is specific to the couple, like where they met, their hometown, and their favorite restaurant or food. There are plenty of ways to make it unique, fun, and special to you.
Another added cost could be a late-night snack. If the reception is long and lasts long after dinner, then you might want to provide a fun midnight snack like mini tacos or pizzas. This will create a fun memory for you and your guests, as well as set your wedding apart from everyone else's (Source
).
Appetizers
Once you have chosen the meal, there are a few more things to think about. Will you serve appetizers before? They aren't necessary but can add a lot to the wedding. They will add to the price. They will cost between $1-5 each, and then it depends on how many each person will at of each appetizer. At Oakland Catering Company, you could get anything from mini crab cakes to beef skewers to stuffed papers. There are also options like fruit and cheese platters (Source
).
There aren't appetizers at every wedding. It is totally up to preference and what you think your guests would want. It can also depend on the open bar. Many people have the ceremony, and while the wedding party takes pictures, drinks will be served before the reception. It is usually an hour or two between the start of the ceremony at the start of the reception, so you want to keep your guests fed and happy. Some people may have kids and don't want to bring extra snacks for them in between the two main vents. There are also people who don't do well with alcohol and no food (Source
).
In the end, appetizers are not necessary. If there is a lot of time between the ceremony, and reception, guests may go and get a snack themselves and take a little break from the festivities. Appetizers are very optional and not needed, they are merely preferences.
Wedding Cake
Besides choosing the dinner, choosing the Wedding Cake can be a huge decision. Many times the caterer has options for the cake, or you can get your cake elsewhere at a specialty cake shop. It can get very overwhelming with so many options for cake, and you also want it to be the best cake of your life. There are a few types of cakes and hundreds of flavors.
The price of the cake also depends on the number of guests. If you are buying the cake individually, you will want to know how much it serves and then buy the right number of cakes from there. A wedding cake could cost anywhere from $100 to $1000 depending on the type of cake, icing, etc. The average wedding cake costs about $500. If you are getting the cake from the catering company, then it will be priced per person once again. It costs more because the serves will slice it and serve it to the guests, in addition to the dinner (Source
).
Wedding Cake prices will differ based on the size, type, frosting, and tiers. Sheet cake would be the cheapest because it is easy to serve and mass produce. A traditional wedding cake has tiers, and the more tiers you have, the more it costs. Forsting ranges from buttercream to fondant to ganache. Buttercream is the cheapest kind of frosting to work with. It is easy to keep the cake simple and inexpensive, but it is also easy for the cost to add up quickly with decorations and other requests.
Dessert
Desserts are similar to appetizers, they aren't necessary, but it's nice to give your guests another option in addition to the wedding cake. Desserts range from cookies, cupcakes, brownies, fruit tarts, chocolate strawberries, and more. The possibilities are endless. This is also something the caterer can provide in addition to the meal. They can cost $1-7 each, and it also depends on how many desserts you need for each person (Source
). The caterer can work with you and help you figure out a plan.
Just like the appetizers, desserts are fully optional if you are serving cake as well. It is all up to you, your preference, and what you want for your guests.
Open Bar
The most expensive part of your wedding will be an open bar. A lot of guests will be looking forward to it, especially since it is free for them, but not free for you. Some people chose not to serve alcohol at the wedding due to personal reasons, and guests should also be respectful of that. Just having a bartender alone will be $50/hr, and that is apart from the cost of the alcohol (Source).
There are a few options when it comes to an open bar. You could have only a beer and wine bar, beer and wine with a few cocktails options, or premium drinks with endless cocktail options. There are also a few options for cutting people off. You could have an open bar for the first few hours of the reception and after that drinks are available for purchase. You can give people drink cards and once they run out, they can pay for extra drinks. You can also just have a certain cutoff time or a certain money limit to stop the bar at. Set an amount of money you are willing to spend. An Open Bar is what will set you over your budget if you aren't careful (Source
).
After reading this, you are probably very overwhelmed with all of the decisions you have to make, just for the food. No need to worry. The catering company will take care of everything, you just need to tell them what you would like.