This post contains affiliate links.
Corned beef is a delicious salt-cured brisket that makes a delicious entree. Are you wondering how much you need for your dinner, reception, or another event? If so, you've come to the right place!
You should plan to provide 1/2 a pound (8 ounces) of corned beef brisket per person at your event. If you will also be providing sides and dessert options for your guests, you can supply this amount of corned beef per person without having to worry about whether they will be left hungry.
At this point, you still might be wondering the origins of the dish, exactly how much-corned beef to order, how to serve it, and what sides and drinks to provide to your guests. You can find answers to all of these questions and more below!
What is Corned Beef?
Corned beef, known as "salt beef" in the British Commonwealth, is salt-cured beef brisket. Sugar and spices are sometimes added to corned beef recipes, and corned beef can be served as a main dish or as a side ingredient in many recipes.
Regarding the history and popularization of the dish, corned beef was a popular meal throughout numerous wars, including World War I and World War II. During these times, fresh meat was rationed so the salt-curing process was ideal. The dish is still popular today worldwide as an ingredient in various regional dishes and is common in modern field rations of various armed forces around the world.
The exact origin of corned beef is unknown, but it most likely came about when people began preserving meat through salt-curing, which has been a common method of preserving meat for many centuries. Evidence of salt curing is found in many cultures across the globe, including ancient Europe and the Middle East. Although today we commonly think of "corn" as a sweet yellow vegetable that comes on a cob, the word "corn" derives from Old English and is used to describe any small, hard particles or grains. So the term "corned" comes from the treatment process of the meat, which uses coarse, large-grained rock salt, which are also called "corns" of salt, to cure the beef.
Corned beef and cabbage has become popular Irish-American dish and is commonly eaten as part of the American St. Patrick's Day celebration and tradition.
Today, corned beef can be purchased in a can or fresh by the pound from a deli.
What Caterers and Restaurants Say
I called R&R Barbeque to get an idea of the recommended amount of brisket to provide per person. Their rule of thumb is 1/2 a pound of meat per person. This is a good general guideline to follow because some guests, like children or vegetarians, will eat less than this amount while others might eat slightly more.
How Much Corned Beef Per Person?
Keeping in mind the 1/2 pound per person guideline, here is a table with the suggested amount of corned beef to provide given the following number of guests:
| | |
| --- | --- |
| # of People | Amount of Corned Beef Needed |
| 10 | 5 lbs (80 oz) |
| 25 | 12.5 lbs (200 oz) |
| 50 | 25 lbs (400 0z) |
| 100 | 50 lbs (800 oz) |
| 200 | 100 lbs (1600 oz) |
How to Make Your Corned Beef Go a Long Way
It is always best to order slightly more food than you think you will need just to minimize the possibility of running out. There are other ways you can make the amount of corned beef that you provide go a long way, including serving the brisket yourself or having specified servers who will be able to give the recommended amount of meat to each guest. This will minimize the possibility of guests taking too much or more than their recommended portion size, which will help avoid any food going to waste or potentially running out of corned beef.
Another great way to ensure you have enough corned beef for all of your guests is to provide plenty of side options. Remember that the chart above assumes that you will be providing food options to your guests other than the corned beef entree. Providing sides will encourage guests to leave room on the plates for other food options, so they will be less inclined to fill their plate up with a heaping portion of corned beef.
How to Keep Corned Beef Warm
If you're worried about keeping your corned beef warm and moist throughout the entirety of your event, here are a few ways you can keep the meat warm for several hours without it drying out.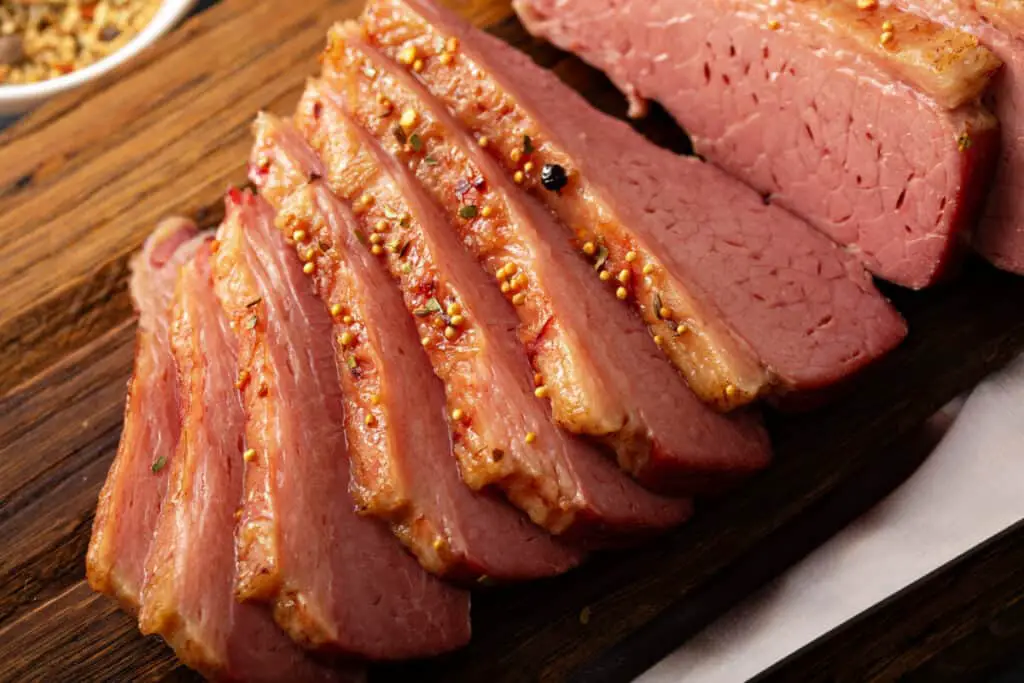 Using a Cooler
The key to keeping brisket warm without drying it out is to keep it insulated so that steam doesn't escape. In a well-insulated space, brisket can retain its heat for around 10 hours. The perfect way to do this is to keep the brisket closed in a cooler, but make sure the cooler can handle high temperatures. You will need boiling water, towels, and aluminum foil.
After the corned beef is done and ready to serve, wrap it in the foil. Cover it in towels or blankets to insulate it, and pour some of the hot water into the cooler. You can also use a heating pad or hot bricks wrapped in foil in place of water. In any case, dampening the towels with warm water will help keep the brisket moist. You can keep the brisket in the cooler for several hours as long as the temperature stays at 140 degrees or higher. You can monitor the temperature with a remote thermometer.
Filling the entire cooler with towels or blankets will prevent the temperature from dipping too low. Once you've placed the brisket inside the cooler and insulated it with towels, keep the lid closed and do not open the lid again until you are ready to serve the corned beef.
Using an Oven
You can also use an oven to keep your brisket warm if you don't need the storage option to be mobile. Set your oven at a very low temperature, between 150 and 170 F, and let your brisket rest for two to four hours. You can wrap it in pink butcher paper and place it on a pan to help keep it from drying out.
In order to keep the heat from escaping the oven, make sure you do not open the door until it is ready to serve. If you are worried about the oven temperature not being accurate, you can use a thermometer to check the temperature before placing the corned beef inside.
Holding Over
Another way to keep your corned beef warm is with a holding oven, which is what many caterers and restaurants use. Holding ovens are similar to ovens but are usually smaller and made to hold a steady, low temperature to keep food warm.
Heat Lamp
For shorter periods of time, you can use a heat lamp to keep the meat warm. Heat lamps are generally more cost-effective, but emit dry heat and have no insulating properties to keep the meat moist, so this method should be used to keep the meat warm as you are serving it, and should not be used as a method of keeping meat warm for longer periods of time.
What Sides to Serve with Corned Beef
Your question at this point might be, "Ok, but what sides do I serve with corned beef?" Here are some delicious and easy options to consider:
Potatoes – The great thing about potatoes is there are so many different ways to eat them. You could consider serving mashed potatoes, scalloped potatoes, roasted potatoes, and cheesy potatoes, the options are endless! Potatoes are filling, and you can buy them in bulk for cheap so a little can go a long way with potatoes as a side dish.
Carrots and Cabbage – Corned beef is traditionally eaten with boiled carrots and cabbage, so this would be a great side option for guests at your event that is relatively inexpensive. Plus, the carrots add a nice pop of color to your guests' plates.
Casserole – Casserole is another great side option that will fill guests up and take up room on their plates. One great thing about casseroles is that there are so many different types you can make. So consider looking at different types and potentially serving one or two casserole options at your event.
Bread and Rolls – Rolls are an easy go-to side that pair well with so many entrees, and corned beef is no exception. You could even provide guests with Irish soda bread to take a traditional approach to the food at your event. In any case, rolls and bread are sure to help to fill guests up.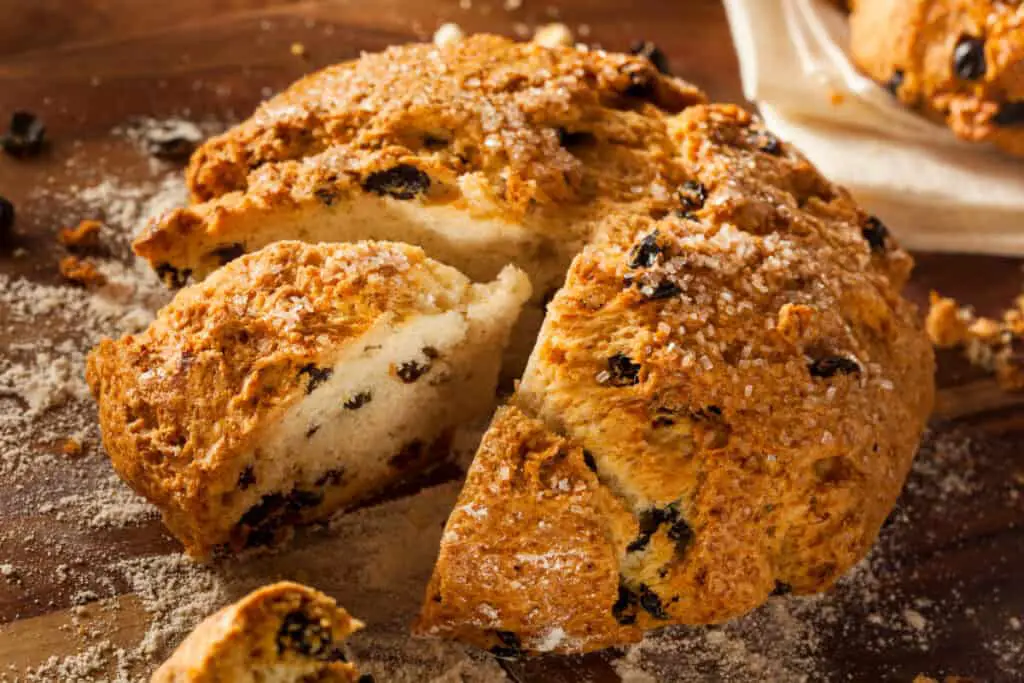 Vegetables – Brussel sprouts, green beans, corn, etc. You can pick almost any vegetable and it would make a great side to your corned beef entree.
Dessert – Providing your guests with a sweet option like brownies, cookies, cake, or pudding is another great way to fill guests up and make your entree go a long way. They will likely want to take less food during dinner so they can save some room for dessert!
What Drinks to Serve with Corned Beef
If you are wondering what drinks pair well with corned beef, here are a few options that contain alcohol:
Wines
Because corned beef is salt-cured beef brisket, it is very salty and fatty. This means that acidic wines are the perfect drink pairing that will provide the needed refreshment to cut through the saltiness and fat of the meat. The saltiness of corned beef also further enhances the flavors of the wine because salt makes the fruit flavors of the wine more distinct.
Corned beef and Cabbage pairs best with acidic and fruity red wines such as Beaujolais and Pinot Noir or medium-bodied red wines like Cabernet Franc and Zinfandel. Some white wines that pair well with Corned Beef are Pinot Gris, Gewurztraminer, Riesling and Grüner Veltliner.
Beer
Ice-cold beer is another simple drink option to serve with corned beef that will appeal to the masses.
Non-Alcoholic Options
For those who don't want the alcohol but want a similar effect from their beverage, there are plenty of options that pair well with beef brisket. For a slightly similar kick as red wine, Cranberry or Pomegranate juice can be substituted. Both of these beverages contain tannins, which are also found in red wine, that will bring out the flavor of the brisket without overpowering it.
Another traditional non-alcoholic drink that goes well with brisket is club soda with a hint of lemon or lime. This drink combination helps cut through the fat while also acting as a palate cleanser that will balance out the flavors of the brisket.
Recipes with Corned Beef/What to Do With Leftover Corned Beef
If you have any leftover corned beef after your event, you can use any of the following recipes to make sure you get your money's worth and make the corned beef go a long way, even after your event has ended. When it comes to using corned beef, the sky really is the limit! Here are just a few ideas of ways to eat corned beef:
Corned Beef and Cabbage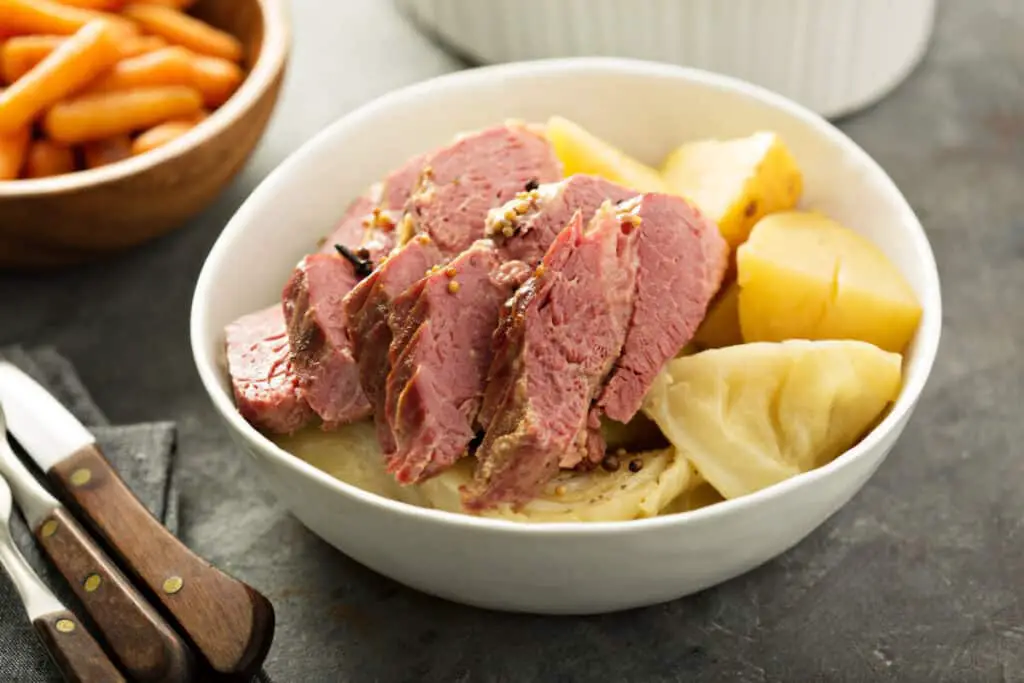 Reuben, Other Deli Sandwiches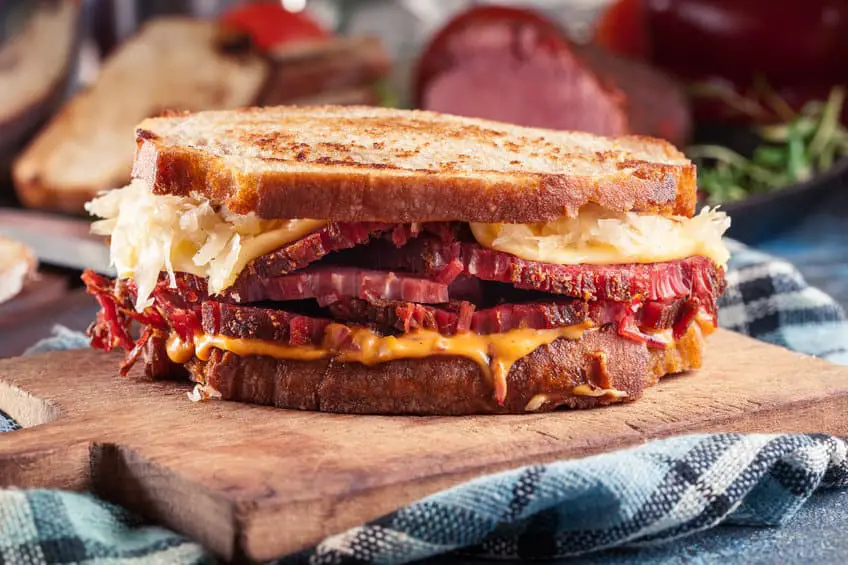 A reuben is a classic New York Reubenandwich that combines corned beef with Swiss cheese, sauerkraut, and Russian dressing grilled on slices of rye bread. This is one great way to eat corned beef, but the sandwich combinations are endless and you can even come up with your own deli sandwich recipe that uses corned beef!
Corned Beef Hash
Special thanks to R&R Barbecue in Provo, UT for answering questions about catering beef brisket. You can find their website here.