This post contains affiliate links.
Chicken salad is a hearty, yet refreshing, mixture of shredded chicken and a delicious sauce. It is a dish that is reminiscent of southern summers and picnics. It can also be a good dish to have at certain larger events.
When making chicken salad for a large gathering, the recommended amount of salad to make per person is about three-quarters of a cup if the chicken salad is being used as a main dish. If it is used in a sandwich, a topping on a traditional salad, or as a side, the amount will be smaller.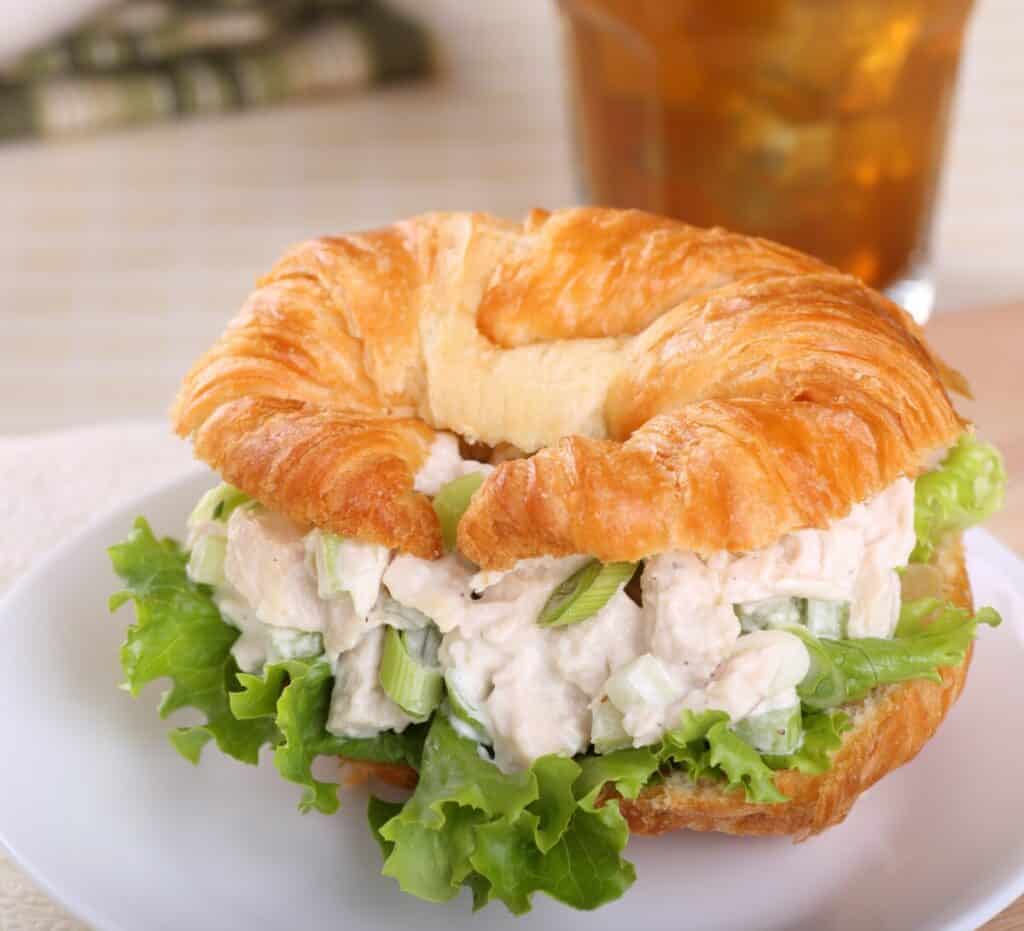 With this recommendation in mind, let us explore some of the events chicken salad would be fitting for, what kinds of chicken salad there are, different chicken salad dishes, how much it costs to have a chicken salad at an event, and how to safely serve the chicken salad.
Servings and Portion Sizes
At most events, it is normal to have the main dish come in a variety of ways. So, it is important to consider how chicken salad is typically eaten.
There are a few different ways that chicken salad is typically served. The first way that chicken salad is served is on its own. Some people just enjoy digging a fork into some chicken salad! Another way that chicken salad is served is by giving people a healthy portion of the salad and giving them crackers to munch with it. The way that the salty and buttery crackers taste with chicken salad is delicious and complimentary. This preparation style is also one of the easiest, as all it takes is to make and cater for chicken salad and have crackers on hand to enjoy!
Another way that chicken salad is typically prepared is by making chicken salad sandwiches. By making it into a sandwich, the person enjoying a meal gets the nostalgic factor of having sandwiches for lunch or dinner. It can also make it easier for a person to eat the food without getting it on their fingers, hands, or clothing in comparison to eating it with crackers. It is also more filling than just having crackers. The only downside to this preparation style is that sandwiches are an unfit choice for people who have gluten intolerance. If no one in a group has trouble with gluten, this would be the way to go. 
As previously mentioned, the recommended serving size for chicken salad served by itself is three-quarters of a cup per person. Though, of course, people are free to eat as much as they choose, the amount a person eats would be less than that in situations where chicken salad is not the main dish, but rather one of a few. In these cases, the portion size for each person would be closer to one-half of a cup. 
| | | |
| --- | --- | --- |
| | Chicken Salad (Main) | Chicken Salad (Side) |
| Portion | ¾ cups | ½ cups |
Amount Per Person
Of course, determining the amount of chicken salad necessary for a group of people can be tricky as well, especially when the headcount reaches double-digits. Catering services such as Chicken Salad Chick have party platters available for purchase, along with an estimate of how much each platter will serve— very helpful! Of course, if you are planning to make the salad yourself, such estimates are not as useful when trying to figure out recipe sizes. Luckily, we have a way to help with that.
Below is a chart with an easy formula for determining how many cups of chicken salad are needed for a group of people; one is for an event where chicken salad is the main dish and one for an event where other foods are being served. In the stated formula, 'x' represents the expected number of people, and 'y' represents the final amount of chicken salad needed. Simply multiply the portion size indicated by the number of people to find the total.
| | | |
| --- | --- | --- |
| | Chicken Salad (Main) | Chicken Salad (Side) |
| Formula | ¾ cups • x people = y cups | ½ cups • x people = y cups |
How Much Chicken Salad Needed for x Amount of People
Chicken Salad Recipes
When most people think about chicken salad, they probably think of the same thing. They might think of the classic, savory and sweet salad that has a creamy dressing, chicken, grapes, and potentially apples, onions, and nuts. This type of chicken salad can satisfy a variety of cravings. It is also something that works well in the summertime, as it is filling and refreshing. What most people do not know is that there are so many more options for chicken salad.
At a place called Chicken Salad Chick, a restaurant that is based on selling and crafting delicious chicken salad, they offer 12 different recipes. Their recipes are separated into four different categories: classic, savory, sweet, and spicy. Within each of these categories, there is a variety of ways they prepare each dish. They often twist the classic mayonnaise dressing with different sauces like buffalo, barbecue, sriracha, and ranch. As for ingredients, they are not afraid to of trying new things! Some additional ingredients they use include pineapple, pecans, jalapeños, sweet pickles, and cranberries. (source)
You can also find variations on the classic recipe on hundreds of popular food blogs. Being such a classic and simple meal, chicken salad is the ideal foundation for a "signature" recipe— one that you can twist to make entirely your own. A family favorite of mine is to mix in some sweet pickle relish, chopped apples, and walnuts, and sprinkle on a few extra dashes of black pepper and onion powder. 
For people who love the classic version, there are many ways to shape the recipe. It can be as simple as taking food you like and adding a little bit to the chicken salad mixture. Examples of ingredients that might be worth trying are kinds of nuts such as cashews, fruits such as apple slices, and different kinds of cheese. When making chicken salad for another individual or for a group, it is important to consider the preferences and potential allergies of the people in order to get the best— not to mention the safest— result. 
Dishes that Pair Well with Chicken Salad
Something to consider when planning any side dish is how it will complement the flavors in the main dish. If a host has a savory chicken salad, then it would be wise and possible to have a sweeter salad. This creates a balance in flavor that guests will applaud. (source)
Salads are great options to pair with chicken salad. These work well with chicken salad because they can cut any sweetness or heaviness in the recipe, bringing a bit of levity to an already delicious meal. As chicken salad is something that can be had during picnics or other summer adventures, the salad pairs well with chicken salad in the sense that it is also easy to pack and easy to consume. 
Chicken salad is a nice foundation to build a meal on. There are a large variety of foods that pair with chicken salad. One such food is potatoes. Specifically, roasted potatoes. While any form of potato is typically delicious, roasted potatoes are lighter and have a smaller portion than other forms of potato, making them a good pair with the already rich chicken salad. As chicken salad is a popular southern food, it would be a fun idea to pair your chicken salad with other southern dishes. Some good candidates for this include collard greens, fruit salad, or fresh summer tomatoes and cucumbers. 
Of course, let us never forget dessert! Desserts that would pair nicely with chicken salad will likely be lighter, have more citrus and fruit flavors, or be something memorable for the occasion. Examples of desserts that would be good are fruit pies, fruit cobblers, lemon meringue pies, lemon bars, and cheesecake. Richer or heavier desserts like chocolate would not be a good match for chicken salad, as the flavors are more likely to clash and weigh the whole meal down.
Costs of Chicken Salad
The biggest thing to consider when making chicken salad for any number of people—but especially for an event— is the cost. We called Chicken Salad Chick and asked a few questions about their catering options and costs. They had several options for purchasing and serving a chicken salad for large groups. One option was to buy platters of mini croissant sandwiches, with each platter having 36 sandwiches. Another platter option was called the Luncheon, containing chicken salad containers, cookies, and sides.
When asked how much it would cost to cater to a group of about 100 people, their response was surprisingly low for a catering company. They recommended ordering 4 of either catering option, which would provide around 144 sandwiches in total. If a consumer ordered four luncheon sets, it would cost around $411. If a consumer ordered four mini croissant platters, the end cost would be around $201. 
To put those numbers into perspective, the average cost for catering for an event of 100 people is around $1,200-5,000. This is largely dependent on the kind of catering and food. The type of catering that Chicken Salad Chick does is drop off/pick up catering, where the food is pre-made and packaged for someone to receive. This style of catering is the cheapest form, sitting at the $1,200 mark. When we compare $411 to $1,200, it becomes incredibly clear which is cheaper.
The downside to this kind of serving is that the host has to plan out and handle the food. In addition to that, you run the risk of over or under-ordering, leaving you with either far too many leftovers or some very disappointed guests. Luckily, chicken salad is easy and cheap to make. Unless you plan on feeding a large group of people, it is safe to say that making and serving chicken salad yourself is likely the cheaper option.
Serving Chicken Salad Safely
The last factor to consider is how to serve chicken salad safely. Because of the daily ingredients in the chicken salad, it needs to be kept cold until consumption to be safe to eat. There are also some other ways that a host can keep food sanitary, including proper refrigeration, utensils, and portions.
With chicken salad, the best thing that a host can do is make sure that it is kept at a safe temperature. The recommended method of accomplishing this is to keep the salad stored at 40ºF until serving. This can be easily done in a variety of ways! If the event is inside, it is safe to have the salad out on the counter for up to 4 hours. The main factors that need to be addressed are making sure that food is refrigerated when it is not being used and using individual scoops for each chicken salad being offered to avoid contamination.
If an event is outside, this makes keeping food chilled a bit more of a challenge. A simple way to fix this is to have ice baths to put the containers of chicken salad. Where there is ice, the food will stay colder longer. Another simple fix is to make sure the food is in a shaded area. If the sun is beating down on the food, it will heat up much faster than if it is in the shade. A host needs to be extra aware of how long the food has been out and be proactive with putting things in the fridge. 
Whether the event is inside or outside, it is important to make sure that food does not stay out too long. A simple trick to doing this is separating the chicken salad into multiple bowls. Once one bowl has been out for a little bit/is starting to get warm, the host switches the bowl out for a colder bowl. This process can be repeated as much as is needed. 
It is easy to see why chicken salad is a fan favorite for big events. It is easy to prepare, cheap to make, and especially tasty to eat. Now, armed with this knowledge, go forth and have a delicious time!