This post contains affiliate links.
When throwing an event or party, you have to guestimate how much food, drinks, candy, dessert, and more to arrange to have for the people you are serving. It is hard to be exact, but how much candy is best for a candy bar?
The amount of candy one should use for a candy bar is 10 ounces of candy per person. That is about the same size as a snack-size Ziplock bag. Depending on if there are kids or adults, the amount can be adjusted to 15 oz. This can also change based on budget and how full the candy bar looks.
Planning a candy bar for a gathering or event requires picking out the right types of candies, figuring out if people have allergies, how many people are attending, and more. For more information on how much candy you should have available for a candy bar and to be given ideas of what types of candy bars you can create, read on!
Movie Night Candy Bar
One classic setting to include a candy bar is at a movie night. You can have popcorn, drinks, and some choices of your favorite candies. It is a perfect use for a candy bar because people love to snack while watching movies. Below are some ideas and tips on how to plan, arrange, and set up a candy bar for a movie night!
Firstly, if you have a theme or you are basing the treats around the movie, have candies and decorations centered around that theme and give the treats fun movie-themed nicknames. Some movies have specific treats that would be fun to have while watching it. Famously, the kinds in the Polar Express drink hot chocolate and there is a song about it, so hot chocolate would be a perfect addition to a candy bar if you are going to watch the Polar Express afterward.
If you are watching Charlie and the Chocolate Factory, have a variety of chocolates and candies that the characters consume in the movie. You can also decorate the candy to look like it's from the movie.
After you have decided what candies, desserts, drinks, or foods you want to serve and display, you can determine the amount of candy you will purchase. Depending on how many people are going to attend and how much the kids or adults will eat, you can adjust what you want to buy and how much you will get. If you determine that every person will have 10-15 ounces of candy, you can just multiply that by the number of people attending and find out how much candy you need to buy.
You may want to purchase more candy than you think you need, as people may eat more than you expect. It is better to have leftover candy for you to eat after the party or give away than to not have enough candy.
Be sure that if someone attending has an allergy, you buy a type of dessert or candy that they can have so that there is an option available for them and they don't feel left out. When you have figured out how much candy to get and what kinds you are getting, then you can plan how to set it up on the table.
At any classic movie night, you will have popcorn, so you can have that in a bowl and give the guests popcorn bags to scoop their popcorn into. Depending on the theme, you might display and serve licorice, sour candies, chocolates, and more. You can get cute bowls and scoopers along with something for your guests to put the candy into. Then people can self-serve at the candy bar and get the amount of candy they want.
Candy Bar for Halloween Party
When creating a candy bar for a Halloween party, have fun with it. You can base your theme on a movie, your Halloween costume, or simply have a spooky theme.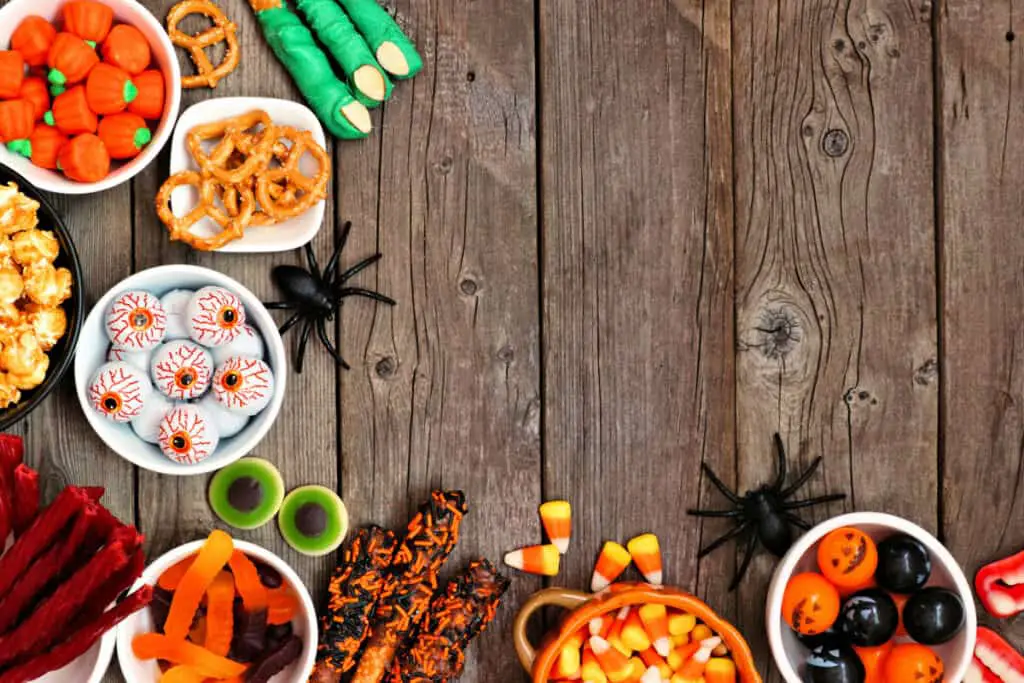 A fun way to set up a candy bar for a Halloween party is to theme it after Harry Potter. There are many fun and unique candies you can buy online that match this theme. Plus, you can decorate the table to look like it came straight out of the movies. You can even give the candy bar a Hogwarts theme and make it look like the candy trolley that is seen on the Hogwarts Express.
There are many fun candies online that are from the movies, including:
Chocolate frogs
Every-flavor Jelly Beans
Licorice Wands
Chocolate Snitch
If you go online and search for some fun treat ideas for Halloween you will find easy recipes that anyone can pull off. For instance, you can make simple rice crispy treats, and dye them different colors, and decorate them with icing so they match the theme of your candy bar.
If you are serving kids at a Halloween party, then classic Halloween candy is great to have available on the candy bar. If you are serving adults, you should theme candies and treats that are appropriate for the age group. Make sure you get enough candy for each person.
Christmas Party Candy Bar
When you think of the holiday season, you likely think of Christmas. A perfect party to include a candy bar at is a Christmas party. There are so many festive candies, treats, drinks, and more that are centered around Christmas that you can serve at a Christmas party or gathering. After finding the candy and food you want to serve, you can have fun creating and decorating your candy bar.
If you get cold weather around Christmas, then you will have the perfect reason to serve hot chocolate, and you can even have a hot chocolate bar along with a candy bar. You can have festive hot chocolate cups, candy canes for the drinks, fun straws, syrup mix-ins for the hot chocolate, marshmallows, whipped cream, and whatever else you want to have available to dress up a hot chocolate. Both kids and adults will enjoy having hot chocolate and candy available at the candy bar.
You can theme the candy bar after the Christmas season, or you can get more specific. For instance, you can use the 4 food groups from the movie Elf and create a candy bar based on it. The 4 food groups are candy, candy canes, candy corn, and syrup (there is plenty of candy in the movie Elf). If you get candy and decorate the table for the candy bar to look like it's from Elf, then you will have a perfectly themed candy bar. People will especially enjoy it if you are going to watch Elf.
You can even have gingerbread cookies or gingerbread men on your candy bar. They can be decorated, or you can set up supplies so people can decorate their own gingerbread men. However, this can get slightly messy, especially with children, so have a designated space for people to decorate. You can do the same thing with sugar cookies.
You can get red and white table cloths and have the Christmas theme revolve around traditional colors associated with Christmas. Colors like red and green, red and white, blue and white, or any other color combination that you typically see around Christmastime are perfect colors to use for your candy bar. Then you just have to worry about the decorations being coordinated with the colors you chose and the food and candy will look great when they are all laid out on the table.
You can easily coordinate the utensils with your candy bar. For instance, you can get red cups, green plates, red utensils, Christmas napkins, and more. You can make it look fantastic, and a candy bar at a Christmas party will be a hit. It can be really fun to pick out Christmas bowls for serving the candy and treats in, and you can plan everything to coordinate as well. If you love planning, then this is the party and candy bar that you will enjoy planning.
If you are not a big planner, then keep it simple and just dish every food, drink, and candy in cute ways so that the candy bar looks great. You can get matching serving bowls and plates online if you want a change from the dishes you already have. Then the work is done and all you have to do is put the candy into the bowls and the food onto the plates, and everything will look great on the table and you will have a perfect candy bar!
Whatever you celebrate around the holiday season, you can create an easy but beautiful candy bar for your guests to enjoy. It is a great idea for a family party, for a gathering with friends, for a church party, and for a work party. The candy bar can be interpreted in any context you desire, and you can be as creative as you want with it.
Candy Bar for Birthday Party
Putting together a candy bar for a birthday party is not as hard as it sounds. If it is for a kid, then what is their favorite show or movie? Some kids love princesses, Paw Patrol, Spiderman, Jojo Siwa, and more. If you know what your kid likes, then you can theme the party after that. Then you can get your child's favorite candies or desserts and dress them up nicely on the candy bar.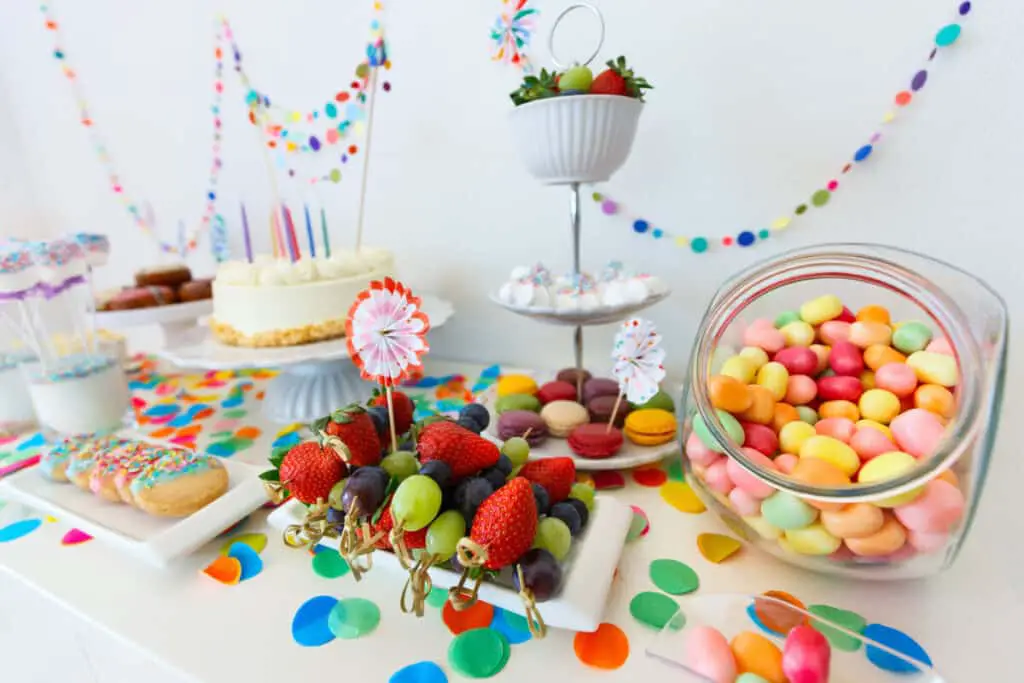 At any local store, you can likely find table cloths, cups, plates, bowls, napkins, and more for kids to use at a birthday party. As long as you dress up the candy bar to look nice and themed, then it will be perfect. Kids care less about how the party looks than adults do, so if you like it then they will too. All a kid wants is to eat cake on a Paw Patrol plate, and their dreams will come true, so you will have a great party on your hands if you decorate your candy bar correctly.
For a birthday party for an adult, theme it after what they love. Make it more mature and you can dress it up or keep it as casual as you want. You can change the candy bar to be a drink bar or it can have their favorite foods, drinks, and desserts instead of candy. You can dress up the decorations based on a color theme and make everything look coordinated. If you match colors together and arrange everything on the table, then it will look great, and your friend will appreciate it.
You can base the food and treats for a candy bar that is for a birthday party on what the birthday person enjoys. Maybe a birthday girl wants chocolates instead of sour candies. If that is true, place multitudes of chocolate varieties on the candy bar.
However, you should be careful about where you set up the candy bar. For instance, if it is outside and the temperature is warm, chocolate will melt. If it is cold and the party is outside, warm items will cool quickly.
If you are serving ice cream for an ice cream bar instead of a candy bar, then you should plan to put out the ice cream right before everyone starts to eat it, not at the start of the party. Otherwise, it will melt and leave you with a large sticky mess to clean up. If you are at a different location, you can put it in a cooler with large amounts of ice inside.
What is fun with setting up a candy bar for a birthday party is that you can arrange the candies and treats to be spread around the table, then you can have the birthday cake be in the center, ready to be brought to the birthday person when they need to blow out the candles. Unless the birthday boy or girl does not like or want cake, there is normally a cake expected at a birthday party.
You can easily decorate candy bars with streamers and tablecloths, especially if it is for a child's birthday party.