This post contains affiliate links.
Just about everyone from everywhere enjoys many Mexican dishes such as tacos, carne asada, and tamales. Maybe you're looking to learn how to cook authentic Mexican foods, you're wanting to host a nice party, or maybe you're looking to start a restaurant and want to learn how many tamales the average customer would like to order in their meal.
The average tamale serving consists of two to three medium-large tamales and is often served with rice, beans, corn tortillas, and sometimes fruit on the side. A party of ten guests could eat about twenty to thirty large-sized tamales or thirty to forty medium-sized tamales.
There are many different ways to cook and serve tamales. Depending on who you are cooking for and how many hungry bellies you will have to feed, there may be a particular method that will work better for you than others.
Servings for Groups
Being a host or cook of a family gathering, party, or event can be very stressful and overwhelming. It feels like everything has to be just perfect, including the decorations, music, activities, and the overall atmosphere. The most important thing to provide and cook well is the thing everyone will be looking forward to the most: the food!
If you are hosting a group gathering and plan on providing tamales for everyone, you'll first need to know how many you will need to prepare. Oftentimes, hosts will worry that not everyone will want to eat everything you provide, and while this may end up being the case, the last thing you want to do is make not enough food. It is important to just provide enough for each person to have some, and if you end up having a bunch of leftovers, you can send guests home with some leftovers. This not only is a tasty gift to give them, but they will also feel cared for and even happier that they attended your gathering.
How Many Tamales With No Sides?
If you are going to be providing just a simple dish for your guests to enjoy, it's probably best to plan on making about three tamales per guest as most people will be comfortable with two to three tamales alone without any sides.
| Number of People Attending | Number of Tamales Recommended |
| --- | --- |
| 5-10 | 15-30 |
| 11-15 | 33-45 |
| 16-20 | 48-60 |
| 21-25 | 63-75 |
| 26-30 | 78-90 |
| 31-35 | 93-105 |
| 36-40 | 108-120 |
How Many Tamales With Sides?
If you are having a longer event or would like to feed your guests with a full meal, adding sides is a great way to serve variety as well as volume. You of course can serve your tamales with whatever sides you would like, but the usual side dishes will include rice, refried beans, and/or corn tortillas. Because these additional foods will make a meal more filling, the average tamale quantity needed will probably lower a little bit. The average person will probably eat two tamales with a serving size of each side. However, since there will probably be some people who will still eat three tamales with sides, it's wise to prepare by cooking up a few extra just in case.
| Number of People Attending | Number of Tamales Recommended |
| --- | --- |
| 5-10 | 10-25 |
| 11-15 | 22-35 |
| 16-20 | 32-45 |
| 21-25 | 42-55 |
| 26-30 | 52-65 |
| 31-35 | 62-75 |
| 36-40 | 72-85 |
For your sides, you can be more precise with your serving sizes if you wish, especially since you can measure those portions easier. However, you can make extras for those as well if you think they'll want more than just one serving. The serving size for rice is one-half of a cup per person, the serving size for refried beans is also one-half of a cup per person, and the average serving size for corn tortillas is one to two tortillas per person.
Tips on Cooking in Big Quantities
When you're organizing a big event with several people, setting up decorations, music, tables, chairs, etc. is the easiest part. The most difficult part is always providing and cooking the food. You don't want to cook the food incorrectly by accident, you don't want to be too short on time, and you definitely don't want to undercook the food, as this can cause food poisoning or serious sickness. There's no question that you will need to be prepared well for occasions such as this.
Shop in Wholesale
Once you have your full ingredient list, it's always better and much easier to shop for those items in bulk. There are many grocery stores that sell products and food in bulk such as Sam's Club, WinCo, Costco, etc. Buying in bulk will give you an easier time with making purchases, storing your food correctly, and keeping track of exactly how much you have in stock. These stores can also be lighter on your wallet in the long run, which is always a bonus.
Have the Right Equipment
It is absolutely crucial that you ensure you will have the proper equipment needed before the day of the event. This not only will make sure you have an easier and smoother task of cooking everything, but it will also make sure you can cook the food properly and thoroughly. Having enough plates to serve, the right size of pan or pot, as well as enough kitchen space to work, will all make a difference between failure and success when it comes to preparing food for a larger quantity of guests.
Pre-Cook
At some events, guests would like to get in line and eat earlier to make sure they have some, so it's always a good idea to have food hot and ready to serve as soon as people start to arrive. A good way to make sure this happens is to pre-cook a batch or two of food before the event starts. This not only will get the food out sooner so guests can enjoy it upon arrival, but this will also give you time to prepare so you're not worried about getting everything out right away.
Cook in Batches
Cooking in batches is a great way to keep a steady flow of food coming for guests that is consistently hot and fresh. Cook that first pre-made batch for a good start, then make another batch, then another. Keeping this rhythm until the food runs out is a great way to keep everyone fed and to keep a good smell going too!
Have Multiple Cooks
Don't make things harder than they have to be. Get some help in the kitchen! Set up stations for each item of food or step in the cooking process for someone to take on. This will make everything less overwhelming for you, and you will only have a few tasks to focus on instead of one hundred. This will also make everything a more enjoyable experience for you as the host.
Restaurants' Servings
Most cities in every state will have locally owned authentic Mexican restaurants in business you can eat at. Unfortunately, there really aren't any large chain restaurants that serve authentic Mexican food, which is where you go if you want to get the real deal! There are a few states in the United States that tend to have more of these local authentic Mexican restaurants, such as Texas and California, but most places will have at least one in the area. Not every Mexican restaurant will serve tamales, which is surprising because they are a tasty and popular food item.
California
A few restaurants that do serve tamales in the California area are Ernesto's Mexican Food in Sacramento, Lulu's in Menlo Park, and Maya's in Grass Valley. Ernesto's Mexican Food serves one to three tamales, your choice, along with rice and beans on the side. Lulu's serves two tamales and, of course, you can order any sides you would like to go with it. Maya's restaurant serves however many tamales you want, and you can choose your sides if you would like any.
Texas
In Texas, there is Joe T. Garcia's in Fort Worth, Herrera's Cafe in Dallas, as well as Rio Grande in Huto. Joe T. Garcia's will serve three tamales along with rice, beans, and corn tortillas on the side. Herrer's Cafe serves one to two tamales along with other sides such as enchiladas, tacos, or rice and beans. Rio Grande serves two tamales as well as rice and beans to go with it.
Tamale Recipes
Tamales are one of those foods that just taste better when you can make them at home and put your own spin and personal taste into them. Some people love spicy foods, while others may prefer mild or sweet versions of those foods. There are so many tricks and ways to cook tamales, and if you're a beginner, you just have to try out different methods to find your favorite. Finding new recipes can be fun and sometimes overwhelming, but this is where cooking blogs come in handy.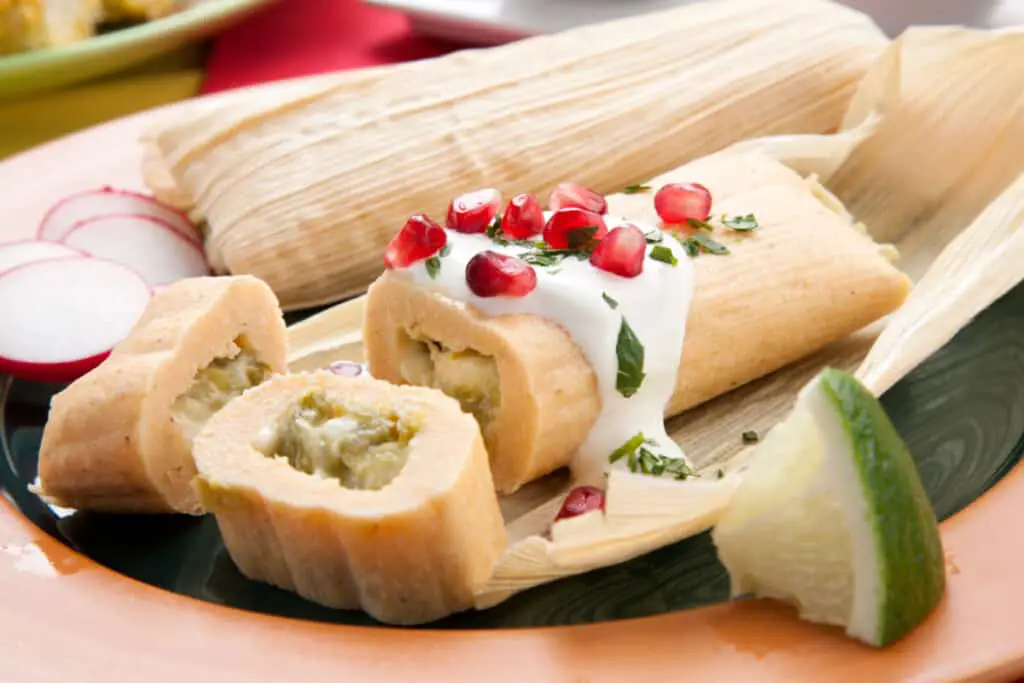 The blog 'Mexican Please' has a tamale recipe posted called "Easy Tamale Recipe" that makes up to twelve tamales for about 4 or 5 people. Tamales can sometimes take several hours to make, and in this recipe, you will get a simple version of how to make them at home. This is perfect for beginners, for those who have a short attention span, or for those who just don't feel like spending the entire day cooking food that will be eaten in ten minutes. The preparation time is forty-five minutes, and the cooking time is about an hour and fifteen minutes.
Another blog, called 'Mexico in the Kitchen', has a recipe called "Green Tamales with Chicken" that can make thirty to thirty-six tamales that can serve twelve people. If you didn't know, tamales are often cooked with pork. However, for those of you who may prefer chicken, this is the recipe for you! This is another shorter recipe with a preparation time of about forty minutes, and the cooking time is about an hour.
Lastly, 'My Latina Table' has posted a tamale recipe titled "How to Make Authentic Mexican Tamales", making fifteen tamales for about five people. The preparation time is about thirty minutes, and the cooking time is an hour and thirty minutes or two hours in total. This blog also has a sweet tamale recipe titled "How to Make Authentic Sweet Tamales" for those who enjoy or are looking for a sweeter dish. This recipe makes up to thirty tamales, and again takes a total of two hours to make with thirty minutes for preparation, and an hour and a half for cooking.
Each recipe listed comes from authentic experts in Mexican foods. They do a wonderful job of going into details of the ingredient lists and explaining which types of each ingredient are better for the use of making tamales. The instructions of each recipe are also very well explained for each step, which is perfect for beginners or anyone looking to improve their skills.
Tamale Sides Recipes
Whether it's a homemade dish or you're ordering from a restaurant, tamales are often served with beans and rice, and other times may include corn tortillas, fruit, or other sides such as small soft tacos, or an enchilada. The beauty of these dishes is you can combine whatever you or your company is interested in, and it will all work well together!
Beans
There are several different, yet similar ways to make homemade refried beans as a side dish. One recipe you can find online is called "Easy Refried Beans" by 'Isabel Eats'. There are several different ways to make refried beans on this site including from the stovetop, a slow cooker, and even canned beans. Each method makes about five servings and takes a little over two hours to cook.
Rice
Another recipe posted by 'Isabel Eats' is for Mexican rice, titled "Authentic Mexican Rice Recipe". With only a handful of ingredients and forty minutes of time, this recipe makes about three cups of cooked rice. This can of course be served in a multitude of ways for several different dishes. As a side, you may like to serve each person with one half of a cup to three-quarters of a cup, as well as other sides if you wish.
Corn Tortillas
'Isabel Eats' also has a corn tortilla recipe titled "Easy Homemade Corn Tortillas". This recipe includes step-by-step instructions and pictures that make following along much easier. This recipe makes twelve tortillas and takes a little over an hour to make: an hour and five minutes for preparation time and only ten minutes for cooking time. Not only can these corn tortillas be made and used as a side dish, but they can be used to make tacos, carne asada, or fajitas.