This post contains affiliate links.
If you are looking for a guide to how many sweet potatoes you will need to serve per person, then you have come to the right place! It can be difficult knowing how many sweet potatoes to buy or prepare because it changes based on how many dishes are being served along with them. In addition, the gender of the person eating them and the size of the sweet potato can make a difference in how many sweet potatoes will be needed.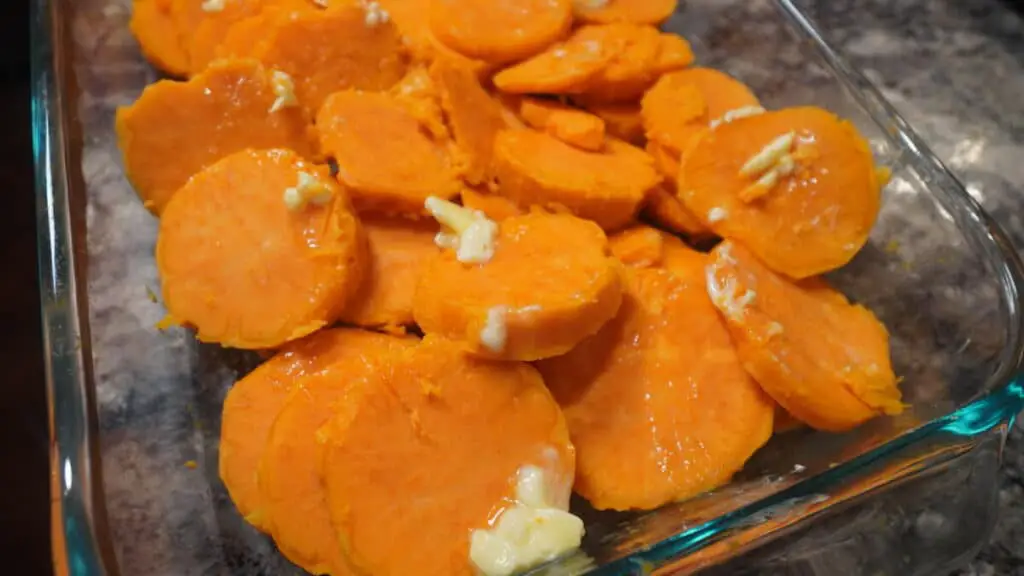 1.5 sweet potatoes are needed per person. When based on a typical 2,000 calorie-a-day diet, a serving of sweet potatoes is 4.6 ounces. However, most individuals will eat closer to 6 ounces. The number of dishes served with the sweet potatoes will also impact how many are needed per person.
Now that you know how many sweet potatoes are needed per person, you may want to know more about sweet potatoes such as how to cook them and their nutritional facts. Sweet potatoes are a common vegetable to serve with a number of dishes, such as salmon or cod. To learn more about how many sweet potatoes you will need per person based on the circumstances, continue reading below!
Number of Sweet Potatoes Per Person
Sweet potatoes are a fun and unique dining option, but many people do not know how to make them or how much to make for a large crowd. To get some help with this problem we talked to our friends at Sweet Potato Catering and they told us the best amount of sweet potatoes to serve.
Typically, the serving size of cooked sweet potatoes is 4-6 oz or 1/2- 3/4 cup. For one serving it will take 1-1.5 raw sweet potatoes, but this will vary depending on the size of your sweet potato.
Below, a helpful chart has been provided to help you decide how many sweet potatoes will be needed per person. Keep in mind that a child will typically eat 4 ounces, while an adult will eat about 6 ounces. The chart below will be based on the number needed if there are only a few sides available.
| Number of People | Sweet potatoes needed for a 4 oz serving (usually children) | Sweet potatoes needed for a 6 oz serving (usually adults) |
| --- | --- | --- |
| 1 | 1 | 1.5 |
| 3 | 3 | 4.5 |
| 5 | 5 | 7.5 |
| 10 | 10 | 15 |
| 20 | 20 | 30 |
Number of sweet potatoes per person
Keep in mind that the number of sweet potatoes that are needed will depend on the size and number of side dishes that are available. If there are many sides being presented with the potatoes, then you will not need nearly as many sweet potatoes per person. Below, there is a chart that will help you determine how many sweet potatoes you will need for children and adults.
| | | |
| --- | --- | --- |
| Number of People | Children | Adults |
| 1 | 0.5 | 1 |
| 3 | 1.5 | 3 |
| 5 | 2.5 | 5 |
| 10 | 5 | 10 |
| 20 | 10 | 20 |
Number of sweet potatoes with many servings
It is important to know if the crowd you are serving will enjoy eating sweet potatoes. Different people will eat different amounts, but generally, when cooking for a crowd, you will want about one sweet potato per person. However, if your guests are sweet potato lovers and will eat a larger serving, you will need 1.5 sweet potatoes per person.
Also, pay attention to the age of your guests. If there are little kids in your group, then only buy one sweet potato for every two kids. Young children will probably eat 1/3 – 1/2 of the normal portion size.
Now that you know how many sweet potatoes you need, your next step is to figure out the best ways to cook your sweet potatoes.
How to Cook Sweet Potatoes
There are a variety of cooking methods for sweet potatoes, all of which are delicious.
Depending on the dishes you are serving with the potatoes, you can either boil, bake, or fry them. These are the three most common ways of cooking them, and there is no way that you can go wrong with these methods!
Boiled
The first way that you can cook sweet potatoes is by boiling them. Boiling sweet potatoes is extremely easy, and there is no way that you can mess it up. If you have not had a lot of experience in the kitchen, then you may want to start off with boiling the potatoes just to play it safe.
Boiling sweet potatoes is fairly simple. The first thing you need to do is to wash your sweet potatoes to remove any dirt. Next, you need to stab each sweet potato with a fork 7-8 times, making sure there are a few holes on each side.
This might seem silly, but it allows steam to escape the sweet potato while it is cooking. This is important because if the steam is unable to escape, then the pressure will build up in the sweet potato and it might explode. That is why poking them ahead of time is so important.
Another option is to peel your sweet potatoes and cut them into cubes. These will cook faster than whole potatoes. Now your sweet potatoes are ready to be boiled. Put them in a large pot, making sure that there is enough water to cover the sweet potatoes completely. You might also want to add some salt or other seasonings to the water to add some extra flavor.
Now bring the water to a boil. You will want to cook the whole potatoes for 30-50 minutes and the cubed potatoes for 15-20 minutes. When they are done, the sweet potatoes should be soft and easy to pierce with a fork. These now can be used in a multitude of fun recipes or just mashed and served with cinnamon sugar and butter.
Baked
The second way that you can cook sweet potatoes is by baking them. Similar to boiling, baking is a method often used by beginners. This is because little preparation is needed, and you get to leave all of the work to the oven! In addition, this is a great option if you have many dishes cooking at once and so you do not want to waste all your time dealing with sweet potatoes. By baking them, all you have to do is place them in the oven and wait for them to finish cooking.
It does not get much easier than making baked sweet potatoes. Just like boiled potatoes, when you bake potatoes you will want to wash and stab them. While you are prepping your sweet potatoes, preheat your oven to 425 degrees. Now, wrap your whole sweet potatoes in aluminum foil or place them on a baking sheet. Carefully put them in the hot oven. Bake them for 45-60 minutes, until they are soft. Now they are ready to eat!
An alternative to baking sweet potatoes is to roast them. It is very similar to baking, just at a higher temperature. You will want to wash your sweet potatoes and then cube them into small pieces. You can roast them with or without their skin (it is really up to you).
Toss them in oil with kosher salt and place them on a baking sheet. Bake them at 400 degrees for 25-30 minutes, until they start to get crispy. It is important to remember to flip your sweet potatoes halfway through the roasting time to ensure that they are evenly cooked. Once done, these will be crisp on the outside and soft and delicious on the inside.
Fried
The third way that you can cook sweet potatoes is by frying them. This method is a bit more advanced than the other two options, but it sure is delicious! If you feel confident in your abilities around the kitchen, then you will definitely want to give the frying method a chance. Once you have a batch of fried sweet potatoes in front of your guests, all will feel right in the world.
Making fried sweet potatoes is a little more complicated than boiling or baking them. Prep your sweet potatoes by washing and cutting them into 1/4 inch strips. Now, place them in a bowl of ice water for at least 30 minutes. This helps remove some starch from your sweet potatoes. While they are in the ice water, mix together 2/3 cup cornstarch and 2/3 cup water.
Next, drain them from the ice water and dip them in the cornstarch and water mixture. Lay them on a paper towel for a few minutes, then place them in hot oil. Your oil should be around 350 degrees. Cook your fries until they brown. This will usually take about 6-10 minutes depending on their size. Place them on a baking rack or paper towels and sprinkle them with salt or cinnamon sugar and enjoy!
What to Serve With Sweet Potatoes
No matter which way they are prepared, sweet potatoes taste really good when served with cinnamon, sugar, and butter. Whether it is mixed into mashed sweet potatoes or sprinkled over a baked sweet potato, this combo tastes delicious.
A unique way to serve sweet potato fries is with marshmallow sauce. This might sound silly, but it is a popular and tasty topping. Because sweet potatoes are so sweet, these fries will pair very well with this fun dipping sauce.
To make the marshmallow sauce, simply melt equal parts mini marshmallows and heavy cream in a pot. Then season it with cinnamon and serve it while both the fries and sauce are still warm. This might just become your favorite way to eat sweet potatoes!
Another fun way to use sweet potatoes is sweet potato pie. Everything is better when it is a desert after all!
If you are looking for a more savory meal, try serving baked sweet potatoes with roasted brussels sprouts or stir-fried zucchini and yellow squash. Or you can roast the sweet potatoes and season them with salt and pepper. Serve them with chicken for a tasty and filling dinner.
Price of Sweet Potatoes
Sweet potatoes are very inexpensive vegetables so they are perfect to purchase if you are on a budget. The average price for sweet potatoes per pound is $1.05. Per cup, they cost $0.57. They are one of the most inexpensive forms of potato, as the typical russet potato can be as much as $4 per pound, and the gold potato can reach up to $2 per pound.
The price of sweet potatoes at popular grocery stores:
Walmart: You can get sweet potatoes for $1.18 per pound
Target: You can get sweet potatoes for $0.99 per pound
Albertsons: You can get sweet potatoes for $1.79 per pound
(All of these prices reflect current prices at the time this article was written. They might rise or fall over time, so check with your local grocery store for up-to-date prices)
Nutritional Facts of Sweet Potatoes
Though sweet potatoes can vary greatly in size, the average sweet potato is about 5 inches long and weighs about 1/4 of a pound. Their orange color comes from the antioxidant beta-carotene. Because of the beta-carotene that sweet potatoes contain, they are a fantastic source of vitamin A and other important vitamins.
One sweet potato will contain more than 100% of your daily recommended amount of vitamin A. This essential nutrient primarily improves vision and immunity, however, there are other benefits as well. Vitamin A has been known to increase the health of the heart and kidneys, as well as other organs.
In addition to vitamin A, sweet potatoes also contain some vitamin C, potassium, iron, and calcium. One raw sweet potato is about 112 calories. It will also contain 26g of carbohydrates, 2g of protein, and 6g of fiber.
Sweet potatoes are typically served boiled, fried, or baked. The way sweet potatoes are cooked will affect the number of calories that they contain.
The number of calories in a sweet potato will be listed below, based on the way they are cooked:
If baked, the sweet potato will have 181 calories per cup
If boiled, the sweet potato will have 188 calories per cup
If fried, the sweet potato will have 244 calories per cup
As you can see, frying the sweet potato will have the biggest impact on the caloric value. The nutrition of the sweet potato will be greatly decreased when frying it due to the added fats.