This post contains affiliate links.
Whether ordering individual subs or cutting extra-long subs into smaller portions, most catering companies will recommend a 6- to 8-inch sandwich per person. Otherwise, if side dishes are being served with the meal, a 4- to 6-inch sandwich per person is the recommended serving size.
When serving 4 to 6-inch sub sandwiches, most people eat 1.5 to 2 on average, as opposed to 6 to 8-inch sandwiches, where most people eat 1 to 1.5 on average. Men tend to eat more than women, and children eat less than either. Consider reducing the sandwich count when serving sides.
But which sandwich types are the most popular? What is the best way to serve them? And what about people with dietary restrictions? Let's go over how to serve sub sandwiches like a pro!
Most Popular Sub Sandwiches
The following chart will help provide an estimation of how many sub sandwiches you will need, depending on the number of guests anticipated to be in attendance at the event. The same ratio applies to tortillas or lettuce wraps.
| | | | | | |
| --- | --- | --- | --- | --- | --- |
| Guests in Attendance | 10 | 25 | 50 | 100 | 200 |
| Number of 4- to 6-inch Sandwiches | 18-20 | 40-50 | 80-90 | 130-150 | 280-320 |
| Number of 6- to 8-inch Sandwiches | 10-15 | 25-30 | 50-60 | 100-130 | 200-300 |
Number of Sub Sandwiches per Guest
Never underestimate the popularity of a good sub sandwich. Simple and fresh, this American classic is a crowd-pleaser for a reason! If you plan on serving subs at an event, you may be interested in knowing which subs are the most popular and why. This will help you provide your guests with a satisfying variety of fan favorites.
The Turkey Club: Not to be confused with an exclusive organization for turkey lovers (although attendance at such a club would be guaranteed if this all-time-favorite were served), the turkey club is hands-down the most frequently ordered sandwich, according to several top catering companies. This tender white meat goes well with just about any sandwich topping imaginable, especially avocado and/or provolone. It's simply the best. Sandwich lovers everywhere say so! Unless you know for certain that the guests you expect at your event are all turkey haters (which would be unspeakably tragic), the turkey club is an option you MUST have.
Chicken, Bacon, & Ranch: Honestly, add bacon and ranch to anything and you have yourself a mouth-watering winner. Warm or cold, the chicken-bacon-ranch combo is a strong contender for first place as America's favorite sub variation. Dripping with deliciousness, this heaven-sent harmony of flavors will never fail to satisfy your guests. For those who enjoy a little spice, consider having a bottle of buffalo sauce on hand. It takes this already-irresistible champion to a whole new level!
The Italian: How about pizza, but as a sandwich? The Italian Club, stuffed from bun to bun with enough sauce and salami to satiate any craving, is both spicy and savory. It's got everything you'd find on top of a pizza, but upgraded with the fresh addition of lettuce, onions, tomatoes, cucumbers, and more. It's hearty, it's filling, it's perfect. Need we say more?
Ham & Cheese: This irreplaceable staple is another guaranteed crowd pleaser. Ham and cheese go together beautifully on almost any kind of bread, especially toasted and topped. Forget plain, lightweight turkey or chicken; ham lovers everywhere will insist that anything but this iconic combo is for the birds.
Steak & Cheese: Nothing beats a good Philly cheese steak. This melted mouth-manna will warm its way into just about anyone's eager hands.

With tender, thinly sliced beef, gooey melted cheese, and a buttery, toasted hoagie bun, this gourmet sub selection is an option worth considering.
It should also be noted that, depending on how well you know your guests or on the number you anticipate, vegetarians will appreciate a plant-based option among your spread of sub selections.
Easiest Ways to Serve Subs
The most important part of arranging a variety of sandwiches is making it clear to your guests which sandwich is which. While some of the classics are easy to identify, like beef versus turkey, it's safer to ensure that everyone knows what they're biting into beforehand. Try arranging subs on plates with labels like "Turkey Avocado," "Ham & Cheese," etc. Or, have a server stationed near the table of food who can help answer any guests' dietary questions.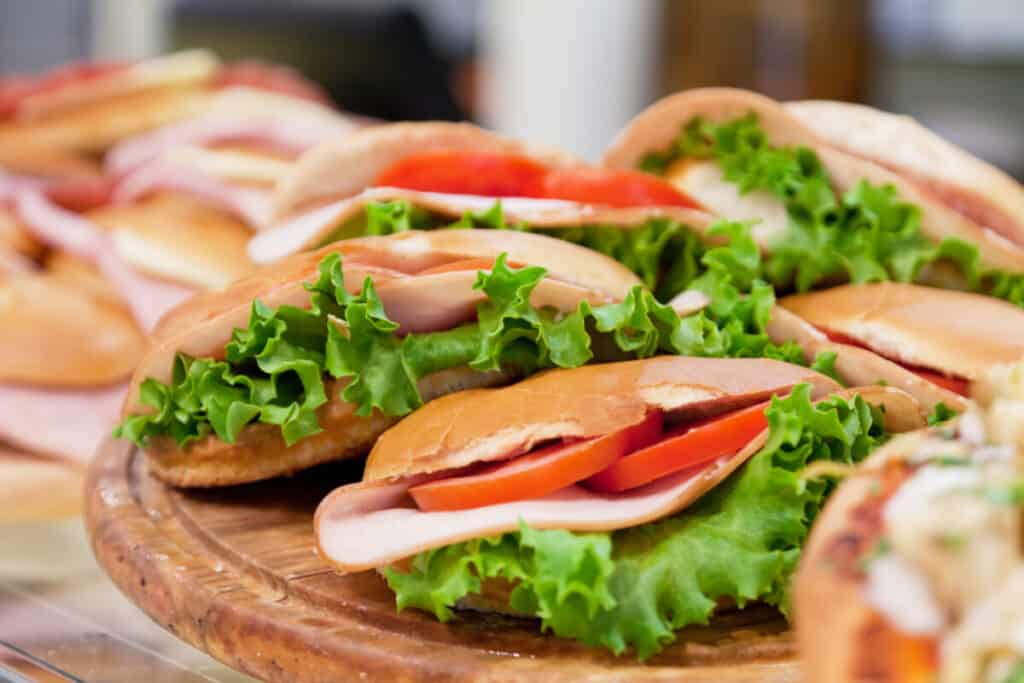 For a classier look, try multi-tiered serving trays. These are especially aesthetic for smaller sandwiches, provide easy access to finger foods, and might be just what you need to complete your light luncheon!
For a rustic, homey look, try displaying your sandwiches on wooden boards. The natural grain of a dark wooden cutting board or serving tray will contrast beautifully with the bright colors of lettuce, tomatoes, onions, and other fresh toppings.
If your event will be brief, located outdoors, or one in which guests are only stopping in for a quick visit, try wrapping and divvying the sandwiches into paper lunch bags. Add a bag of chips, a piece of fruit, and a napkin, and it's the perfect on-the-go meal. If you're serving various kinds of subs, don't forget to label the bags so that guests can decide which they would prefer.
Side note: Platters work fantastically for large crowds, but if you want to keep batches of sandwiches fresh as guests are coming and going, resealable lids are a must-have!
How Early Can You Order Subs?
With sandwiches, freshness is everything. The last thing you want is a dry—or worse, damp—slab of sadness. Nasty.
Ideally, subs are served and eaten almost immediately after they've been prepared for optimal freshness and flavor, with the added bonus of no damage from transportation. However, not all hosts have the luxury of on-site, on-demand sub-making wizards. So how early can you order subs in bulk before they expire, or simply no longer taste good? It's time to get creative.
First of all, if the catering delivery is more than 20 minutes prior to your event, your sandwiches must be refrigerated. There are almost no exceptions to this, particularly when dealing with lunch meats. (Salmonella isn't a popular party favor.) Most top caterers recommend leaving subs in the fridge for no longer than three hours; however, this timeframe is extremely flexible, as it depends heavily on the toppings of the sandwiches.
For instance, ham and cheese on a plain bun with no condiments will do just fine if plastic wrapped and kept in the fridge for hours on end. But a chicken-bacon-ranch? Not so much. After a couple of hours, you'll have nothing but limp bacon and soggy bread. Dismal.
In other words, the rule of thumb is this: the more moist the toppings, the shorter the fridge life. If possible, it's easiest to store the sandwiches plain, with only the meat, cheese, and veggies, and then provide condiments for guests to add on their own. This accommodates all kinds of preferences and lets you store the subs for up to 24 hours with minimal stress.
For sandwiches, you want to keep warm or bread you want to keep crisply toasted, avoid the fridge altogether. Instead, wrap the subs in foil, keep them in an oven at the lowest temperature setting for up to 45 minutes prior to your guests' arrival, and bam: you're golden, and so is the bread.
Vegetarian and Gluten-Free Options
As previously mentioned, guests who do not eat meat or cannot eat gluten will greatly appreciate it if you provide a few alternative options. In fact, contrary to popular belief, some people aren't keen on bread to begin with! So what are some potential accommodations to ensure that everyone has an enjoyable, satisfying meal?
To make any sandwich vegetarian, simply replace the meat with additional veggie toppings, condiments, sauces, or cheeses. For instance, a turkey-bacon-avocado is still delicious as an avocado-lettuce-tomato sub, provided that you spruce it up with a flavorful sauce, some red onion, or a few slices of cheese. Many catering companies have at least one vegetarian option, if not more, listed at the bottom of the menu below the other subs. If not, ask a local caterer for vegetarian options and they should be happy to direct you to potential resources.
As far as gluten-free options go, the simplest solution is to lettuce-wrap any classic sub, replacing the bread with some crisp green lettuce. Honestly, this is also a delicious alternative for anyone on a low-carb diet or anyone who simply enjoys a lighter, fresher meal. Tortillas are another popular low-carb bread substitute, just be sure to purchase gluten-free tortillas if gluten is your dietary concern. Otherwise, tomato- or spinach-flavored tortillas can transform any sub into a lovely lean wrap, focusing the focus on the taste of the meat and veggies rather than a large, plain bun.
Whatever the needs and preferences of your guests, providing alternative options (or should we say, sub-stitutes?) will ensure that everyone feels comfortable and included. No one should graze on side dishes and walk away hungry!
Popular Sandwich Sides
Speaking of sides, sandwiches are pleasantly versatile when it comes to complementary dishes. Because they are so fresh and simple, subs pair best with finger foods like chips, fruits, and veggies. Check out the following list of popular sides for some ideas on what to serve at your event:
Relish Trays: This simple side usually features vegetables arranged on a tray around a bowl of dip. If you are making your own relish tray, thoroughly wash each piece of produce before slicing it into small pieces. For carrots and celery, these pieces should be no more than 2 cm wide and a finger-length long, just enough to dip into some sauce and enjoy without chewing forever. For broccoli and cauliflower, break the florets into small, bite-sized pieces and discard the thicker stalks by cutting them off. For cucumbers, peel the skin if preferred, then slice them into cylinders no thicker than 1 cm. And of course, the dip of choice is always a creamy ranch, but hummus is a dairy-free favorite.
Pickled foods: These can usually be added to any relish tray, or make up a relish tray of their own. Pickled foods, like cucumbers, olives, asparagus, artichoke hearts, and more, go well with sandwiches because they are a deliciously salty contrast to the bread and meats. While most pickled foods can be eaten by hand, guests often prefer forks or tongs that help prevent their fingers from smelling like vinegar.
Pasta Salad: This hearty side dish is delightfully savory. If your caterer does not provide pasta salad, don't worry! It's easy enough to make. Cook spiral or bow tie noodles, add Italian dressing, salt, paprika, pepperoni, olives, cheese, whatever sounds good, and voila!: A dish to please everyone, from the youngest to the oldest guests. For a few pasta salad recipe ideas to get you started, click here. (Remember to have forks and plates!)
Potato Chips: Chips and subs are as inseparable as burgers and fries. Bless the versatile potato for making every meal ten times better! Crispy, salty, and never-ending in variety, potato chips offset the softness of sandwiches and subtly compliment the flavors of the bread, cheese, or veggies. Some caterers will provide single-serving bags of chips in bulk variety, but if not, you're sure to find the chips of your choice at almost any grocery store.
Potato Salad: Now here's a hefty helping. A creamy, starchy, and sensationally summery dish, potato salad will pair perfectly with any sandwich! For a classic potato salad recipe, including the most popular ingredients, click here.
Fruit Salad: All of this salty and savory stuff will undoubtedly have people craving something sweet! Fruit salad is the perfect way to counterbalance flavors, add some variety to the meal, and even brighten up your table. Citrus fruits and berries are popular for summer events, while starchier, subtler fruits are popular in the winter. Again, be sure to have forks and plates!
And last but not least, you've got to have dessert! Cookies are the perfect dessert for a sub sandwich meal because they have a completely different texture. Unlike desserts like cake or donuts, cookies typically do not resemble bread, which is ideal when your guests have already had sandwiches. Plus, one cookie has enough rich sweetness to counterbalance all of the salty, savory goodness of the rest of the meal!
Drinks: As a finishing touch, consider providing juice or soda pop; these are the most refreshing beverages of choice when it comes to washing down a good sub sandwich.
And there you have it. Once you've determined which types of subs to order, how many you'll need, how to arrange and display them, and which alternatives or side dishes you'd like to provide, you're prepared for a successful meal that everyone will enjoy.