This post contains affiliate links.
You can serve pinwheel sandwiches as either an appetizer or an entree. Because pinwheel sandwiches are slightly smaller than normal sandwiches, it can be difficult to determine how many sandwiches you need to feed your entire group.
When serving pinwheel sandwiches as the main course, plan on four or five sandwiches per person. However, only serve three pinwheel sandwiches per person as an appetizer. To avoid running out of sandwiches, always order or make at least two extra servings of pinwheel sandwiches.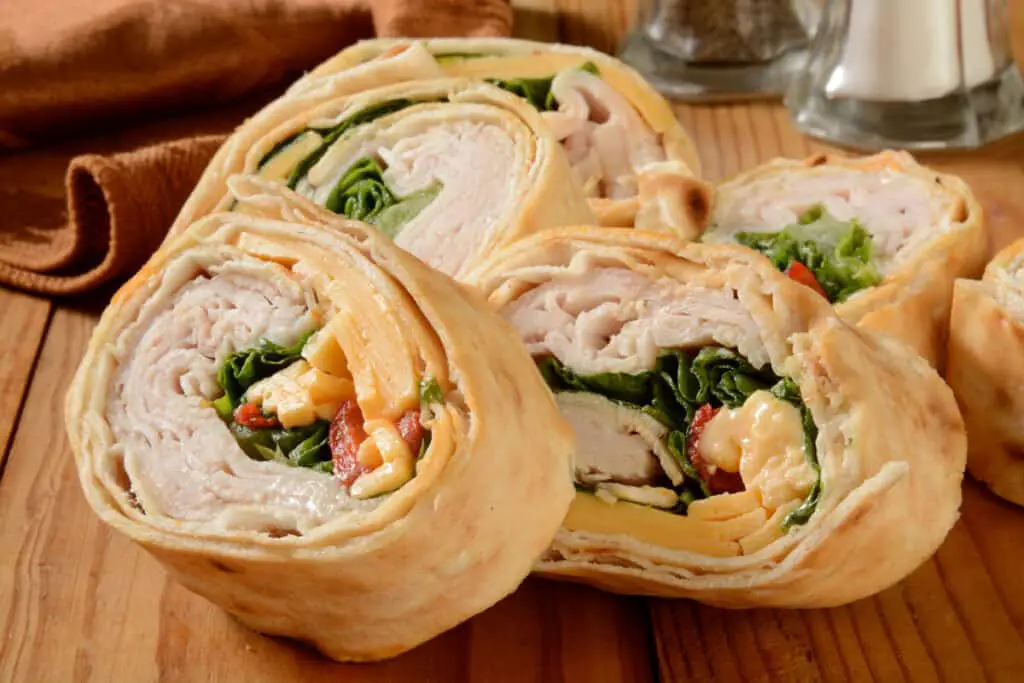 Pinwheel sandwiches are the perfect way to dress up sandwiches for your next event. Below, you'll learn more about how to serve pinwheel sandwiches.
Serving Pinwheel Sandwiches as the Entree
Pinwheel sandwiches can be made with either traditional bread, pita bread, or a tortilla. Whatever you use to make your pinwheel sandwiches, they will end up smaller than a traditional sandwich. That said, they can still be a filling entree as long as you serve enough.
According to Canadian Living, you should plan on serving between four and six sandwiches per person. When planning your get-together, aim for the middle ground and order five sandwiches per person. Check out the following table to see how many pinwheel sandwiches you'll need for your get-together.
| | |
| --- | --- |
| Number of Guests | Number of Pinwheel Sandwiches Needed |
| 10 | 50 |
| 25 | 125 |
| 50 | 250 |
| 100 | 500 |
| 200 | 1000 |
Chances are you won't need to make or order any extra servings when you use these proportions. To make your pinwheel main course go further, don't serve everyone their five sandwiches at the same time. Instead, allow guests to grab the sandwiches from a tray as they please.
When guests have to pause between each sandwich, their stomachs have more time to digest the previous one. In other words, the guests might recognize that they are full after eating only four sandwiches.
Place the sandwich tray on a table several feet away from where the guests are eating. If guests had to get up to grab another sandwich, they might have stopped eating sooner.
Another reason you likely won't need extra servings of these proportions is that not everyone will want five pinwheel sandwiches. Children, for example, probably only need three to feel full. If you're planning a party for kids and want to serve pinwheel sandwiches, use the following table to get the right amount.
| | |
| --- | --- |
| Number of Guests | Number of Pinwheel Sandwiches Needed |
| 10 | 30 |
| 25 | 75 |
| 50 | 150 |
| 100 | 300 |
| 200 | 600 |
Use the same serving tactics described above with children to help the sandwiches go further.
What to Serve With Pinwheel Sandwiches:
Even if you're serving the pinwheel sandwiches as an entree, that doesn't mean that they are the only food you'll need. The types of side dishes you serve will depend on the type of event you're hosting.
If pinwheel sandwiches are the main dish at a kid's birthday party, then a bag of chips and some grapes are the perfect side dishes.
Instead of chips, serve regular or sweet potato fries. This side dish will work for both kids and adults!
If you're hoping for something a bit classier for an event such as a wedding, serve the sandwiches alongside a salad and sliced fruit. However, if your wedding reception will be at night, steer clear of pinwheel sandwiches. Sandwiches are primarily seen as a lunch food. That said, you can always serve your pinwheel sandwiches as part of a potluck-style dinner.
The pinwheel sandwiches you serve don't have to be the main event of the show. After all, who doesn't love a good soup and sandwich combo? Serve a pinwheel sandwich, perfect for dipping in the soup as the main course. Because soup and sandwiches can be quite a heavy meal, serve a lighter appetizer such as a salad. Soup and sandwiches are the perfect options for any event, even a wedding!
So what kinds of soup should you serve with your pinwheel sandwiches? If your pinwheel sandwiches feature melted cheese, pair them with tomato soup. Ham and cheese pinwheel sandwiches pair well with creamy potato soup or clam chowder.
You could even serve a sandwich alongside a classic such as Mac and Cheese!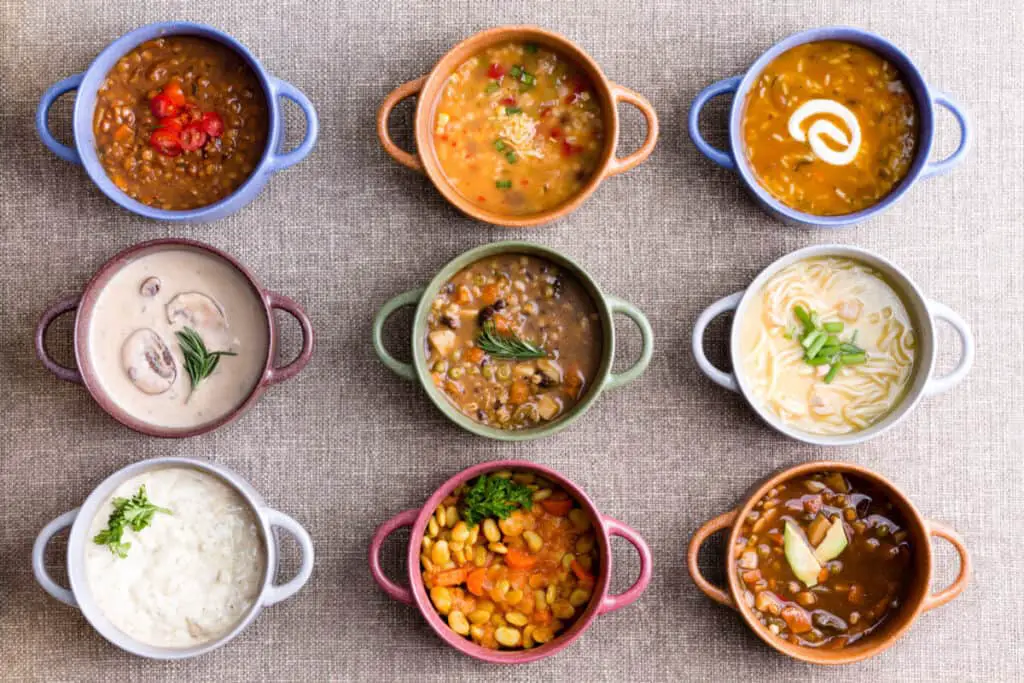 Serving Pinwheel Sandwiches as the Appetizer
Because pinwheel sandwiches are small, they function well as appetizers. You and your guests will eat these sandwiches before eating the main course, whatever it may be.
When serving pinwheel sandwiches as an appetizer, you don't need to serve five sandwiches per person. According to Bella Tahoe, a catering service in Nevada, when serving their pinwheel sandwich hors d'oeuvres, you should plan on three per person.
Depending on the size of the pinwheel sandwiches, you may need more or less than this portion, but stick to three per person for now. See how many pinwheel sandwiches you'll need to feed your group in the table below.
| | |
| --- | --- |
| Number of Guests | Number of Pinwheel Sandwiches Needed |
| 10 | 30 |
| 25 | 75 |
| 50 | 150 |
| 100 | 300 |
| 200 | 600 |
extra servings when using pinwheel sandwiches as an appetizer.
No matter what size your sandwiches are, children don't need three of them to feel full. Actually, three pinwheel sandwiches will fill them up, and then they won't be hungry for the main course. At your event, you may only serve children one pinwheel sandwich per child. Plan on at least one extra serving for the children's appetizers.
What to Serve Pinwheel Sandwiches With
So you're serving pinwheel sandwiches as an appetizer at your event. But what should you serve as the main course? As you have already learned, pinwheel sandwiches pair well with nearly every type of soup. If you don't want to serve soup at your event, there are plenty of other options you can choose from.
Because pinwheel sandwiches use bread, they contain a lot of carbs. While you could serve another carb-heavy dish as the main course, this could make the guests feel full too quickly.
Serve a lighter main course such as a salad, meat and veggie skewers, shrimp scampi, or fish. After eating these main dishes and the sandwich appetizer course, your guests will go home with perfectly full stomachs.
In general, you can serve any main course with your pinwheel sandwich appetizers. However, the heavier the main course will be, the fewer pinwheel appetizers you should serve as an appetizer.
How to Make Pinwheel Sandwiches
Like standard sandwiches, there are hundreds of different variations on pinwheel sandwiches. That said, certain sandwich types will go better with your main course. Below you will find several pinwheel sandwich variations. Find the one with flavors that best compliment your main course and serve it at your next event.
The Classic
A classic pinwheel sandwich uses your favorite sliced lunch meat (ex. ham, turkey, or beef), cheese, lettuce, and tomato. The type of cheese you use doesn't matter much. Popular choices include provolone, cheddar, pepper jack, and Swiss cheese. This classic sandwich usually has some form of sauce coating the crust. But what do you use for the crust? A classic pinwheel sandwich can use any crust variation: tortilla, flattened bread, or pita bread.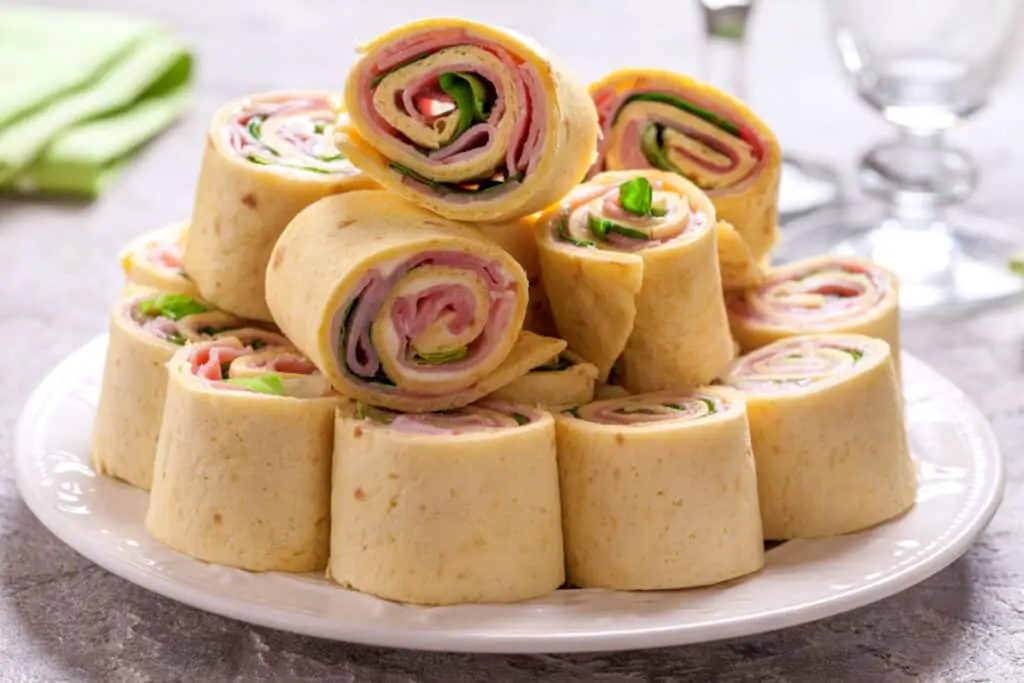 When serving classic pinwheel sandwiches, use different kinds of meat and cheese. Your guests will appreciate the ability to choose the type of sandwich meat and cheese they eat.
The classic pinwheel sandwich is suitable for all events and occasions.
Italian Twist
While you could serve classic pinwheel sandwiches, your guests might enjoy a specialty sandwich such as an Italian Twist. Once again, this sandwich can be made with any of the crust options: tortilla, pita bread, or flattened bread. That said, a tortilla will likely be the best option.
To make an Italian Twist pinwheel sandwich, you'll need some Italian meats. Use salami and pepperoni specifically for this sandwich. You'll pair this meat combination with some provolone cheese.
What really makes this sandwich Italian is the Italian dressing. Add some lettuce and black olives to finish off this Italian Twist pinwheel sandwich.
Because the Italian Twist is a bit fancier than the classic pinwheel sandwich, it is better suited for higher-class events. This may include weddings or holiday parties.
Pizza Pinwheels
When you think of a pinwheel sandwich, you probably think of a cold-cut style sandwich. While this is the most popular style, there are plenty of warm pinwheel sandwich variations, like the Pizza Pinwheels.
To make pizza pinwheels, you'll need to make your own crust. However, if you want to skip making the crust, just use pita bread instead.
1 cup unbleached all-purpose flour
1 and 1/2 teaspoons baking powder
3/4 cup pepperoni, chopped
34 cup shredded Italian cheese mixture
warm pizza or marinara sauce.
Start by preheating the oven to 350 degrees Fahrenheit. Next, prepare the pizza dough by mixing the flour, baking powder, salt, and sugar. Stir in the yogurt until you have a dough-like consistency. Roll the dough out on a floured surface until it holds together well. Using a rolling pin, flatten the dough into a rectangular shape.
Spread the pesto, the pepperoni, and 1/2 cup of cheese across the dough. Once the ingredients are spread evenly, roll the dough up carefully. Cut the newly formed log into individual sandwiches. Each sandwich should be about half an inch thick. Place the slices on a baking sheet lined with parchment paper. After 20 minutes, the pizza pinwheels should be ready to eat!
Serve the pinwheels with warm pizza or marinara sauce to dip in.
This Pizza Pinwheel recipe is courtesy of The Recipe Girl.
Because pizza pinwheels can be a bit messy, they probably aren't something you'd serve at a formal event. However, you can serve Pizza Pinwheels at a children's birthday party or a late-night movie binge with your friends. These sandwiches could also be a hit at a Super Bowl party!
Swirls of Chicken Caesar
Most choose to serve salad with their pinwheel sandwiches, but with this pinwheel creation, you serve them at the same time. The best way to make Chicken Caesar Swirls is with a tortilla or a flatbread, such as a pita.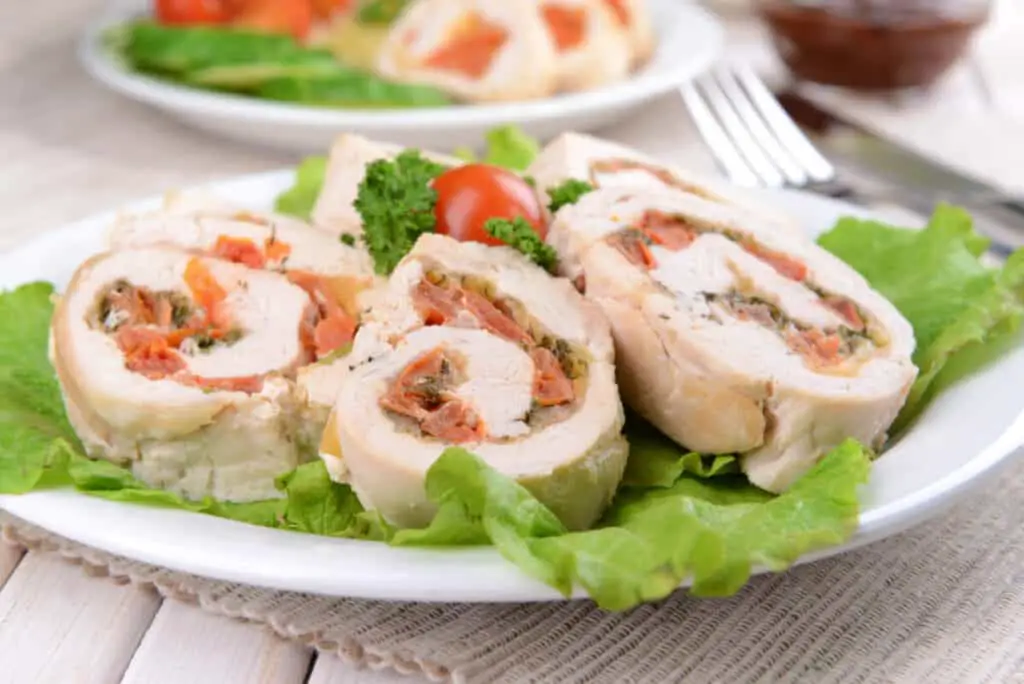 To make Chicken Caesar Swirls, you'll need the following ingredients:
1 can drained chicken breast
a quarter cup Caesar salad dressing
14 cup grated Parmesan cheese
1/4 cup croutons, lightly crushed
3-4 cups shredded Romaine lettuce
4 flatbreads or tortillas.
Combine the chicken, salad dressing, parmesan cheese, lettuce, and croutons in a bowl. Be careful not to break the chicken apart while stirring. Fill your wraps with the salad mixture, roll them tightly, and cut them into individual sandwiches. To keep the sandwiches from unrolling, use some toothpicks.
And that's it! These super-simple pinwheel sandwiches are sure to impress all your guests. These classy Chicken Caesar Swirls are classy enough to serve at a wedding, work function, or any other occasion.
This recipe is courtesy of Food Fun Family.
Grilled Cheese Wheels
As mentioned earlier, pinwheel sandwiches go excellently with soups. If you plan on serving tomato soup at your next event, then grilled cheese wheels are a must!
Since this sandwich is a variation of the classic grilled cheese, it must be made with the flattened bread of your choice. You'll also need the following ingredients:
1/4 teaspoon garlic powder
2 tablespoons chopped chives
Start by preheating your oven to 375 degrees Fahrenheit. Mix butter, paprika, garlic powder, and cayenne in a bowl. Coat the bottom of a baking dish with some of this butter mixture. Don't use too much; you'll need the rest later.
Cut the crust off all your bread slices (unless you prefer to keep them on). Take three slices of bread and lay them in a line. The edges of the bread should overlap a bit. Add some water to the overlapping areas and press them together. Flatten the bread slices with a rolling pin. Repeat this process with the rest of the bread.
Coat each of the bread strips with some of the butter mixture you made earlier. Put 1/4 cup of cheese on each of the strips. Fill one end of the bread strip with water and roll tightly from the other.Cut each of the rolls into individual pinwheels and lay them flat in the cake pan.
If you have any of the butter mixture left, cover the tops of the pinwheels. Bake for about 20 minutes. Top the pinwheels with chives and serve with tomato soup!
This recipe is courtesy of Yummly.
Grilled Cheese Wheels are perfect for get-togethers on a cold day or even just for a family meal!