This post contains affiliate links.
Figuring out how much food to make or to order for a group or an event can be tricky. How do you gauge how much each person will eat? How do you plan for those who will eat more, or less, than the average person?
A single person at an event will eat about two to three fajitas. According to one caterer, the average fajita is about three ounces. This measurement adds to approximately six to nine ounces per person and it is often best to turn to a professional when thinking about feeding a crowd.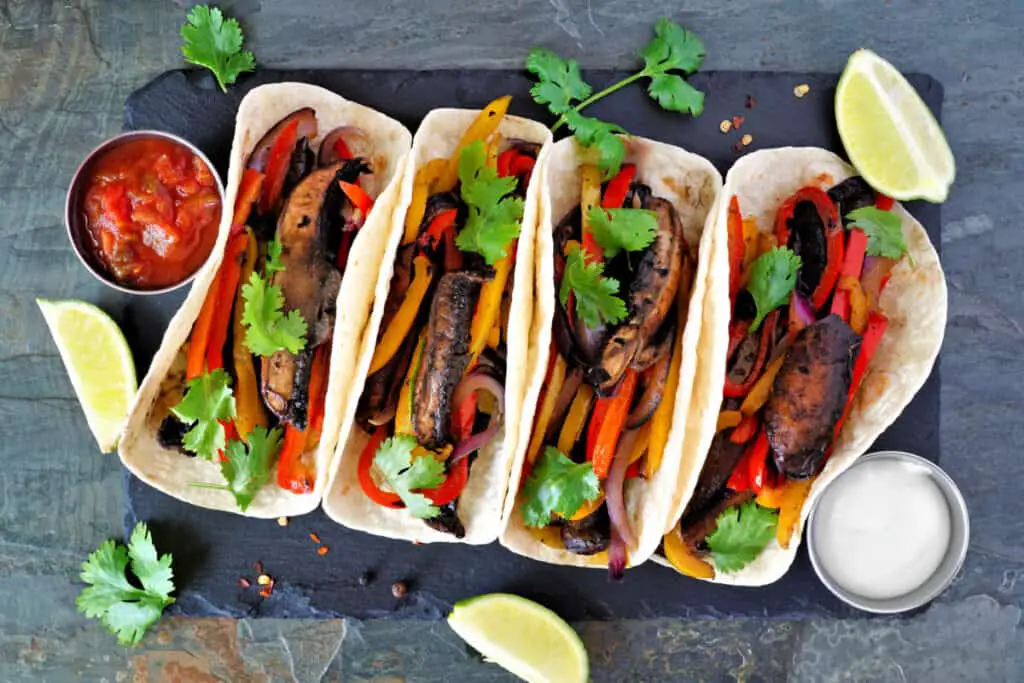 How does this approximation scale up though? Here's how to get a feel for the amount of food you'll need for your next big event.
Portion Size
The standard portion size for meat in the catering business is about two or three ounces. This, however, changes based on the type of dish as well as what sides there will be. For fajita meat, one portion size is three ounces, including the vegetables that make up part of the fajita.
This being said, many, if not all, catering services will have ideas of how much their food feeds. They will likely have options and ideas about what would be right for you and your event. These will often vary from service to service, so having your own idea is always a good idea as well.
When calculating how much filling to order for fajitas, go with nine ounces per person, due to the approximation that each person will eat two to three fajitas and each fajita has three ounces of meat. Airing on the side of caution is recommended for catering for an event. It is always nicer to have surplus food than to run out. When planning for the guests to eat three fajitas each, you are able to account for many different things.
However, with a tight budget, this might not be feasible. If this is the case, consider adding more sides to your menu as well.
If you only have one type of food at your event, you will need to have more of it for each guest. However, if you have more options, such as sides and nice drinks, you might be able to lower the cost of the main course by reducing the portion each guest receives.
Common sides or drinks
There are plenty of sides that pair well with fajitas. You can also put out options for guests to put inside their fajitas.
While fajitas are already loaded with meat and veggies and spices, the option of cheese, sour cream, cilantro, and fresh tomatoes can be a great addition to your meal. Toppings allow guests to curate their own meal and can keep them even happier because they are allowed to eat the food the way they desire. Toppings such as extra veggies and differing sauces let guests feel more free, even if they are limited by portion sizes or a specific number of fajitas allowed.
Regarding sides, rice and beans are an obvious, tried and true, side for any Mexican dish. Mexican rice, the red-tinged rice you often see in restaurants, is packed with flavors that pair perfectly with the spices found in fajitas. Black beans are also an easy classic. They are filing and often go a long way and are cheap in large quantities. These two would go perfectly with fajitas. 
When adding sides, you are allowed to reduce the amount of the main dish, fajitas, that you order. Though it might not be by much, when adding heftier sides like rice and beans that are filling as well, you can approximate only two fajitas per person. This could be a big difference in price for your estimation. 
When adding sides you are allowed to lessen the amount of the main dish, fajitas, that you order. Though it might not be by much, when adding heftier sides like rice and beans that are filling as well, you can approximate only two fajitas per person. This could be a big difference in price for your estimation.
Here are some other sides that work well with fajitas:
Mexican street corn: a delicious cob of grilled corn with mayonnaise, sour cream, chili powder, and Cotija cheese
Chips and salsa: differing salsas can really elevate your meal. You can make a very cheap and wonderful homemade version with just tomatoes, onions, and cilantro, or you can buy many different salsas. Spicy salsas with fruits like peach or mango are very popular. Pico de gallo is also a classic and just as delicious. 
Chips and guacamole: this one is a no-brainer. Smooth and rich, this dip is perfect for any Mexican dish. You could even add it to your fajitas and it would still be delicious. 
Refried beans: if black beans aren't your favorite, or even if they are, refried beans are always a solid option to put on the table for a Mexican dinner. It could be spiced up with peppers or flavored with onions and spices. It's a changeable and great side dish.
There are plenty of on-theme drinks you could serve as well.
Horchata: with its creamy cinnamon sugar spice, this drink is always a refreshing beverage. It is made with white rice and cinnamon and is much easier to make than it might seem. 
Agua frescas: another simple yet fantastic beverage. It is simply fresh fruit, or berry, juice you desire and a little sugar and water. Its simple, but oh so refreshing. 
Agua de Jamaica: this dark red drink is a version of agua fresca but, instead of fruit, it is made with hibiscus flowers. It has a floral smell that tastes sweet, but subtle.
Chicha Morada: while this drink isn't Mexican, but Peruvian, it still deserves a spot on this list. It is similar to agua de jamaica due to its dark purple hue, but is instead made from dried purple corn. To make it, all you do is boil the corn in some water and add sugar. This is chicha morada in its simplest form, but a truly delicious version of the drink can have cinnamon, cloves, pineapple, and lime juice added to it. 
Portion Table
| | | |
| --- | --- | --- |
| Number of People | Two fajitas (6oz) per person: | Three fajitas (9oz) per person: |
| 10 people | 60oz (3.75lbs) | 90oz (~5.5lbs) |
| 25 people | 150oz (~9.5lbs) | 225oz (~14lbs) |
| 50 people | 300oz (18.75lbs) | 450oz (~28lbs) |
| 100 people | 600oz (37.5lbs) | 900oz (56.25lbs) |
| 200 people | 1,200oz (75lbs) | 1,800oz (112.5lbs) |
Amount of fajitas in ounces per person
These amounts can change based on how much you feel is the appropriate amount to serve. However, it is often helpful to have a basic idea of how much you plan on having for each person at the event. From there, you can change and mold and add a safety count to any number you have. 
Catered vs Homemade
Sometimes the biggest worry when planning for an event is also the first. Will you be catering for your event or will you be making all of your food yourself? The answer to this question is up to you, but here's what you need to know in order to make an informed decision. 
Think of how many guests you will have. By checking the chart above you can find how much, Fajita fillings you will need. If your numbers are on the lower side, it might be perfectly fine to have a few people help you and bang out all of the food by yourself. However, if your guest count is any larger than twenty-five people, I would not recommend attempting to make the food yourself. 
There are a few reasons for this caution. One, of course, is the amount of food you would have to make and the time that would go into that. It is a hassle to prepare so much food. Another worry would be location. Not only the location of storage but the actual location you would cook in. One benefit of ordering fajitas from a catering business is that they have large flattop griddles that make grilling large quantities of meat and vegetables relatively easy. A small household kitchen would take many more batches of cooking to get the same amount of food. 
When looking at prices, there are a few different options for catering. A fancy and successful catering service with full serving, display, and setting up services would cost much more than buying the fajita filling and components from a location and doing the rest by yourself. One business that sells the filling and not the display charges around two dollars per serving. Other catering businesses will charge more due to the rest of the labor. 
If you are still considering doing it yourself, then fajitas, luckily, are relatively easy to make. Simply take whatever meat you have chosen, chicken is the most popular, but strips of steak or pork or shrimp are other delicious options, and season them with lime juice, cumin, and chili flakes. Plenty of recipes can be found online for different spices and fajita mixes that will suit any type of pallet. Then you cook your chicken in a large skillet with oil. Near the end of the cooking, you add your veggies, bell peppers, and onions mostly, and cook until they are soft. Serve with warm tortillas.  
Remember that whether you make the main dish yourself or not, you still have the worry about side dishes and beverages. These would be easier than the main dish to make yourself. It is possible and likely that you will be able to make all of the side dishes and leave the main dish to a catering service. This takes some of your stress away and also keeps the cost of catering down. 
Another perk of ordering catering is the food stays warm. Caterers have dishes and warmers that will keep your food warm from the beginning to the end of the line. This will be another expense if you have to do it yourself. These dishes and warmers are available for sale and not too hard to find, but keep in mind it is another expense added to your event. 
Tips
Even with carefully approximated calculations and considerations about quantities, you can sometimes still run out of food. How do you stop this from happening at your event? The answer is simple. Control.
As long as you control the portion sizes and amounts each person gets, you will have a much better chance at feeding every person at your event. That way, the first person in line doesn't get too many toppings, for example, with the last person left with barely any.
There are several ways you could do this. A buffet might sound enticing due to its laid-back and hands-off nature, but remember, you cannot control portion sizes like this, and often people's eyes are larger than their stomachs.
A more relaxed but controlled solution would be to have servers on one side of the table as guests go down the line and get their plates filled by those who are aware of the portion size set for the dinner. This helps with portion control and allows you as the event planner to feel calmer as the fear of running out of food is avoided. Additionally, this allows you to know when everyone has been served. Then you can allow people to approach the table for seconds.
Another type of solution is to have each plate already set out for your guests. This is a much more hands-on option that would require heavy planning and foresight to make sure the food is set out at the right time. Too early and all your food might go cold. However, if your biggest worry is the portion sizes, this might be a great option for your event.
There are plenty of variations between these two serving techniques. Play around and find the one that works best for you and your event! Whichever method you choose depends on the type of function. A buffet-style dinner might be too relaxed for a wedding, but a waiter-delivered restaurant feel might be too formal for a family reunion. 
At the end of the day, protecting your event from the threat of running out of food is all about control. Whether you choose to cater to the entirety of your event, make the food yourself, or do a little bit of both, it is important to consider all of your options and make the choices best for you and your guests.
---
Thanks to BYU Food to Go for answering our questions.