This post contains affiliate links.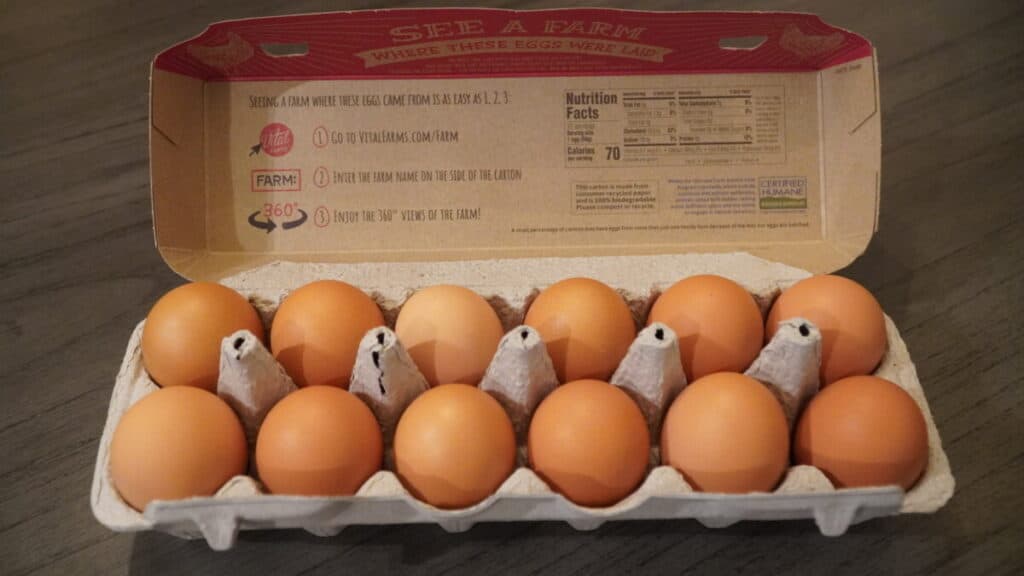 Cooking eggs for a large group of people can be quite difficult. What starts off looking like too much, eventually cooks down to too little. So how many eggs should you buy?
You should cook at least two eggs per adult. Follow this same rule for feeding young adults, teenagers, and older children. For younger children, cook only one egg each for them. Always be sure to purchase and cook a few extra eggs in case people come back for seconds.
Eggs are relatively cheap and should therefore not be skimped out on when feeding a large meal. Skip the guessing games and find out exactly how many eggs you'll need to feed your group below!
Serving Sizes
Before you start purchasing eggs, you need to decide what size of egg you are going to buy. 
Although there is not a drastic difference in the contents of differently sized eggs, the size of egg you choose should be factored into how many need to be purchased.
Most grocery stores sell medium to jumbo eggs for a relatively cheap price. To feed a large group, a larger size of egg will make the breakfast go a bit further.
| | | |
| --- | --- | --- |
| Egg Size | Ounce Per Egg | Liquid Content per Egg |
| Small | 1.5 oz. | <3 Tablespoons |
| Medium | 1.75 oz. | 3 Tablespoons |
| Large | 2 oz. | 3.25 Tablespoons |
| Extra Large | 2.25 oz. | 4 Tablespoons |
| Jumbo | 2.5 oz. | >4 Tablespoons |
Source: Sauder Eggs
If you choose to purchase small or medium eggs, add an extra egg per adult and a half per child. Cleary you can not purchase half of an egg. If your total need for eggs ends up not a whole number, be sure to round up not down.
Cooking with Extra Large or Jumbo eggs is ideal for larger groups. These larger eggs will go a bit further regardless of how they are prepared and will not require you to purchase any extra eggs per person. Who knows, you may even wind up with leftovers to serve your family the next day.
See how this works in the table below!
| | | | |
| --- | --- | --- | --- |
| Group Size | Standard Eggs | Additional Eggs | Total Eggs Needed |
| 10 adults, 0 children | 20 | 10 | 30 eggs |
| 10 adults, 3 children | 23 | 11.5 | 35 eggs |
| 15 adults, 4 children | 34 | 17 | 51 eggs |
To reiterate, when cooking eggs for a large group you should purchase and cook two eggs per adult, teenager, and older child. Smaller children only one egg each. Add an additional egg per guest to ensure there is enough for seconds if needed (especially if you are cooking with small to medium eggs).
If cooking with jumbo eggs, the additional egg per person is not necessary but could be beneficial.
Scrambled Eggs for Large Groups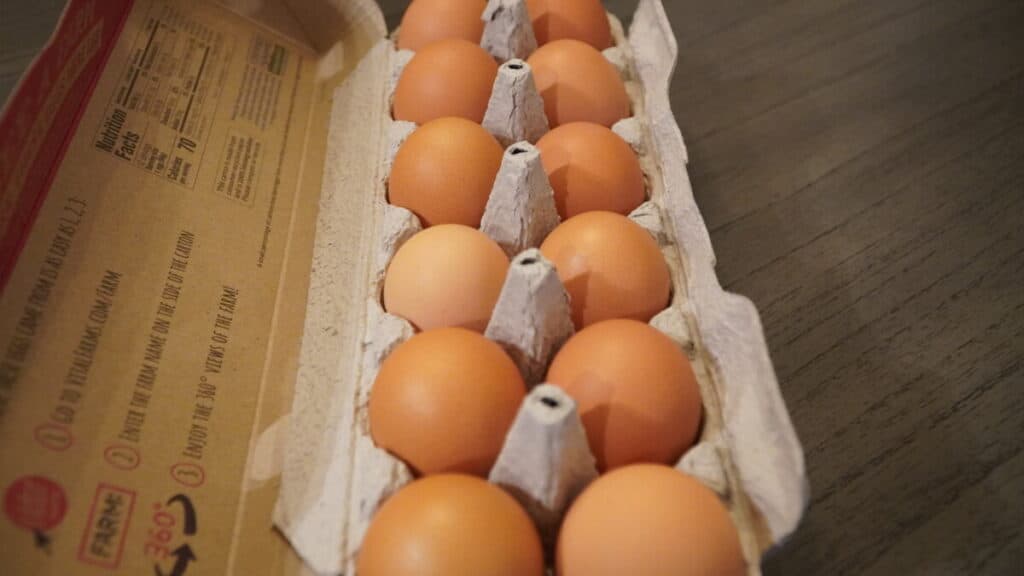 Eggs can be cooked in a variety of different ways; however, scrambling them is the quickest and easiest way to cook eggs for a large group.
For simple scrambled eggs all you need is a large mixing bowl and frying pan.
Mix all your eggs in the bowl with a whisk until smooth. Pour the mixture into a greased skillet/frying pan at medium heat. Using a spatula, pull the edges of the eggs towards the center until fully cooked.
Add some shredded cheese to give your eggs a bit more flavor and texture.
Simple scrambled eggs are an easy way to please a large group that prefers different tastes. Serve these plain scrambled eggs with a "add it yourself" topping buffet. Toppings could include cheese, chives, and bacon bits.
If you want a bit more substance in your scrambled eggs, you could cook one plain batch and one with the toppings included. Use half of your required eggs for each and let the guests decide which one interests them more!
How to Make Scrambled Eggs Go Further
If purchasing such a large amount of eggs seems unreasonable, there are a few methods you can use to make fewer eggs go further.
The first simple hack is to add a little milk to your egg mixture. If you have a dairy allergy, or just ran out of milk, water can be used instead.
Another element that can be added to your eggs without complaint from guests is protein.
Although bacon is always a crowd-pleaser, it costs a bit more and only adds a little bit of extra substance. Add a ground breakfast sausage to your egg mix instead to help it go even further. Just be sure to cook the sausage before adding it to the mix.
The final addition to make your scrambled eggs go further is potatoes!
Potatoes are delicious in every meal, especially breakfast. Cook your potatoes in the microwave or bake them if you have time. mix them in with the egg mixture and watch your little bit of eggs feed a lot more people.
Another way to make your scrambled eggs go further is to serve them alongside some hearty, more filling foods.
Scrambled eggs can be served with almost any breakfast food, such as toast, pancakes, waffles, oatmeal, bacon, sausage (links or patties). The fewer eggs you serve, the more you should serve other foods.
Fried Eggs for Large Groups
Although scrambled eggs is the easiest way to cook eggs for a large group, some people prefer their eggs fried.
If you are willing to put some extra time and effort into breakfast, take personal orders on eggs. You can still cook a batch of scrambled eggs for everyone who requests that.
Cooking fried eggs may also require less eggs to be purchased! If someone prefers fried eggs only cook two person.
ALthough cooking individual fried eggs can take a long time with a lot of added effort, there is a way to cook them all at once. Instead of frying your eggs on the stove, bake them in the oven!
Read this recipe from The Kitchn
here to learn how!
Make your fried eggs go a little further by serving them alongside some hearty breakfast foods too. The perfect addition to serve alongside fried eggs is hash browns. No matter what style of hash brown you serve, they can be mixed with the yolk of the fried egg for a delicious breakfast.