This post contains affiliate links.
Whether you're cooking for a birthday party, wedding, Christmas event, or anything else, ham is always a convenient and delicious choice with which to feed a crowd. However, even the largest hams will only go so far, and it might be that the only size ham available to you is a ten-pounder. So the question is, exactly how many people will a ten-pound ham feed?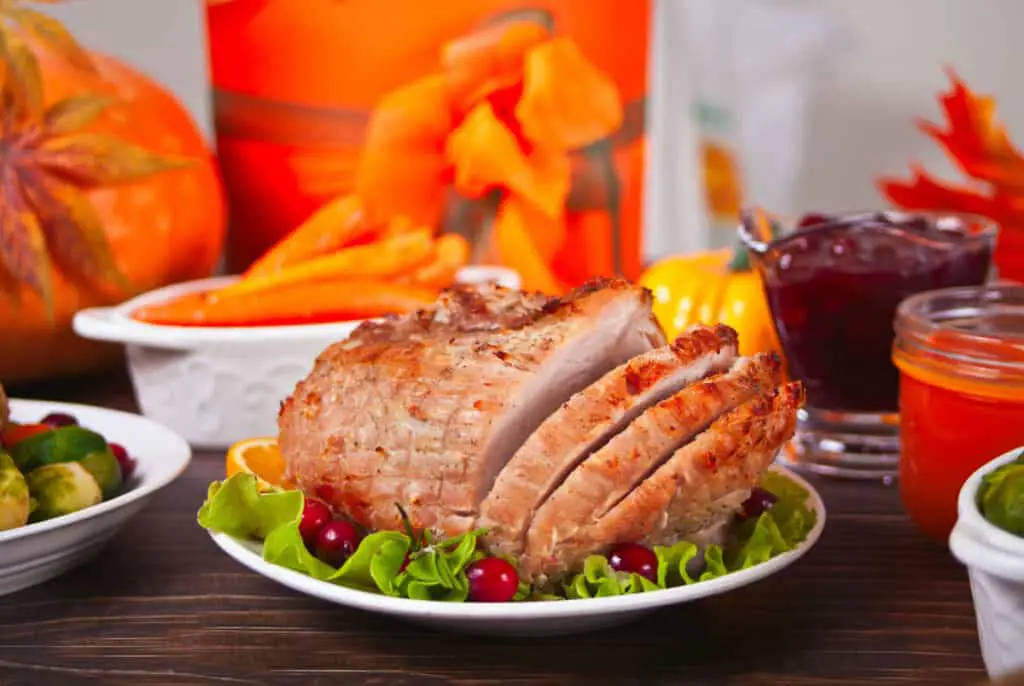 According to a caterer, a ten-pound spiral cut ham will serve up to 15-20 people. The weight of the bone in the center will account for part of the ham's overall weight, but not enough to negatively impact the amounts of meat served. Plus, bone-in is usually much cheaper for the pound than boneless.
A ten-pounder will do pretty well at most small events that host only a small number of people. However, the question remains as to how many hams you'll need if your event happens to be on the larger end of the scale (such as a wedding or community Christmas dinner). If you're wondering how to account for everybody and trying to figure out appropriate food amounts, you have come to the right place!
Feeding the Crowd
According to the Honey Baked Ham Company
, a ten-pound spiral cut ham will serve anywhere from 15-20 people, and sometimes even 22 if the ham is large enough and the bone isn't too big. If, as mentioned before, the event you're trying to put on is large enough that one ham won't cut it, then here's what you need to know.
Anybody who can do basic math should be able to figure this one out pretty easily. If a ten-pound ham has the potential to feed up to 20 people, then to satisfy a crowd of, say, 100 people, you would need five or so hams to have enough for everybody. Again, the size of the bone in the ham will make something of a difference as far as weight is concerned, so make sure you're taking that into account before making any decisions. If it isn't big enough, you could need as many as six or seven hams.
Hams are especially popular around Christmas time and other holidays, so whether you're having it catered or cooking the ham yourself, you will want to be prepared and act quickly. Order the ham several weeks in advance, if possible. You never know just how backed-up things could get around a festive time of year. You should, of course, do the same for any other events, but holidays especially.
Cooking the Ham
If you are cooking the ham yourself, that's a whole other can of worms you'll be opening, but don't worry. There are a thousand different glazes you can use and things you can cook your ham with. Naturally, there are far too many to name, so we'll just list a few popular favorites
right here.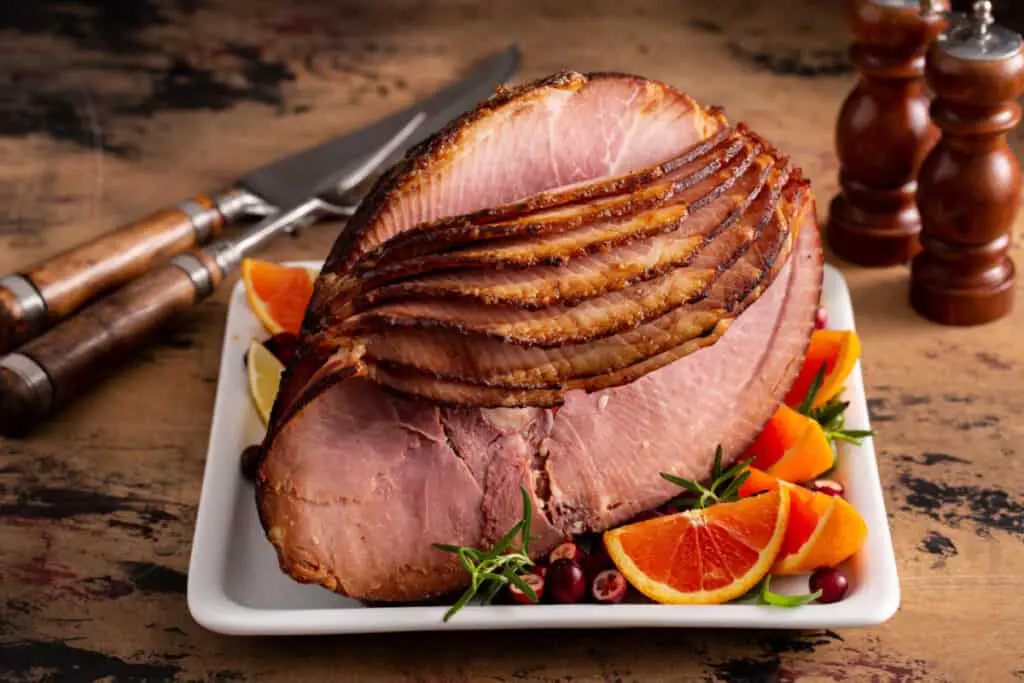 Honey glazed ham
is a popular favorite and a specialty of the Honey Baked Ham Company (for obvious reasons). This ham is glazed with (yep, you guessed it) honey and baked slowly over the course of a few hours. This will leave you with a glistening, juicy cut of meat that has that classic ham taste with a satisfyingly sweet kick to it. This recipe is very versatile as well, so you can make it as sweet as desired.
Another popular option is pineapple glazed ham.
This one might seem a bit old-school for some people, but nevertheless, it remains quite common around the holidays. This is an excellent choice for those who enjoy the spicy/sweet dynamic. With the combination of sweet citruses (pineapple and oranges), maraschino cherries, vinegar, hot sauce, and brown sugar, you're in for a real treat come Christmas morning.
The best old-fashioned recipe out there is the classic mustard and brown sugar glazed ham
. This, too, is a great way to ring in the new year or celebrate Christmas Eve with friends and loved ones. If you're going for quick and easy, this simple glaze is probably the choice you'll want to go with.
Ham with Riesling and mustard
is the way to go if you prefer bold, savory flavors. This glaze will do a lot to give your ham that bold and tangy kick that you just might need. It is customary to add in some other flavors as well, such as shallots, thyme, rosemary, perhaps, and even some other vegetables if desired. You're in for a delicious holiday if this is the route you pick.
Let's head back to the sweet sector for a moment as we explore the spiced pomegranate and orange ham
. Anybody who has ever celebrated Christmas before knows that cinnamon, citrus, and pomegranate are a few very popular and beloved Christmas-themed flavors and scents. Covering your ham with some cinnamon and star anise along with orange slices will give your ham a beautifully sweet and nostalgic scent and flavor.
For those of you who like your booze, this rosemary bourbon ham
will make your holiday perfect. The bourbon will give it a lovely kick and the rosemary will add an aromatic flavor to the meat. Add in some other spices and a few orange slices and you will have the perfect ham on your dinner (or party) table.
Last but not least, we have a fascinating combo of pomegranate jalapeno ham. This sweet and spicy glaze will provide you with a beautiful twist on a holiday classic that just about everybody will enjoy. Made with a unique pomegranate and jalapeno jelly, this ham will wow everybody at your party.
What Should You Serve it With?
As you can see, there are thousands of ways to cook your ham, whether you'd prefer a light, mildly flavored ham, or ham that explodes with bold taste. However, ham usually can't stand on its own, so you'll naturally want to order a few side dishes
from the caterer. If you're not quite sure what else to order, maybe this will give you a few ideas.
Potatoes of any kind are almost always a winner, whether they're roasted, boiled, scalloped, or mashed. Mashed potatoes are, of course, a beloved classic that will accent your ham perfectly. Season it with a little butter, some sour cream, a spoonful of garlic, and maybe even a couple of sprigs of rosemary. The potatoes will be the most popular dish at your event.
You can even try cheesy potatoes, also sometimes known as funeral potatoes. This is a delicious potato dish concocted with shredded potatoes, salt, garlic, cream of chicken soup, and a lot of cheese. Mixed together and baked to cheesy perfection, these potatoes make a perfect addition to most meats, but ham is one of the best.
If you're looking for a healthier, carb-free alternative, then consider giving roasted or sauteed asparagus a try. Don't let this green vegetable fool you, it can pack quite a punch as far as flavor is concerned. You can flavor it with butter and garlic, hollandaise, or anything else you might be able to think of. It makes a healthy but delicious side for ham.
Butter or honey glazed carrots is another fun choice. Like asparagus, carrots can provide a very flavorful accent to your meal. It is a great companion for ham and turkey and plenty of other meats as well. Keep them well seasoned and warm and you will not be the least bit disappointed with your choice.
What would Christmas dinner be without some good rolls? Whether you buy them from the freezer section of your grocery store or make them yourself, dinner rolls with a light buttery glaze will always be a great choice for your table. A few favorite brands are Sister Schubert's and Rhodes rolls. Pick out your favorites or whip up a batch and have a ham and roll sandwich!
Leftovers
You've cooked the ham, you've partied hard, and the guests are gone, but there's still a bunch of ham leftover. The last thing you want to do is be wasteful, but it probably does get pretty tiring to keep having just ham for leftovers day after day after day. It's time to get creative again, so here are a few ways
you can incorporate ham into your meals.
Ham and egg pockets are a tasty and fairly easy way to incorporate ham into your life in a new way. Get out some crescent roll dough and stick some ham and scrambled eggs into the center, afterward, forming a little pocket. Season it with salt, pepper, and maybe even a little cheese, and boom. That'll make you breakfast for a few mornings if you'd like!
If you're a fan of Asian food, then it's your lucky day. Chop up some of that leftover ham and make a big batch of ham-fried rice. Along with the rice, you can also add in a few squirts of soy sauce, egg whites, carrots, peas, and some green onions. Ham fried rice usually goes quite a long way so you'll have leftovers of these as well.
There are also a variety of soups you can make with leftover ham. These include ham and bean soup, potato soup, and leek soup, along with plenty of others. These will usually take a good chunk of whatever you have leftover so consider giving one of these a try. You can find countless recipes for ham soups online or in several cookbooks!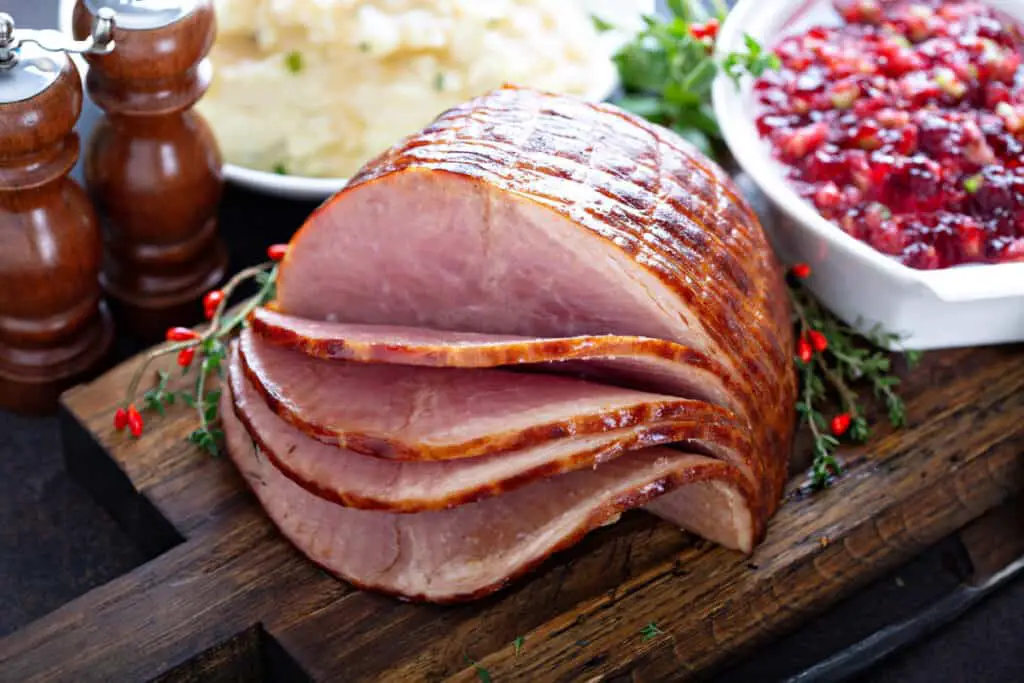 If all else fails, you can simply make some sandwiches. This is where having dinner rolls with your dinner can come in handy. Top one with a layer or two of your favorite spreads or condiments and finish it off with a slice of ham and maybe some cheese. In a pinch, this can make a very easy and satisfying meal that you can make any time as long as you have ham and bread.
Serving Ham: The Pros and Cons
Before you call the caterer, you should take into account the pros and cons of serving ham, because believe it or not, there might be a few more than you think. Here are some basic ups and downs to having a spiral ham at your next party or holiday dinner.
Pros
First of all, ham is easy food for large gatherings because it goes quite a long way. It is especially nice for cozy family gatherings because it's likely you won't need more than one to feed everybody, though that does depend somewhat on the size of your family.
Additionally, ham is quite easy to make. All that's really required of you is to glaze the ham and let it cook for however long it needs to. If nothing else, choosing a ham as your main course for any party or family event should hopefully take a little bit of stress off your shoulders.
Ham is so versatile! There are plenty of ways to make and flavor the ham and that way, you can cater to just about everybody's needs and preferences. Plus, there are usually a lot of leftovers to go around. Those leftovers are yours to do with whatever you'd like. Plus, it makes cooking a bit easier if you have something delicious and easy to work with.
Cons
One thing about spiral hams that is not so great is the fact that it's somewhat easy to dry out. A spiral ham will be delicious if you cook it right, but if you cook it too long or use too much or too little glaze, it will shrivel up pretty quickly. However, this will become less of a problem the more you practice.
There's a lot of fat! Fat on meat is necessary because it often helps flavor that meat well. However, it's not always as fun to get a big mouthful of it when you're slicing your ham up. You can trim it off, of course, but this might take a little while, especially if you buy a particularly large ham. However, if you can manage to overlook that, ham is still a good choice.