This post contains affiliate links.
During Christmas-time, usually, there is family over, and they probably consist of a crowd of ten or so people. And if so, you might use Cranberry sauce for Christmas dinner.
Two cans of cranberry sauce can feed a Christmas crowd of ten to fifteen. Fourteen ounce or even twelve-ounce cans would be enough to feed that many if the serving size, per person, is a fourth of a cup. For those who really like it, then three cans will be better.
Not every crowd is the same, and down below, there will be examples of different sizes of crowds and how many cans are associated with crowds that are small or large.
Cans of Cranberry Sauce Serving Sizes
For the purpose of being simple, the typical can size for cranberry sauce is fourteen fluid ounces (oz). And for the purpose of people out there who absolutely adore cranberry sauce, or who are afraid they won't bring enough to the party, the 1/2 cup serving size column has been provided for you.
A half-cup may not sound like much, but once you measure it out and put it on your plate, you will see it is definitely enough, especially if this is during Thanksgiving and Christmas dinners where there's usually too much food.
Here's a quick cheat sheet for the math:
2 oz = 1/4 cup per person
4 oz = 1/2 cup per person
14 oz = 7 people for 1/4 cup serving per person
14 oz = 3.5 people for 1/2 cup serving per person
| | | |
| --- | --- | --- |
| Number of people | Cans of sauce for 1/4 cup serving size | Cans of Sauce for 1/2 cup serving size |
| 5 | 1 can | 2 cans |
| 10 | 2 cans | 3 cans |
| 15 | 3 cans | 5 cans |
| 20 | 3 cans | 6 cans |
| 25 | 4 cans | 8 cans |
| 50 | 8 cans | 12 cans |
| 100 | 15 cans | 29 cans |
The numbers up above are rounded up to the greatest common factor, so the number of cans you will use may give you more extra sauce than you expect. For example, for a crowd of fifteen, and with a serving size of 1/4 cup, the table could bring it down to two cans and a 1/3 or less of a can of sauce.
Best Canned Cranberry Sauce to Buy
Most would simply go to the grocery store and grab the first thing on the shelf. While that's not wrong in the least, there may be some who might appreciate the knowledge of some of the best brands of cranberry sauce for future reference next Thanksgiving. Or Christmas. Or Easter.
Or Fourth of July.
Here are a few of the best brands of cranberry sauce and where you can find them:
Whole Berry or Jellied Cranberry Sauce by Ocean Spray

Both can be found at Walmart

New England Cranberry Relish by Stonewall Kitchen
Whole Cranberry Sauce by Market Pantry
Organic Whole Cranberry Sauce by Woodstock
Ocean Spray so far has the best reputation of a great jellied cranberry sauce. So, if anything else, that's you're best bet for some pretty good sauce. It's a favorite everywhere – four hundred million cranberries are consumed every year, and twenty percent of that – eighty million pounds – is during Thanksgiving. Ocean Spray was also the first to commercially sell their cranberry sauce, and they use, on average, two hundred cranberries per can of cranberry sauce.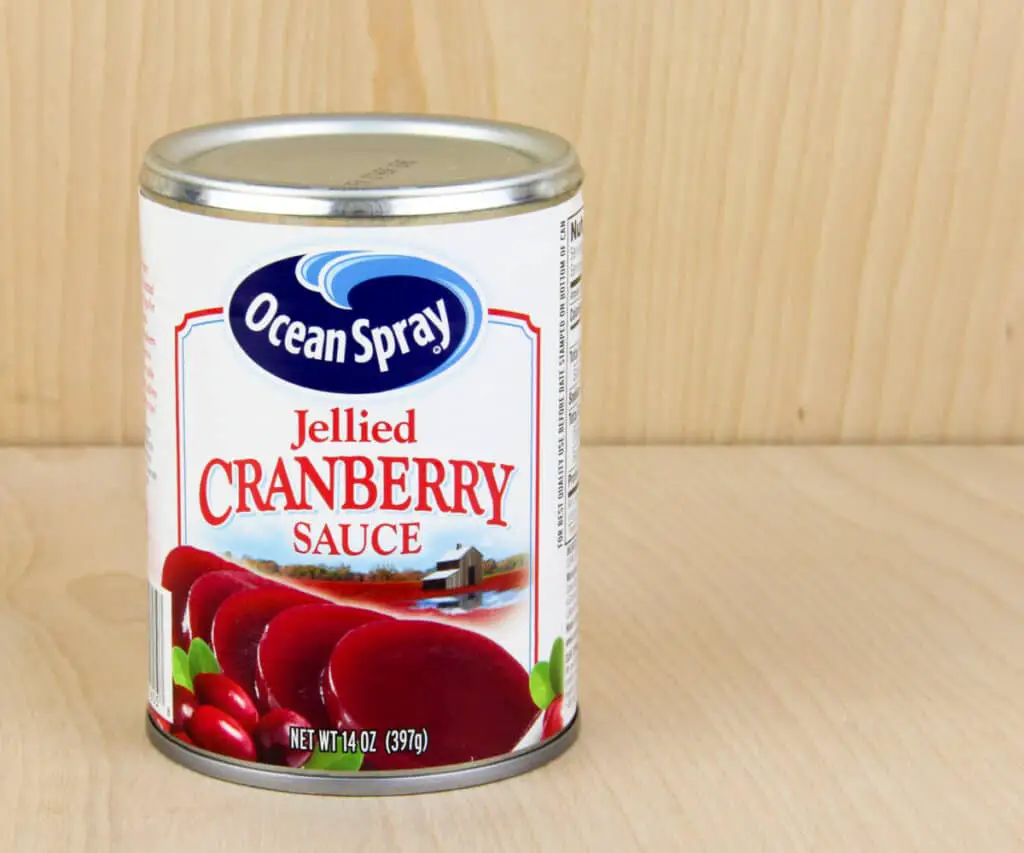 These are only a few cool facts about this delicious treat, and this source
has even more facts about cranberry sauce that are pretty cool to read about.
Some people wonder how to get cranberry sauce to come out nicely, and it can actually be a little hard of a thing to do. Part of the reason why it's a little weird to open is that sometimes you have to open it upside down. The labels can be put upside down, but sometimes they are put on a sticker to tell you which side of the can you need to open.
So, follow the sticker's instructions in opening it.
Second, take a butter knife and run it around the insides of the can between it and the jelly. Then turn it upside down to let it come out. If it's not coming out easily, then give it a good shake or two, and it should slide out nicely.
Homemade Cranberry Sauce Basics, Tips, and Serving Sizes
Homemade Cranberry Sauce servings, first of all, are the exact same amount as cranberry sauce in a can. It's 1/4 cup, and if you really want more, then turn it into 1/2 cup.
For the most simple version of Cranberry Sauce, here it is:
1 cup fresh or frozen cranberries
1/3 cup sugar
1/3 cup water
1 pinch of kosher salt
Combine the ingredients together in a saucepan. Bring it to a boil, occasionally stirring. Once it has started boiling, reduce to a low boil, and cook for 10 minutes until all the berries have burst.
Finally, remove from heat. The sauce will thicken as it cools. If it's still too runny for your liking, put it back on the stove and let it simmer for a few minutes more.
If you want to stir the pot a little more by adding a few more ingredients, spices, and flavors, go for it! This source
has a lot of answers to common questions, and includes the recipe from above, but here are a few suggestions from it:
Instead of water…
Orange Juice
Apple Juice
Cherry Juice
Ginger Ale
Some other spices you could use…
If you want to make a bigger batch, this is what you use:
12 ounce bag of cranberries
1 cup sugar
1 cup water
1/2 teaspoon of kosher salt
Some other recipes for homemade cranberry sauce are below:
Making Bitter Cranberry Sauce Sweet
A common complaint about homemade cranberry sauce is that it comes out as too bitter. There are a few ways this problem can be fixed. One could be to add granulated sugar, but in order to have the full benefit and effect of granulated sugar, you have to reheat the sauce and mix until the granulated sugar dissolves.
That's one way. Another way is to stir in some maple syrup, and then add a sweet drink, like apple juice. Then add small amounts of salt. In that way, it intensifies the sweetness of the sauce. Some may think that the maple syrup will overpower the cranberry taste in general, and if so, try a more neutral syrup. This source
has better information about this process of sweetening the bitterness of cranberry sauce.
Cranberry sauce, when made right, or just bought from the store, is not as tart as the plain berry itself. There is a balance between sweet and tart – no wonder it's a favorite during the holidays.
Storing Cranberry Sauce Ahead of Time
If you are making this a few days or a week ahead of time, store the sauce in a resealable container and then set it in the refrigerator. If you have just made it, make sure it cools down to room temperature before you put it into a container.
If you are storing it for longer than just a few days or a week, keep the cranberry sauce in the freezer. The cranberry sauce can last in the freezer for up to three months, and still taste amazing.
Once it's time to take the sauce out from the freezer, make sure it thaws in the fridge first for best results. Typically, put the frozen cranberry sauce in the fridge the night before so it can thaw overnight, and you don't have to rush the thawing process in the microwave.
The sauce is typically best served chilled (if you have just made it), or at room temperature (if you are thawing it). So if it has been in the fridge for a few days, leave it out for an hour or so before dinner starts, and it will taste great!
Leftover Cranberry Sauce and How to Use it
Obviously, if you have some leftover Thanksgiving or Christmas turkey and pies in the refrigerator as well as leftover cranberry sauce, you're set. Spread it around and enjoy yourselves, but if you really do have an excess of Cranberry sauce from the party, here are a few ideas on how to use it and not sadly throw it away and waste such deliciousness.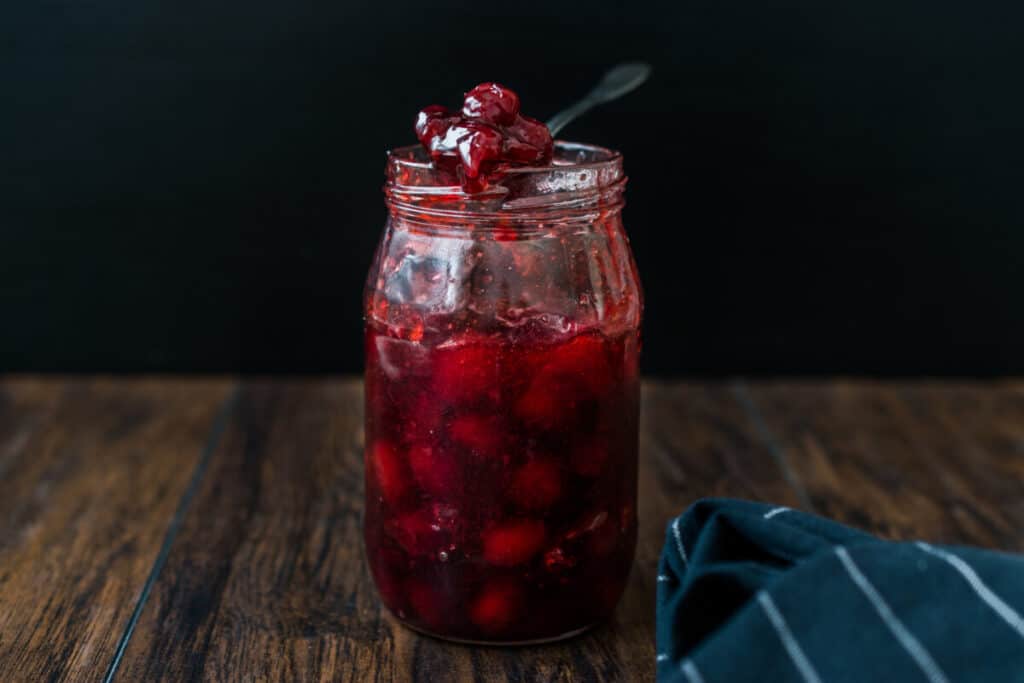 Spread on turkey/ham sandwiches

Also goes very well with chicken or beef

Spread as a jelly for PB&J sandwiches
Dress roasted squash
Potato side dish
Glaze for meat balls

Thin out the sauce for this particular one

Mix with yogurt

This author's younger siblings love stirring all kinds of jams and jellies into their yogurt, along with honey and granola!

Condiment for pork chops
Spread on toast/scones
Warm sauce for cake or ice cream

Probably would taste super amazing if it was warmed up with some apple pie and cold ice cream. Or… any kind of cake at all!

Make pink whipped cream

Whip up the whip cream, add half of the cranberry sauce and fold it in, then add the rest of the cream, and fold it again with a spatula

Add to barbecue sauce (store or homemade)
Mix with mayonnaise
Serve with pancakes or waffles

Fruit with any breakfast is a great breakfast, indeed
French toast and oatmeal can be added to this breakfast list as well

Bagels and muffins
Smoothies

This should probably be the number one suggestion to do with cranberry sauce. Mix it with a smoothie with some sweet fruits, especially if the sauce is a little more bitter than you would like

Cranberry Gelatin Salad

This could be used if there really is a lot of leftover cranberry sauce

Add in sweet breads

Banana bread is the most common to add cranberries with.
There are seriously so many other dishes you can use cranberry sauce for, so use it wisely!
Health Benefits of Cranberry Sauce
Ideally, you will want the whole berries – whether in sauce or plain – but if not, jellied cranberry sauce has health benefits as well. Usually, when berries are used for just the juice, it takes some of the fiber away and decreases some other health benefits. And there is obvious controversy if canned foods really do have any benefits to your body.
So, with this in mind, all of the benefits below are guaranteed for plain cranberries, but canned cranberry sauce, both whole and jellied, will have similar health benefits.
Fiber

Fiber helps with digestion and bowel movement
There is a lot of it with cranberries

Vitamin C

Every 1/2 cup is 4% of your Vitamin C intake
Strengthens immune system
There are a lot more vitamins and minerals included
Healthy skin, nails, and hair

Antioxidants

Protects you from harmful toxins in the environment
Reduces development/risk of cancer and heart disease
Dental health

The berries seem to weaken the attachment of bacteria to teeth and gums
Prevents gum disease

Prevents inflammation
Prevents urinary tract infections

This isn't completely set in stone, but there is some evidence that supports this particular benefit

Reduces cholesterol

This could be a health benefit to some, but cholesterol isn't bad – you just need a balance of it

Low calories
Blood sugar regulation
Cranberries are considered a superfood because of their antioxidants. They are the queen of all vegetables and fruits, next to the King, blueberries. They are not like sweet blueberries. They are the exact opposite, cranberries are tart. But, they are healthy, as most fruits and vegetables are. And like any other fruit or vegetable, it can be hard to get those health benefits if they are hard to make yourself eat.