This post contains affiliate links.
Did you accidentally leave your pasta out overnight, and you are unable to decide if it is still safe to eat? If so, then you have come to the right place! The four steps below can help you to determine whether or not your pasta started to spoil during the night.
The four steps that we have for you will not only help you determine if your pasta is still tasty and edible but help you from getting sick off of food that is not safe to eat. Keep reading on to learn the 4 simple steps to determine if your pasta is still good.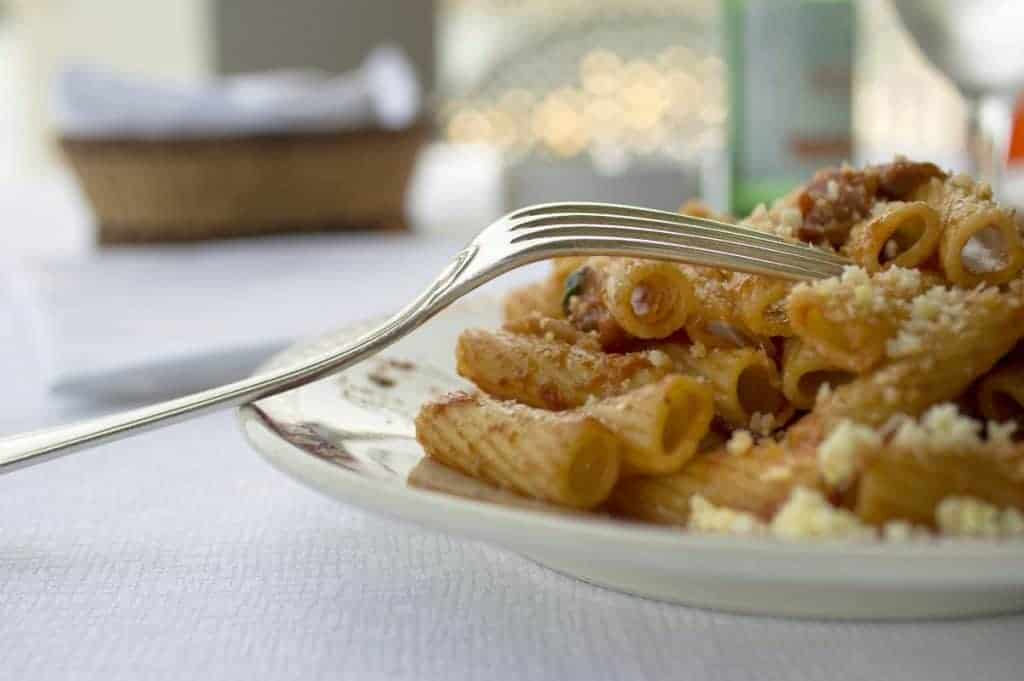 Along with this article, consider checking out this Basics of Food Safety Book
! It's cheap and it can help you further understand the principles of preparing safe food. I highly recommend it!
1. Check the Odor of the Pasta
Checking the odor of the pasta that has been left out overnight is a very quick and easy way to help you decide whether or not it has gone bad. If the pasta has any foul odor, throw it away immediately. This foul odor can be described as rancid, and this bad smell is a sign that it is not safe to eat.
However, just because there is no foul odor, it does not mean that the pasta is still safe to eat. The rancid smell can be due to it being left out overnight in a warm environment. However, if the pasta has only been left out overnight, and it was in a cooler temperature, then there is a chance that it will not have developed a bad smell.
This lack of smell should not make you automatically assume safe eating for the pasta, and other tests should be done to decipher if the pasta is actually safe to eat.
For example, you should still check to see if the color of the pasta has changed, if the texture of the pasta has changed, and the temperature the pasta was left out in.
2. Test to See if the Color of the Pasta has Changed
When it comes to checking if your cooked pasta has gone bad, one of the quickest ways to check is by testing the color. The pasta should be that of a bright yellow, golden color if it is still fresh. However, once the pasta starts to go bad, it will often get lighter in color.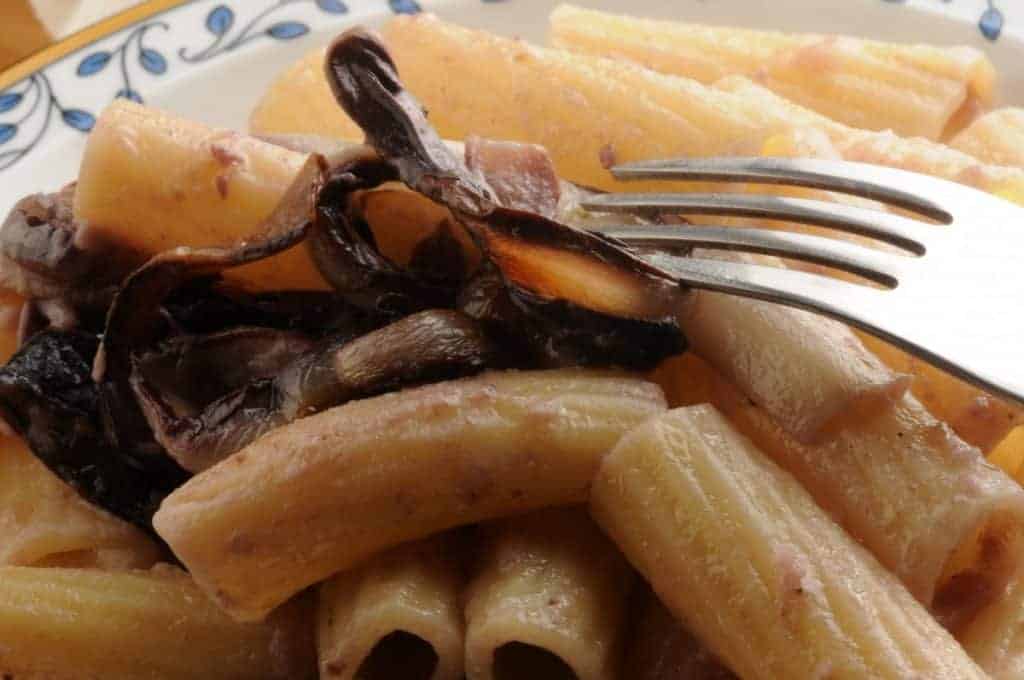 One of the most common observations is that pasta starting to spoil will look white or grey, rather than the yellow color it started off at. If the pasta starts to get lighter overnight and no longer has its original golden color, then it may be a sign that it should be thrown away.
In addition, when pasta starts to spoil, it can start to get white, black, or brown specks on it. Once these discoloration spots appear, throw the pasta away immediately. This discoloration is mold growing from the bacteria on the pasta. You could definitely get food poisoning from it.
Although this discoloration can be because of mold, this is not always the case. The white or black spots on the cooked pasta can be because of the way it was prepared. For example, noodles can develop these spots if they are not properly dried. Being aware of this can save you from throwing away perfectly good pasta. However, if you are unsure of the source of the discoloration, throw it away.
3. Check if the Texture of the Pasta has Changed
The texture of cooked pasta should be soft, tender, and firm when it is fresh. However, once it is no longer fresh, it can start to become slimy and gummy. Pasta with such consistency is a clear sign that it is starting to spoil.
It is important to remember that the texture of your pasta can be slimy even if it is fresh. Slimy pasta occurs when you are not using enough water to cook your noodles. This is important to note since just because your pasta is slimy or gummy, it does not always mean that your pasta has spoiled.
However, if the pasta was not slimy immediately after cooking, then the change in texture is due to spoilage. It is important to check the consistency of your pasta when it first gets done. This will help you to more accurately decide if your pasta has started to go bad.
4. Check the Temperature it was Left At
The ideal temperature for pasta to be stored at is 43 to 46 degrees Fahrenheit or 6-8 degrees Celsius. This means that the refrigerator is the best place to store your cooked pasta, as a refrigerator is typically set to a temperature of forty degrees Fahrenheit, or four degrees Celsius.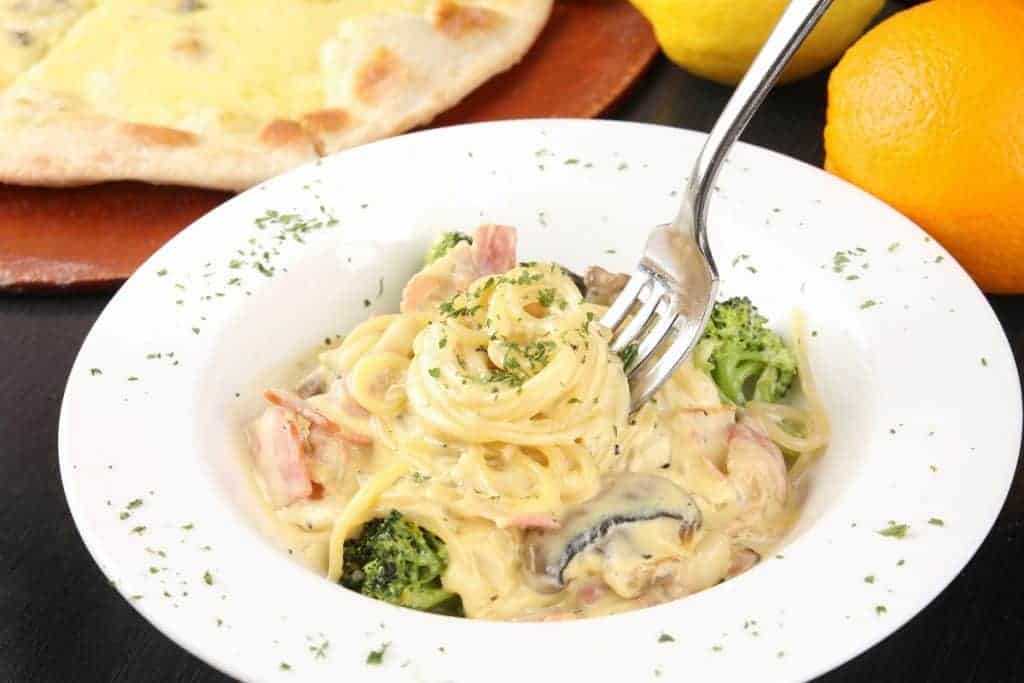 However, sometimes pasta accidentally gets left out overnight, so how can you decide if it is still safe to eat? If the temperature was 55 degrees Fahrenheit, or twelve degrees Celsius, then the pasta will be safe if it was left out for five hours.
However, if the pasta was left out for longer than the recommended five hours, then it should be thrown away immediately. If the temperature was warmer than the recommended 55 degrees Fahrenheit or twelve degrees Celsius, then it should only be left out for a maximum of two hours.
Pasta can be stored in the refrigerator for up to five days, however, this is only under optimal settings. Pasta can quickly start to spoil if it has been left out overnight, and the risks that come along with eating pasta should not be taken lightly. If your pasta has been left out overnight in a warm environment, then throw it away.
If the cooked pasta is left out for longer than five hours or at a high temperature, then it should not be eaten. Eating this pasta could be dangerous and cause adverse health problems. Pasta that is left out overnight should be avoided, as it could be extremely dangerous.
Left Out Pasta – What You Need to Know
While these are the basics of pasta safety, there are some other important things that you should be aware of! Keep in mind these things as well.
If the pasta you left out for hours has been mixed with sauce, dairy, or meat, it may be unsafe to eat. Moisture and animal products tend to spoil faster than other foods. For example, if you used spaghetti sauce with beef in it, the ground beef will usually spoil faster than the pasta. I wrote this article about when it's no longer safe to eat ground beef that you may find helpful.
If you made pasta, you probably made some sauce for it too. So whether you mixed the pasta with the sauce, or kept them separate, you'll probably want to know if that pasta sauce is still good, and for how long. That's why I also wrote this helpful article about pasta sauce and when it's still safe to eat.
Re-heating pasta that's been spoiled will not make it safe to eat.
You can get sick from eating spoiled pasta, so it's better not to risk it. Throw it away and make new pasta if you want it badly. You'll save yourself in the long run.