This post contains affiliate links.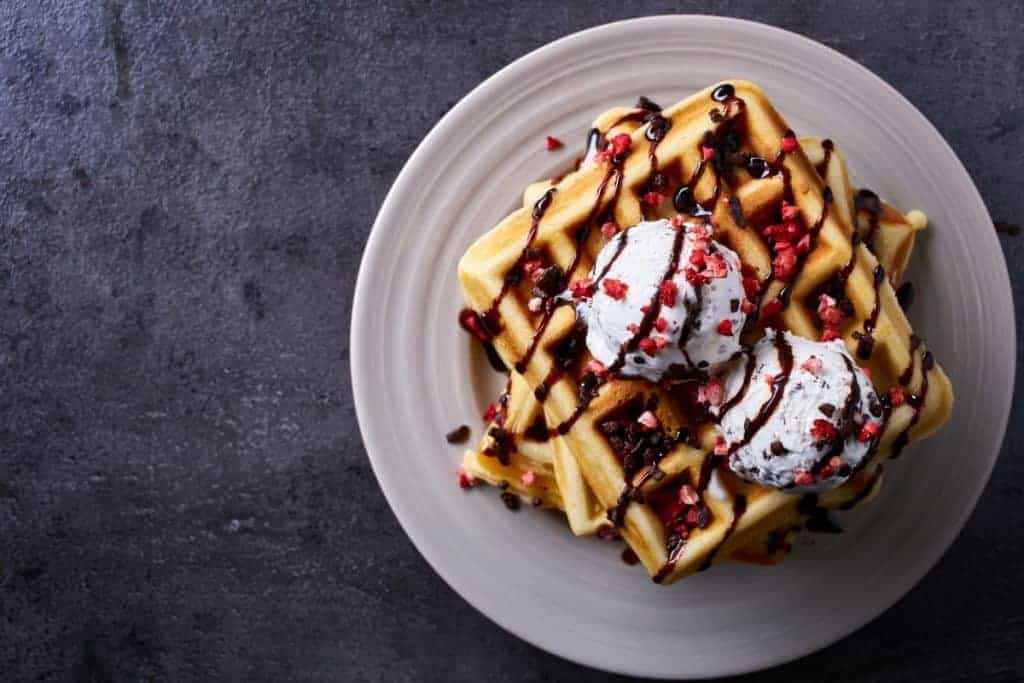 Waffles are a breakfast staple and a fan favorite. Due to their popularity, they can come in high demand. If you're looking to feed a large group of people, you might feel overwhelmed with your feeding feats.
Fear not, Waffles can be easily cooked and kept warm for large groups. Here are 11 handy tips for having to cook waffles for the masses.
Consider the Number of Guests
The largest thing you're going to want to pay attention to is how many people you have to feed! The amount of people is going to vary your cook-ability. If you have around 20 people coming, maybe you double it so everyone has the opportunity to have 2 waffles. If you have 50 and up, maybe it would be better to make sure everyone only has one, if there are 100 and up, maybe only half a waffle. You don't want to spend hours and hours manning a hot iron just so everyone can have as many waffles as they want!
Once you have an idea of how many people are coming, account for an extra 3-10. People might bring guests, or friends and family, or perhaps someone eats way more waffles than you had expected.
it's important that you prepare for more people than you expected. It's better to be over-prepared than under-prepared.
It would also be important at this point to see if anyone has any allergies, some people have egg/gluten allergies that may cause a little contention. If there are enough people with allergies, consider making two different batches. This gives everyone a chance to participate in your waffle extravaganza.
Consider the Serving Size of Your Recipe
So now you know how many people are going to be there (give or take,) now it's time to divvy up your waffle supplies. Depending on how you plan on making your waffles, you're going to need to alter the recipe. The most common waffle recipe makes about 4 to 6 waffles, but this is going to change. If your waffles are thicker, you're going to make less than if they're thinner.
You'll need to look at your waffle recipe, and figure out how much more to add depending on your crowd. If the average recipe serves 4 and you're serving 40, you're going to need to multiply your recipe by about ten. This means buying ten times the amount of eggs, flour, or sugar that you need to make sure each waffle turns out even and delicious!
Prepare Ahead of Time
If you know you're going to need 100 waffles, you're going to need to prepare for 100 waffles. This doesn't just mean buying the supplies you need, though that is an important aspect as well. This means bringing in cook time. If your breakfast bash starts at 9 am, and you know it takes about two minutes to cook each waffle, then you're going to need to figure out when to start cooking.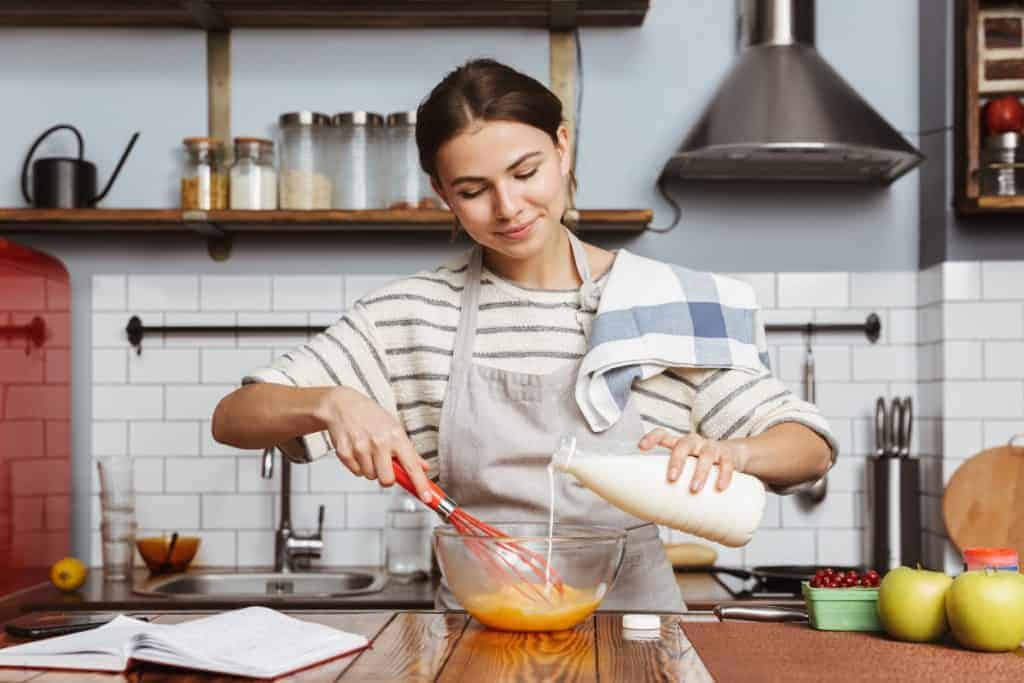 You'll want to get all of your utensils, cookware, and ingredients before you start cooking, this will eliminate running around time. Also take stock of everything you have, that way if you find out you're missing something you have time to run and grab it before everyone arrives.
Of course, you don't have to have all your waffles done and ready by the time company arrives, but it's better to have at least some ready to go beforehand, that way you don't have a group of hungry people jumping down your throat while you're trying to cook! Preparing ahead of time allows for mistakes to be made without losing time, and for you to be in the swing of things when people arrive.
Also incorporate travel time, if you're bringing these waffles to a function you need to remember that traffic might get in your way. Knowing where the event is, and how long it takes to get there will help you in the long run. Make sure you incorporate loading and unloading time too!
Watch Your Temperature
Cooking waffles is a hot game, and if you're not careful you might lose some of your fire! There are a few things you need to watch to make sure you're cooking your waffles efficiently and one of them is to always close the iron.
When you take a waffle out, it's easy to leave the iron open (you're about to go use it again anyway!) The issue with that is you're letting heat escape from the iron, which is going to slow down the cooking process in the long run!
You also can't be cooking too hot! It's a common mistake to think the hotter the iron's turned up the faster the waffles will cook. In reality not only do you have a higher chance of burning them, but hotter waffles cool down faster due to the flash change in temperature. A good and steady warm temperature is what's optimal, so make sure you look out for that in your cooking process!
Keep Your Waffles Fresh
No one likes a cold and soggy waffle. If you're preparing a lot of waffles at once it's easy to prepare them ahead of time and leave them out, but then you're losing the best part of the waffle! The warmth! If you have to store your waffles and keep them warm, there are a few things that you can do to keep them good and toasty.
Set your oven to warm: keeping your oven warm will give you a place to put your waffles that won't let them lose their heat!
Transfer your waffles to the oven: Even if the oven isn't on warm, having them in an enclosed space will allow for heat to be retained and for them to not get cold as fast
Cover them: if neither of those is an option, a clean kitchen towel is a great option to cover waffles to help them keep and retain their heat whilst you're cooking
Having fresh waffles is going to put everyone in a good mood, and people might be more willing to wait longer if they know it's going to be fresh when they get it.
Recruit a Team
Cooking is more fun done together, and if you have a lot you need to get done the best thing you could do is get people to help you out! It's best not to have too many people in the kitchen as sometimes that can make things more chaotic than helpful, but a few extra hands won't hurt!
Have someone in charge of flipping the waffles and someone else in charge of the batter! This way things will get done faster, and you can be feeding people quicker.
This will also help during clean up time, no one likes to clean up, but not only will it be more fun with people it will be faster. Having a group of people who are willing to help you clean up after you're all done serving is a great way to make sure things go quickly and smoothly.
Have a Good Iron
A good waffle iron is crucial to your cooking process, if you don't have a great iron you're gonna run into more issues along the way. There are some great waffles that aren't only going to make good waffles, but they're going to make a lot of waffles. Here's a list we've complied:
Commercial Waffle Maker Square Belgian: This 1550w waffle maker makes 10 square waffles at a time, so it's great if you're looking for a mass waffle maker. With a Precise timer and temperature adjusting knobs with a clear scale of 0 to 5 minutes and 50to 300℃. LED light indicates heating status. There's also an alarm for when the waffles are ready! It's non-stick and can be bought here for $129.99
Black Decker Waffle Maker: The Black Decker Waffle Maker is versatile, with not only being able to cook waffles, but also offering a griddle option. It can make up to four waffles at a time and has precise nobs and a timer included so that you don't forget that you're cooking! You can buy it here for $69.99
Cuisinart Breakfast Central 4-Slice Waffle Maker w/ Pancake Plates: This makes four waffles at a time and has an add-on for pancakes if you want as well. With an indicator light and six temperature settings, the Cuisine art is a great waffle maker! It can be bought here for $78.05
Have Other Good Equipment
Iron's aren't the only thing you're going to need to whip up a lot of waffles, there are other aspects of cooking too! In order to have an efficient cooking time, you're going to need some good helpers. Here are a few things that may help cut your cooking time in half
An Electric Mixer: An electric mixer is great for having to mix things up quickly, without having to tire out your arm. Not only will it not exhaust you, but it'll also mix everything up in seconds. Allowing you to prepare waffle batter quicker! A great electric mixer is the LILPARTNER Hand Mixer. Hand mixers are going to be better than stand mixers because they give you a little extra control over your batter! This one is sold on Amazon for $32.99
Large Bowls: You don't want to have batter making a mess in multiple bowls, it'll only make your clean up time longer! Having large mixing bowls is great and can help you have everything you need right where you need it. This Stainless Steel Mixing Bowl can hold up to 30qts, and is can be purchased here for $14.99
Large Measuring Cups: It's tedious to only have a 2 cup. measurement and have to fill and pour it up to 5 or 6 times, it would be better if you had a large measuring cup! It also helps to have a cup that can have multiple measurements, this will help with clean up as well! This Clear Polycarbonate Measuring Cup is $9.79 and can be purchased here.
On several occasions, I used a clean five-gallon bucket with a stainless steel mixer drill attachment to prepare large batches of pancake mix for very large groups of campers. For smaller groups, I have found that using a blender to mix pancake/waffle mix works very well!
Feed Kids First
Another great tip for when it comes to feeding large groups is to feed the younger ones first! Adults are going to have a little more patience, and feeding kids first means you're going to have your most demanding consumers out of the way!
Kids will also eat less than most of the adults, this will allow you to gauge how much more you're going to need to make. Getting your most impatient guests out of the way is going to be helpful for parents, and for you as well. No one likes a crying baby.
Choose the Cheapest Option
While it's great to want to make your waffles from scratch, that could cost way more money. Having to buy all of the ingredients, and making sure they're all done and mixed well is tedious. Not only to help not break your budget but also to help your time, sometimes the cheapest option is the best option.
Instead of having to buy 40 eggs, instead opt for a box waffle mix. Often these only need water as a mixin and end up tasting just as good! The boxes can run from 2 to 10 dollars depending on size, but it's ultimately going to be cheaper in the long run than having to buy four gallons of milk for your batter!
Go Frozen
While we all would love to be a breakfast cooking champion, sometimes our hands and bank account can't afford it. If this is the case, frozen waffles are a great way to go. You can cook multiple at a time in the oven, and can stay relatively warm for quite a while! Instead of spending hours cooking batter, and waiting for the iron to heat, and cooking each waffle by hand, frozen can be great too!
You can make even more per person due to the size, this will allow for people to eat more than you would be able to serve them if you were making them by hand. You could spend more time on sides, or toppings for these waffles and have breakfast still turn out a slam dunk!
---
Breakfast foods can be hard to mass produce, there isn't always the utilities for it. However with these tips we assure you serving waffles to the crowds will be so much easier.