This post contains affiliate links.
Are you in charge of a large dinner and are wondering how to cook for a large crowd? Spaghetti might seem like an easy option until you realize, it will take a lot of ingredients and time. Don't worry though; as someone who has made spaghetti for a ton of people often, I have a lot of tips for you.
Cooking spaghetti for a crowd requires planning ahead. Get a count on how many people will come and anticipate cooking 2 oz of pasta per adult and 1 oz of pasta per child. Try cooking the pasta ahead of time, get extra help, and plan on making more than needed.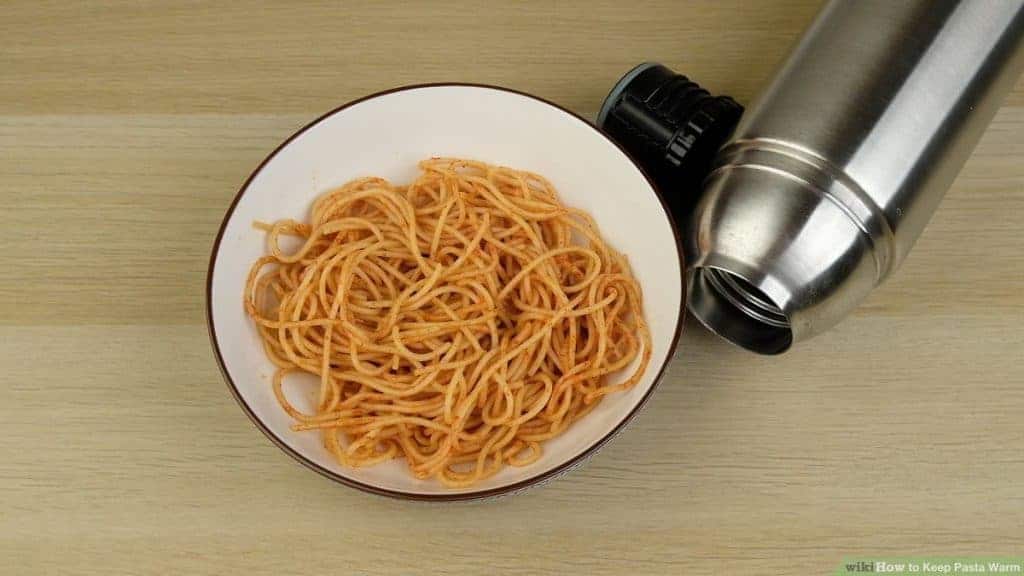 It is possible to cook spaghetti for a crowd and can be easy when you plan ahead. Do not worry. This post will help you make the best spaghetti dinner for a crowd and will help you every step of the way.
How Much to Get
Before doing anything, you need to figure out how many people are attending your meal. The portion size of dry pasta per person is 2 oz of pasta and 2-4 oz of sauce per person. For children, the portion of dry pasta per kid is 1 oz of pasta and 1-2 oz of sauce per child. Knowing these details will help you figure out how much of your ingredients you need to get.
Also, you have to determine if spaghetti is the main course or a side dish. If it is the main course, you may want to make a bit extra of the spaghetti, while if it is the side, you could do a bit less.
Once you have figured out who is coming for the dinner, it is time for some math.
In the chart below, there is a breakdown of how much pasta to make for a group of 10, 15, 20, and 50 people. This is assuming you are feeding adults and using 3 oz of sauce per person.
Also, the boxes of noodles and jars of sauces are assuming you are using a 16 oz box of spaghetti noodles and a 24 oz jar of sauce.
| | | | | |
| --- | --- | --- | --- | --- |
| Group Size | Dry Pasta/oz | Boxes of Noodles | Sauce/oz | Jars of Sauce |
| 10 | 20 | 2 | 30 | 2 |
| 15 | 30 | 2 | 45 | 2 |
| 20 | 40 | 3 | 60 | 3 |
| 30 | 60 | 4 | 90 | 4 |
| 40 | 80 | 5 | 120 | 5 |
| 50 | 100 | 7 | 150 | 7 |
The above chart is just an estimate. Each group and dinner is different, especially if you are feeding kids, teenagers, and adults.
It will make your life easier if you do the math before heading to the grocery store. It is always best to buy a little bit more just in case. You never know if someone will show up unannounced or if a batch of the sauce will spill.
How to Cook Spaghetti for a Crowd
You have done the hard part of doing the math and buying all of the ingredients. Now you have to cook!
Giving yourself more time allows for errors and takes away the stress of a time crunch.
Before cooking, you will want to decide if you are cooking your noodles beforehand or the day of the meal. A pro to cooking the noodles beforehand is that you will save time on the day of the meal. A pro of cooking the day of is that you will not have to worry about reheating the noodles. It all just depends on your situation.
How Much Time is Enough Time?
Cooking a larger amount of pasta is going to take a longer time. But how much time?
It takes about 20 minutes to bring a gallon of water to a boil on a normal stove. That is only a pound or 16 oz of spaghetti noodles, which is the average box size. When you are feeding ten people, you have to use two boxes! Just imagine how much time it will take to cook seven boxes for fifty people!
Below is a breakdown of how much water you will need to boil for each group size and the time it will take for the water to boil.
| | | |
| --- | --- | --- |
| Number of People | Amount of Water/quart | Time to Cook/minutes |
| 10 | 5 | 36 |
| 15 | 7.5 | 50 |
| 20 | 10 | 75 |
| 30 | 15 | 80 |
| 40 | 20 | 100 |
| 50 | 25 | 125 |
So, if you are wanting to have dinner at 6:00 PM and are cooking for fifty people, you should start cooking at least three hours before the meal starts. It is important to know what time you should start cooking, depending on how much food you are wanting to make.
Now you know how long it takes for the pasta to cook. How about warming up the sauce? It should be easy because it is just warming up, right? Technically yes, but it will still take time to warm up.
A gallon of sauce (128 oz) takes 30-40 minutes to heat up on the stove. When you break it down to 3 oz of sauce per person, here is the amount of time it will take to heat up the spaghetti sauce on the stovetop.
| | |
| --- | --- |
| Number of People | Time to Cook/minutes |
| 10 | 7-9 |
| 15 | 11-14 |
| 20 | 14-19 |
| 30 | 21-29 |
| 40 | 28-38 |
| 50 | 35-47 |
As you can see, it will even take a bit of time to warm and cook everything.
And, if you are cooking the noodles the day of, you will have to start even earlier if you only have one stovetop. Preparation and math will come in handy when preparing a large batch of spaghetti.
Option 1. Cooking the Noodles the Day of the Meal
Before you start the noodles, you will want to heat up the sauce. The sauce takes longer because you have to warm it up slowly so it does not burn. You can either heat up the sauce on the stovetop at a lower simmer or warm it in a slow cooker. A slow cooker may be easier so it will be out of your way while cooking the pasta.
Fill the pots with water and let them come to a boil. While the water is warming up, organize your side dishes, set the table, or do anything else you need to do. Do not waste this time!
Once the water is boiling, add the noodles. You will want to stir the noodles every few minutes or so.
After the noodles are done, drain the noodles without rinsing. Here is a great tool
to strain pasta faster. (And it comes with a spaghetti Measurer!)Divide the noodles into serving dishes, mix with the sauce, or whatever you are planning for your meal.
Heating Up the Sauce in a Slow Cooker
If you are wanting to do one less thing when making dinner, you could try warming up the spaghetti sauce in a slow cooker, like this 10 Quart Hamilton Beach Slow Cooker
which has enough room to heat a large amount of spaghetti sauce for a crowd.
It all depends on how much sauce you add to the Crockpot, but the average is on the Low setting, it will take 6-7 hours, and on the High setting, it will take 4 hours.
Slow cookers make cooking dinner easier because you can start cooking earlier in the day.
For example, you could throw the spaghetti sauce in a slow cooker or two (depending on how much sauce you need to cook) first thing in the morning and leave it on the Low setting until you start cooking dinner. Then, you could leave it on the "Keep Warm" setting until it is time to serve.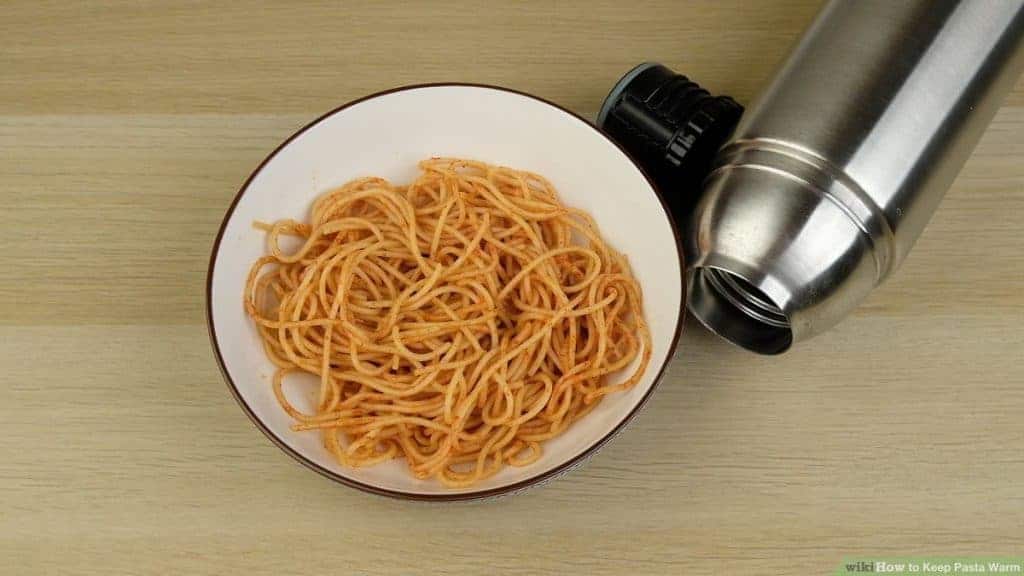 Cooking the Noodles Ahead of Time
Your pre-cooked pasta will last up to three to five days, but it is best to cook it the day before if you are planning to cook the noodles ahead of time.
Depending on how many people you are cooking for, you can cook in one large pot such as this 20 Quart stainless steal stock pot
or a few smaller pots. Make sure to add salt to the water to help season the noodles.
After the water is boiling, add the pasta. Cook the pasta al dente, or not all the way. The pasta will finish cooking when you reheat it the day of the meal. Al dente noodles will still be a bit firm in the middle.
Save some of the pasta water for when you are reheating the noodles. A few cups will do. Let the water cool before refrigerating.
Then, you will drain the pasta under cold running water until the noodles cool, which is typically 15-20 minutes. This process is important because it will help the noodles not stick together. Toss the noodles with prongs during this process.
Once the noodles are cool, place them on baking sheets
that are lined with wax or parchment paper. You can add a bit of oil if you want to these noodles to keep them from sticking.
After the noodles are fully chilled, you can place them in airtight containers or plastic resealable bags. (Here are some REUSABLE storage bags
that work great, and reduce waste! Place these bags in the fridge until you are ready to reheat them for your meal.
Reheating the Noodles
Before your meal begins, boil water to reheat your noodles. You should add the pasta water you saved from cooking the noodles.
Once the water is boiling, add the pre-cooked pasta. Let the pasta warm up for 1-2 minutes, making sure the noodles are cooked all the way through.
After the noodles are cooked, drain the water, and serve.
You can also freeze the cooked pasta ahead of time. Instead of cooking it for 1-2 minutes, you will want to reheat it for 2-3 minutes in boiling water.
Cooking spaghetti for a large group can seem overwhelming at first, but when you plan ahead, it can be done without a sweat!
We hope that this post has been helpful and made your evening stress-free!