This post contains affiliate links.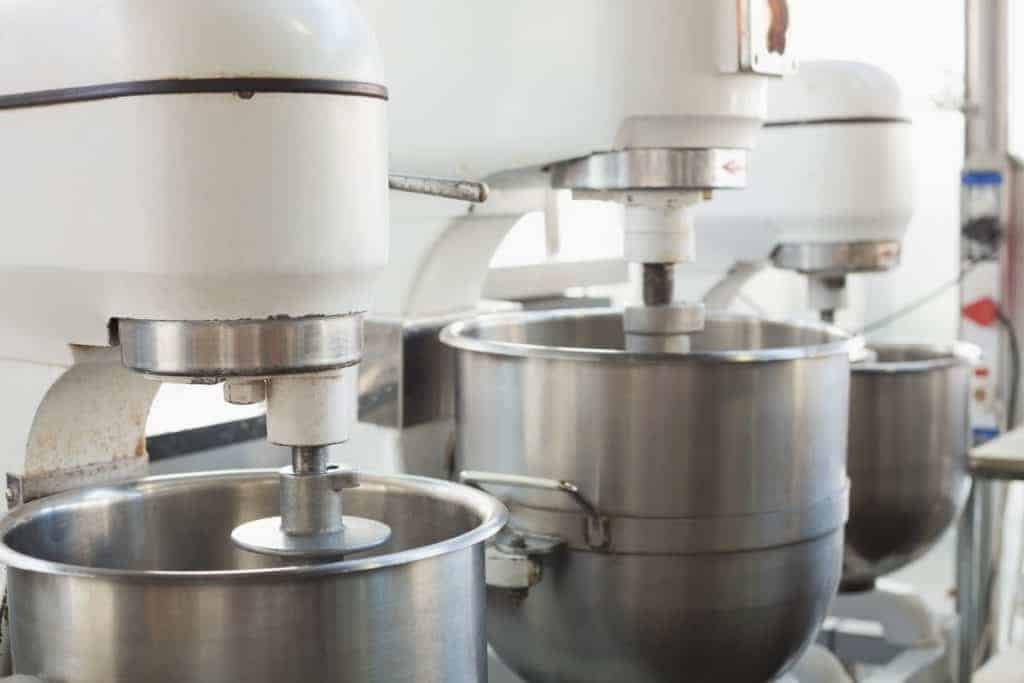 Mixers are an essential part of any kitchen, but they also tend to be the most expensive. And if you're on the lookout for one, you may be trying to find the best working, for the best price. So what are the best mixers out there?
The current #1 ranked mixer by BestBuy, Food and Wine, and the New York Times, is the KitchenAid KSMC895DP 8-Quart Commercial Countertop Mixer. This mixer includes a stainless steel mixing bowl, that can hold up to 14 cups of flour, and a "splash guard" for messes. It is the best mixer on the market with a price of $749.00.
However maybe you're not looking for the best and the brightest, and maybe not for close to 800 dollars. while mixers are an important part of a kitchen, they can also be decently expensive. Though mixers can be expensive, they often never need to be replaced. It is for this reason, you want to select a mixer that best suits your needs.
Here's a full list of our top 10 choices for the best commercial mixers for your kitchen!
KitchenAid Artisan Tilt-Head Stand Mixer with Pouring Shield – 5-Quart
Kitchen Aid is a popular brand, and it's not hard to see why. They make the list 3 times. It's a household brand that continues to shine, and it's easy to understand why.
This mixer has very good reviews everywhere it is sold. It is perfect for a large family who does a lot of home cooking, and can be useful in a small business.
This KitchenAid mixer is the perfect size for your counter. It has numerous stand mixer attachments and different types of mixing utensils that can be attached to your stand as well for separate purchase. The Artisan Mixer comes in at $379 at William Sonoma but can be purchased in other places as well.
Cuisinart SM-50 5.5 – Quart White Stand Mixer
The Cuisinart SM-50 can hold 5 and a half quarts and uses 500 watts of power. It has 12 mixing speeds, allowing you to have control over what you're mixing. No need to worry about having to switch between three different speeds the whole time. It also comes with three complimentary mixing heads, something the Kitchenaid at spot number 10, doesn't provide.
It's a larger mixer, and with a lot of mixing settings is great for at-home bakers. Not made for businesses, but great for beginners.
The Cuisinart comes in at $200 on Amazon.com, and if white isn't your color it comes in 5 other colors as well. This is the most inexpensive mixer that we have on our list.
Primo PM-10 Stainless Steel Mixer
the Primo PM-10 Stainless Steel Mixer, has the capacity to hold ten-quarts and has three speeds that are great for large batches of food.  It clocks in at about 121lbs which makes it not very portable, but great for your avid bakers who blow through mixers quickly. It also comes with a great splash guard, to avoid any unnecessary mess.
The Primo PM-10 is a large mixer, that's hard to move around, so it's going to be best for businesses, or super avid bakers.
Primo PM is $889 dollars on amazon, which lies on the cheaper side for industrial mixers, however is still the most expensive mixer on our list!
KitchenAid Classic Series Tilt-Head Stand Mixer
This is a standard mixer, you've probably seen it in your friend's house if not owned one yourself. It's what you think of when you think "KitchenAid mixers."
This mixer allows for you to have a great mixing device at the ready, not just for special occasions, but for everyday feats. Having a stainless steel bowl, it doesn't have any harmful coatings which can get infused in your food. It's perfect for anyone looking to get into baking, or just an everyday mixer.
It's great for at-home bakers, or anyone a little bit more avid. Whether you're beginning, or already have your bearings, this is the mixer for you! This is not a great mixer for industrial kitchens or businesses, but great for at-home use!
The Classic KitchenAid mixer is around $289 dollars on Amazon.
Kenwood KMC011 Chef Titanium Kitchen Machine
The Kenwood Kitchen Machine is ideally perfect for avid cooks, or chefs kitchens. Its stylish and efficient, not styled like other typical standing mixers, allows for it to catch the eye better. It's not just all flash, though, it has variable speed control options that allow for you to easily mix together ingredients without a mess! It comes with a stainless steel bowl that can hold up to 5qts and professional stirring attachments.
The Kenwood sells at $499 on Amazon.
Waring Commercial WSM7Q Heavy Duty Professional Stand Mixer
The Waring model looks similar to the Kenwood but packs a much bigger punch. Best for serious at-home bakers or any baking start-up, this mixer can hold up to 7qts. Despite its heavy-duty work ethic, it's rather small in comparison to other mixers which means it won't take up as much counter space as will other models.
It has a heavy-duty stainless steel mixing bowl, multiple speed options, and even comes with a chef's whisk, mixing paddle, dough hook, and splash guard with feed chute. Meaning you're getting more bang for your buck.
The Waring is priced at $873.66 on Amazon.
Happybuy Commercial Food Mixer 750W
This LARGE mixer can hold up to 20qts and is great for large batches of food. With three different speed settings so you get the control you need over your servings. It's also included with three stirrers. A spiral hook that's creat for dough whether it be for cookies or pizza, a flat beater for mashed potatoes, and a wire whip for eggs, icings, or anything else you can think of! Also included: A stainless steel wire bowl guard.
This is GREAT for businesses. It's a large mixing bowl, and multiple speeds are going to be great for any bakery or business that's trying to feed multiple people at once.
The Happybuy Commercial food mixer is priced at $788 on Amazon. Other stirring applications, aside from the three provided, can be purchased separately.
Hamilton Beach Commercial CPM800 Stand Mixer
Hamilton is one of those popular mixers, outside of KitchenAid, that you can always trust. The CPM800 model is great not just for businesses but also for at-home bakers and cooks. It has an 8qt stainless steel bowl, with two handles that make it easy to carry around the kitchen. With also 7-speed mixing options, it has a great amount of versatility and has been praised for how quiet it can be.
This comes in a smaller size, making it great for at home baking and cooking, but not ideal for businesses.
It comes with a wire whisk, splash guard, and dough hook all included so you don't have to spend extra money on whisk heads. Making the price point of $654.73 on amazon, that much sweeter.
Chef's Exclusive CE743 Commercial Stand Mixer
This is a floor mixer that's best for commercial use. If you have a baking business, this is the one to have. It comes with a stainless steel 10qt bowl and is great for large batches and perfect for business. it has a manual bowl lift, which makes it easier for heavier bowls and a self-locking feature atop of that. This mixer is the second-largest mixer we have listed.
It has 3 choices of speed, and a power hub that allows for all sorts of attachments. Not just whisks, but meat grinders, and pasta makers. Making it even more versatile than other mixers.
The CE743 is priced at $699 on Amazon.
KitchenAid KSMC895DP 8-Quart Commercial Countertop Mixer.
The best of the best, and holding the number one spot on our top ten list, is the KitchenAid Commercial Countertop Mixer. It has outstanding performance that makes it an easy first choice.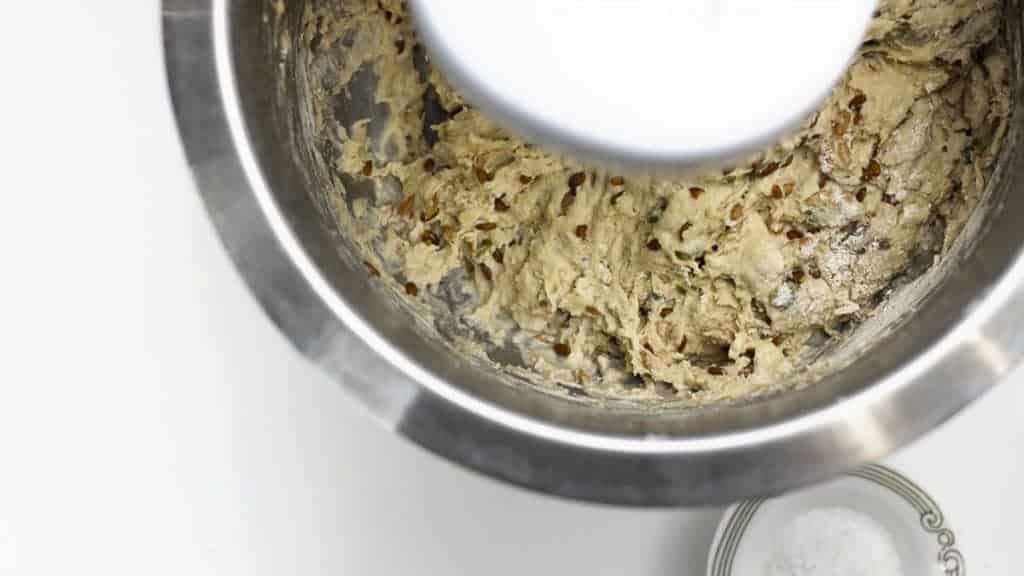 With a stainless steel bowl that can hold up to 14 cups of flour at a time and a splash guard to make sure it doesn't go anywhere, it's the superhero of mixers. The bowl has convenient handles, perfect for transportation, and a manual bowl lifter to secure your bowl in place.
It's heavy-duty and can conquer just about anything you throw at it. With multiple stirrers included, namely an 11-wire whip, flat beater, and a spiral dough hook. All are stainless steel, and dishwasher safe. Better yet, it comes in multiple colors so it fits the aesthetic of your kitchen while also being reliable.
The KitchenAid is priced at $750 on Amazon, making it cheaper than some standard mixers but with even more to offer.
---
Mixers tend to be pretty pricey, so it is important you're getting your money worth if you're thinking of investing one. Especially if it's for a business. Looking at things like attachment abilities, (and if they're even included!) power, and how much each mixer can hold, is important! Especially if you're trying to get the best price.
The KitchenAid KSMC895DP 8-Quart Commercial Countertop Mixer offers everything you might need for your mixing needs, at a great price. We're not the only ones who put it at number one either, this particular mixer was ranked number one in best efficiency by Food and Wine