This post contains affiliate links.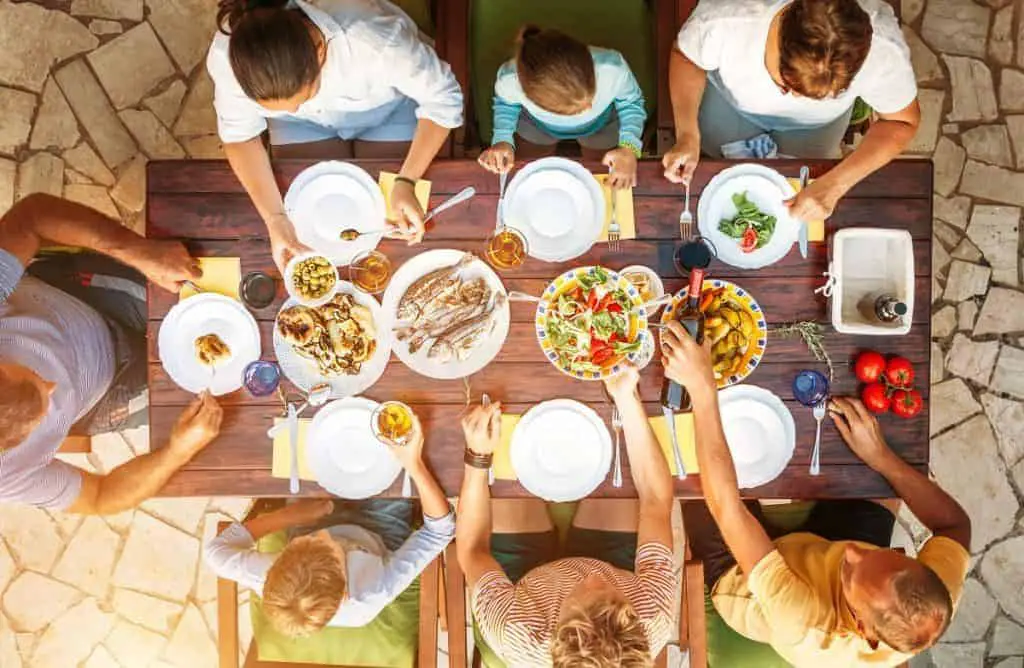 Whenever planning on hosting an event for a larger group of people, it is important to make sure the necessary food will be there so your guests do not go home hungry. There are all sorts of recipes you can use to cook for a bigger group of people, but oftentimes, you can multiply the recipe until you have the amount needed for the event.
Crockpot Breakfast Casserole
Making a Crockpot Breakfast Casserole is a great idea when hosting a big meal. Since the meal is made in a crockpot, it can be left to sit and cook. It also makes around 10-12 servings, but if there are leftovers, they can be reheated rather easily.
Crockpot Breakfast Casserole calls for a small list of ingredients. You will need bacon, shredded parmesan cheese, roasted red peppers, kale, yellow onion, fresh or frozen hashbrowns, milk, eggs, salt and pepper, red pepper flakes, and garlic cloves.
First, sautee the bacon, onion, red pepper, garlic, and bell pepper. Add the kale to this mixture. Set the mixture aside while you whisk together eggs, milk, and salt and pepper. After being whisked together, layer the crockpot in this order: hash brown, bacon, veggies, and parmesan. Do this twice and add the egg mixture to the top. Set the crockpot on low and allow it to cook for 4 hours.
Fall Vegetable Sloppy Joes
Fall Vegetable Sloppy Joes makes 18 servings.
The Ingredients that you will need are 8 strips of bacon, 2 pounds of lean ground beef, 1 medium onion, 2 garlic cloves, 2 cups of shredded peeled butternut squash, 2 medium parsnips (peeled and shredded), 2 medium carrots (peeled and shredded), 1 can of Cola, 1 can of tomato paste, 1 cup of water, 1/3 cup of honey mustard, 1 1/2 teaspoons of ground cumin, 1 1/4 teaspoons of salt, 1 teaspoon of ground allspice, 1/2 teaspoon of pepper, and 18 hamburger buns.
Cook the bacon in a large skillet until it is crispy. After disposing of the grease, cook the beef, onion, and garlic in the same pan until the beef is not pink anymore. Drain the beef and transfer it over to a 5-6qt. slow cooker. Stir in the squash, parsnips, carrots, cola, tomato paste, water, mustard, and seasonings.
Allow the ingredients to cook, covered in the slow cooker for 4-5 hours, or until the vegetables are tender. Stir in the bacon and serve your meal on hamburger buns.
Chicken Salad Sandwiches
This recipe is simple and can serve as many people as you would like, depending on how much chicken you use.
The only other ingredients you will need are a couple of green onions, mayonnaise, garlic salt, and Lawry's seasoning.
Cook 4 cups of chicken and cut the pieces into cubes. Put the chicken into a large bowl. Cut a couple of green onions and add them into the bowl with the chicken. Add mayonnaise to the bowl. Use about a cup of mayonnaise. This should make the chicken less dry. If the chicken is still a little dry, continue adding mayonnaise in smaller increments. Add Garlic salt and Lawry's seasoning to taste.
This recipe is one of my personal favorites. As a child, my mom would make chicken salad sandwiches every time we went camping because it keeps well in the refrigerator (or a cooler, in our case) for a couple of days.
Spaghetti
Making spaghetti, or any kind of pasta related dish is great for large gatherings. Pasta is really good when it comes to freezing and thawing. You can cook large amounts of pasta and freeze them. When you need them later, you can thaw the noodles in boiling water for 2-3 minutes.
Toasty Mac n' Cheese
This recipe serves up to 8 people.
The necessary ingredients include 6 tablespoons of unsalted butter, 1 pound of short pasta, 1/4 cup of all-purpose flour, 5 cups of whole milk, kosher salt, and black pepper, 1 pound of grated cheddar cheese, 1 cup of grated parmesan cheese, 1 cup of crushed crackers, and two tablespoons of chopped, fresh flat-leaf parsley.
Preheat the oven to 350°. Butter two 8-inch square baking pans. Cook the pasta on the stove for 2 minutes less than the package instructs, and then drain the pasta.
In a large pot, melt the butter over medium heat. Add the flour and stir it in, allowing it to cook for two minutes. Be cautious that it does not darken.
After 2 minutes, whisk in the milk, salt, and pepper in the butter and flour mixture. Bring this mixture to a boil, then reduce the heat and allow it to simmer, occasionally stirring to avoid burning the mixture. Allow it to simmer until the sauce thickens (10-15 minutes). Remove the sauce from the stove and stir in the Parmesan and Cheddar cheeses.
Add the sauce to the pasta and toss it to combine them. Divide the pasta evenly between the two pans and sprinkle the crackers on top. Put both pans in the oven and allow them to bake for 15-20 minutes.
This dish can be made up to months in advance. You can freeze the unbaked dish after covering it in plastic wrap and foil for up to 3 months. When cooking it after freezing it, allow the dish to thaw in the refrigerator overnight. Take off the plastic wrap, but keep the foil over the pasta and bake it in the oven for 50-55 minutes. Take off the foil and cook it for an additional 5-10 minutes.
Meatball Subs
This recipe is very simple since it only calls for frozen meatballs from the store and marinara sauce.
Put the frozen meatballs in a crockpot and cover them with marinara sauce. Allow them to cook on high for 3-4 hours. When you are ready to serve, Place the meatballs in long sandwich bread.
This recipe is especially useful for college students or anyone needing something fast. After cooking, the meatballs can be kept in the refrigerator in tupperware containers and heated again later.
Korean Beef Tacos
This recipe makes 12 servings.
There are 3 different parts to this recipe. To make the Korean beef, you will need 2 tablespoons of brown sugar, 2 tablespoons reduced-sodium soy sauce, 1 teaspoon sesame oil, 1/4 teaspoon crushed red-pepper flakes, a pinch of ground ginger, 2 teaspoons vegetable oil, 2 cloves garlic, minced, and 8 ounces ground beef.
To make the Korean beef, whisk together the brown sugar, soy sauce, sesame seed oil, red pepper flakes, and ginger. In a large skillet, heat vegetable oil and add garlic, stirring it for 1 minute. Add the beef and cook it for 3-5 minutes. After it is cooked, drain the fat that is left over. Add in the soy sauce mixture and allow it to simmer for 2-3 minutes. The Korean beef can be made beforehand and heated up when it is needed.
For the kimchi, heat 2 teaspoons of sesame seed oil in a skillet and add 1 cup of chopped kimchi and 1 teaspoon of sugar. Stir and heat it until it becomes a glaze (about 3-5 minutes).
For the sriracha mayonnaise, stir 1/4 cup of mayonnaise, 1 tablespoon of sriracha, and 2 teaspoons of lime juice in a small bowl.
Finally, serve the tacos in tortillas with kimchi, red onion, cilantro, and sesame seeds.
Swedish Cinnamon Buns topped with Salted Caramel
This treat is particularly great for a large gathering because it makes 16-18 servings. For that reason, you will need a 9×13 size glass pan.
Begin by melting 2/3 cups of unsalted butter in a skillet and add 2 cups of whole milk. Heat the butter and milk until they are just warm to the touch. Combine 1 3/4 ounces of yeast and the milk/butter mixture in a bowl until it is smooth. Add 3/4 cup of sugar, 2 teaspoons of ground cardamom, 1/2 teaspoon of salt, and 5 cups of flour.
Form a dough with the mixture, and dust it lightly with flour, and put it in a large bowl. Cover the dough with a towel, and allow it to rise for 1 hour.
Melt 5 tablespoons of butter in a saucepan. After the butter is melted, mix in 3/4 cup of brown sugar and 3 tablespoons of light corn syrup. Simmer the mixture over medium heat until the sugar has dissolved. Then add 3/4 cup of heavy cream and boil everything for 5 minutes. Add a pinch of sea salt and allow the mixture to cool a little so it is warm to the touch. If you would like to add almonds, add 1/3 of chopped almonds.
Hit the dough while it is still in the bowl. Remove it from the bowl, place it on a counter with a layer of flour, and knead it for a few minutes. If the dough is super wet, it is alright to add a little flour to the dough, but be careful to not add too much. Add it in small amounts to make sure it does not make the dough too tough.
The dough is ready when it comes off of surfaces, such as your counter easily and shows air bubbles when you cut it with a sharp knife. After cutting the dough in half, roll each half and form rectangles.
Spread the rectangles with softened butter and roll the rectangles along the longer side. Make bout 18 1-inch cuts into the rolls to create 18 total rolls. Place them in a pan about 1/2 an inch apart. And cover them with a tea towel. Leave the rolls there to rest for half an hour.
Preheat the oven to 400°F and bake the rolls for 15 to 20 minutes. When you remove them from the oven, allow them to cool a little bit before flipping over the pan to release the buns from the pan. Cool the buns on a cooling rack with a pan underneath to catch any possible drippings of caramel.
Lasagna
Lasagna is a great dish that can be made for a large group of people. It can be prepared ahead of time and frozen, making it a great option for a large get-together.
The only ingredients you will need include lasagna noodles, ground beef, pasta sauce, cottage cheese and an egg, mozerella cheese, and an onion.
Begin by boiling the noodles. While the noodles are boiling, heat ground beef on a neighboring stove burner. Drain the leftover fat from the meat and add sauce to the meat. Break one egg into a small container of cottage cheese and mix it together.
After the noodles are done cooking, spread a thin layer of meat sauce in the bottom of the pan, covering the bottom of the pan. Lay noodles on the bottom of the pan, not stacking them. The layer should only be as wide as the noodles. Add a layer of the meat and sauce, spreading it to lightly cover the noodles.
Next, add a layer of cottage cheese and mix it in with the meat. Layer mozerella cheese, adding as much as you would like. The more cheese you add. the cheesier it will be. I presonally enjoy making mine very cheesey. Repeat this process until you run out of noodles and meat sauce.
Pasta al Forno
Pasta al Forno is made, very similar to lasagna. The biggest difference is the kind of noodles that are used. Because of this, we know Pasta al Forno can also be frozen and thawed again.
Pasta al Forno translates to pasta in the oven. This is an Italian dish made with pasta, meat, sauce, cheese, a minced onion, and seasonings as you would like to add them. This is an easy dish to make for a large group of people because you can load a 13×9 pan with as much pasta as you can.
This is also an easy dish to prepare ahead of time because you can freeze it and heat it in the oven. You do not bake it, however, before you put it in the freezer.
Begin by cooking a pot full of pasta. While the pasta is cooking, begin making the pasta sauce. The sauce is composed of Italian sausage, marinara sauce, garlic, and onions. Mince the onion. You will only need about a quarter of an onion, but if you desire to add more, you can.
Sautee the onions and then add the meat, browning it with the onions. Drain the grease and add the sauce to the meat. Turn down the flame under the meat and allow the meat sauce to simmer. You will know it is ready when it is warm to touch.
Once the noodles and the sauce are cooked, combine them in the pan by setting a layer of sauce, followed by a layer of noodles and then cheese. Repeat this process until the pan is almost full. The top layer of the pasta will be the sauce, followed by cheese. Bake it in the oven for 45 minutes.