This post contains affiliate links.
If you are looking to provide some snacks for any kind of social event, popcorn is an excellent choice. However, you will want to know how much popcorn you will need to provide in order to keep everyone satisfied. Here's an explanation about how much popcorn to provide your guests.
Provide enough popcorn so that there are about three cups of popcorn per person. If you are popping your own corn, one cup of popcorn kernels will make thirty cups of popcorn, which is enough for about 10 people. Alternatively, you can provide one popcorn ball per person.
Let's take a closer look at how much popcorn to provide.
Popcorn Possibilities
When it comes to providing popcorn, you have all of the options in the world. Popcorn is easily one of the most (if not the most) versatile snacks you can offer. You can provide popcorn in so many different forms and flavors, and it is appropriate in just about every setting.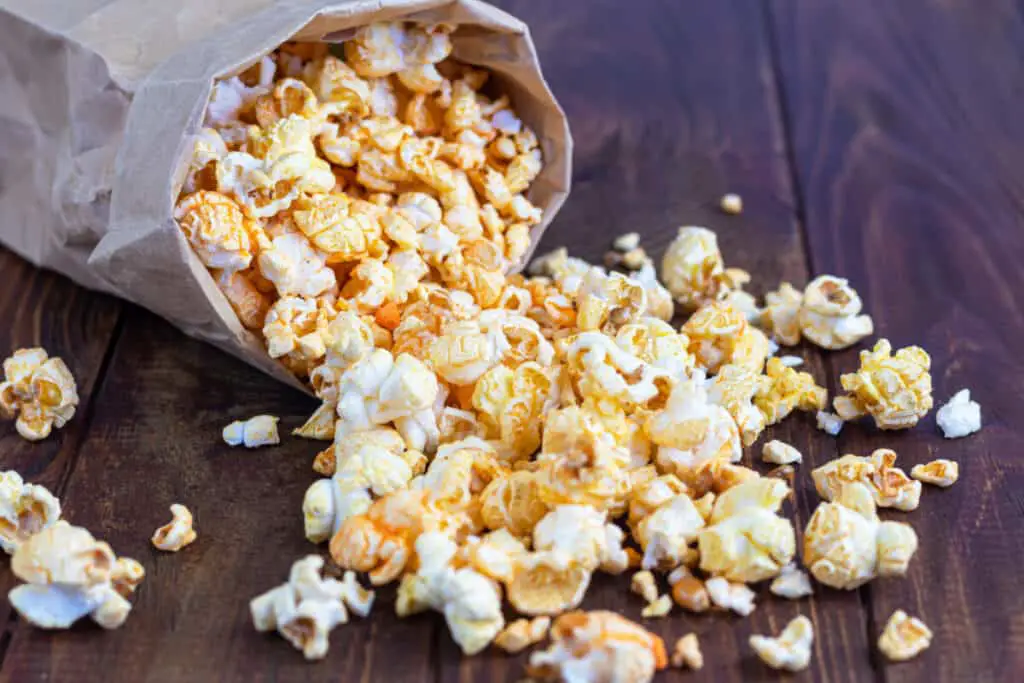 Popcorn is so customizable because of its nature. Freshly popped popcorn has virtually no flavor, so it will take on the character of whatever you mix it with. The most common additives to popcorn are butter or salt, but if you are providing popcorn at an event, there are so many more options to choose from that fit what you need.
For example, if you are providing popcorn to some friends for a house party or a casual get-together, you can go simple with buttered popcorn in a dish to serve. However, if you want some extra flavor, you can mix your popcorn with seasoning and spices to make some spicy popcorn. You can also mix popcorn with peanuts and other snacks to make a delicious snack mix.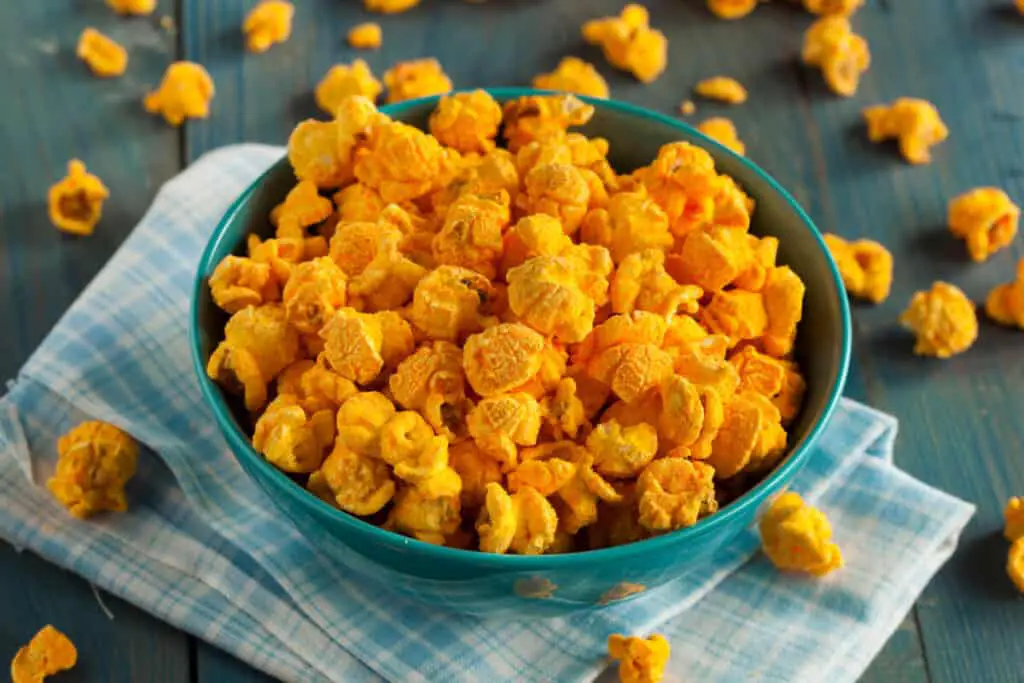 On the other hand, if you are providing popcorn for something a little bit more formal like a wedding, you can choose popcorn that is flavored with white cheese. If cheesy popcorn isn't your thing, you could provide frosted popcorn instead to give your guests something sweet to remember.
Whatever the occasion, popcorn will rise to it. Other flavor options include caramel popcorn, peanut butter popcorn, jalapeno cheddar popcorn, and many more. You can serve one type of popcorn or lay down an entire table with options to choose from.
In addition to being so versatile, popcorn is relatively easy to make. Even the more exotic flavors of popcorn are surprisingly simple to put together. All you need is a popcorn machine and just a few other ingredients to make your popcorn. Furthermore, popcorn kernels are pretty cheap to buy, making any popcorn snack a smart choice to have at a party.
All in all, popcorn is a popular snack that offers tons of versatility and creativity. It fits in just about every situation, is easy to make, and satisfies guests. So if you want to provide some delicious popcorn at your next party or event, you should be aware of how much popcorn to provide, how to make the popcorn, and what form to serve it in.
Loose Popcorn vs Popcorn Balls
One of the first things that you should decide about the popcorn that you will provide is whether you want to serve popcorn balls or loose popcorn. Each form has its own advantages and disadvantages for you to weigh when you make your decision.
Popcorn balls have the advantage of being easily carried and served as you won't have to provide bags for your guests or scoops to serve the popcorn. Instead, you can just wrap your popcorn balls in a cling wrap or in a plastic bag that guests can carry away. As a side bonus, you don't need to worry much about portioning the popcorn either, as each guest will each one popcorn ball.
Loose popcorn has the advantage of being easier to prepare while also being more accessible. Popcorn balls can be messy to eat and harder to put together. Loose popcorn also offers more variety in popcorn flavor, as popcorn balls generally have to be sweet in order to stick together and keep their form.
Whichever form you decide to go with for your popcorn, you should know that neither is particularly difficult. Even if you haven't ever made popcorn balls before, the recipe is simple and hard to mess up on so you can plan to provide popcorn balls without worrying too much about how they will turn out.
How Much Popcorn To Provide
Once you have decided how you want to serve popcorn, you will need to decide how much popcorn you want to have at your event. The amount of popcorn that you will need is dependent on several factors. The most important factor, of course, is how many people you plan to serve at your event.
The general rule of thumb for popcorn is that each person will eat about three cups of popped popcorn. As you figure out how many people you are expecting, you can refer to this chart to help you to know how much popcorn you need:
| | | | | | |
| --- | --- | --- | --- | --- | --- |
| | 10 People | 25 People | 50 People | 100 People | 200 People |
| Cups of Popcorn | 30 Cups | 70 Cups | 140 Cups | 275 Cups | 550 Cups |
This amount of popcorn can seem extremely daunting. After all, hundreds of cups of popcorn can't be easy to acquire, right? Actually, finding that much popcorn isn't very difficult. The nature of popcorn is that it takes up a lot of space while being fairly light and easy to move around.
There are a lot of ways to get popcorn in these quantities. First of all, there are plenty of popcorn suppliers and caterers that will ship out already popped and flavored popcorn in bulk. Bulk bags contain over 100 cups of popcorn and are about the same size as a large 6-gallon bucket and only weigh a couple of pounds.
Apart from gourmet popcorn suppliers and caterers, you can buy large bags of popped popcorn from local markets. Many of these sell popped corn in bulk and in a variety of flavors. Though you might only be able to find smaller bags of popcorn, a little bit of digging could go a long way in helping you find someone that sells large bulk bags at a good price.
Popcorn Kernels
If you have a popcorn machine, however, you can get access to a lot of popcorn a lot easier. By popping the corn yourself, you can save a lot of money while having more options when it comes to flavoring your popcorn. However, this solution may not be viable, depending on the size of your particular popcorn machine.
Popcorn machines come in all shapes and sizes, after all. Larger, wheeled machines can produce a lot of popcorn very quickly. Smaller popcorn machines can only produce a few dozen cups every cycle. If you really want to pop your own popcorn but you don't have a large enough machine, do your best to find a machine you can borrow. If you don't have any luck with this, you can improvise using a stovetop pot.
As long as you find a good way to pop popcorn kernels, you are in a great spot to make custom popcorn at a very cheap price. Just a few cups of popcorn kernels are enough to feed dozens of people. This is because one cup of popcorn kernels will expand to over 30 cups of popcorn once it is cooked.
If you buy popcorn that is already popped, each cup averages about 30 cents per cup. Raw popcorn kernels, on the other hand, will only cost users about 5 cents for a cup of popped popcorn. Furthermore, popcorn kernels can be bought in large quantities, which makes the popcorn kernels even cheaper.
If you can't find any way to make popping your own kernels work but you don't want to buy pre-popped popcorn, your last option is to buy microwaveable popcorn. Bags of microwaveable popcorn can be more expensive than any of the other options, but all in all the price is still negligible.
Depending on the size of the bag you buy, each bag of microwaveable popcorn feeds 1-2 people. If you are planning on filling a bowl with microwaveable popcorn, you can expect to need about 6 bags to feed 10 people. Be sure that if you are going to microwave your popcorn you either get a lot of microwaves or you start cooking it early in order to have it all done in time.
Where to Get Your Popcorn
When looking for both popcorn and popcorn kernels, there are a lot of suppliers that you can go to to find corn. Your local supermarket will sell microwaveable popcorn while also carrying popcorn kernels, though you might not have a very wide selection of bag sizes or popcorn types.
You can find more popcorn kernel (and popped popcorn) options at specialty stores and wholesale markets. Depending on where you go, you can buy popped or kernel corn by the pound. You can also buy specialty popped corn from these markets or from candy stores.
Apart from local stores, you can get popcorn supplied to your event from popcorn catering services. Multiple businesses and companies exist to supply specialty popcorn for events and parties. You can order bulk bags of popcorn or individual bags of gourmet corn from these services and either have them shipped or pick them up yourself if the company is close enough.
Apart from popcorn catering services, there are also companies that cultivate special types of popcorn and ship out bags of kernels. The most common companies of these kinds sell red popcorn or some other kind of popcorn kernel that isn't as popular. Red popcorn, for example, pops into heartier and denser popcorn than the standard yellow popcorn.
Other Considerations
Though the rule of 3 cups of popcorn per person generally stays true for most situations, there are a few other considerations for you to take into account while you prepare a snack table. for example, if you are making popcorn as part of a snack bowl, you will need a lot less corn.
Generally, you can follow a recipe for a snack mix while trying to hit the expected 3 cups of mix per person as a total, with popcorn as only a part of that mix. For different types of mixes, however, you might want to bring down the expected amount of snacks to provide as some ingredients are more filling than others.
You might also consider bringing more popcorn if people are expecting to hang around for a long amount of time. If you are watching a movie with friends, for example, three cups of popcorn each probably won't cut it. You should probably expect your guests to need closer to 5 cups of popcorn or more depending on their habits. Thankfully, standard microwaveable bags of popcorn contain about 5 cups of popcorn each.
If your popcorn is extremely richly flavored by frosting or peanut butter, however, people might eat less of it as each cup is heavier. If you are going to add a lot of flavoring to popcorn, you might be able to get away with making a little bit less than if the popcorn is only flavored with butter or salt.
All in all, popcorn is a fantastic snack to provide at anything from movie nights to birthday parties to wedding receptions. Depending on what you do with it, you can always match the flavor of popcorn to the occasion. Whether you decide to provide popcorn balls or bags of popcorn, you can easily get enough of it to provide for large groups.
Whether you buy pre-popped corn, microwaveable kernels, or just bags of un-popped corn, you have the freedom to do anything you want to with your snack table. Be sure to plan ahead with what you are going to make and how much of it you are going to make and you will have a great time hearing that corn pop.