This post contains affiliate links.
Cheesecake is a delicacy that many enjoy for a variety of reasons. It is a dessert that many people use to celebrate the good things in life, to overcome bad and hard days, and simply to satisfy their sweet teeth anywhere. For whatever reason you want to order a cheesecake and share it with others, we want to help you understand the ins and outs of cheesecake catering.
Plan on one to two slices of cheesecake per person. With cheesecakes, it's about one inch per person, so a 6-inch cake can feed about 6 people. The amount needed can change depending on the richness of the cheesecake you order. When serving it with something else, plan on only one slice per person.
His number should assist you in getting enough cheesecake for all the people you are inviting to take part in whatever event you are hosting. However, there are more things to consider, like where to order your cheesecake, the cost, and why you would choose cheesecake. 
Who Caters Cheesecake?
There are many places that cater to cheesecake. Some places that cater cheesecake are The Cheesecake Factory and other more local bakeries and cheesecake places like Juniors Cheesecake (link), Chesapeake Cheesecake (link), Val's Cheesecake (link), etc.
This brings us to the next question of how you decide which one to go with. It is important to consider several different factors, like flavor options and location.
The Cheesecake Factory is a name brand for a reason! They offer about 34 different types of cheesecake options, many of which you wouldn't find at any other cheesecake place. Some of these include Pineapple Upside Down Cheesecake, Toasted Marshmallow S'mores Galore, and Mango Key Lime. (source). If you are invested in catering specifically to people and their unique tastes, this could be a good option! They also have many locations across the United States. However, you could end up driving a couple of hours to get to one. (source).
However, if you are looking for the basic cheesecake flavors, another place could offer you what you want at a more affordable price or be closer to where you are hosting the event. Your local mom and pop shop could easily handle your catering order if it is a smaller order or a flavor that they make! You can also take pride in supporting small businesses or local families near you.
If you live far away from a place that caters to cheesecake, or if you simply don't want to pay for a caterer, your final option is to make the cheesecake yourself. While making cheesecake can be an exciting and rewarding task, it is much more difficult to make than lots of other deserts. Cheesecakes require precise amounts of ingredients, and most bakers prefer to use pans that are specifically built to make cheesecakes.
While making cheesecake is a challenge, it might be the best thing to do for your particular event. Try to get some practice at making cheesecake before your event comes up, or try to find a simple recipe. Pay special attention to the crust of your cheesecake to get it to the right thickness and be sure to refrigerate your cheesecake so that it stays firm.
Amounts
The next thing to focus on is the amount of cheesecake you need to order for the event you are hosting.
If you are catering for a large event, you can easily anticipate that you will have a hundred or more people there. That is a formidable task to attempt to set up an event for, let alone try to feed all of them. You want to order enough for everyone, but don't want to spend more than is necessary. If you are catering for a smaller event or on a smaller budget, you want to make sure that you don't order too much. People like to take leftovers home, but people only have so much freezer space!
We called a company named Junior's Cheesecake and talked to an employee who gave us some rules of thumb for ordering cheesecake. From our conversation, we discussed how much he saw that people ate. He mentioned that the most he had seen people eat were 2 slices of cheesecake. He stated that most people couldn't eat more than that because cheesecake is naturally rich and decadent.
A six-inch cheesecake feeds about 6 people, a seven-inch feeds 8 people, an eight-inch feeds 12, and a ten-inch feeds 20 people. This helps us understand the sizes of cakes and allows you to make the best decision about what size of cake you should get.
He also talked about how you typically need four or five cakes for a group of 40-50 people. He mentioned that with that amount of cake available to people, there would often be enough for people to get more than one slice if they wanted. As an added bonus, having more cakes at an event also means that you can offer more flavors, which makes the cheesecake a more exciting dessert.
Though you want to be sure that you have enough cheesecake, you also don't want to spend too much on catering for your event. Cheesecakes aren't cheap, so you will want to plan the amounts just right in order to avoid overspending on cheesecakes that people won't eat. The average price for a ten-inch cheesecake can be anywhere from 40-70 dollars, dependent on where you order it and whether you are getting it delivered or not. (source).
Here we have crafted a table to make it easier for you to place an order and feel confident in the amounts you get. (source).
| | | |
| --- | --- | --- |
| People | Slices (minimum-maximum) | Cakes (10 inches) |
| 10 | 10-20 | 1 |
| 25 | 25-50 | 2-3 |
| 50 | 50-100 | 4-5 |
| 100 | 100-200 | 8-10 |
| 200 | 200-400 | 16-20 |
How To Set Up Cheesecake at Your Event
Now that you have the cheesecake, it leads us to wonder what you will do with it now.
The first step is to make sure you prepare it well for your event. You need to make sure that the cheesecake is kept cold for a decent amount of time. Keeping it cold prevents it from melting and becoming unappealing. The recommended thing to do is to keep it frozen until 2 hours before you are serving it, and then set it out to thaw. (source). Another good idea is to slice it up and freeze it as individual slices to reduce the hassle later. (source).
If you don't take the time to let the cheesecake thaw a little, it will be hard to cut and hard to bite into. However, the longer that cheesecake stays at room temperature, the more it will melt and the sooner it will go bad. Companies that cater to cheesecakes are very precise about their cheesecake temperatures and will probably take care of this for you.
Another important consideration is the setup of your cheesecake. By controlling how the cheesecake is cut and served, you can ensure that everyone is satisfied and that none of the cheesecake goes to waste. After all, if you cut slices that are too big to finish (or if you have your guests cut the slices), some cheesecake will be wasted. It is easy for someone who is unfamiliar with the richness of cheesecake to bite off more than they can chew.
Try to keep the slices thin and small so that your guests will be able to more easily track how much cheesecake they can handle. Consider putting the cheesecake onto small plates beforehand in order to avoid any accidents that may happen while people dish themselves cheesecake. Having the cheesecake already placed onto plates will also prevent there from being a traffic jam at the cheesecake table as people try to use the trowels to serve themselves.
Smaller slices will also free guests up to try more than one flavor of cheesecake. Part of the attraction of having cheesecake is the novelty of the dessert, so people will want to be able to try as many different flavors as possible. Thankfully, because of the richness of cheesecake, even really small slices are enough for people to get the experience of trying different flavors.
Other things to consider are the decorations involved. You have many options. You can pick nice tablecloths, centerpieces, and other decorations to highlight the event and the cheesecake. The way you decorate for a wedding is starkly different than how you decorate for a birthday party or a business party. That is part of the fun of event planning!
Cheesecake Flavors
Another consideration that you will want to make for your event is the flavors of cheesecake that you provide. While you will probably be limited as to the flavors that you might be able to make if you baked the cheesecake yourself, catering services offer many different flavors, with some caterers offering dozens of types to choose from.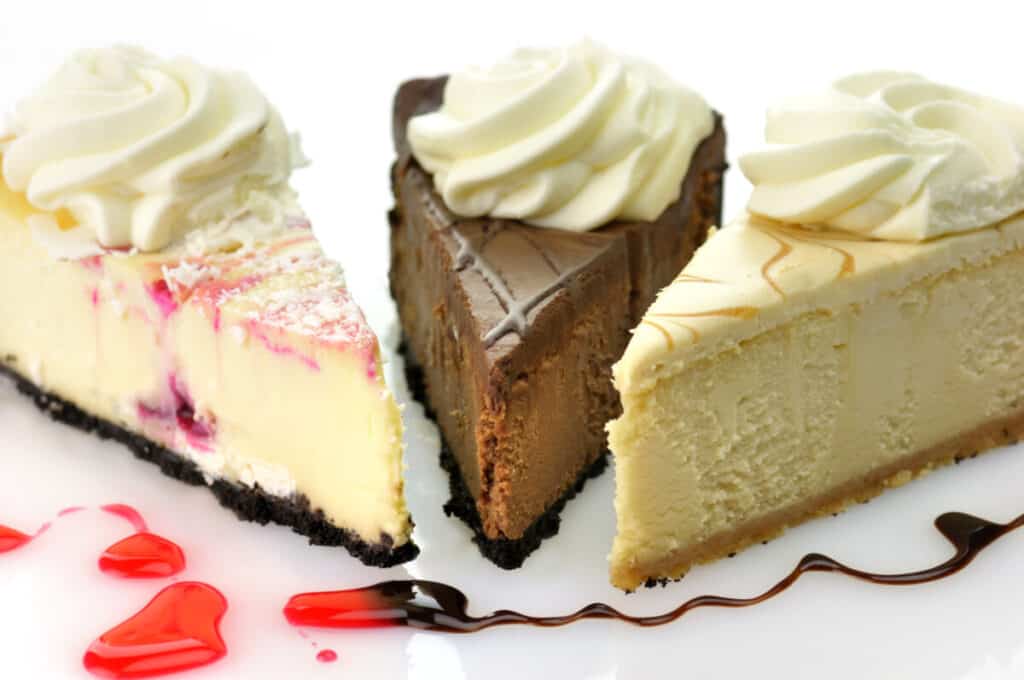 Because there are so many flavors of cheesecake, you might be overwhelmed while trying to make solid decisions. Some people request or purchase standard flavors like chocolate and vanilla in order to find flavors that everyone will like. While this approach might work, you should keep in mind that part of the charm of cheesecake is its novelty. Chocolate and vanilla cheesecakes aren't very exciting, and they aren't even most people's favorite flavors.
The most popular flavors of cheesecake are strawberry, peanut butter, pumpkin, and Oreo. Chocolate and original cheesecake also make the top ten list, as well as white chocolate raspberry, lemon meringue, and chocolate pecan. You can decide for yourself which flavors to provide, but try to make sure that the options are as showy and colorful as they are delicious.
In order to provide customers with as many options as possible, some businesses that cater cheesecake to events offer cakes that are made up of multiple flavors for people to choose from. These cakes are popular choices for events where there won't be enough people to justify purchasing enough cakes for everyone. It also allows you to provide some of the less popular flavors in smaller quantities.
If you are providing a wide variety of flavors, remember to keep the slices small so that each person can try the flavors that they would like to. Because of the captivating designs on some cheesecakes (especially for cakes with fruit swirls), some people will want to try as many flavors as possible. This is fine as long as the slices are small enough that your guests don't try to eat more cheesecake than they are able to.
Accompanying Snacks
Cheesecake is an excellent way to provide snacks or dessert for an event, but you may not want to have the cheesecake stand alone. If you want to fill out a snack table with some good options apart from the cheesecake, there are some options that work better than others when it comes to complementing the richness of a cheesecake.
One of the most common ways that you can complement cheesecake is with a selection of cheesecake toppings to offer. While some companies that cater to cheesecake provide these toppings, many do not. Having toppings will allow your guests to customize their own cheesecakes and add variety to the cheesecake flavors that you offer.
Some of the most common cheesecake toppings are fresh fruit, coconut or chocolate shavings, caramel sauce, or crushed candy bars. Be sure to provide a good variety of fruits, including banana slices, peach slices, and all kinds of berries. These toppings can offer a sharp sweetness that perfectly complements the tones of cheesecake.
Apart from cheesecake toppings, you can also provide ice cream. Ice cream is a great solution because it is similar in temperature to cheesecake and because it can hopefully slow down how quickly a person eats their cheesecake, which helps to avoid the possibility that someone picks up a slice that they can't finish. Fruity ice cream flavors can do an excellent job of complementing cheesecakes, but chocolate flavors or something similar can also do the job.
With all of this to consider, we know you will be able to get the right amount of cheesecake for your event. We wish you the best of luck in your event and event planning! Save us a slice.