This post contains affiliate links.
Chicken skewers are a delicious and classic option for meals, whether they're catered or cooked at home. Their endless variations make them popular for almost any menu. With this in mind, how many chicken skewers are appropriate per person?
One to two six-inch chicken skewers per person is usually appropriate for an appetizer, and one to two four-ounce chicken skewers per person is enough for a main dish with sides. For a barbecue, 1 lb of total uncooked meat per person is recommended, and chicken skewers are included.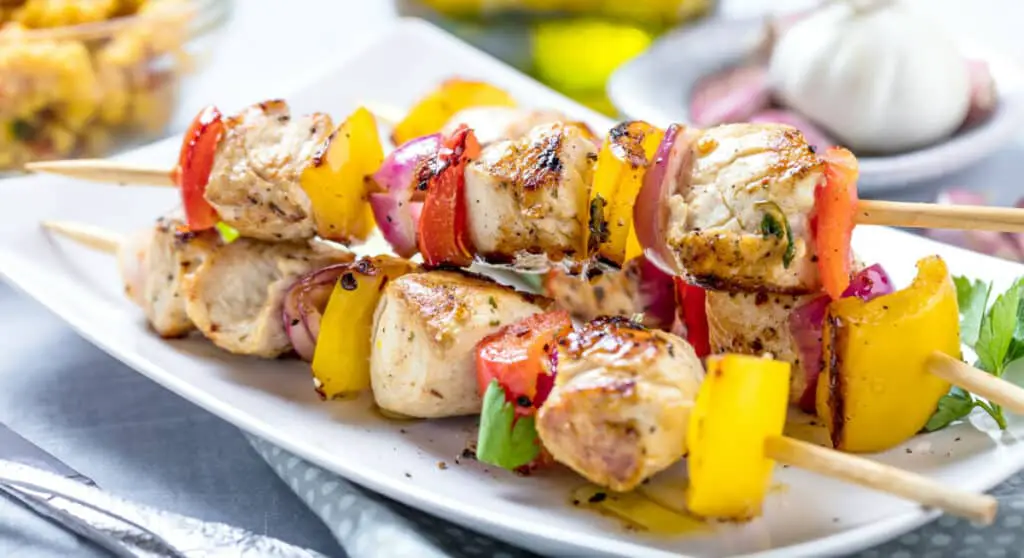 The appropriate amount of chicken will depend on the specific recipe, the sides made, and the specific event. Keep reading below for more help choosing the right number of chicken skewers for your meal!
How Many Chicken Skewers Per Person for Appetizers?
One catering business said they would suggest ordering a single six-inch skewer of chicken per person at an event since other appetizers are usually available. This allows some people to eat no chicken and other people to eat five skewers.
They call for different numbers of skewers.
Appetizers
For appetizers, one 6-inch or 2 oz skewer of chicken per person is fine as long as other options are available. If fewer options are available, make more chicken to account for people who will take multiple chicken skewers instead of other options. 
If you're using a caterer, you can follow their suggestions. They have experience serving their specific menu.
Buffet Lunches
Buffet lunches follow the same recommendations as appetizers, but with more chicken on the skewer. 3–4 oz is appropriate for the main protein. If you have a second protein available, you can make one chicken skewer per person. If this is the only main protein, you should make two or follow your caterer's recommendations.
Plated or non-buffet dishes
Plated dishes are easier to plan out since you know people won't be taking more than what you have planned. One or two skewers of chicken, with the total chicken roughly equal to one chicken breast, will be ideal. This is especially effective if the chicken is heavily spiced and served with a side like rice.
You can make extra sides available to guests in case they're still hungry.
Barbecues
Barbecues generally have a rule of 1/2 lb. to 3/4 lb. of uncooked meat per person, and chicken can be included in that. Remember that this is the uncooked weight of meat and that offering many sides might reduce how much meat will be eaten. If you're cooking for football players or people who eat a lot of meat, increase it to 2 pounds per person.
A second catering business affirmed this advice, saying that while they'd make two skewers per person if it was the only appetizer, they would suggest one or one and a half skewers per person when other appetizer options are available.
Other online catering businesses reflected this advice for appetizers. Since these are meant to keep people busy and entertained until the main meal, not replace the main meal, appetizers don't need to be filling.
Chicken skewers used as appetizers should be interesting and accessible. Keep your group's tastes in mind. In particular, spicy varieties of chicken skewers should be avoided if you suspect the group can't handle the spice, particularly since appetizers don't have cooling sides readily available, and they should generally be something that isn't too messy.
Popular varieties of chicken skewers for appetizers include:
Brazilian Chicken Skewers
If eating while seated, choose Chicken Tikka Kebab.
How Many Chicken Skewers Per Person for the Main Dish
This will depend on whether you make the chicken skewers as the entire meal or as a part of the meal, but a Brazilian restaurant with chicken skewers on the menu suggested starting with one 4 oz chicken skewer per person and ordering a second if they're very hungry.
This will translate similarly to the main dish at your event. If you hire a caterer, go with the amount of chicken they suggest and embrace the idea of leftovers. If you make the food yourself, try to account for all the variables you can.
Buffet-style meals
At a buffet-style meal, try to think through what options people will have. If there is a second protein option, like grilled beef or kofta kebabs, you probably won't need two 4 oz. chicken skewers per person. However, if chicken is your only available option, you might want to provide 1.5–2 oz chicken skewers per person.
Make sure you have the appropriate number of sides to feed your guests, and you're less likely to run out of chicken. White rice, pilaf rice, green salads, potato salads, fries, and other options are all cheaper fillers that people love. Try to match them to the chicken recipe you used, if that's possible.
Plated Meals
With plated meals, you can decide on a set number of chicken skewers much more easily. An easy way to decide on the amount is to plan on using one chicken breast per person. You can turn that chicken breast into one or two beautiful chicken skewers, depending on how you prepare it, and then you can plate it with rice, vegetables, pasta, or your other side or base of choice.
A beautiful example is plating French mustard chicken skewers over greens with a side of potato salad. This looks classy and classic, and it tastes great both hot and cold.
A more colorful example is plating Korean Dakkochi Chicken beside a bowl of rice and filling the table with sides that can be eaten at will.
How Many Chicken Skewers Per Person for a Home Barbecue?
A home barbecue event, where eating meat is generally assumed to be the main attraction, changes the chicken calculations to match the mood. 4 oz of cooked chicken on a single skewer can disappear quickly. You need to plan accordingly or risk running out of food.
The appropriate amount of chicken will depend on the specific recipe, the sides made, and the specific event. Keep reading below for more help choosing the right number of chicken skewers for your meal!
How Many Chicken Skewers Should Be Made Per Person?
The first thing you need to do before deciding on the number of chicken skewers is to define the meal. Appetizers, buffet lunches, barbecues, and plated dinners will all be
A good rule of thumb for most barbecues is to plan at least 1/2 lb. to 3/4 lb. of raw meat per person. Include those in the plan since you'll probably be making other meats along with the chicken. If you're holding a barbecue for athletes, teenagers, or other groups of people who can consume huge amounts of food, you might want to keep some extra food in reserve in the fridge.
Chicken skewers are a great option for barbecues because you can augment them with bell peppers, red or white onions, cherry tomatoes, pineapple, mushrooms, zucchini, or whatever vegetable you feel like throwing on the grill. You can plan on using 2 oz to 4 oz of chicken per skewer and still have a respectable amount of food on each one.
Try planning for one chicken skewer per person if you have other meat options, but keep pre-chopped ingredients in reserve. These are an easy and cheap option if you need to put together more of something, and you can use the leftover ingredients to make other dishes later in the week if you find you've over-prepared.
What Kinds of Chicken Skewers Can You Make at Home?
Chicken skewers are popular appetizers or proteins because they're so easy to eat, relatively easy to make, convenient to cater, and delicious. They don't ever need to be a boring compromise dish. You can make all of these chicken skewers at home!
Schich Tawook, AKA Middle Eastern Chicken Kebabs
This popular Middle Eastern chicken kebab owes its incredible flavor to the marinating process. Since it is eaten with garlic sauce, flatbread or pita bread, french fries, pickles, and other delicious ingredients to make a wrap, you only need one kebab per person!
You can offer these as appetizers, but they're in their glory as the main dish.
Chicken Tikka Kebabs
This is one of the most popular Indian appetizers in the world, and it's approachable for a home cook! This air-fryer version is easy to make and relies on a yogurt marinade to get the iconic flavor. It is similar to Chicken Tikka Masala, but is easier to eat with your hands since it doesn't have the curry sauce. These are best on several smaller skewers alongside other Indian dishes.
Teriyaki Chicken Skewers
These are the classic chicken skewers with onion, pineapple, bell peppers, and a salty-sweet glaze that tastes like summer barbecues. If you want something to show off at your next backyard party, these are great options. You can help your family and guests with a serving of vegetables!
These are great as the main dish, one of a choice of proteins, or as an appetizer.
Japanese Yakitori Chicken.
Japanese Chicken Yakitori gives you the freedom to stick to what you know and love, like the teriyaki chicken flavor you find in a favorite restaurant, or to go for something more adventurous like chicken livers, gizzards, or cartilage. It is delicious by itself as an appetizer, or as a main dish beside a pile of steamed white rice.
Try serving these alongside something fresh, like a cucumber salad, or as an appetizer for homemade or catered sushi. It's hard to go wrong when you're eating yakitori. These work well as a main, side, or starter!
Dakkochi Chicken from Korea
These iconic chicken skewers are a favorite street food in South Korea. Big pieces of marinated chicken are threaded on skewers along with large green onions, then grilled beside rice cakes with more green onions. Both of the skewers are coated in a spicy red sauce until they're grilled perfectly and then eaten on the skewers.
These are a fantastic new recipe for any summer barbecue, but they can also be eaten year-round if you cook them in a pan. The garlic and gochujang might make them a little overwhelming for a wedding reception or work party when compared to Japanese yakitori or teriyaki skewers, but they are an incredible option for other meals that should not be ignored.
Plan on using this as a main dish. They deserve your full attention.
Tarragon Mustard Chicken Skewers
These tarragon-mustard chicken skewers are a variation of the classic French chicken recipe. If you want people to feel fancy at your event without the mess and forks required for classic tarragon-mustard chicken, try making these skewers instead!
These can be eaten as an appetizer in a smaller version or kept large for the main dish. Either way, they're a fun change from the typical chicken skewers that we see at buffet tables during events. Offer them alongside French potato salad, tiny cornichon pickles, baguettes, and fresh green butter lettuce leaves.
What Sides Should I Plan with Chicken Skewers?
Sides can make or break a meal just as easily as the main dish can. Baked beans don't match up with a chicken tikka kebab quite as well as you might hope if you've got them both on the same table. On the same note, high-quality jasmine rice is a lot less fun when combined with the blander American classic chicken skewers.
Beyond the importance of tasting good, choosing the right sides can make your chicken skewers go further by encouraging people to fill up on potato salad, flatbread, or baguettes instead of going back for the more expensive meats. Stretching a budget can make a big difference when it comes to hosting dinners or catering large events. You don't want your guests to go hungry, but your wallet doesn't want to start a new diet plan, either.
Try to look up sides or other appetizers that traditionally go with your chicken skewer of choice. For example, a tarragon-mustard chicken skewer would go well with potato salad, French cornichon pickles, baguettes, cucumber salads or sandwiches, and many other fresh and simple sides. This could be adjusted to make an appetizer or a full side dish, depending on whether the chicken skewer was an appetizer or a main dish.
Other sides or alternative appetizers you could consider include:
Potato salad, with endless variations